SP1 and STAT3 Functionally Synergize to Induce the
RhoU

Small GTPase and a Subclass of Non-canonical WNT Responsive Genes Correlating with Poor Prognosis in Breast Cancer

1

Department of Molecular Biotechnology and Health Sciences, Molecular Biotechnology Center, University of Turin, Via Nizza 52, 10126 Turin, Italy

2

Candiolo Cancer Institute, FPO-IRCCS, 10060 Turin, Italy

3

Center for Translational Genomics and Bioinformatics, San Raffaele Scientific Institute, 20132 Milan, Italy

*

Author to whom correspondence should be addressed.

†

These authors contributed equally to this work.

‡

Present address: MedImmune, Granta Park, CB21 6GH Cambridge, UK.

Received: 21 December 2018 / Revised: 9 January 2019 / Accepted: 11 January 2019 / Published: 16 January 2019
Abstract
Breast cancer is a heterogeneous disease whose clinical management is very challenging. Although specific molecular features characterize breast cancer subtypes with different prognosis, the identification of specific markers predicting disease outcome within the single subtypes still lags behind. Both the non-canonical Wingless-type MMTV Integration site (WNT) and the Signal Transducer and Activator of Transcription (STAT)3 pathways are often constitutively activated in breast tumors, and both can induce the small GTPase Ras Homolog Family Member U
RhoU
. Here we show that
RhoU
transcription can be triggered by both canonical and non-canonical WNT ligands via the activation of c-JUN N-terminal kinase (JNK) and the recruitment of the Specificity Protein 1 (SP1) transcription factor to the
RhoU
promoter, identifying for the first time SP1 as a JNK-dependent mediator of WNT signaling.
RhoU
down-regulation by silencing or treatment with JNK, SP1 or STAT3 inhibitors leads to impaired migration and invasion in basal-like MDA-MB-231 and BT-549 cells, suggesting that STAT3 and SP1 can cooperate to induce high
RhoU
expression and enhance breast cancer cells migration. Moreover, in vivo concomitant binding of STAT3 and SP1 defines a subclass of genes belonging to the non-canonical WNT and the Interleukin (IL)-6/STAT3 pathways and contributing to breast cancer aggressiveness, suggesting the relevance of developing novel targeted therapies combining inhibitors of the STAT3 and WNT pathways or of their downstream mediators.
View Full-Text
►

▼

Figures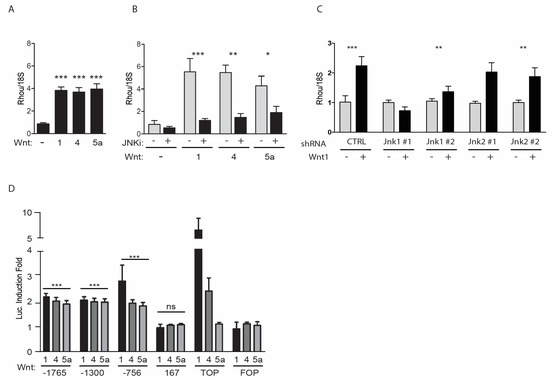 Figure 1
This is an open access article distributed under the
Creative Commons Attribution License
which permits unrestricted use, distribution, and reproduction in any medium, provided the original work is properly cited (CC BY 4.0).

Share & Cite This Article
MDPI and ACS Style
Monteleone, E.; Orecchia, V.; Corrieri, P.; Schiavone, D.; Avalle, L.; Moiso, E.; Savino, A.; Molineris, I.; Provero, P.; Poli, V. SP1 and STAT3 Functionally Synergize to Induce the RhoU Small GTPase and a Subclass of Non-canonical WNT Responsive Genes Correlating with Poor Prognosis in Breast Cancer. Cancers 2019, 11, 101.
Note that from the first issue of 2016, MDPI journals use article numbers instead of page numbers. See further details here.
Related Articles
Comments
[Return to top]