Chromogenic Multiplex Immunohistochemistry Reveals Modulation of the Immune Microenvironment Associated with Survival in Elderly Patients with Lung Adenocarcinoma
1
Laboratory of Clinical and Experimental Pathology, Université Côte d'Azur, CHU Nice, FHU OncoAge, Pasteur Hospital, 06000 Nice, France
2
CNRS, INSERM, IRCAN, FHU OncoAge, Université Côte d'Azur, Team 4, 06000 Nice, France
3
Hospital-Integrated Biobank (BB-0033-00025), CHU Nice, FHU OncoAge, Université Côte d'Azur, 06000 Nice, France
4
EMEA-LATAM Division, Roche Diagnostics France, 38240 Meylan, France
5
Imaging Analysis, Tribvn Healthcare, 92320 Châtillon, France
6
Biostatistics Unit, FHU OncoAge, Antoine Lacassagne Comprehensive Cancer Center, 06189 Nice, France
7
Department of Thoracic Surgery, FHU OncoAge, CHU Nice, Université Côte d'Azur, 06000 Nice, France
8
Department of Pulmonary Medicine and Thoracic Oncology, Pasteur Hospital, Université Côte d'Azur, CHU Nice, FHU OncoAge, 06000 Nice, France
9
Department of Geriatric Medicine, Cimiez Hospital, Université Côte d'Azur, CHU Nice, FHU OncoAge, 06000 Nice, France
*
Author to whom correspondence should be addressed.
Received: 4 August 2018 / Revised: 10 September 2018 / Accepted: 11 September 2018 / Published: 13 September 2018
Abstract
With underrepresentation of elderly patients with lung adenocarcinoma (LADC) in anti-PD-1/PD-L1 clinical trials, better understanding of the interplay of PD-L1 and tumor-associated immune cells (TAICs) could assist clinicians in stratifying these patients for immunotherapy. One hundred and one patients with LADCs, stratified by age, were included for analysis of PD-L1 expression and density of TAICs expressing CD4, CD8, and CD33, by using multiplex chromogenic immunohistochemistry (IHC) assays and automated digital quantification. The CD4
+
/CD8
+
ratio was significantly higher in elderly patients. In patients <75 years, the density of CD4
+
, CD8
+
, and PD-L1 in TAICs showed a positive significant correlation with PD-L1 expression in tumor cells (TCs), while a lower correlation was observed in the elderly population. In the latter, a high CD4
+
/CD8
+
ratio, and combined PD-L1 expression ≥1% TCs with a low CD8
+
density, low CD33
+
density, and a high CD4
+
density correlated to worse overall survival. We identified differences according to age in the CD4
+
/CD8
+
ratio and in correlation between PD-L1 expression and the density of TAICs in LADC patients. Distinct groups of tumor microenvironments had an impact on the OS of elderly patients with LADC.
View Full-Text
►

▼

Figures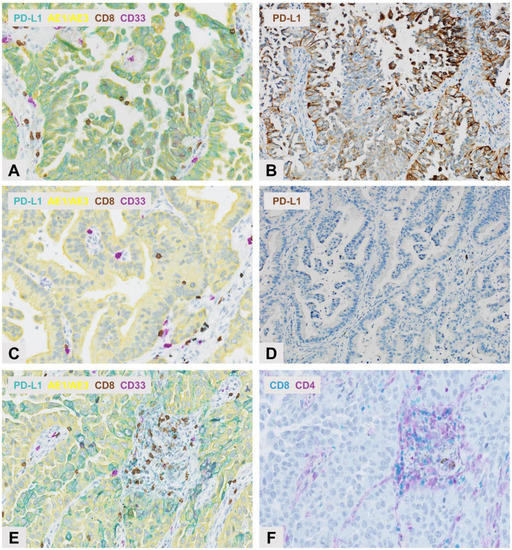 Figure 1
This is an open access article distributed under the
Creative Commons Attribution License
which permits unrestricted use, distribution, and reproduction in any medium, provided the original work is properly cited (CC BY 4.0).

Share & Cite This Article
MDPI and ACS Style
Ilié, M.; Beaulande, M.; Ben Hadj, S.; Chamorey, E.; Schiappa, R.; Long-Mira, E.; Lassalle, S.; Butori, C.; Cohen, C.; Leroy, S.; Guérin, O.; Mouroux, J.; Marquette, C.-H.; Pomerol, J.-F.; Erb, G.; Hofman, V.; Hofman, P. Chromogenic Multiplex Immunohistochemistry Reveals Modulation of the Immune Microenvironment Associated with Survival in Elderly Patients with Lung Adenocarcinoma. Cancers 2018, 10, 326.
Note that from the first issue of 2016, MDPI journals use article numbers instead of page numbers. See further details here.
Related Articles
Comments
[Return to top]