Open Access This article is
freely available
re-usable
Review
Role of Pseudogenes in Tumorigenesis
1
Department of Dermatology and Institute of Translation Medicine, Affiliated the First People's Hospital of Chenzhou of University of South China, Chenzhou 423000, China
2
Cancer Institute, University of Mississippi Medical Center, Jackson, MS 39216, USA
3
Department of Science & Research, Zhejiang Provincial People's Hospital, Hangzhou 310014, China
4
Department of Pharmacology/Toxicology, University of Mississippi Medical Center, Jackson, MS 39216, USA
*
Author to whom correspondence should be addressed.
Received: 3 July 2018 / Accepted: 30 July 2018 / Published: 1 August 2018
Abstract
:
Functional genomics has provided evidence that the human genome transcribes a large number of non-coding genes in addition to protein-coding genes, including microRNAs and long non-coding RNAs (lncRNAs). Among the group of lncRNAs are pseudogenes that have not been paid attention in the past, compared to other members of lncRNAs. However, increasing evidence points the important role of pseudogenes in diverse cellular functions, and dysregulation of pseudogenes are often associated with various human diseases including cancer. Like other types of lncRNAs, pseudogenes can also function as master regulators for gene expression and thus, they can play a critical role in various aspects of tumorigenesis. In this review we discuss the latest developments in pseudogene research, focusing on how pseudogenes impact tumorigenesis through different gene regulation mechanisms. Given the high sequence homology with the corresponding parent genes, we also discuss challenges for pseudogene research.
Keywords:
LncRNA; pseudogene; gene regulation; ceRNA; microRNA
2. Types of Pseudogenes
No matter how pseudogenes are derived from, they have lost their capability to synthesize proteins (polypeptides) due to events such as premature stop codons, splicing errors, frameshift-causing deletions and insertions. There are three types of events that could lead to the creation of pseudogenes (
Figure 1
): (1) duplication and mutation; (2) processing that may involve retrotransposon insertion and inactivate the coding ability and (3) accumulation of mutations such that the original gene has lost his coding capacity. In the last two cases, these unitary pseudogenes often lack functioning counterparts [
21
], although they may constitute only a small fraction of annotated pseudogenes in the human genome. Depending on the genomic location and how they are transcribed, pseudogenes can be processed into short interfering RNAs that regulate coding genes through the RNAi pathway or they may be able to interact with the promoter of parent genes or they may act as microRNA decoys to regulate the parent gene.
It should be pointed out that although the pseudogenes we discussed above are related to protein-coding genes, we would expect that pseudogenes can also be derived from non-coding parent genes by the similar mechanism.
3. Functional Mechanism of Pseudogenes
Based on our current understanding, pseudogenes can regulate gene (not necessarily parent gene) expression at transcriptional and post-transcriptional level. At the transcriptional level, pseudogene may interact with a gene promoter. For example, antisense RNA generated from pseudogenes can combine with sense-stranded mRNA from a homologous parent gene and either inhibit translation or lead to the formation of siRNAs that can inhibit expression of the parent gene. Post-transcriptional regulation by pseudogene is represented by their function as microRNA decoys, also known as competing endogenous RNA (ceRNA). Finally, RNA from parent genes and their homologous pseudogenes can compete for RNA binding proteins (RBPs) that may have a positive or negative effect on parent gene mRNAs, depending on the functional nature of RBPs. When the levels of pseudogene transcripts are changed, this would, in turn, lead to alterations of the parent gene mRNA levels. Therefore, pseudogenes may function as positive or negative regulators of gene expression.
3.1. Pseudogenes as Positive Gene Regulators
3.2. Pseudogenes as Negative Gene Regulators
4. Role of Pseudogenes in Cancer
Since pseudogenes can have a broad and multifaceted activity on gene expression, they are expected to play a role in human cancer. As matter of fact, most of pseudogene studies have been carried out in cancer. In particular, pseudogenes are aberrantly expressed in a variety of cancer types. In this section, we will first list a few of relatively well studied pseudogenes and discuss how they impact tumorigenesis. We will then move on expression of pseudogenes in cancer through the TCGA dataset to provide their potential clinical relevance.
Like other lncRNAs, pseudogenes were initially thought to be non-functional. However, increasing evidence indicates that they can play critical roles at multiple levels in diverse physiological and pathological processes, including parent gene-dependent or parent gene-independent regulation. Apparently, given the role of pseudogenes in regulation of parent genes or other unrelated genes, it is conceivable that they may function as oncogenes or tumor suppressors or both. To date, the majority of these studies support the notion that pseudogenes impact tumorigenesis through ceRNA mechanism.
5. Challenges for Pseudogene Research
To date, there is substantial evidence that pseudogenes play an important role in cancer. However, their function and underlying mechanisms largely remain to be determined yet. Available evidence points ceRNA mechanism for pseudogene-mediated gene regulation as a major mechanism probably because this type of gene regulation is relatively easy to study. However, as discussed above, ceRNA mechanism is not the only one and other mechanisms could be also important for pseudogene-mediated gene regulation. As a member of lncRNA family, pseudogenes may also play similar roles in gene regulation as what have been demonstrated for lncRNAs. For example, pseudogenes may also function as a scaffold to bring different components (e.g., DNA, RNA and protein) together to form a functional complex.
A great challenge for pseudogene studies stems from the fact that there is a high sequence homology between parent genes and their pseudogenes with an exception for unitary pseudogenes that lack their parent genes. This sequence homology makes it very difficult to specifically detect and target pseudogenes. Thus, the lack of pseudogene-specific primers or probes makes the detection of pseudogenes by conventional array, RT-PCR or in situ hybridization unreliable. Furthermore, due to lack of protein-coding capacity, we are not able to detect their expression using immunostaining methods such immunohistochemistry or immunofluorescent microscopy or western blot. Even for those pseudogenes that do make proteins, there is often lack of suitable antibodies that can be used in immunodetection methods. In addition, functional studies of pseudogenes often involve the manipulation of the target genes such as knockout or knockdown. However, due to high sequence homology to parent gene, it is often difficult to perform this type of experiments. To tackle this challenge, we may target intron regions that tend to be less conserved than the exon regions by CRISPR/Cas9 dual gRNA approach [
85
]. Lastly, pseudogene expression discovery by RNA-seq analysis often encounters with the difficulty to uniquely identify reads mapped to pseudogene regions. In this case, long range of reads may help to improve the accuracy of sequence alignment.
6. Concluding Remarks and Future Directions
Like other types of lncRNA, pseudogenes are important part of gene regulatory network, ultimately impacting tumorigenesis. Dysregulation of pseudogenes in clinical specimens and studies with cell culture and animal models all support the role of pseudogenes in cancer. It is evident that pseudogenes can function as oncogenes or tumor suppressors. A major function mechanism is that pseudogenes can serve as microRNA decoys to compete microRNAs that may target parent genes. Therefore, pseudogenes may serve as potential diagnostic or prognostic markers.
Pseudogenes were discovered related to their parent protein-coding genes, because they have lost their initial function, i.e., coding capacity. By analogy, we expect that lncRNAs may also have their "pseudogenes". A challenge to define this type of pseudogenes is evident because the function for vast majority of lncRNAs is still unknown. Nevertheless, a pseudogene can be derived from the lncRNA such that the pseudogene may be involved in regulation of this lncRNA. Therefore, the repertoires of pseudogenes can be further increased and their function could be even more complex.
With regard to mechanisms of pseudogenes, in addition to what we have discussed above, there may exist other types of gene regulation, such as RNA methylation. It is known that RNA methylation (m
6
A) can change structure of mRNAs that can lead to different RNA-protein interactions such that RNA methylation can affect RNA stability and splicing [
86
,
87
]. For example, MALAT1 methylation can enhance its interaction with splicing factors such as heterogeneous nuclear ribonucleoprotein C (hnRNP C) [
86
], lending to different splicing patterns. Pseudogenes are a special class of lncRNAs. Thus, pseudogenes may possess all functional capability as other types of lncRNAs. Therefore, pseudogene research is a wide open area to be explored.
In summary, pseudogene research is still at a very early stage and there is a lot to be learned. Future work should focus on functional characterization of pseudogenes. In this regard, functional screening from RNAi libraries or CRISPR-based libraries at the genome wide scale would provide a comprehensive view of pseudogenes (expression and function). Further characterization of these pseudogenes will help us to better understand pseudogenes and their role in cancer. As a result, like lncRNAs, pseudogenes may serve as cancer biomarkers or therapeutic targets.
Funding
This research was funded by National Institutes of Health grant number R01 CA154989.
Acknowledgments
This work was supported in part by NIH grant number R01 CA154989 (YM).
Conflicts of Interest
The authors declare no conflict of interest.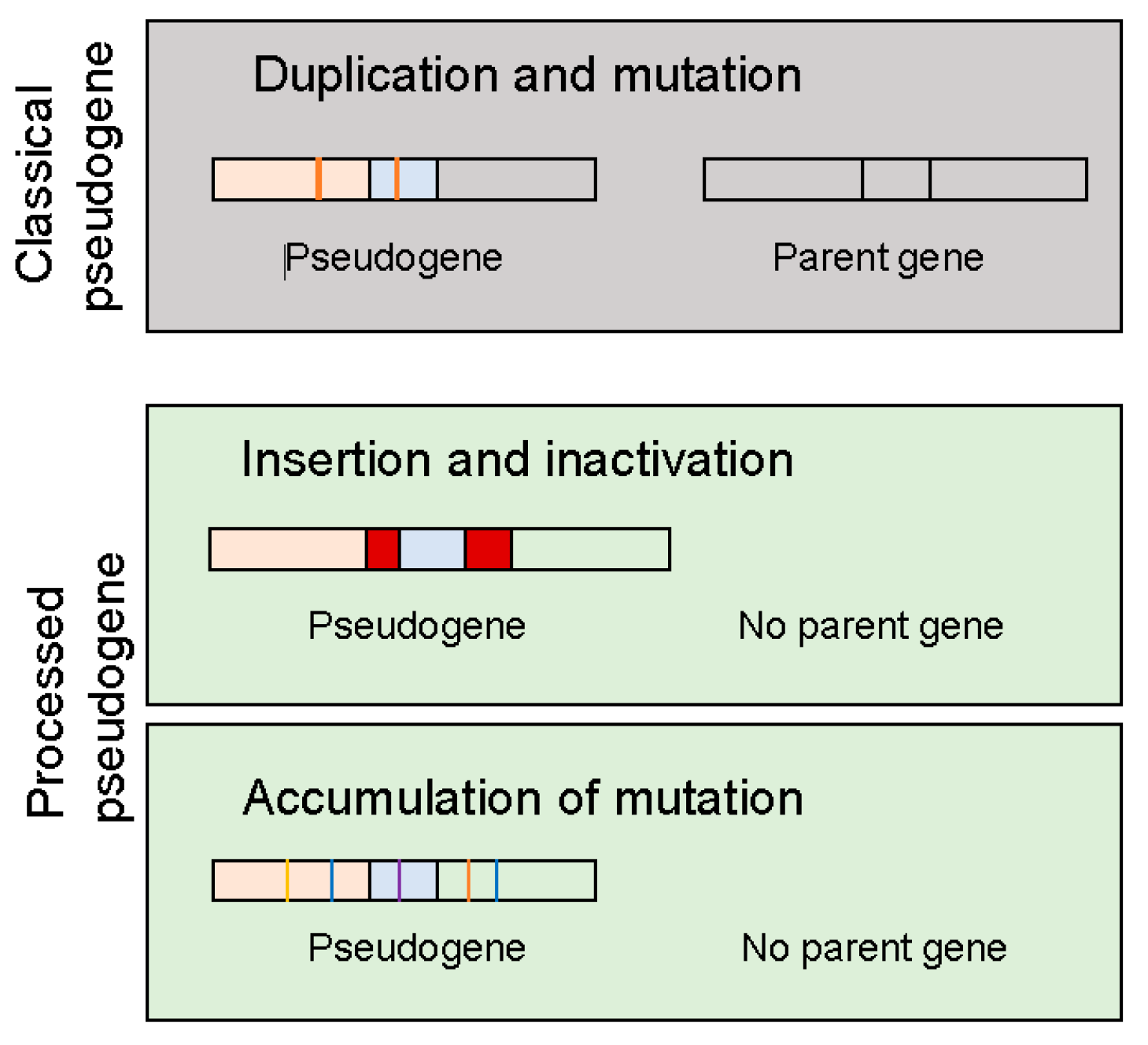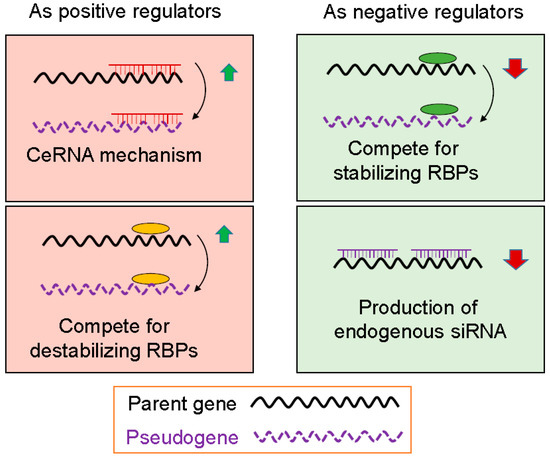 Figure 2. Possible mechanisms of pseudogene-mediated gene regulation. As positive regulators, pseudogenes may compete microRNA response elements (MREs) with the parent genes for the same microRNAs or same destabilizing RNA binding proteins (RBPs). As a result, levels of the parent genes are increased. As a negative regulators, pseudogenes may compete the same stabilizing RBPs with the parent genes, leading to downregulation of parent genes. Alternatively, pseudogenes may transcribe into endogenous siRNAs that can bind to any region of the parent genes, and suppress expression of the parent genes.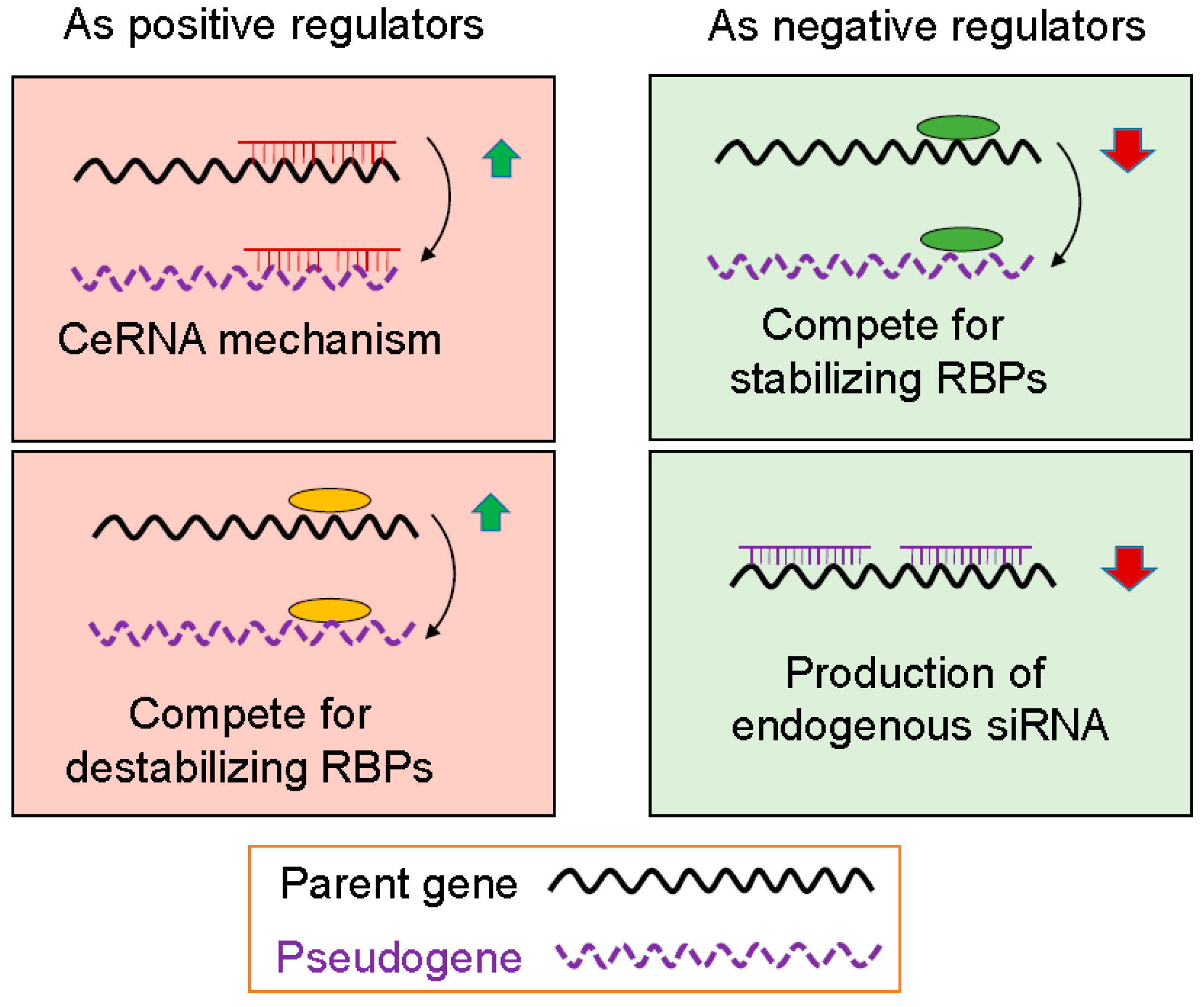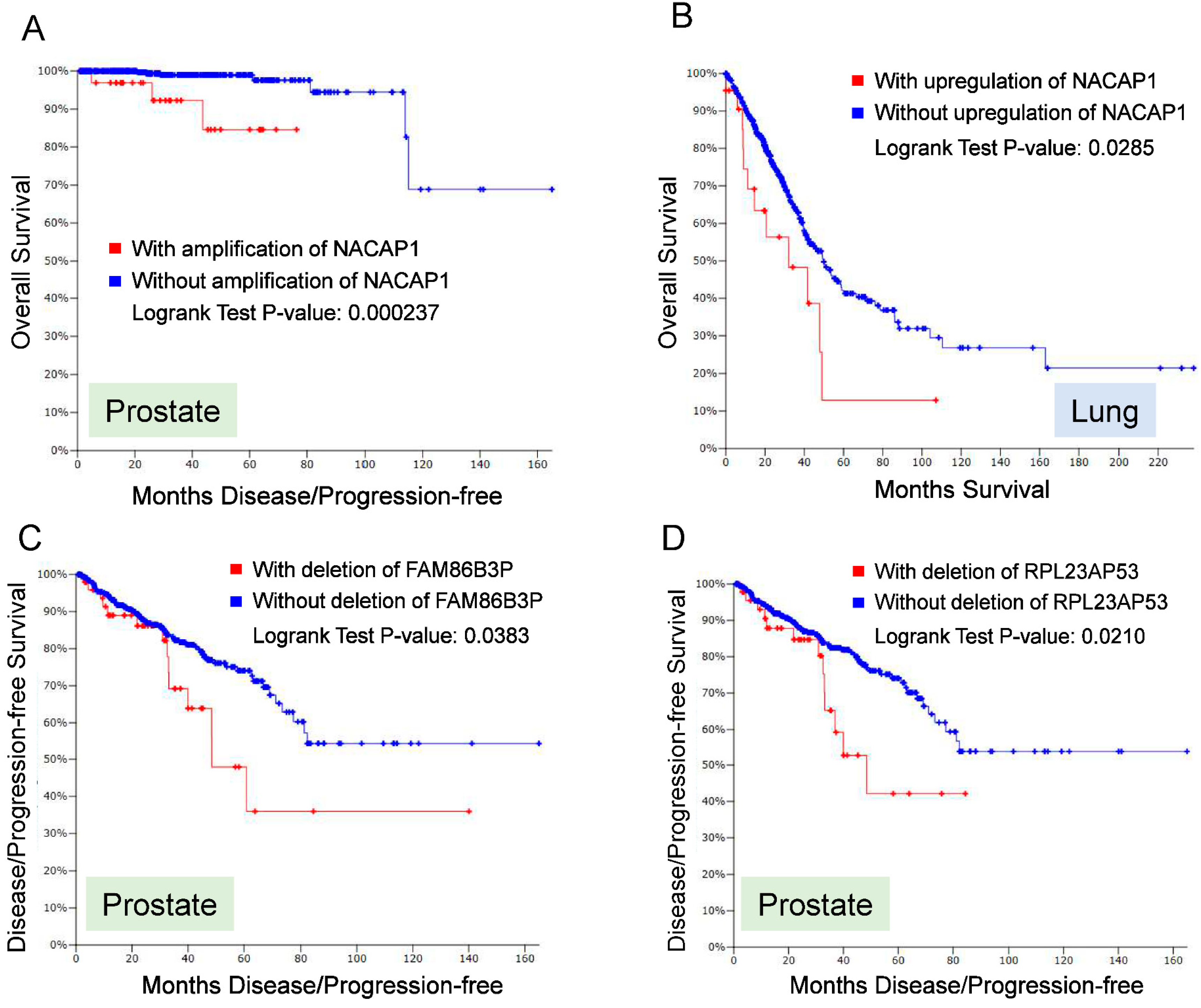 © 2018 by the authors. Licensee MDPI, Basel, Switzerland. This article is an open access article distributed under the terms and conditions of the Creative Commons Attribution (CC BY) license (http://creativecommons.org/licenses/by/4.0/).