TGF-βRII Knock-down in Pancreatic Cancer Cells Promotes Tumor Growth and Gemcitabine Resistance. Importance of STAT3 Phosphorylation on S727
1
INSERM, UMR-S1172, Jean Pierre Aubert Research Center, "Mucins, Epithelial Differentiation and Carcinogenesis" Team, rue Polonovski, 59045 Lille CEDEX, France
2
UMR-S 1172—JPArc, Université Lille Nord de France, 1 Place de Verdun, 59045 Lille CEDEX, France
3
Centre Hospitalier Régional et Universitaire de Lille, Place de Verdun, 59037 Lille CEDEX, France
4
CNRS, UMR 8576-UGSF-Unité de Glycobiologie Structurale et Fonctionnelle, Université de Lille, F 59000 Lille, France
†
Authors contributed equally to this manuscript.
*
Author to whom correspondence should be addressed.
Received: 10 July 2018 / Revised: 26 July 2018 / Accepted: 27 July 2018 / Published: 31 July 2018
Abstract
Pancreatic adenocarcinoma (PDAC) is one of the most deadly cancers in the Western world because of a lack of early diagnostic markers and efficient therapeutics. At the time of diagnosis, more than 80% of patients have metastasis or locally advanced cancer and are therefore not eligible for surgical resection. Pancreatic cancer cells also harbour a high resistance to chemotherapeutic drugs such as gemcitabine that is one of the main palliative treatments for PDAC. Proteins involved in TGF-β signaling pathway (SMAD4 or TGF-βRII) are frequently mutated in PDAC (50–80%). TGF-β signalling pathway plays antagonistic roles during carcinogenesis by initially inhibiting epithelial growth and later promoting the progression of advanced tumors and thus emerged as both tumor suppressor and oncogenic pathways. In order to decipher the role of TGF-β in pancreatic carcinogenesis and chemoresistance, we generated CAPAN-1 and CAPAN-2 cell lines knocked down for TGF-βRII (first actor of TGF-β signaling). The impact on biological properties of these TGF-βRII-KD cells was studied both in vitro and in vivo. We show that TGF-βRII silencing alters tumor growth and migration as well as resistance to gemcitabine. TGF-βRII silencing also leads to S727 STAT3 and S63 c-Jun phosphorylation, decrease of MRP3 and increase of MRP4 ABC transporter expression and induction of a partial EMT phenotype. These markers associated with TGF-β signaling pathways may thus appear as potent therapeutic tools to better treat/manage pancreatic cancer.
View Full-Text
►

▼

Figures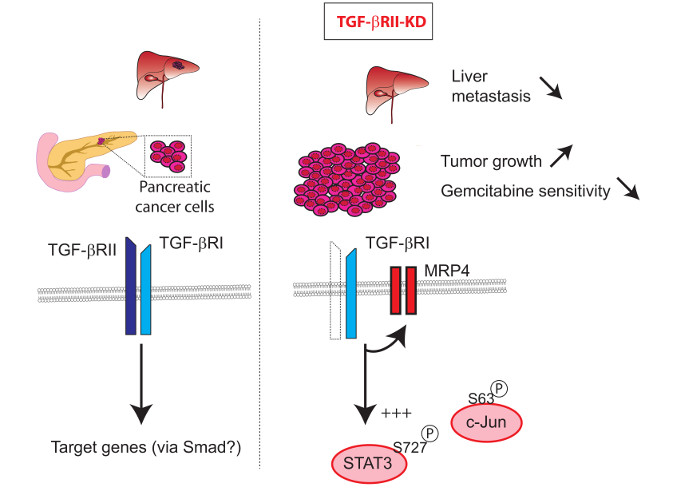 Graphical abstract
This is an open access article distributed under the
Creative Commons Attribution License
which permits unrestricted use, distribution, and reproduction in any medium, provided the original work is properly cited (CC BY 4.0).

Share & Cite This Article
MDPI and ACS Style
Drubay, V.; Skrypek, N.; Cordiez, L.; Vasseur, R.; Schulz, C.; Boukrout, N.; Duchêne, B.; Coppin, L.; Van Seuningen, I.; Jonckheere, N. TGF-βRII Knock-down in Pancreatic Cancer Cells Promotes Tumor Growth and Gemcitabine Resistance. Importance of STAT3 Phosphorylation on S727. Cancers 2018, 10, 254.
Note that from the first issue of 2016, MDPI journals use article numbers instead of page numbers. See further details here.
Related Articles
Comments
[Return to top]