Open Access This article is
freely available
re-usable
Review
Lung Cancers: Molecular Characterization, Clonal Heterogeneity and Evolution, and Cancer Stem Cells
Department of Hematology, Oncology and Molecular Medicine, Istituto Superiore di Sanità, 00161 Rome, Italy
*
Author to whom correspondence should be addressed.
Received: 5 June 2018 / Accepted: 20 July 2018 / Published: 27 July 2018
Abstract
:
Lung cancer causes the largest number of cancer-related deaths in the world. Most (85%) of lung cancers are classified as non-small-cell lung cancer (NSCLC) and small-cell lung cancer (15%) (SCLC). The 5-year survival rate for NSCLC patients remains very low (about 16% at 5 years). The two predominant NSCLC histological phenotypes are adenocarcinoma (ADC) and squamous cell carcinoma (LSQCC). ADCs display several recurrent genetic alterations, including: KRAS, BRAF and EGFR mutations; recurrent mutations and amplifications of several oncogenes, including ERBB2, MET, FGFR1 and FGFR2; fusion oncogenes involving ALK, ROS1, Neuregulin1 (NRG1) and RET. In LSQCC recurrent mutations of TP53, FGFR1, FGFR2, FGFR3, DDR2 and genes of the PI3K pathway have been detected, quantitative gene abnormalities of PTEN and CDKN2A. Developments in the characterization of lung cancer molecular abnormalities provided a strong rationale for new therapeutic options and for understanding the mechanisms of drug resistance. However, the complexity of lung cancer genomes is particularly high, as shown by deep-sequencing studies supporting the heterogeneity of lung tumors at cellular level, with sub-clones exhibiting different combinations of mutations. Molecular studies performed on lung tumors during treatment have shown the phenomenon of clonal evolution, thus supporting the occurrence of a temporal tumor heterogeneity.
Keywords:
non-small cell lung cancer; small cell lung cancer; cancer stem cells; genomic profiling; membrane cell markers; tumor xenotransplantation assay
1. Introduction
It is evident therefore that lung cancer represents a main medical problem and there is hope that that progresses in clinical treatment of this group of cancers could be achieved through improvements in our understanding of the molecular basis and tumor biology, particularly at the level of the cells that initiate the tumoral process. The most common lung cancer type is represented by non-small cell lung cancer (NSCLC, corresponding to about 90% of cases of lung cancer, the remaining ones being small lung cancer or SLC) which comprises three histological subtypes: adenocarcinoma, squamous cell carcinoma and large cell carcinoma. The large majority, up to 90% of patients with NSCLC, have history of tobacco smoking. The majority of NSCLC patients are diagnosed at advanced stage, when the various treatments cannot be curative.
In the last 20 years dramatic progresses have been made in the understanding of the molecular abnormalities underlying lung cancers. These progresses have led to the development of targeted therapies and of a new generation of immunotherapy, resulting in an improvement of clinical outcomes for some lung cancer subtypes. However, main challenges still remain unresolved, including: (a) the dientification of new driver mutations to expand the population of patients that can benefit from targeted therapies, a problem particularly relevant for LSQCC and NSCLC; (b) a better understanding of the cellular and molecular mechanisms underlying resistance to targeted therapies, to try to prevent and eventually to bypass these resistances with the identification of more active single or drug combinations; (c) the identification and study of new drugs and of combination therapies based on rational pharmacological associations; (d) the identification of new biomarkers, able to predict the clinical responses to immunotherapy. The progresses achieved during these last years and those that could be made in the future years will require an integrated view of various aspects of lung cancer biology at cellular and molecular level, involving the analysis of genetic and epigenetic abnormalities of tumor cells, analysis of clonal evolution of tumor cell populations during spontaneous disease progression and under effect of various treatments, identification of tumor cell populations capable of initiating and maintaining the tumors process and the development of suitable animal models, reproducing the features of human tumors.
In this review, we provide an overview of the recent progresses made in lung cancer biology and treatment, suggesting that only a multidisciplinary and integrated approach will allow to improve the understanding and the treatment of these tumors.
2. Genetic Abnormalities in Lung Adenocarcinoma
2.1. Abnormalities of DNA Methylation in Lung Adenocarcinoma
While numerous studies have analyzed the occurring structural somatic genetic abnormalities, few studies have analyzed the pattern of DNA methylation in lung tumors. The analysis of DNA methylation at the level of CpG island promoter regions allowed to identify three groups of lung adenocarcinomas according to the level of methylation: (i) a CIMP-H (high) group characterized by the hypomethylation of several genes (CDKN2A, GATA2, GATA4, GATA5, HOXA9, HOXD13, SOX17, WIF1), overexpression of WNT pathway genes and MYC overexpression; (ii) CIMP-I (intermediate); (iii) CIMP-L (low). No association was found between the level of DNA methylation and genomic alterations at the level of chromatin remodeling genes. However, it was observed an association between the expression of the chromatin modifying gene SETD2 and CDKN2A methylation. Tumors with low CDKN2A expression, as a consequence of gene promoter methylation were enriched for SETD2 mutations, have a lower ploidy and have a low mutation rate [
4
]. Recently, Karlsson and coworkers have reported a detailed analysis of the pattern of DNA methylation in lung cancers and through this analysis have identified clinically relevant subgroups of patients: one neuroendocrine and five adenocarcinoma epitypes [
26
]. The four epitypes of lung adenocarcinomas corresponded one to a global hypomethylation pattern (ES1), one resembling a methylation pattern of normal lung tissue (ES5), one displayed a promoter methylation pattern (ES4) and one displaying a pattern intermediate between ES1 and ES4 (ES2); the ES3 epitype corresponded to the neuroendocrine subtype and involved SCLC and LCNECs [
26
]. Important clinic-pathological differences have been observed between the various ES subgroups: the ES5 was enriched for never smokers, while never smokers were rarely classified among ES1; EGFR mutations were frequent in the ES5, but rare in the ES1 group; KRAS-mutated adenocarcinomas were enriched in the ES4 [
26
]. The number of mutations was decreasing from ES1 to ES5; the TP53, STK11 and KEAP1 mutations were most frequent among ES1 and ES2 subgroups [
26
]. ES2 and ES5 epitypes were associated with the best outcome, while ES1 and ES4 with the worst outcome [
26
].
The majority of studies on DNA methylation in lung adenocarcinoma lack mRNA expression data, mutation status and survival data. However, some recent studies addressed these issues. Thus, Bjaanoes and coworkers have reported a genome-wide DNA methylation in 164 lung adenocarcinomas; unsupervised hierarchical clustering of these tumors using the most variable gene regions allowed their separation into three clusters; the cluster 1 was enriched in TP53-mutated tumors and included 1641 differentially methylated gene regions, associated with TREM1 signaling pathway; the cluster 2 was enriched in tumors from never smokers and included 647 gene regions differentially methylated, associated with granulocyte and granulocyte adhesion; the cluster 3 was enriched in tumors from smokers, is scarcely EGFR-mutated, and included 1152 differentially methylate gene regions, associated with aryl hydrocarbon receptor signaling [
27
]. The progression-free survival of patients pertaining to cluster 2 is clearly better compared to that observed for patients pertaining to the clusters 1 or 3 [
27
]. Interestingly, lung adenocarcinomas associated with specific driver mutations, such as EGFR, ALK or ROS1 display a specific pattern of CpGs methylation [
27
]. A prognostic index based on DNA methylation levels of 33 CpGs was established and was found to be significantly associated with prognosis [
27
].
Epigenetic mechanisms greatly contribute to inter-tumoral and intra-tumoral heterogeneity of lung adenocarcinomas; through their contribution to intra-tumoral heterogeneity, epigenetic mechanisms play a key role in tumor progression and evolution [
28
]. Furthermore, the methylation of gene promoters of E-Cadherin, Snail1 and Twist1 plays a key role in the epithelial-to-mesenchymal transition of lung adenocarcinoma cells, an event strongly related to malignancy progression [
28
].
2.2. Genetic Abnormalities in Precursor Lesions of Lung Adenocarcinoma
Sequential premalignant lesions and consequent cellular and molecular changes have been poorly documented for lung adenocarcinomas. Atypical adenomatous hyperplasia (AAH) is the only sequence of morphologic change identified so far for the development of lung adenocarcinomas [
29
]. Microscopically, AAH dipslays localized proliferation of alveolar type II pneumocytes with mild to moderate cellular atypia. Some studies have suggested that in situ adenocarcinoma (AIS) could represent an intermediate lesion in the progression of AAH to lung adenocarcinoma [
29
]. AIS, formerly defined as bronchioalveolar carcinoma, is a non-invasive form of glandular neoplasia, exhibiting increased size, cellularity and morphology atypia [
29
]. Microscopically, this tumor is composed by atypical type II pneumocytes. Minimally invasive adenocarcinoma (MIA) represents a further step towards malignant adenocarcinoma and is defined as a small adenocarcinoma (≤3 cm) with a leptic pattern and invasion of 5mm or less in any one focus [
29
]. MIA was introduced as a new tumor entity between AIS and lepidic adenocarcinoma in the 2015 WHO classification of lung tumors. The link between AAH and invasive lung adenocarcinoma is supported by various observations: in fact, 5−20% of lungs resected for primary lung adenocarcinomas also harbor AAH, and AAHs harbor some of the genetic and epigenetic alterations observed in lung adenocarcinomas [
29
].
There is a lack of understanding of the molecular aberrations leading to the initiation and progression of AAH. Sivakumar et al. have molecularly analyzed 22 AAHs and showed that these lesions can be classified into three different subgroups with mutually exclusive and distinct driver gene mutation status: (i) BRAF-mutant; (ii) KRAS-mutant (ever-smokers only); (iii) KRAS/BRAF-WT AAHs. In this cohort of patients, BRAF oncogene was the most frequently mutated (four patients with K601E and one with N581S), followed by KRAS, predominantly mutated at the level of codon 12 [
30
]. Intriguingly and interestingly, no BRAF mutants were observed among the paired lung adenocarcinomas of BRAF-mutant AAHs; however, in four of the five BRAF-mutant AAHs, the paired lung adenocarcinomas exhibited driver EGFR mutations [
30
]. Conversely, lung adenocarcinomas of KRAS-mutant AAHs displayed several other driver mutations, including TP53, EGFR and KRAS [
30
]. The mutual exclusivity of BRAF and KRAS mutations in AAHs and the disparate pattern of mutations in the paired lung adenocarcinomas suggest divergent pathways in the pathogenesis of preneoplastic lesions of lung adenocarcinomas [
30
].
Izumchenko and coworkers have performed a targeted next-generation sequencing on multifocal AAHs and different zones of histologic progression within AISs and MIAs [
31
]. In this study, 25 distinct AAHs were discovered in the lung resection specimens derived from six different patients with invasive lung adenocarcinoma; the most frequently mutated genes were BRAF (16%) and ARID1A (16%); EGFR and MALM1 were mutated in three AAHs in two of the six patients; TP53 and KRAS were mutated in several AAHs within the same tumor; alterations in growth factors other than EGFR are observed in 28% of AAHs [
31
]. Multi-region sequencing of MIAs and AISs demonstrated different genetic drivers within the same tumor and showed also that clonal expansion is an early event of tumorigenesis [
31
]. BRAF was the most mutated gene in AAH lesions, but three of the four patients with mutated BRAF in AAHs had not mutated BRAF in the matched lung adenocarcinoma [
31
]. The most likely interpretation of these observations is that the invasive clone rarely develops from a lesion with a
BRAF
mutation, in line with the observation that the frequency of BRAF mutations in invasive lung adenocarcinomas is low (2−3%).
EGFR
and
TP53
are important gene drivers in the early stages of lung adenocarcinoma development, but their frequency increases with advancing steps of histologic progression and were always present at the MIA stage; interestingly, the fractional abundancy of
TP53
and
EGFR
mutations is higher in MIAs than in AISs [
31
].
KRAS
mutations were seen in AAHs and paired adenocarcinomas, supporting a role for
KRAS
mutation as an early genetic event during lung tumorigenesis [
31
].
These studies have shown that the frequencies of
KRAS
and
BRAF
mutations are higher in preinvasive tumors than in invasive tumors, while the frequency of
EGFR
mutations in preinvasive lesions is like that observed in invasive tumors. These observations may be explained assuming that
BRAF
or
KRAS
mutations are able to induce cell proliferation and cellular atypia, but in the absence of additional genomic alterations are unable to induce invasive tumors.
3. Genetic Abnormalities of LSQCC
3.1. LSQCCs with FGFR Alterations
3.2. LSQCCs with DDR2 Mutations
Another druggable genetic abnormality of LSQCCs represented by mutations of DDR, a receptor tyrosine kinase able to bind collagen as its endogen ligand, occurring in about 4% of cases [
57
]. DDR mutations were shown to be oncogenic and their transforming activity can be blocked by the tyrosine kinase inhibitor dasatinib [
57
]. Interestingly, in a clinical trial a subject with a LSQCC with a DDR2 kinase domain mutation, responded to treatment with dasatinib and erlotinib [
57
].
In the various studies of characterization of molecular alterations observed in LSQCCs, a rate of DDR2 mutations ranging from 1.1% to 4.6% was reported; this great variability may be related to a heterogeneity of LSQCCs, but also to differences in DNA sequencing methodology, not always covering all gene coding-sequences [
57
]. In a recent study carried out on French patients and based on the sequencing of 271 LSQCCs, a frequency of 4% of DDR2 mutations was observed; importantly, DDR2 mutations were not mutually exclusive with other driver alterations [
58
]. Lee and coworkers reported that a mutation in DDR2 occurs with a frequency of about 2% in Korean lung SQCC patients. Interestingly, these authors reported two novel DDR2 mutations, both located in a kinase domain and inducing an increased proliferation rate [
59
]. 29% of primary LSQCCs display an overexpression of DDR2 [
60
]. Interestingly, experiments of enforced expression of DDR2 enhanced lung metastases in animal models [
60
].
A DDR2 mutation (L63V) in combination with TP53 loss induced in mice poorly differentiated lung adenocarcinomas with a high penetrance (100% of animals). Importantly, mice with DDR2-WT and TP53 loss did not develop lung tumors [
61
]. Tumors generated in DDR2-mutant/TP53-loss mice display squamous cell markers, such as p63 and SOX2. These tumors were sensitive to Dasatanib and BET inhibitor JQ1 [
61
]. Adaptive responses to dasatinib treated LSQCCs harboring DDR2 mutations limit the response to this inhibitor [
62
]. A small-molecule chemical library screen showed that MET and insulin-like growth factor receptor inhibitors cooperated with Dasatinib in inducing death of DDR2-mutant LSQCCs [
62
].
3.3. LSQQ with SOX2 Amplification
3.4. Gene Expression Classification of LSQCC
Whole-transcriptome expression profiles generated by RNA sequencing allowed to classify LSQCC into four different subgroup signatures that were defined as classical (36%), primitive (15%), basal (25%) and secretory (25%) [
75
]. Importantly, a consistent correlation between expression subtypes and genomic alterations in copy number, mutation and methylation was observed. The classical subtype was characterized by alterations in KEAP1, NFE2L2 and PTEN genes, overexpression of SOX2, TP63 and PI3KCA (all present on 3q), high PI3KCA expression, frequent chromosome instability; the primitive expression subtype was characterized by RB1 and PTEN alterations, frequent chromosome instability; the basal expression subtype typically showed NF1 alterations. CDKN2A alterations were frequent in all lung cancer expression subtypes [
75
]. The primitive subtype may derive from a later stage of differentiation, while the basal type derived from an earlier differentiation stage [
75
]. Among the four LSQCC subtypes, the primitive subtype has the worst prognosis and the basal subtype has better prognosis than the other subtypes [
76
]. Studies with cell lines corresponding to the various subtypes indicate a differential sensitivity to various anti-tumor drugs; the secretory-type cell lines are significantly less sensitive to anticancer drugs [
76
].
A recent study explored the tumor immune landscape in the various LSQCC subtypes. The secretory subtype showed consistently higher immune cell expression of both innate and adaptive immune cells; the classical subtype demonstrated the lowest immune cell expression of all LSQCC subtypes; CD271 (PD-L1) expression did not correlate with other immune cell expression in the various LSQCC subtypes; major histocompatibility complex II expression was higher in the secretory subtypes than in the other subtypes, while NRF2 expression was clearly higher in the classical subtype than in the other subtypes [
77
]. Increased immune cell expression is not consistently associated with improved survival and appears to be expression subtype-dependent [
77
].
4. Genetic Abnormalities in Adenosquamous Lung Carcinomas
5. Genetic Abnormalities in Basaloid Lung Carcinomas
In the 2015, the classification scheme of World Health Organization proposed a new classification of LSQCC subtypes, identifying three subtypes: keratinizing (the most frequent, 65−70%), nonkeratinizing (with intermediate frequency, 25−30%) and basaloid (the less frequent, about 5%). A recent study explored a large set of Chinese LSQCCs and showed that basaloid LSQCCs do not display any typical clinicopathologic feature compared to the other two subtypes [
83
]. It is commonly accepted that basaloid LSQCCs have a worse prognosis, but this finding was not confirmed in all studies.
The molecular features of these tumors were recently reported. There are two types of basaloid lung cancers, one is the pure basaloid type and the other one is the squamous variant of the basaloid carcinoma. Gene expression profiling studies showed a number of typical abnormalities in basaloid lung cancers, consisting in: (a) overexpression of genes related to TP53 mutation signature, transcription factors (such as SOX4, SOX9, SOX11 and MYB), methylation regulation (such as DNMT1 and DNMT3), cell cycle, survival (such as BCL2) and embryonic development (such as FGF3 and FGF9); (b) down-regulation of genes related to squamous cell differentiation, such as genes related to keratinocyte differentiation [
84
]. Concerning the quantitative and qualitative molecular abnormalities basaloid tumors more resemble SCC than adenocarcinoma [
84
].
Common Genetic Abnormalities in Squamous Cell Carcinomas
Recently, the somatic genetic abnormalities observed in LSQCC have been compared to those observed in other squamous cancers (bladder, oral cavity) and this analysis led to the identification of some common features: all these tumors defined as C2-squamous-like tumors, arise from a cellular subtype shared between epithelial surfaces exposed to environmental influences and display common genetic features at the level of a set of dysregulated genes, mainly represented by SOX2 and ΔNp63 due to gene amplification [
85
].
The comparison of genetic abnormalities observed in the various squamous cell cancers show strong similarities between these tumors; particularly, the comparison of the genetic abnormalities observed in LSQCCs and HNSCCs shows a very high similarity in the type and also in the frequency of these various genetic abnormalities (
Figure 3
) [
85
]. Some peculiar features distinguish squamous cell cancers from other tumors, particularly related to specific determinants of squamous differentiation, such as NOTCH, TP63 and SOX2 [
85
]. These observations support a unified perspective on the biology of squamous cell cancers and support the translation into new common therapeutic approaches [
85
].
These molecular studies have led to a classification of NSCLCs biologically and clinically relevant. The ensemble of molecular studies has provided the recognition of the main somatic genetic lesions occurring in the two main tumor subtypes: thus, EGFR and KRAS mutations and ALK-EML4 fusions mainly occur in adenocarcinomas, while DDR2, FGFR2 and NFE212 mainly occur in squamous cell carcinomas. Taking into consideration the data in genomic alterations, linked to histomorphological and immunohistochemical data of the tumors and to patient outcome, clinically relevant lung tumor subgroups have been identified. Particularly, this study showed that: (a) the analysis of BRAF, EGFR, KRAS, PI3KCA mutations, ALK fusions and FGFR1 amplifications is clinically relevant and helps to define tumor subgroups that can take benefit from patient individualized therapies; thus, the EGFR-mutant lung cancers can be subdivided into two different subgroups according to the presence (poorer prognosis) or absence (better prognosis) of TP53 mutations; TP53-mutant tumors can be subdivided into two subgroups, one with RB1 no loss (with a better prognosis) and the other one with RB1 loss (with a poorer prognosis) [
86
]. However, it is important to point out that using the actual available therapies (surgical debulking, chemo-radiotherapy) the prognosis of the different NSCLC subgroups subdivided according to the presence of BRAF, EGFR, KRAS or PI3KCA mutations or FGFR1 amplifications or ALK-EML4 fusions is not prognostically relevant [
87
]. In spite this limitation, this classification is very important because these different NSCLC subtypes can be addressed, in some instances, to individualized treatments based on selective molecular targeting.
6. Intra-Tumor Heterogeneity and Tumor Evolution
Two recent studies provided very important informations about the phenomenon of tumor heterogeneity and clonal/subclonal evolution in NSCLC. These studies were based on multiregion sequencing of a certain number of lung cancers surgically resected [
88
,
89
]. This analysis allowed to define three types of genetic alterations in lung tumors: "trunk" mutations represent ubiquitous mutations present in all regions of the tumor; "branches" mutations representing heterogeneous mutations present only in some regions of the tumor; "private" mutations representing mutations present only in one region of the tumor. These different mutations underline a progressive mutational evolution of the tumor, with trunk mutations occurring early, before, branch mutations, occurring at later times during tumor progression [
88
,
89
]. Both these studies provided evidence about a consistent degree of spatial heterogeneity, being variable from one tumor to another: on the average, 60−70% of all mutations were detectable in all regions of the same tumor, while the remaining 30−40% were represented by spatially heterogeneous (branch or private) mutations [
88
,
89
]. In one of these two studies it was noted that there was a marked intra-tumor heterogeneity in translocations, mutations and copy number alterations associated with APOBEC cytidine deaminase activity (thus, driver genes PIK3CA, EP300, TGFBR1, PTPRD and AKAP9 harbored mutations in an APOBEC context), thus providing evidence about a possible functional impact of APOBEC activity on subclonal expansion [
88
]. In the other study it was noted that the early relapsing patients had significantly larger subpopulations of subclonal mutations in their primary tumors than patients without relapse [
89
].
Jamal-Hanjani and coworkers have performed a wide analysis of intra-tumor heterogeneity on 100 NSCLC patients who had not received previous systemic therapy; at least three different regions of each tumor were analyzed [
90
]. This analysis showed a consistent degree of intratumor heterogeneity, with a median of 30% of somatic mutations identified as subclonal and a median of 48% of copy-number alterations as subclonal; these findings support the existence of genetic instability occurring at mutational and chromosome level during tumor development [
90
]. Considerable variation in the extent of intra-tumor heterogeneity was observed among various tumors [
90
]. LSQCCs carried significantly more clonal mutations than did lung adenocarcinomas; however, there were no significant differences between LSQCCs and lung adenocarcinomas in the number or proportion of subclonal mutations [
90
]. In lung adenocarcinoma patients, tumor stage positively correlated with the burden of clonal and subclonal mutations with the proportion of subclonal copy-number alterations; furthermore, in these patients, a significantly higher clonal and subclonal mutational burden was observed in smokers, compared to patients who had never smoked [
90
]. Driver mutations in EGFR, MET, BRAF and TP53 were almost always clonal; heterogeneous driver alterations occurring later during tumor evolution were observed in 76% of the tumors and were more common in PIK3CA and NF1 genes and in genes involved in chromatin modification and DNA damage response and repair. Genomic and chromosomal instability paralleled the mutational intra-tumoral heterogeneity and resulted in evolution of driver copy number alterations, such as amplifications in CDK4, FOXA1 and BCL11A [
90
]. Importantly, elevated copy number heterogeneity was associated with an increased risk of recurrence and death [
90
]. These findings indicate that intra-tumor heterogeneity originated through chromosome instability is associated with an increased risk of recurrence or death [
90
].
Interestingly, a recent study provided evidence that lung tumor evolution is characterized also by acquisition of immune evasion mechanisms [
91
]. This conclusion is based on the analysis of the acquisition of HLA loss of heterozygosity; HLA loss of heterozygosity occurs in about 40% of NSCLCs and is associated with a high tumor burden, APOBEC-mediated mutagenesis, upregulation of cytolytic activity, and PD-L1 positivity [
91
]. In both lung adenocarcinomas and LSQCCs, subclones harboring HLA loss of heterozygosity are associated with a clearly elevated burden of non-synonimous mutations and of neoantigens, compared to subclones derived from the same ancestral cancer cells, but without HLA loss of heterozygosity [
91
]. The peculiar nature of HLA loss-of-heterozygosity alterations, their subclonal development with high frequencies, considerable enrichment in metastatic sites, and occurrence as parallel events no related to particular genotypes, suggests that HLA loss-of heterozygosity represents an immune escape mechanism, occurring later during tumor evolution, in consequence of a strong environmental selection pressure [
91
]. The selection of a reduced HLA expression provides NSCLC cells with the capacity of evading immune mechanisms [
91
].
7. Genomic Alterations in Small Cell Lung Cancer
8. Normal Lung Stem Cells
In conclusion, the studies on normal lung stem cells, mostly based on studies carried out in mice, support the view that the regeneration of the respiratory epithelium is ensured by the proliferation and differentiation of region-specific epithelial stem and progenitor cells resident at the level of specific tissutal niches, located in various areas of the airway tree. The analysis of various lung injury models in mice and some pathological conditions in humans, supports physiological role for these stem/progenitor cells in lung tissue regeneration.
9. Lung Cancer Stem Cells
10. Lung Cancer Xenotransplantation Assays
11. Mouse Models of Lung Carcinoma
12. Cellular Origin of Small Cell Lung Cancer
The search for a cell of origin of SCLC is greatly complicated by the consistent difficulty to obtain primary tumor specimens, a starting biological material to isolate these cells. In fact, given the aggressive clinical development and the advanced status of diagnosis, patients with SCLC usually do not undergo tumor resection. In spite this major constraint, numerous cell lines have been isolated and established from SCLC patients and currently grown in vitro. These cell lines have represented the biological material for many studies of characterization of SCLC stem cells.
Lung Cancer Immunotherapy
The studies carried out in the last years have provided evidence that immunotherapy represents a new important therapeutic tool for NSCLC. These studies were largely based on immune check inhibitors. The immune checkpoint proteins Programmed cell Death protein 1 (PD-1) and Cytotoxic T Lymphocyte Associated 4 (CTLA-4) are receptors expressed on the surface of cytotoxic T-lymphocytes that interact with their ligands Programmed Death Ligand 1 (PD-L1) and Cluster Differentiated 86 (CD86) on antigen presenting cells, which helps the cancer cells evade T cell-mediated death. Immune check inhibitors prevent the receptors and ligands from binding each other, thereby disrupting signaling and restoring an anti-tumor immune response. Approved immune check point inhibitors include the anti-CTLA-4 agent ipilimumab; anti-PD-1 agents, Nivolumab and pembrolizumab; anti-PD-L1 agents atezolizumab and durvalumab. PD-L1 is expressed at variable levels on some tumor cells, including NSCLC cells and when expressed contributes to block the immune anti-tumor response.
Another important advantage of immunotherapy in early stages of tumor development could consist in generating a long-lasting anti-tumor immunity able to block micrometastatic disease, preventing tumor progression and relapse.
The multicenter open-label, single-arm, phase II LCMC3 trial conducted by the Lung Cancer Mutation Consortium is evaluating the safety and efficacy of neoadjuvant and adjuvant treatment with atezolizumab in patients with resectable NSCLC. Neodjuvant therapy will consist of two 21-days cycles of atezolizumab and, following tumor resection, patients demonstrating clinical benefit with neoadjuvant therapy with atezolizumab for up to 12 months. The primary endpoint of the study consists in the evaluation of the major pathologic response. A similarly designed multicenter, phase II trial is being conducted with pembrolizumab; for patients with stage IB to IIIA NSCLC, 2 doses of neoadjuvant pembrolizumab and four doses administered as adjuvant therapy will be evaluated.
13. Conclusions
Lung cancer is the most common cause of cancer-related death in the world, with an estimated 1.6 million deaths each year. About 85% of patients have a group of histological types regrouped as NSCLC and including lung adenocarcinoma and LSQCC. The most common etiological factor involved in lung cancer development is tobacco smoking, accounting for about 80% of cases, particularly for LSQCC and SCLC. A part of lung cancers is observed in never smokers. Thus, the eradication of the use of all tobacco-related products represents a main and fundamental goal in the fight against cancer, but represents an objective difficult to reach for numerous problems. Thus, the war against lung cancer requires not only tobacco prevention strategies, but also an improvement of the current therapies.
The improvement of the therapies of lung cancers necessarily involves a better understanding of the molecular defects underlying these tumors. In the last two decades, tremendous progresses have been made in the understanding of the molecular abnormalities occurring in various lung cancer subtypes, offering the opportunity to better understand the pathogenesis of these diseases, providing also in some cases the possibility to identify potential therapeutic targets.
Considerable progresses have been achieved in the therapy of NSCLCs in the last three decades. Surgical resection is the optimal therapy for patients with stage I to II and for a part of patients with stage IIIA disease; however, a part of these patients relapses after surgery and adjuvant chemotherapy with a cisplatin-based doublet improves the survival of patients with stage II and IIIA tumors completely resected. For patients with advanced stage and good performance status the platinum-based doublet therapy represents the standard therapy; patients achieving disease control after 4–6 cycles of therapy have the additional option of a maintenance therapy. Finally, for patients with unresectable locally advanced NSCLC, the standard therapy consists in the combination of chemotherapy with thoracic irradiation. However, in spite these treatments, a high mortality rate is observed among patients with advanced stage disease due to the presence of metastatic disease at diagnosis.
However, starting from the late 1990s, targeted therapies have been introduced in the treatment of some subtypes of NSCLCs and, particularly, of lung adenocarcinomas.
In conclusion, the treatment of NSCLC has undergone dramatic changes in the past 10 years, as a result of the better understanding of lung cancer heterogeneity and of the molecular abnormalities underlying this heterogeneity, with subsequent and consequent development of targeted therapies that started the era of personalized medicine and of immunotherapies. The development of these therapies represents the basis for the hope for prolonged survival in a part of patients with NSCLC, raising this this possibility of an efficacious therapy also for patients with metastatic disease. Nertheless, this improvement in therapy outcome is still limited to a minority of patients, with targeted therapies being limited only to adenocarcinoma patients and durable responses to immunotherapy occurring only in a minority of patients. Future studies have to try to: (i) to improve the number of lung cancer patients responding to targeted therapies or immunotherapies, particularly among SCLC and LSQCC patients, through the identification of appropriate tumor-specific targets and biomarkers; (ii) to better understand the mechanisms of acquired resistance to targeted therapies to block/reduce their occurrence or to develop an effective treatment at the time of their emergence; (iii) to better define the biomarkers predicting the response to immunotherapies.
Author Contributions
All the authrors have contributed to the critical reading of literature data and have contributed to the preparation of the manuscript.
Funding
This research received no external funding.
Acknowledgments
The Italian Health Ministery supported the U.T. for his studies through the "Programma Oncotecnologico". I am grateful to Istituto Superiore di Sanità, Rome, Italy, to have provided to me access to scientific journal databases.
Conflicts of Interest
The authors have no any conflict of interest to declare.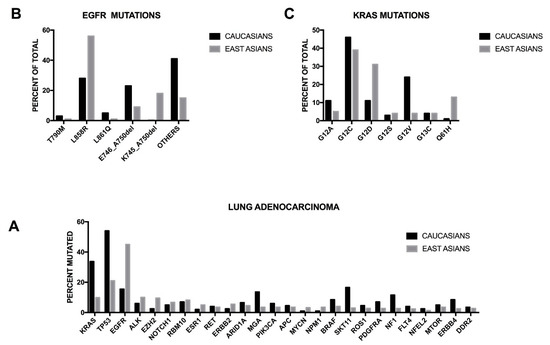 Figure 1.
(
A
) Comparison of the most recurrent gene mutations in lung adenocarcinoma between Caucasians and EAST Asians; (
B
) Various gene mutations at the level of the EGFR gene in Caucasians and East Asians; (
C
) Various gene mutations at the level of the KRAS gene in Caucasians and East Asians. Data are reported in [
13
,
17
].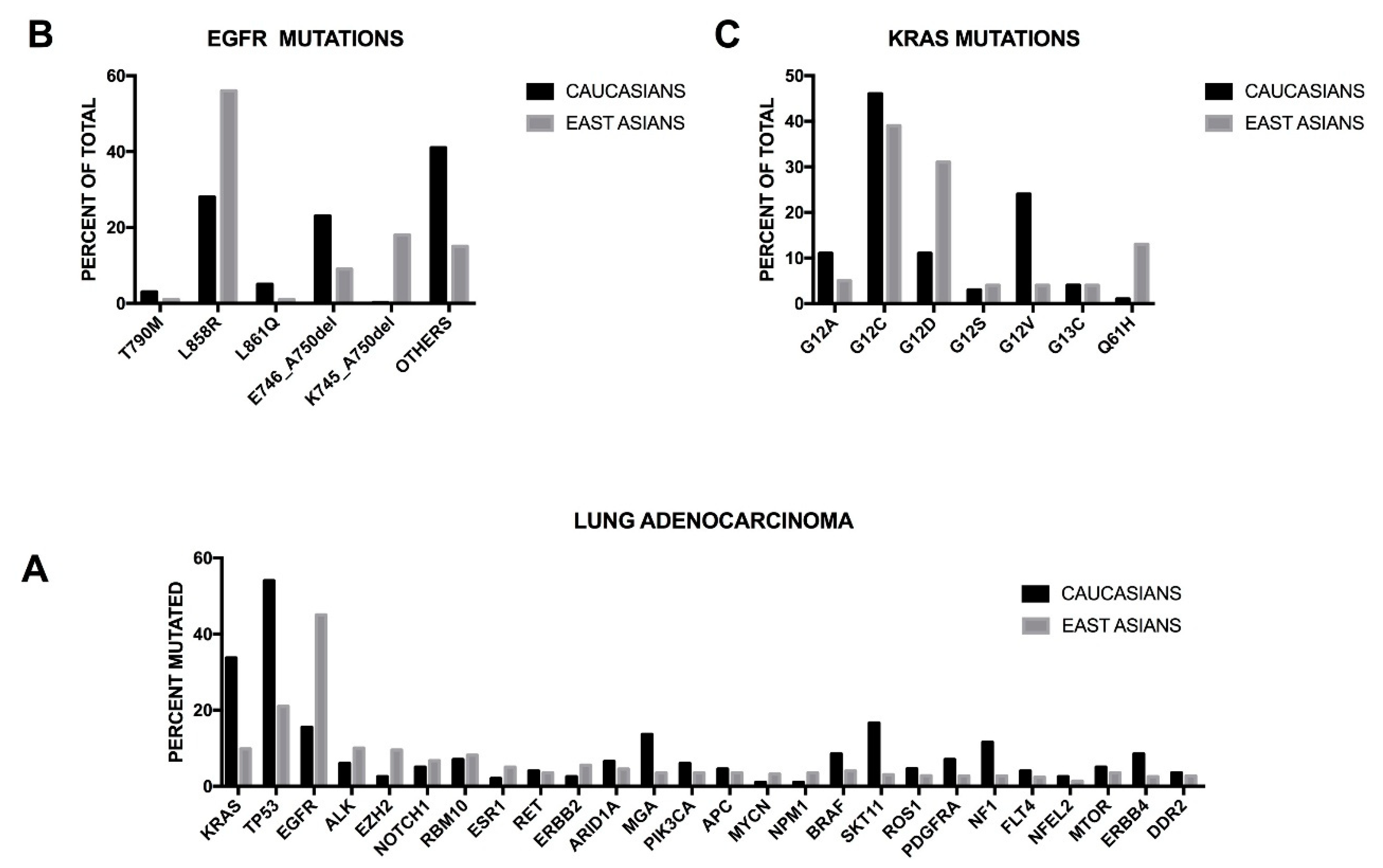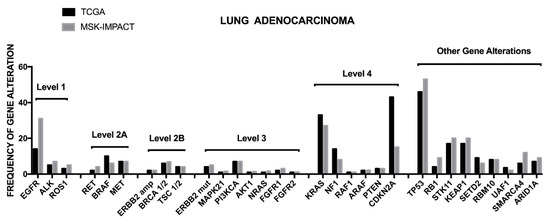 Figure 2.
Frequency of main genetic alterations, subdivided into various levels according to the degree of therapeutic actionability of genetic events, in two groups of lung adenocarcinoma patients: TCGA data sets based on the analysis of non-metastatic patients and MSK-IMPAC data based on the analysis of recurrent/metastatic lung adenocarcinomas. Date are reported in [
13
,
19
].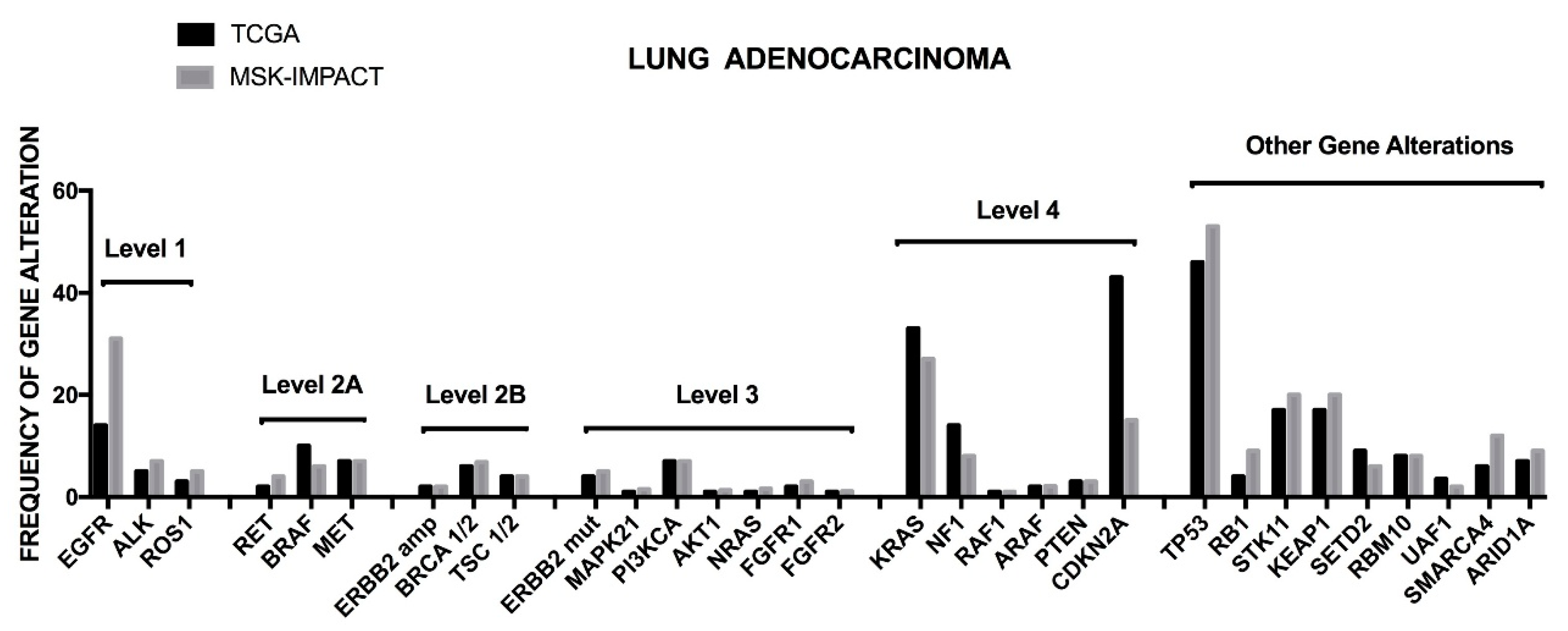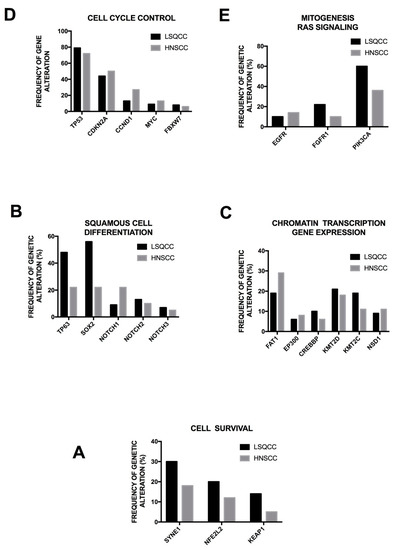 Figure 3.
Pattern of frequently altered genes in LSQCC and HNSCC, subdivided according to their biologic function. A: Cell Survival; B: Squamous Cell Differentiation; C. Chromatin Transcription Gene Expression; D: Cell Cycle Control; E: Mitogenesis, RAS Signaling. Data are reported in [
85
].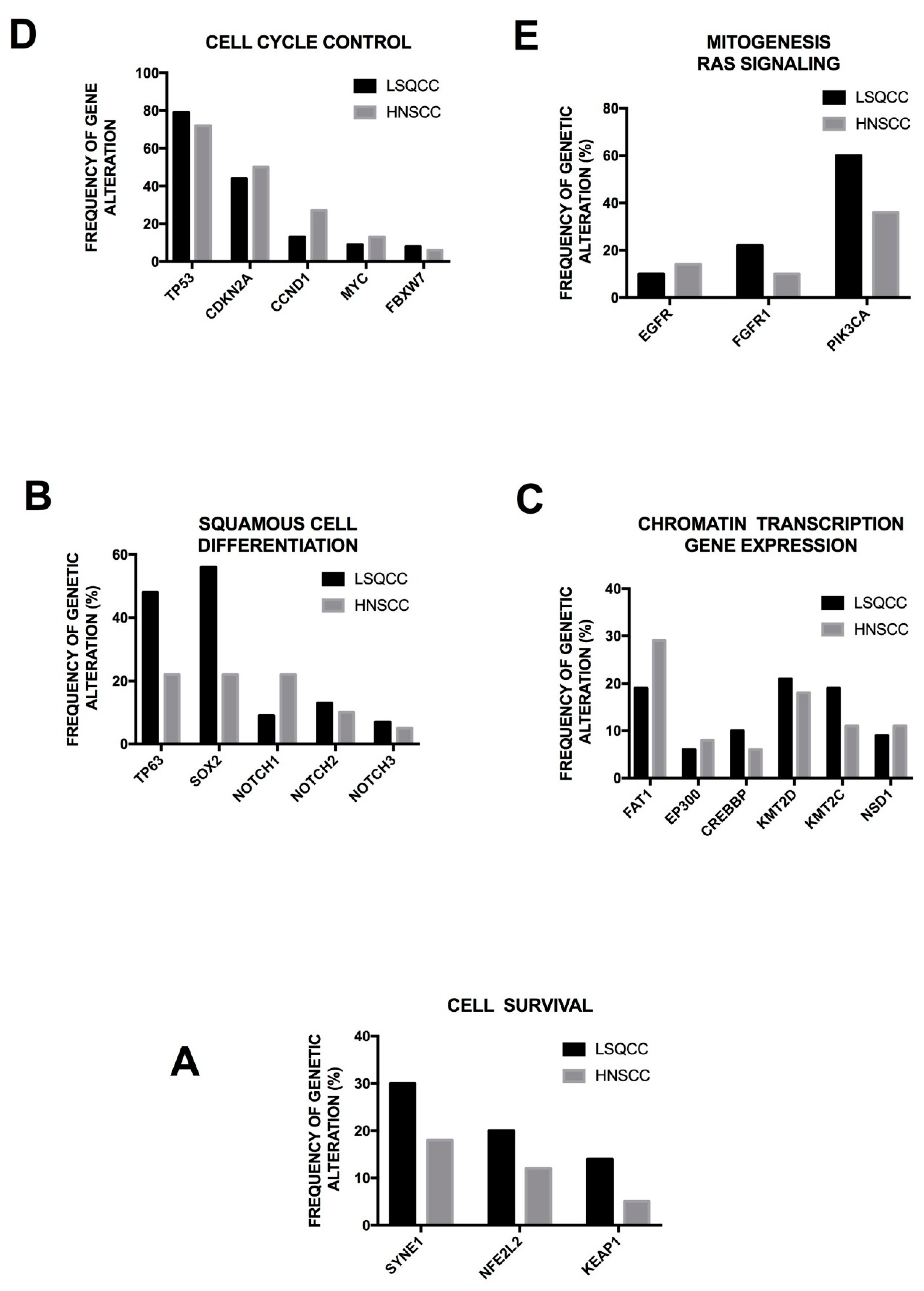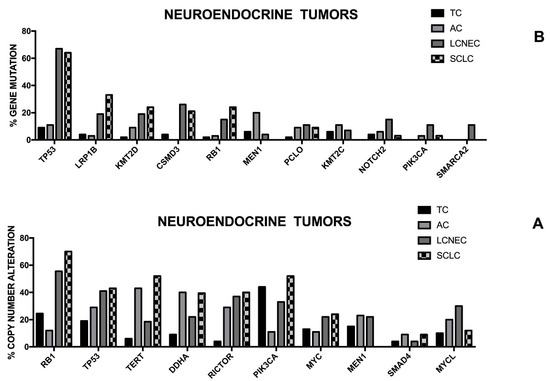 Figure 4.
Genetic abnormalities observed in neuroendocrine lung cancers classified into four subtypes: TC (Typical Carcinoid); AC (Atypical Carcinoid); LCNEC (Large Cell Neuro Endocrine Carcinoma); SCLC (Small Cell Lung Carcinoma). A: Copy Number Alterations; B: Gene Mutations The data plotted in this figure were reported by Simbolo et al. [
123
].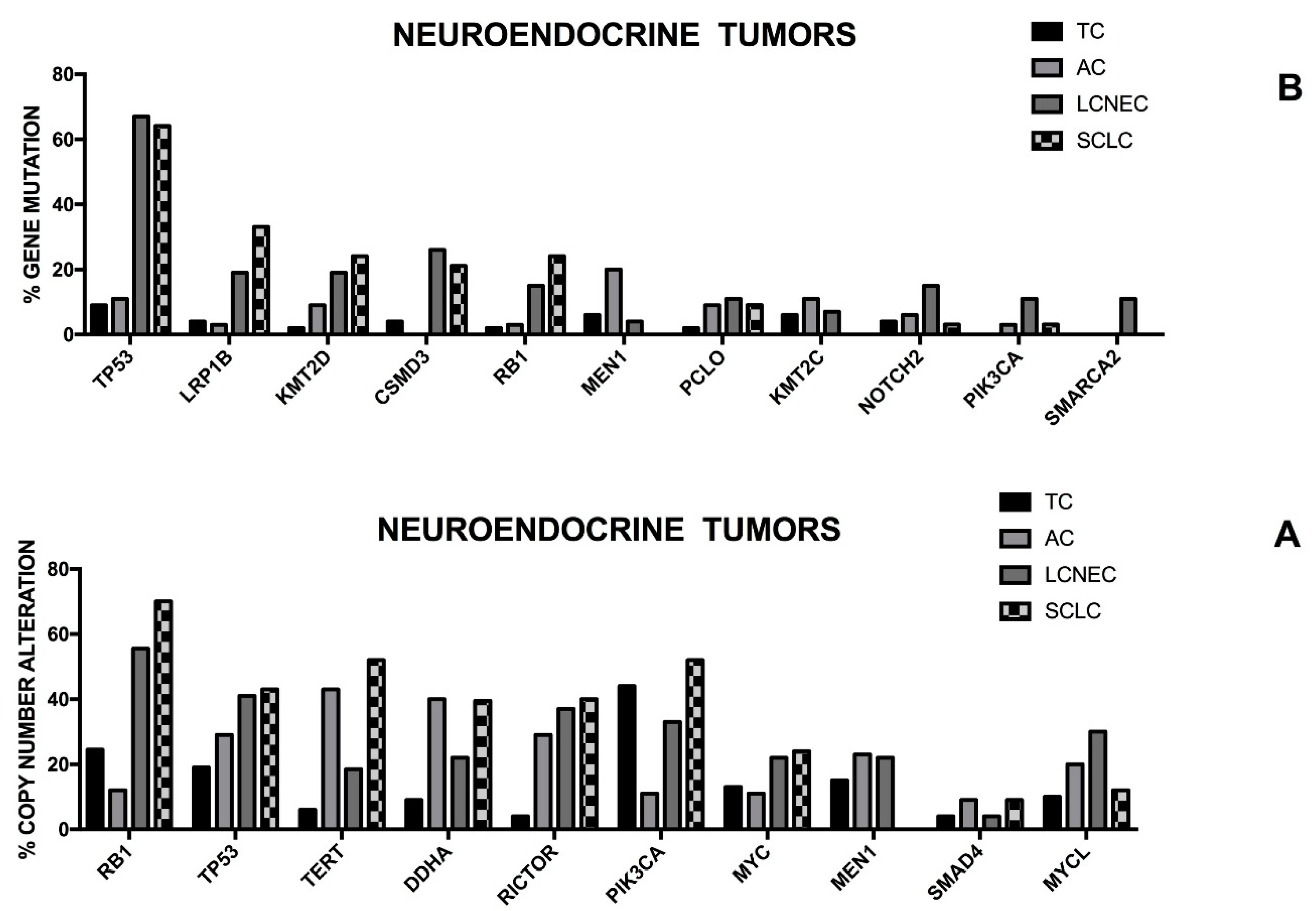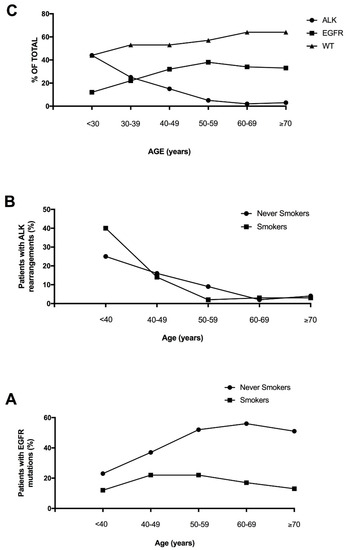 Figure 5. (A) Age distribution at diagnosis of Chinese NSCLC patients with ALK-EML4 rearrangements, EGFR mutations and wild type (without ALK or EGFR alterations) tumors; (B) age distribution of ALK-rearranged NSCLCs stratified by smoking status; (C) age distribution of EGFR-mutant NSCLCs stratified by smoking status.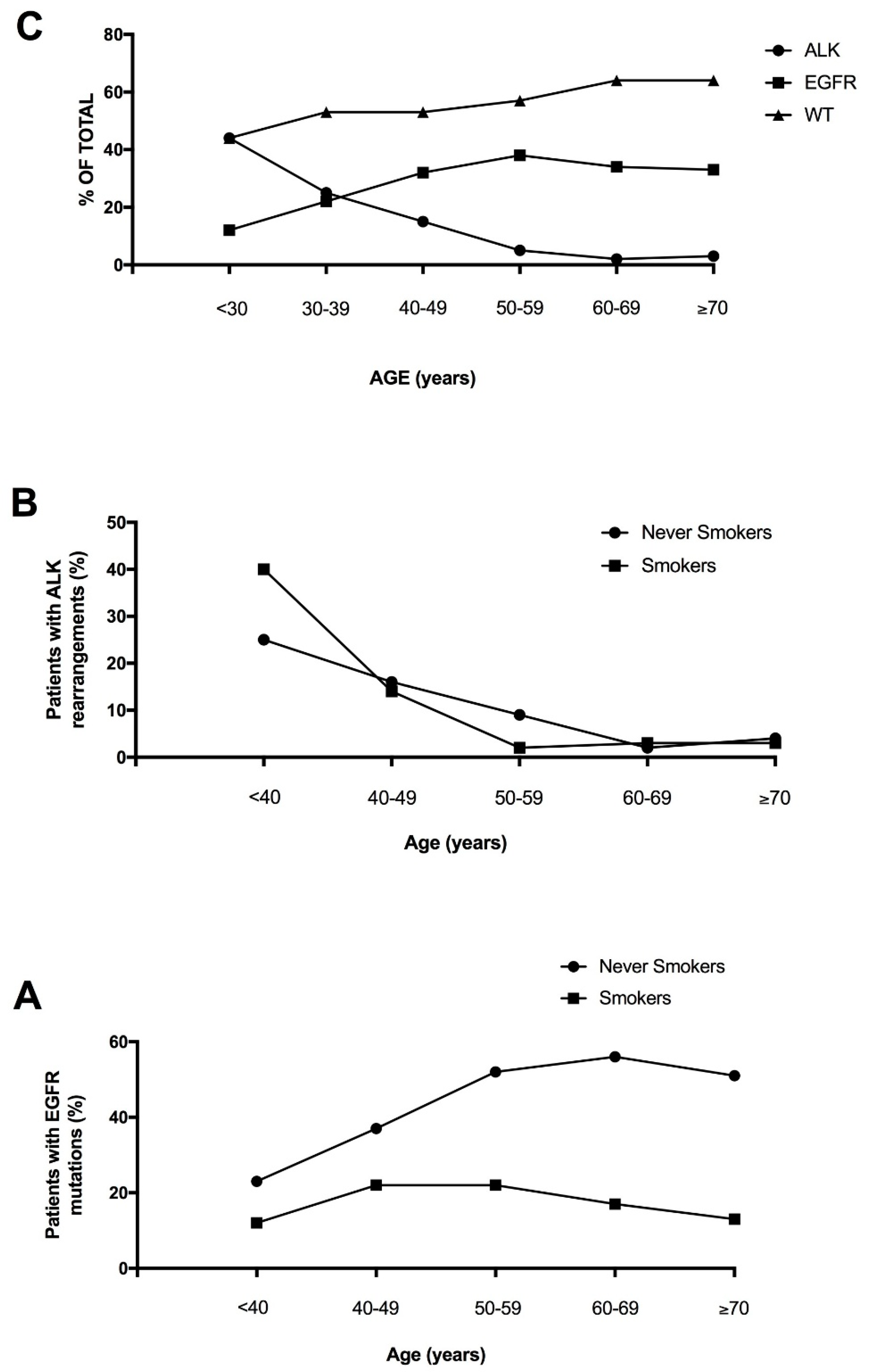 Adenocarcinoma (Early Lesions)
Adenocarcinoma in situ; Minimal Invasive Carcinoma (<0.5 cm);
Atypical Adenomatous Hyperplasia; Adenocarcinoma in situ
Advanced Adenocarcinoma
Lepidic Adenocarcinoma; Acinar Adenocarcinoma; Papillary Adenocarcinoma;
Micropapillary Adenocarcinoma
Variants of Adenocarcinoma
Invasive mucinous adenocarcinoma (mixed non-mucinous and mucinous
Adenocarcinoma); Colloid Adenocarcinoma; Fetal Adenocarcinoma;
Enteric Adenocarcinoma
Squamous Cell Carcinoma
Early Lesions
Preinvasove Lersion; Squamous cell carcinoma in situ
Squamous Cell Carcinoma
Advanced Tumors
Keratinizing; Non-Keratinizing; Basaloid Squamous Cell Carcinoma
Neuroendocrine Tumors
Small Cell Carcinoma; Large Cell Neuroendocrine Carcinoma; Carcinoid Tumor;
Diffuse Idiopathic Pulmonary Neuroendocrine Cell Hyperplasia
Large Cell Carcinoma
Adenosquamous Carcinoma
Sarcomatoid Carcinoma
Pleomorphic, Spindle Cell, and Giant Cell Carcinoma; Carcinosarcoma;
Pulmonary Blastoma
Salivary gland-type Carcinoma
Mucoepidermoid Carcinoma; Adenoid Cystic Carcinoma;
Epithelial-Myoepithelial Carcinoma
T:Tumor
Tumor Characteristics
T0
Absence of primary tumor
Tis
Carcinoma in situ
T1
Tumor ≤ 3 cm in greatest diameter
T1a
Tumor ≤ 2 cm in greatest diameter
T1b
Tumor ≥ 2 cm but ≤ 3 cm in greatest diameter
T2
Tumor ≥ 3 cm but ≤ 7 cm in greatest diameter
T2a
Tumor ≥ 3 cm but ≤ 5 cm in greatest diameter
T2b
Tumor ≥ 5 cm but ≤ 7 cm in greatest diameter
T3
Tumor >7 cm
Tumor invading chest wall, diaphragm, phrenic nerve, mediastinal pleura, pericardium
Tumor in the main bronchus
Separate tumor nodules in in the same lobe
T4
Tumor of any size invading heart, great vessels, mediastinum, trachea, recurrent laryngeal nerve, esophagus, vertebral body, carina
N:Nodes
N0
Absence of regional lymph node metastasis
N1
Metastasis in ipsilateral hilar and/or peribronchial lymph nodes and intra-Pulmonary lymph nodes
N2
Metastasis in ipsilateral mediastinal and/or subcarinal lymph nodes
N3
Metastasis in contralateral hilar or mediastinal lymph nodes, in ipsilateral or contralateral scalene lymph nodes, or in supraclavicular lymph nodes.
M:Metastases
M0
Absence of distant metastasis
M1
Distant metastasis
M1a
One or more separate tumor nodules in contralateral lobe
Tumor with pleural nodules or tumor pleural/pericardial effusion
M1b
Distant metastasis
Gene
Alteration
Frequency in Lung Cancer
Targeted Therapy
EGFR
Exo 19 deletion
L858R point mutation in exon 21
L861Q point mutation in exon 21
G719X point mutation in exon 18
T790M point mutation exon 20
NSCLC: ≅15% in Western populations
NSCLC: ≅35−50% in Asian populations
LUAD: 27%
LSQCC: <9%
LUAD never smoker: 42%
LUAD former smoker: 13.5%
LUAD current smoker: 5%
Gefitinib (EGFR del 19 or L858R mutation)
Erlotinib (EGFR del 19 or L858R mutation)
Afatinib (EGFR del 19 or L858R mutation)
Dacomitinib (EGFR del 19 or L858R mutation
and T790M mutation)
Osimertinib (EGFR T790M mutation)
ALK
ALK rearrangement
EML4-ALK (the most frequent)
KIF5B-ALK
KLC1-ALK
NSCLC: 3−5%
LUAD: 3−7%
LSQCC: 0.2−1%
LUAD never smoker: 5−11%
LUAD smoker: 0–0.8%
Crizotinib
Ceritinib
Alectinib
Brigantinib
Lorlatinib (active also against the resistance mutation G1202R)
ROS1
ROS1 rearrangement
CD74-ROS1
SDC4-ROS1
SLC34A2-ROS1
EZR-ROS1
NSCLC: 0.5−2%
LUAD: 2.6%
LSQCC: 0%
LUAD never smoker: 5.8%
LUAD smoker: 0.4%
Crizotinib
Ceritinib
Brigatinib (it inhibits the resistance mutation L2026M, but not D2033N and L1951R)
Lorlatinib (partially active against G2032R resistance mutation)
Entrectinib
Cabozantinib (active against G2032R, but with an elevated profile of toxicity)
RET
RET rearrangement
NSCLC: 1−2%
LUAD: 1.4%
LSQCC: 0%
LUAD never-smoker: 1.8%
LUAD smoker: 0.7%
Vandetinibv
Cabozantinib
Lenvatinib
BLU-667
BRAF
Point mutations
BRAFV600E (30−40% of cases)
BRAFnonV600E (60−70% of cases):
BRAFV469A, BRAFD594G, BRAFG466A
Class I, II and III BRAF mutants
NSCLC: 2.6%
LUAD: 1.4%
LSQCC: 0.2−1%
LUAD never-smoker: 5−11%
LUAD smoker: 0–0.8%
Dabrafenib (BRAF inhibitor) + Tramafenib (MEK inhibitor): BRAFV600E–mutant NSCLC
HER2
Point mutations
HER2 amplifications
NSCLC: 1.8%
LUYAD: 2.3%
LSQCC: 0%
LUAD never smoker: 4.5%
LUAD smoker: 0.8%
Trastuzumab
Afatinib
Ado-trastuzumab emtansine
MET
MET mutations (exon 14 skipping mutations)
MET amplifications
MET translocations
Met mutations, METex 14
NSCLC: 2.5−3%
LUAD: 3%
LSQCC: 0%
LUAD never smoker: 4%
LUAD smoker: 2.2%
Capmatinib
Tepotinib
Crizotinib
Cabozantinib
LKB1/STK11
LKB1 mutations
LKB1 homozygous deletion
LUAD: LKB1 mutations 8%
LUAD: LKB1 homozygous deletion 30%
Loss of LKB1 expression caused by mutation or gene deletion is associated with resistance to immune check inhibitors
KEAP1
Point mutation
LUAD: 15%
LSQCC: 14%
LUAD never smoker: 7%
LUAD previous smoker: 18%
LUAD current smoker: 27%
Clabetasol propionate
SW 157765
NFE2L2
Point mutation
LUAD: 2%
LSQCC: 14.5%
LUAD never smoker: 3.5%
LUAD previous smoker: 4%
LUAD current smoker: 9.5%
Clabetasol propionate
SW 157765

© 2018 by the authors. Licensee MDPI, Basel, Switzerland. This article is an open access article distributed under the terms and conditions of the Creative Commons Attribution (CC BY) license (http://creativecommons.org/licenses/by/4.0/).