Open Access This article is
freely available
re-usable
Review
Ovarian Cancer Immunotherapy: Preclinical Models and Emerging Therapeutics
1
Cancer Therapeutics Program, Ottawa Hospital Research Institute, 501 Smyth Road, Ottawa, ON K1H 8L6, Canada
2
Department of Cellular and Molecular Medicine, University of Ottawa, 451 Smyth Road, Ottawa, ON K1H 8M5, Canada
†
These authors contributed equally to this work.

Received: 29 June 2018 / Accepted: 23 July 2018 / Published: 26 July 2018
Abstract
:
Immunotherapy has emerged as one of the most promising approaches for ovarian cancer treatment. The tumor microenvironment (TME) is a key factor to consider when stimulating antitumoral responses as it consists largely of tumor promoting immunosuppressive cell types that attenuate antitumor immunity. As our understanding of the determinants of the TME composition grows, we have begun to appreciate the need to address both inter- and intra-tumor heterogeneity, mutation/neoantigen burden, immune landscape, and stromal cell contributions. The majority of immunotherapy studies in ovarian cancer have been performed using the well-characterized murine ID8 ovarian carcinoma model. Numerous other animal models of ovarian cancer exist, but have been underutilized because of their narrow initial characterizations in this context. Here, we describe animal models that may be untapped resources for the immunotherapy field because of their shared genomic alterations and histopathology with human ovarian cancer. We also shed light on the strengths and limitations of these models, and the knowledge gaps that need to be addressed to enhance the utility of preclinical models for testing novel immunotherapeutic approaches.
Keywords:
ovarian cancer; tumor microenvironment; immune infiltrating cells; chemotherapy; immunotherapy; syngeneic; transgenic models; hot vs. cold tumors; immunosuppression
1. Introduction
At present, there are no approved immune therapies for epithelial ovarian cancer (EOC) patients. As EOC is often detected at a late stage, research has mainly focused on the discovery of new treatments. Current first-line treatment is debulking surgery and adjuvant or neoadjuvant chemotherapy. Even though >80% of patients show a positive response to this initial therapy, most patients will relapse with chemotherapy-resistant disease [
1
]. As the presence of tumor infiltrating lymphocytes (TILs) correlates with increased EOC patient survival [
2
,
3
,
4
,
5
,
6
,
7
,
8
,
9
], immunotherapies hold great potential for improving EOC outcomes, as they have for several other types of cancers. The U.S. Food and Drug Administration has approved the use of several immune checkpoint inhibitors for non-small-cell lung cancer (NSCLC), melanoma, bladder cancer, renal cell carcinomas, and Hodgkin lymphoma and recently approved the first chimeric antigen receptor (CAR)-T-cell therapy to treat children with B-cell acute lymphoblastic leukemia [
10
,
11
].
Antitumor immunity in EOC patients is robustly attenuated because of the immunosuppressive cells within the tumor microenvironment (TME), as reviewed in the literature [
12
,
13
]. Several cell types are found in the tumor niche, including immune cells [effector T and B lymphocytes, regulatory T and B cells, natural killer cells (NKs), tumor-associated macrophages (TAMs), and myeloid-derived suppressor cells (MDSCs), among many others (
Table 1
)], as well as other components found in the TME, including fibroblasts and the adipocytes in the omentum [
12
]. MDSCs, TAMs, and regulatory T cells (Tregs) play a critical role in maintaining a highly immunosuppressive TME by producing immunomodulatory molecules [transforming growth factor beta (TGFβ), interleukin (IL)-10, IL-6, etc.] and inducing and recruiting immunoinhibitory cells, which dampens antitumoral immunity and supports tumor promotion [
12
,
14
]. Therefore, EOC immunotherapy must combine approaches that aim to reduce the highly immunosuppressive TME, as well as stimulate immune-activating antitumoral responses. This review describes encouraging results from both preclinical and clinical trials and highlights the immunotherapies that offer innovative and combinatorial approaches to circumvent the antitumoral barriers within the TME.
2. Adoptive Cell Therapy
Adoptive cell therapy (ACT) aims to boost the antitumoral activity of autologous (patient) or allogeneic (from healthy donors) lymphocytes [
15
]. ACT consists of the isolation of T cells from a patient's tumor or peripheral blood to expand or manipulate those cells ex vivo, away from the influence of the immunosuppressive TME. These ex vivo expanded T cells are reintroduced into the patient along with recombinant IL-2 (rIL-2) after a lympho-depleting chemotherapy regimen [
15
]. ACT has resulted in complete and durable regressions in patients with melanoma [
16
,
17
]. In 1995, Fujita and colleagues used ACT of TILs in 13 patients with advanced-stage EOC who did not show any detectable lesions after primary surgery and cisplatin-containing chemotherapy [
18
]. All patients who received TILs following post-surgery chemotherapy survived three years, compared with only 67.5% of patients receiving chemotherapy alone. Interestingly, TILs promoted tumor regression even in patients with advanced disease or recurrent platinum-resistant EOC [
18
]. Among TILs, CD8+ T cells have been shown to migrate and infiltrate tumors and mediate antitumoral responses [
19
]. An early trial in EOC patients that used ACT with TILs following a single injection of cyclophosphamide showed tumor regression in primary tumors and metastases (ovary, liver, lung, and lymph node), which was stable for up to five months with one out of seven patients showing complete response and four out of seven with >50% reduction in tumor burden [
20
]. When this study was expanded with 10 additional patients, seven cases showed complete regression without recurrence for up to 15 months [
20
]. This highlighted the prospect of combined therapy using TILs and cisplatin without rIL-2 administration that has unfavorable toxicity in many cases [
20
].
In another study, 11 patients with advanced platinum-resistant EOC received intraperitoneal (IP) TILs and low doses of rIL-2 IP [
21
]. Grade 3 clinical toxicity (peritonitis) and anemia were observed without a significant clinical response in any patient. However, 50% of treated patients had regression of ascites (two patients), tumor and carcinoma antigen (CA)-125 (one patient), and surgically confirmed stable tumor and CA-125 values (one patient) [
21
]. Thus, ACT efficacy has shown conflicting results depending on the study (reviewed in the literature [
22
]). Importantly, the most encouraging clinical responses were observed when patients were stratified according to the presence or absence of TILs, with the best clinical response in patients who had TILs or 'hot' tumors, a property known to improve survival [
22
]. As discussed by Santoiemma and Powell, these early studies were executed prior to our advanced understanding of TIL quality, persistence and specificity, patient disease burden, and pre-conditioning regimens, which have since been significantly improved [
22
].
As ACT has resulted in response rates up to 72% in metastatic melanoma occurring at all sites and has been durable beyond three years in many patients [
17
], there remains considerable promise in identifying and optimizing conditions whereby ACT can be consistently successful in EOC.
Chimeric Antigen Receptor T Cells (CAR-T)
New approaches, such as genetically engineered T cells, build on the promising early ACT trials that are constrained by the need to isolate and expand functional tumor-reactive T cells [
23
]. Genetic engineering of T cells has become a powerful approach to increase tumor immunity [
24
]. The T-cell receptor (TCR) from lymphocytes and chimeric antigen receptors (CARs) can be adapted to specifically target patient tumor cells. CAR-T cells allow for the recognition of tumor cells in a major histocompatibility complex (MHC)-unrestricted manner, combining antigen-specificity and T-cell activating properties in a single fusion molecule [
25
]. The first generation of CARs was tested in several cancers, including EOC [
26
], renal cancer, lymphoma, and neuroblastoma, inducing modest responses [
25
]. In the first study of CAR-T cells in EOC, autologous T cells specific to the EOC tumor associated antigen (TAA) α-folate receptor (FRα) were generated with a chimeric gene composed of an anti-FRα single-chain antibody linked to the signaling domain of the Fc receptor gamma chain [
26
]. From this study, no reduction in tumor burden was seen in any patient. Although large numbers of CAR-T cells were well tolerated, they did not persist long-term [
26
]. Some promising TAAs related to EOC for the generation of CARs are FRα [
27
], human epidermal growth factor receptor 2 (HER-2) [
28
], CA-125 (MUC16) [
29
,
30
], and mesothelin [
31
]. Moreover, CAR-T cells can be redirected against NKG2D ligands, which are widely expressed on EOC [
32
], as well as the epithelial cell adhesion molecule (EpCAM) [
33
] and 5T4 [
34
].
CAR translation to solid tumors is actively being investigated at present; however, few facilities have the capacity to produce CARs and many trials have achieved less than expected efficacy. This could be explained by the highly immunosuppressive TME [
35
]. Koneru and colleagues generated T cells engineered to specifically recognize the MUC-16ecto TAA that is expressed in the majority of ovarian tumors and derived from the cleavage of CA-125 [
29
,
36
]. As a strategy to overcome the TME, they developed a construct that co-expressed both MUC16ecto CAR and IL-12, a pro-inflammatory cytokine that has potential roles in anticancer therapy [
37
]. Some immune cells such as NK cells, dendritic cells (DCs), and macrophages normally produce IL-12 to induce T-cell proliferation and inhibit Tregs. The IL-12 secreting CAR-T cells displayed enhanced antitumor efficacy as determined by increased survival, prolonged persistence of T cells, and higher systemic interferon gamma (IFNγ) in mice with human EOC xenografts [
36
]. These observations suggest that IP delivery of CAR-T cells may be most beneficial for EOC treatment [
38
]. The peritoneal cavity is the main locus for EOC metastases, and local treatment seems to be a safer option for patients, because adverse reactions induced by 'on-target off-tumor' toxicities, such as cytokine release syndrome, were reported in a study that used ACT of autologous mesothelin-redirected CAR-T cells in a patient with BRCA1+ advanced recurrent serous EOC [
39
]. By local administration of CARs, antigens expressed by both EOC and healthy tissue, such as EpCAM, can be targeted in a safer way [
40
]. Indeed, there is a long-term survival advantage associated with IP chemotherapy in advanced EOC disease [
41
]. Recent studies have shown that CAR-T cells could be administrated along with cytokines such as IL-2, IL-7, IL-15, and IL-21 to increase their efficacy against hematologic and solid tumors [
42
].
There are still many barriers to overcome for CAR-T therapy effectiveness, such as T-cell trafficking into the tumor niche, patient selection, cancer-specific TAAs, and the highly immunosuppressive TME, as well as the dose and route of administration [
35
,
43
,
44
]. Combinatorial strategies to circumvent these barriers, such as incorporating immune checkpoint inhibitors into CAR-T cells [
45
], may be the new frontier in enhancing the tumor elimination efficacy of CAR-T cells for EOC patients.
3. Strategies Targeting Immunosuppression in the TME
4. Increasing Tumor Immunogenicity
5. Preclinical Models for Ovarian Cancer Immunotherapy
The ovarian cancer field has accelerated rapidly since the discovery that ovarian cancer is not one disease, but exists as numerous subtypes that behave differently. For the most common EOC subtype, HGSC, we have only recently begun to appreciate the role of the fallopian tube secretory epithelium (murine oviductal epithelium) as one of the origins of HGSC. These discoveries led researchers to focus on modeling ovarian cancer after specific subtypes or origin(s) of disease, leading to a narrow characterization of many of these preclinical models in relation to their origin and common genomic alterations with HGSC. Commonly studied features include growth rate, tumorigenic potential, immunohistochemical markers, DNA mutations, BRCAness, RNA expression, and copy number variation, with the results correlated to The Cancer Genome Atlas (TCGA) or other large datasets on HGSC. Since the emergence of immunotherapies as promising agents for ovarian cancer treatment, we have a rich reservoir of human and murine-derived ovarian cancer models that have limited characterization for the features that we have come to appreciate as important indicators of immunotherapeutic efficacy. Such features include MHC status and PD-L1/2 expression on cancer cells, total mutational and neoantigen burden, ascites composition, hot versus cold immune landscape, and the contribution of tumor stroma (cancer-associated fibroblasts) to tumor immunosuppression. Given that the current clinical efficacy of immune checkpoint blockade for HGSC ranges from 9.7 to 15% [
35
], preclinical models will be of great importance as we seek better indicators of response, as well as new immunotherapy development. In this section, we summarize the current knowledge of ovarian cancer models and highlight the models that may be untapped resources for the immunotherapy field.
5.1. Syngeneic Murine Models
A syngeneic model is defined by its immunological compatibility such that the host does not reject either the outgrowth or transplant of cancer cells in immunocompetent animals. We have divided syngeneic models into spontaneously occurring and genetically engineered models, as described below.
5.1.1. Spontaneously Transformed Syngeneic Models
5.1.2. Genetically Engineered Mouse Models (GEMM)
Although GEMM models enable us to better model the origins of disease and genomic alterations characteristic of HGSC, they have two weaknesses that limit their use for immunotherapy. Firstly, most GEMMs have been generated on a mixed strain background, preventing the generation of transplantable syngeneic cell lines. Secondly, although GEMMs may reproducibly generate tumors, they tend to arise over a wide course of time. The difficulty in controlling tumor onset and size in GEMMs introduces a logistical challenge for immunotherapy studies that rely on flow cytometric analysis of immune populations that are generally performed simultaneously at one point in time. In contrast, this limitation is easily overcome with transplantable syngeneic models, such as the ID8 and STOSE models, where tumor onset is uniform and controlled.
6. Human-Derived and Autologous Cultures
Numerous ovarian cancer cell lines have been used historically with inconsistencies in their relevance to human HGSC, particularly A2780 and SKOV3 cells, which are unlikely to represent HGSC (reviewed in the literature [
185
]). Recently, HGSC primary cultures have been established that have genomic alterations, TAA expression, and gene expression profiles consistent with TCGA datasets [
186
,
187
,
188
]. These primary cultures offer resources for TAA discovery, infectivity with oncolytic viruses, and developing methods to increase immunogenicity. The major weakness of using primary cultures is that tumorigenesis can only be studied in xenografts using immunodeficient mice that fail to develop a complex TME with the immune subsets seen in patient tumors.
Ovarian cancers are rich resources for easily accessible cancer and immune cells from ascites fluid. Ascites fluid is remarkably immunosuppressive, containing high levels of Tregs and MDSCs [
47
,
143
]. Ascites have been a source for NK cells, where ex vivo expansion restored their cytotoxicity against autologous CD45-EpCAM+ cells [
189
]. Nounamo and colleagues showed that myxoma virus can prevent the secretion of IL-10 from ascites-derived CD14+ myeloid cells, thereby providing in vitro evidence that myxoma virus may remodel the ascites microenvironment to facilitate stronger antitumor immunity [
143
]. An interesting approach was developed by Freedman and colleagues using an oncolytic adenovirus expressing a bispecific T cell engager (BiTE) that targets autologous CD8+ T cells to EpCAM+ ascites cells and pleural effusions. Remarkably, even in the presence of ascitic fluid, EnAdEpCAMBiTE stimulated T cell proliferation and cytotoxicity against EpCAM+ ascites cells [
190
]. A co-culture system has also been developed to assess the efficacy of CAR-T cell therapy by culturing dissociated primary ovarian tumors with autologous derived anti-5T4 CAR-T cells [
34
]. Even though the use of human samples has limitations for studying the ovarian cancer TME, they offer invaluable resources to determine the specificity of both innate and adaptive targeted immunotherapies.
7. Summary
Further studies about EOC TME evolution during disease and treatment are needed. Importantly, heterogeneity among metastatic and primary tumors within a single patient can coexist [
191
], and this heterogeneity can influence the immune cell landscape, thereby affecting prognosis and therapeutic responses. Similarly, the ascites TME can respond differently to therapy, because EOC ascites contain another complex immunosuppressive network. Therefore, the challenges of tumor heterogeneity must be considered when designing therapeutic strategies for EOC patients.
In this review, we described some of the current emerging immunotherapies that have shown promising results in animal models and other cancer types and that could be exploited in EOC. The major barrier in EOC immunotherapy is the highly immunosuppressive TME. Thus, therapies aiming to decrease immunosuppression as a first line therapy combined with immunostimulating strategies could succeed in the fight against EOC.
We have also highlighted spontaneous and GEMM syngeneic models of ovarian cancer that offer promising characteristics for use in immunotherapy research. In moving forward, it will be important to characterize many of these models for immune infiltration, neoantigen burden, TAA, and immune checkpoint expression, as well as stromal features, in order to generate meaningful data for the immunotherapy field that goes beyond survival. Models using dominant immunogens such as SV40TAg should proceed with caution and require validation in separate models. The use of ovalbumin may offer a superior model that allows for the modulation of the ovarian cancer TME. Thus far, the ID8 model has been the most widely used, but given recent findings on the weak immunogenicity of ID8 cells [
147
], novel therapeutics should be tested in both spontaneous and GEMM models that cover a wide range of the tumor heterogeneity seen in the clinic.
New sequencing technologies have enhanced our ability to look deeper into tumors, stroma, and TIL compartments. These studies have revealed the impact of genetic heterogeneity and epigenetic plasticity in cancer evolution during treatment (drug resistance) and clinical outcome [
192
,
193
]. At present, we know that a tumor is not a single entity determined solely by genetic alterations, but a whole complex network that affects surrounding healthy cells provoking tumorigenesis advantage. Thus, in order to achieve significant responses to eradicate neoplastic cells, TME screening (TIL composition and quality) must be considered to better assign a therapeutic strategy to a patient, especially in advanced EOC stages. The detection of key biomarkers allowing the prediction of responsiveness to an immunotherapeutic approach is also necessary to select the best strategies and combined therapies that have the maximum potential to fully eradicate cancers [
1
].
Author Contributions
All authors contributed to the research, writing, and editing of this review article.
Funding
The authors' research relevant to this article is funded by grants to BCV from BioCanRx and the Canadian Institutes of Health Research, as well as a fellowship from the Fonds de recherche du Québec—Santé (GR), and a Vanier Canada Graduate Scholarship (CM).
Acknowledgments
The authors are grateful for the donations and support from the local community of ovarian cancer patients, especially the late Margaret Craig and the Carol Annibale Ovarian Cancer Foundation.
Conflicts of Interest
The authors declare no conflict of interest.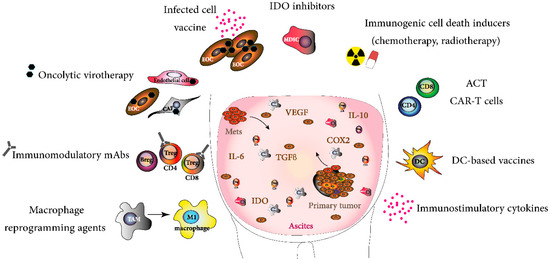 Figure 1.
Emerging ovarian cancer immunotherapies. T cell infiltrated EOCs (>50% EOCs [
120
] can be targeted with therapies such as ACT, CARs cells, co-stimulatory mAbs [
121
] (like anti-CD137), oncolytic virotherapies, and DC-based vaccines [
122
], aiming to increase the effector functions of the pre-existing antitumoral immunity. Conversely, strategies aiming to decrease the highly immunosuppressive TME [checkpoint blockers mAbs (anti-PD-L1), IDO inhibitors [
123
], etc.] can be exploited for 'cold' tumors and/or for advanced stages EOC, to decrease the immunosuppressive functions of MDSCs, TAMs, and Tregs. Radiotherapy and chemotherapy are immunogenic cell death inducers increasing the release of TAAs in the TME, thus augmenting the NK-cell mediated killing, the incidence of TAA presentation by APCs, and eventually T cell priming. Also, chemotherapy can target MDSCs (gemcitabine [
124
], 5-fluorouracil [
125
]). EOC cells and TAMs can be targeted with trabectedin, which inhibits CCL2 production and decreases monocyte recruitment in tumors [
126
]. OVs can infect tumor cells, as well as CAFs and endothelial cells, thereby helping to decrease their immunosuppressive action in the TME. Many approaches can be combined, such as administration of costimulatory cytokines (IL-2, IL-7, IL-15 and IL-21) along with approaches such as CARs, OVs, and ACT. Tumor cells derived from ascites can be exploited for the production of infected cell vaccines with OVs delivering IL-12. Simultaneous targeting of CD137 and PD-1 [
127
] or TIM-3 [
128
] with mAbs along with cisplatin treatment [
129
] can achieve significant antitumoral responses. Adoptive cell transfer (ACT), cancer-associated fibroblasts (CAFs), chimeric antigen receptor (CAR), monoclonal antibodies (mAbs), natural killer (NK), myeloid-derived suppressor cell (MDSC), tumor associated macrophage (TAM), regulatory T cells (Tregs), tumor associated antigen (TAA), antigen presenting cell (APC), oncolytic virus (OV), programmed cell death 1 (PD-1), T-cell immunoglobulin and mucin domain 3 (TIM-3), metastasis (Mets).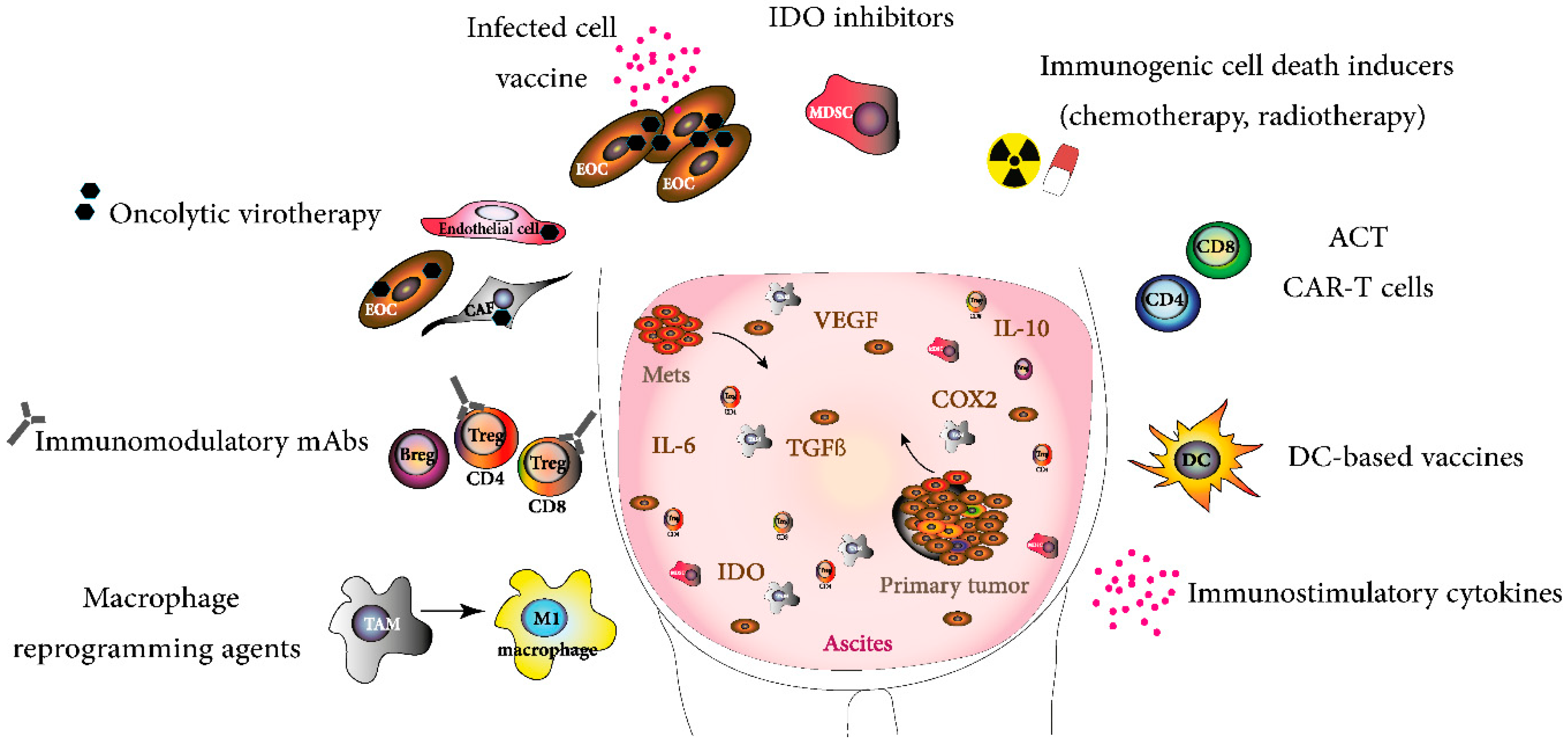 Table 1. Main subsets of immune infiltrating cells in epithelial ovarian cancer (EOC) tumor microenvironment (TME).
| Immune Cell Type | Antitumoral Function | Tumor-Promoting Function |
| --- | --- | --- |
| CD4+ Th1 cells | Help to CTLs in tumor rejection and production of TNFα, IFNγ, and IL-2 | Production of cytokines |
| CD4+ Th2 cells | | Education of macrophages, production of cytokines, B cell activation |
| CD4+ Treg Cells | Suppression of inflammation (cytokines and other suppressive mechanisms) | Immunosuppression: causes IL-2 and other cytokine deprivation, production of TGFβ, IL-10, impaired activation of CTLs |
| CD8+ T Cells | Direct lysis of cancer cells and production of pro-inflammatory cytokines TNFα, IFNγ, and IL-2 | FOXP3+ CTLA-4+ CD25+, convert effector CD8+ T cells into suppressor cells, suppressive function through TGF-β1 |
| B Cells | Production of tumor specific antibodies, IFNγ, TAA presentation, Th1 polarization, promotes T cell expansion | Production of IL-6, IL-10, IL-35, TGFβ, CCL22, immunosuppression, T cell conversion to Tregs, promotes Th2 inhibitory responses |
| Macrophages, DCs | TAA sampling and presentation; T-cell priming; and production of IL-12 and type I IFN, lympho-attracting chemokines CXCL9, CXCL10, CXCL11 | Promotes metastasis and invasion. Produces CSF-1, arginase, IL-6, IL-10, and CCL22. B7-H4+ TAMs suppress antitumoral responses. |
| MDSCs | | Immunosuppression, induces Tregs differentiation, M2 TAM, cancer stemness, sphere formation, and metastasis. Defective TAA presentation. Production of arginase-1, nitric oxide, reactive oxygen and nitrogen species, prostaglandin E2, CXCL12. Deplete cysteine, induce Tregs, inhibit T-cell activation and proliferation, and attenuate the cytolytic ability of NK cells. |
| NK Cells | Direct cytotoxicity toward cancer cells and production of pro-inflammatory cytokines GM-CSF, TNFα, IFNγ, IL-2 and chemokine CCL5 | |
CD4+ helper T cells (Th), cytotoxic T lymphocytes (CTLs), interferon (IFN), interleukin (IL), transforming growth factor beta (TGFβ), forkhead box P3 (FoxP3), cytotoxic T-lymphocyte associated protein 4 (CTLA-4), tumor-associated antigens (TAAs), tumor-associated macrophages (TAMs), dendritic cells (DCs), colony stimulating factor 1 (CSF1), granulocyte-macrophage colony-stimulating factor (GM-CSF), myeloid-derived suppressor cells (MDSCs), natural killer cells (NKs), regulatory T cells (Tregs). See the literature [12] for details.
Model
Genetic Engineering
Key Features of Tumor Immune Landscape
Mutation/Neoantigen Burden
Advantages
Limitations
References
Laying Hen
None

-

T and B cell infiltration

-

Immunosuppressive DR6 and ILT3 expression

Unknown

-

Shared risk factors with human disease

-

Tumors classified from Stage I–IV similar to HGSC

-

Ascites develops in later stages II–IV

-

Time > 2 years for tumor development

-

Lack of reagents for species

[131,132,133,134,178]
Jaguar
None

-

Unknown

Familial BRCA mutations

-

Shared risk factors and familial BRCA mutations similar to high-risk women

-

Endangered species

-

Lack of reagents for species

[136,137]
ID8-(original)
None

-

Fully profiled

-

Predominant innate cell infiltration

Low

-

Reliable and fast tumorigenesis

-

Well characterized

-

Develops ascites

-

Lacking mutations common to human HGSC

[139,147]
ID8-Defb29/Vegf-A
Stable Defb29 and Vegf-A expression

-

Robust DC infiltration

Unknown

-

Dysfunctional DCs characteristic of human HGSC

-

Aggressive

-

Forms neovasculature

-

Lacking mutations common to HGSC

[148,149,179,180]
ID8-OVA
Stable ovalbumin expression

-

Not profiled

OVA

-

Immunogenic with DC vaccination strategy

-

Can track T cell responses against OVA

-

Allow antitumoral T cell studies with transgenic mice

-

OVA dominance may not reflect the nature of TAAs in HGSC

[141]
ID8-Trp53−/− Brca2−/−

Trp53

and

Brca2

deletion

-

Increased MDSCs recruitment

-

Develops intraepithelial lymphoid aggregates

Unknown

-

Shared genomic alterations with human HGSC

-

Complex immune landscape similar to human HGSC

-

Trp53

deletion may not reflect biology of

TP53

mutations seen in human HGSC

[152,153]
ID8-NGL
NF-kappaB-dependent GFP/luciferase expression

-

M2 macrophages dominant immune cell type in ascites

Unknown

-

Track tumor cells in vivo

-

Assess role of NF-kappaB on immune function

-

Ascites fluid interferes with luciferase signal

-

Lacking mutations common to human HGSC

-

Luciferase can act as a neoantigen

[181,182]
STOSE
None

-

Not profiled

-

Predominant Treg infiltration

Unknown

-

Reliable and fast tumorigenesis

-

Different mouse strain than ID8 model

-

Give rise to T cell inflamed tumors

-

Develops ascites

-

Lacking mutations common to human HGSC

[138]
High-grade serous ovarian cancer (HGSC), ovalbumin (OVA).
Model
Genetic Engineering
Key Features of Tumor Immune Landscape
Mutation/Neoantigen Burden
Advantages
Disadvantages
References
TgMISIIRTAg
SV40TAg driven from reproductive tract-specific MISIIR (

Amhr2

) promoter during development
Epigenetic modifiers enhance MHCII expression on cancer cells
Unknown

-

Forms ascites

-

SV40TAg

-

Slow tumor development (6–13 weeks)

-

Non-inducible tumorigenesis

[144,161]
TgCAG-LS-TAg
SV40TAg with lox-stop cassette driven from ubiquitous CAG promoter *
Unknown
Unknown

-

Ascites develops in a subset of mice

-

Inducible SV40TAg

-

SV40TAg

-

Slow tumor development—>22 weeks

-

Surgical administration of Ad-Cre

[162]
mogp-TAg
SV40TAg driven from oviduct-specific

Ovgp1

promoter
Unknown
Unknown

-

Oviduct tumor origin

-

SV40TAg

-

Non-inducible tumorigenesis

-

Slow tumor development (>6 weeks)

-

Fails to develop ascites

[163,183]
TgK18-GT121-Brca-Trp53
Inducible SV40TAg and either

Trp53

−/− or

Trp53

mut and

Brca1

or

2

deletions driven from epithelial specific cytokeratin 18 expression *
Unknown
Unknown

-

R172H

Trp53

mutation that phenocopies human R175H

TP53

mutation

-

Inducible SV40TAg

-

SV40TAg

-

Surgical administration of Ad-Cre

[170]
Trp53loxP/loxP-Rb1loxP/loxP
Inducible deletion of

Trp53

and

Rb1

*
Unknown
Unknown

-

Inducible gene deletions

-

Genomic alterations similar to human HGSC

-

Trp53

deletion may not reflect biology of all

TP53

mutations seen in HGSC

-

Slow tumor development (median survival 227 days)

[167,168]
Pax8-Cre-Brca1(2) −/−; Trp53mut(−/−);Pten −/− *
Doxycyline inducible Cre-mediated deletion of

Brca

,

Pten

, and

Trp53

, driven from oviduct-specific

Pax8

promoter.
Unknown
Copy number alterations similar to HGSC, Neoantigen and mutation burden unknown

-

Inducible gene deletions from oviduct origin

-

Genomic alterations similar to human HGSC

-

Models with both

Trp53

deletion and mutation

-

Fails to develop ascites

-

Pten

deletion induces endometrial lesions

[169]
Ovgp1-iCre-ERT2 + tumor suppressor genes
Conditional deletion of

Brca1

,

Pten

,

Rb1

, and

Nf1

(BPRN mice) or

Brca1

,

Pten

, and

p53

(BPP mice), driven from the oviduct-specific

Ovgp1

promoter
Unknown
Unknown

-

Inducible gene deletions from oviduct origin

-

Genomic alterations similar to human HGSC

-

Models with both Trp53 deletion and mutation

-

Ascites only in 12% of mice

-

BPP mice develop a mixed tumor phenotype with mucinous metaplasia

[173]
MUC1KrasPTEN
Constitutive expression of human MUC1 and inducible oncogenic KRASG12D and

Pten

deletion. *
Robust Tregs among TILs and dysfunctional DCs
unknown

-

Expression of human TAA MUC1

-

Inducible activation of KRAS

G12D

and deletion of

Pten

-

Tumor development from both ovary and fallopian tube

-

Shared genomic alterations with endometroid ovarian cancer

-

Surgical administration of Ad-Cre

-

Lacking common genetic alterations with human HGSC

[174,184]
* Model tissue-specificity governed by the site of administration of adenovirus expressing Cre recombinase (Ad-Cre). Tumor infiltrating lymphocytes (TIL).

© 2018 by the authors. Licensee MDPI, Basel, Switzerland. This article is an open access article distributed under the terms and conditions of the Creative Commons Attribution (CC BY) license (http://creativecommons.org/licenses/by/4.0/).