Open Access This article is
freely available
re-usable
Review
p53-Autophagy-Metastasis Link
1
Faculty of Medicine, M.V. Lomonosov Moscow State University, 119991 Moscow, Russia
2
Institute of Environmental Medicine, Division of Toxicology, Karolinska Institutet, Box 210, SE-171 77 Stockholm, Sweden
*
Author to whom correspondence should be addressed.
Received: 23 April 2018 / Accepted: 16 May 2018 / Published: 18 May 2018
Abstract
:
The tumor suppressor p53 as the "guardian of the genome" plays an essential role in numerous signaling pathways that control the cell cycle, cell death and in maintaining the integrity of the human genome. p53, depending on the intracellular localization, contributes to the regulation of various cell death pathways, including apoptosis, autophagy and necroptosis. Accumulated evidence suggests that this function of p53 is closely involved in the process of cancer development. Here, present knowledge concerning a p53-autophagy-metastasis link, as well as therapeutic approaches that influence this link, are discussed.
Keywords:
autophagy; apoptosis; p53; cancer; metastasis
1. Introduction
Being one of the major suppressors of tumorigenesis, p53 is involved in regulation of the cell cycle, cell death, maintenance of genome integrity and DNA repair. Therefore, it is traditionally considered a "guardian of the genome." In recent years, however, p53 has also been reported to possess some novel "non-canonical" functions, including the regulation of metabolism and autophagy.
2. Autophagy: General Aspects
The role of autophagy in cancer is highly dependent on the type of tumor and its developmental stage. Activation or inactivation of autophagy can contribute differently to tumorigenesis. Reduced autophagy can contribute to tumor progression, whereas increased autophagy may be a mechanism for tumor survival under hypoxic, metabolic or therapeutic stress conditions. Thus, the modulation of the autophagy process is a promising, but complex, therapeutic strategy for the enhancement of anticancer treatments.
3. Cross-Talk between p53 and Autophagy is Essential for Cancer Development
4. Autophagy and p53 in Regulation of Metastasis
Taken together, these observations provide evidence that p53 and autophagy are involved in the regulation of different processes during metastatic progression including EMT and resistance to anoikis. However, despite close interaction during tumorigenesis the data about their direct interplay during metastasization are not clear enough. Better understanding of p53 perturbations in human cancer and their relationship with autophagy may be essential in order to provide more precise prognoses and improve therapeutic strategies.
5. Targeting p53 and Autophagy
Mutations of p53 are found in more than 50% of cancers. They are considered to be necessary for the development of most tumors. Their presence often contributes to rapid disease progression and resistance to conventional chemotherapy and is associated with poor prognosis, especially when the tumor bears gain-of-function mutant p53 [
149
,
150
]. Restoration of p53 function leads to regression of the tumor, especially in later stages of cancer [
112
,
151
,
152
,
153
]. Hence, significant efforts are made by researchers and clinicians to target p53 for treatment of a variety of tumor types.
The interplay between autophagy and mutant p53 is multifaceted. On the one hand, p53 has been demonstrated to inhibit autophagy, but on the other, chaperone-mediated autophagy triggers mutant p53 degradation and, thus, may regulate the progression of the tumor and its response to chemotherapeutic agents [
93
]. One can speculate, that impaired interplay between autophagy and p53, as well as consequent defects in the p53-dependent autophagy pathway may contribute to cancer progression. That means that restoration of wt p53—a novel and rapidly developing field in anticancer drug development—also normalizes autophagy. Several compounds, such as PRIMA-1, APR-246, a derivative and structural analogue of PRIMA-1; sulfonylpyrimidines such as PK11007; pyrazoles such as PK7088; zinc metallochaperone-1(ZMC1), a third-generation thiosemicarbazone as well as specific peptides have recently been shown to convert mutant p53 into a form exhibiting wt properties and thus to reactivate it [
154
,
155
,
156
] COTI-2 is a thiosemicarbazone-related compound, which not only targets p53, but also inhibits the PI3K/Akt/mTOR pathway thereby activating autophagy. Some of these compounds have been tested in preclinical models expressing mutant p53 and were proven to exhibit anticancer activity [
157
]. To date, two of these compounds, i.e. APR-246 and COTI-2 have progressed to clinical trials and are evaluated in patients with various gynecological cancers. Moreover, attempts have also been made to introduce a vector expressing p53. Gendicine (SiBiono, Shenzhen, China) is currently in clinical trial for various cancer types. It remains to be seen, however, whether any mutant p53 reactivating compound has the efficacy to combat metastasis [
158
].
Another approach to altering mutant p53 for therapy was suggested to target downstream pathways through which p53 acts. Despite the diversity of various p53 mutants, many of them share a common feature—they interact and inhibit p73, another potent tumor suppressor, which structurally and functionally resembles p53. A molecule called RETRA was shown to inhibit p73 and p53 interaction, thereby releasing p73 and activating transcription of its target genes, which suppress tumor growth [
159
]. One may also speculate, that RETRA could potentially impair the interaction of p53 with other proteins, but such data has not been provided yet.
Many types of cancer have been reported to evade cell death via inhibiting p53-dependent autophagy. It was found, for instance, that in renal cell carcinoma, transglutaminase 2 (TG2) crosslinks p53 in autophagosomes, thereby decreasing the p53 level in the cell and evading apoptosis [
160
]. Hence, there have also been attempts to restore autophagy and subsequent apoptosis in different cancer types via the p53-dependent pathway using different substances. It was found, for example, that cobalt chloride and β-asarone enhance the expression of p53, LC3-II/I, Beclin-1, AMPK and pAMPK and inhibit the expression of p62, Bcl-2, mTOR and pmTOR. They reduce the cell proliferation and promote p53-dependent autophagy in U251 cells and induce autophagy of human glioma cells and subsequent apoptosis [
161
,
162
]. In some recent studies it was demonstrated that tumor cells may be sensitized to radio- or chemotherapy by genetic or pharmacological intervention aimed at inhibiting autophagy. A series of data demonstrated that miR-148a-3p was downregulated in cisplatin-resistant gastric carcinoma cell lines and its reconstitution sensitized cells to cisplatin treatment through promoting mitochondrial fission and decreasing the AKAP1 expression level, which played a novel role in cisplatin resistance by inhibiting p53-mediated DRP1 dephosphorylation. MiR-148a-3p (microRNA-148a-3p) reconstitution in resistant cells inhibits cytoprotective autophagy by suppressing RAB12 expression and mTOR1 activation [
163
].
It is now clear that modulation of autophagy is promising therapeutic approach for certain cancer types [
164
,
165
]. However, although many autophagy-modulating drugs exist, some of which such as hydroxychlorochine are already employed in different clinical trials, many challenges remain [
164
]. Data about some of the recently introduced compounds, targeting autophagy, are summarized in
Table 1
.
Although in recent years there has been extensive discussion about whether inhibition of autophagy enhances or reduces cancer therapy, nowadays consensus has been reached that both may take place [
176
]. Rosenfeldt et al. demonstrated that p53 status may serve as a determinant of how autophagy influences the progression of pancreatic cancer. It was demonstrated that the loss of autophagy could be sufficient to avoid the progression of early-stage precancerous lesions into an advanced cancer. Moreover, it was shown that deficient autophagy in normal pancreatic tissue leads to elevation of p53 and consequent cell death [
76
].
Likewise, it was reported that mutant p53 becomes more stable when the cells are treated with the antimalarial drug hydroxychlorochine [
177
]. Another study has demonstrated that glucose restriction leads to autophagy-dependent degradation of mutant p53 protein. It was demonstrated that mutant p53 physically associates with several proteins presented in the autophagosomes [
178
]. Ultimately, mutant p53 degrades through macroautophagy, which, as mentioned above, is the pathway primarily used to eliminate misfolded proteins or damaged cellular organelles. Overall, stimulation of autophagy in cells with mutant p53 may promote cell death and depletion of the p53 level, thereby alleviating its oncogenic effects.
To sum up, the role of autophagy and its interplay with p53 depends on different factors and the clinical approach depends on the type of the tumor, p53 status and many other aspects. Future studies are required to confirm the efficacy of autophagy inducers in animal models and in cancer patients carrying the mutant
TP53
gene.
6. Concluding Remarks
There is ample evidence to indicate that a functional interplay between the tumor suppressor p53, its mutants and autophagy during tumorigenesis exists. An increasing number of studies also highlight the emerging roles of autophagy and p53 in the regulation of different metastatic cascade steps. Both p53 and autophagy were shown to contribute to anoikis resistance, EMT activation/suppression, ECM interactions, cell migration regulation, Ras-driven invasion, and several more. Importantly, at present, many issues remain unanswered. For example, how do p53 and autophagy interact biochemically during the metastatic process? How might the type of p53 mutation influence the relationship between autophagy and metastasis?
It is clear that the contribution of each of the different p53 target genes might vary according to the tumor type, tissue specificity, molecular context, stress signal and other circumstances. The contribution of autophagy in carcinogenesis is also context-dependent and today the consequences of its modulation are difficult to predict. Further studies are required in order to improve our understanding of the p53-autophagy-metastasis link and provide a new promising therapeutic approach to combat cancer.
Author Contributions
T.V.D. and A.D.P. were involved in collecting information and preparing the text. B.Z. was responsible for the idea and writing the paper.
Funding
This work was supported by Russian Science Foundation (grant number 14-25-00056). The work in the authors' laboratories is being supported from the Stockholm (grant number 161292) and Swedish (grant number 160733) Cancer Societies, the Swedish Childhood Cancer Foundation (grant number PR2016-0090), the Swedish Research Council (grant number 521-2014-2258).
Conflicts of Interest
The authors declare that there is no conflict of interest regarding the publication of this article.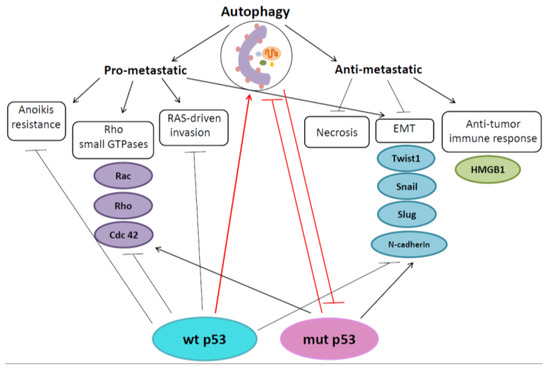 Figure 1. Schematic representation of interplay between p53, autophagy and metastasis. For details, see text. EMT- epithelial to mesenchymal transition, wt—wild type p53, mutp53—mutant p53.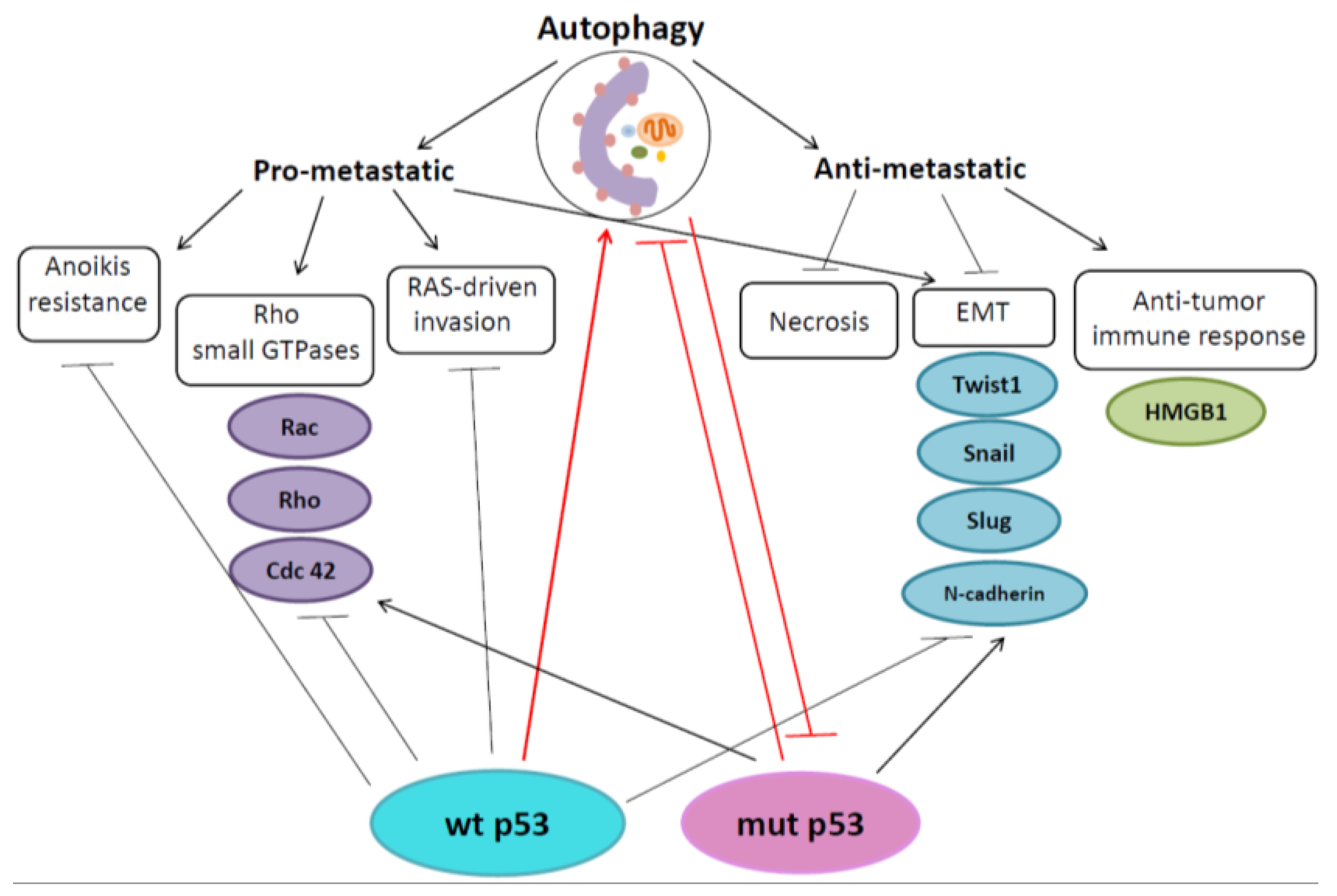 | Substance | Mechanism | Cancer Type | Reference |
| --- | --- | --- | --- |
| β-asarone | p53/Bcl-2/Bclin-1 and p53/AMPK/mTOR pathways | Glioma cell line (U251) | [161] |
| Walsuronoid B | ROS-formation and activation of p53/PI3K/Akt/mTOR signaling pathway | Liver cancer (HepG2 and Bel-7402) | [166] |
| Sulforaphane | Reduction of phosphorylation of Akt and mTOR | Malignant mesothelioma (H-28) | [167] |
| Physapubescin B | (ROS)-mediated suppression of mTORC1 | Colon cancer (HCT116) and cervical cancer (HeLa) | [168] |
| Fluvastatin | p53/AMPK/mTOR pathway | Lung adenocarcinoma (A549 and SPC-A-1) | [169] |
| Trichostatin A and Valproic Acid | ROS formation | Pancreatic cancer (Panc1 and PaCa44) | [170] |
| Cobalt chloride | p53/Bcl-2/Beclin-1 pathway | Malignant glioma (U87-MG) | [162] |
| Oridonin | AMPK deactivation-mediated GLUT1 downregulation in p53-mutated cells | p53-mutated colorectal cancer cells (HCT-15, COLO205, HCT116, RKO, SW480, and SW620) | [171] |
| Astemizole-Histamine | ROS formation and p53 phosphorylation, which increased p53-p62 interactions to enhance Beclin-1-independent autophagy | breast cancer (MCF-7) | [172] |
| Polygonatum odoratum lectin | Up-regulation of miR-15a-3p, which mediated ROS-p53 pathway | human lung adenocarcinoma (A549) | [173] |
| Trichosanthin | ROS-formation and activation of p53/PI3K/Akt/mTOR signaling pathway, | gastric cancer (MKN-45) | [174] |
| Honokiol | ROS-formation and activation of p53/PI3K/Akt/mTOR signaling pathway | Glioma (U87 MG) | [175] |

© 2018 by the authors. Licensee MDPI, Basel, Switzerland. This article is an open access article distributed under the terms and conditions of the Creative Commons Attribution (CC BY) license (http://creativecommons.org/licenses/by/4.0/).