New Challenges in Targeting Signaling Pathways in Acute Lymphoblastic Leukemia by NGS Approaches: An Update
1
IBSAL, IBMCC, Universidad de Salamanca-CSIC, Cancer Research Center, 37007 Salamanca, Spain
2
Escuela de Ciencias Biológicas, Grupo de investigación en Ciencias Biomédicas (GICBUPTC), Universidad Pedagógica y Tecnológica de Colombia, Tunja 150001, Colombia
3
Universidad de Salamanca-CSIC, Hospital Universitario de Salamanca, 37007 Salamanca, Spain
*
Author to whom correspondence should be addressed.
†
A.M., M.F.-C., R.B., J.M.H.-R. contributed equally to this work.
Received: 2 March 2018 / Revised: 3 April 2018 / Accepted: 5 April 2018 / Published: 7 April 2018
Abstract
The identification and study of genetic alterations involved in various signaling pathways associated with the pathogenesis of acute lymphoblastic leukemia (ALL) and the application of recent next-generation sequencing (NGS) in the identification of these lesions not only broaden our understanding of the involvement of various genetic alterations in the pathogenesis of the disease but also identify new therapeutic targets for future clinical trials. The present review describes the main deletions, amplifications, sequence mutations, epigenetic lesions, and new structural DNA rearrangements detected by NGS in B-ALL and T-ALL and their clinical importance for therapeutic procedures. We reviewed the molecular basis of pathways including transcriptional regulation, lymphoid differentiation and development, TP53 and the cell cycle, RAS signaling, JAK/STAT, NOTCH, PI3K/AKT/mTOR, Wnt/β-catenin signaling, chromatin structure modifiers, and epigenetic regulators. The implementation of NGS strategies has enabled important mutated genes in each pathway, their associations with the genetic subtypes of ALL, and their outcomes, which will be described further. We also discuss classic and new cryptic DNA rearrangements in ALL identified by mRNA-seq strategies. Novel cooperative abnormalities in ALL could be key prognostic and/or predictive biomarkers for selecting the best frontline treatment and for developing therapies after the first relapse or refractory disease.
View Full-Text
►

▼

Figures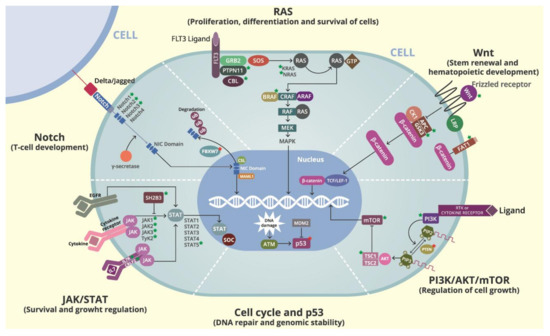 Figure 1
This is an open access article distributed under the
Creative Commons Attribution License
which permits unrestricted use, distribution, and reproduction in any medium, provided the original work is properly cited (CC BY 4.0).

Share & Cite This Article
MDPI and ACS Style
Montaño, A.; Forero-Castro, M.; Marchena-Mendoza, D.; Benito, R.; Hernández-Rivas, J.M. New Challenges in Targeting Signaling Pathways in Acute Lymphoblastic Leukemia by NGS Approaches: An Update. Cancers 2018, 10, 110.
Note that from the first issue of 2016, MDPI journals use article numbers instead of page numbers. See further details here.
Related Articles
Comments
[Return to top]