Open Access This article is
freely available
re-usable
Review
Role of Pattern Recognition Receptors in KSHV Infection
1
Department of Microbiology and Immunology, University of Nevada, Reno, School of Medicine, 1664 N, Virginia Street, MS 320, Reno, NV 89557, USA
2
Department of Internal Medicine, UTMB Galveston, League City Campus, 301 University Blvd, Galveston, TX 77555, USA
*
Author to whom correspondence should be addressed.
Received: 27 January 2018 / Accepted: 16 March 2018 / Published: 20 March 2018
Abstract
:
Kaposi's sarcoma-associated herpesvirus or Human herpesvirus-8 (KSHV/HHV-8), an oncogenic human herpesvirus and the leading cause of cancer in HIV-infected individuals, is a major public health concern with recurring reports of epidemics on a global level. The early detection of KSHV virus and subsequent activation of the antiviral immune response by the host's immune system are crucial to prevent KSHV infection. The host's immune system is an evolutionary conserved system that provides the most important line of defense against invading microbial pathogens, including viruses. Viruses are initially detected by the cells of the host innate immune system, which evoke concerted antiviral responses via the secretion of interferons (IFNs) and inflammatory cytokines/chemokines for elimination of the invaders. Type I IFN and cytokine gene expression are regulated by multiple intracellular signaling pathways that are activated by germline-encoded host sensors, i.e., pattern recognition receptors (PRRs) that recognize a conserved set of ligands, known as 'pathogen-associated molecular patterns (PAMPs)'. On the contrary, persistent and dysregulated signaling of PRRs promotes numerous tumor-causing inflammatory events in various human cancers. Being an integral component of the mammalian innate immune response and due to their constitutive activation in tumor cells, targeting PRRs appears to be an effective strategy for tumor prevention and/or treatment. Cellular PRRs are known to respond to KSHV infection, and KSHV has been shown to be armed with an array of strategies to selectively inhibit cellular PRR-based immune sensing to its benefit. In particular, KSHV has acquired specific immunomodulatory genes to effectively subvert PRR responses during the early stages of primary infection, lytic reactivation and latency, for a successful establishment of a life-long persistent infection. The current review aims to comprehensively summarize the latest advances in our knowledge of role of PRRs in KSHV infections.
Keywords:
innate immune responses; pattern recognition receptors; KSHV; interferons; cytokines; signaling pathways
Acknowledgments
We apologize to the authors whose important work could not be cited here due to the limits on reference numbers per journal policy. We thank members of Verma lab for stimulating discussions and critical review of the manuscript. This work is supported by Public Health Service Grants CA174459 and AI105000 from National Institute of Health (NIH).
Author Contributions
Timsy Uppal, Roni Sarkar and Ranjit Dhelaria conceived and wrote this article. Timsy Uppal and Subhash C. Verma did the final editing.
Conflicts of Interest
The authors declare no conflict of interest.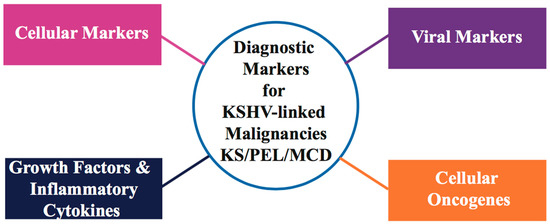 Figure 1. Summary of significant cancer diagnosis markers detected in Kaposi's sarcoma-associated herpesvirus (KSHV)-associated neoplasms. These biomarkers can be categorized into virus specific markers (KSHV genome or specific proteins), cellular markers, cellular oncogenes, and inflammatory cytokines/growth factors.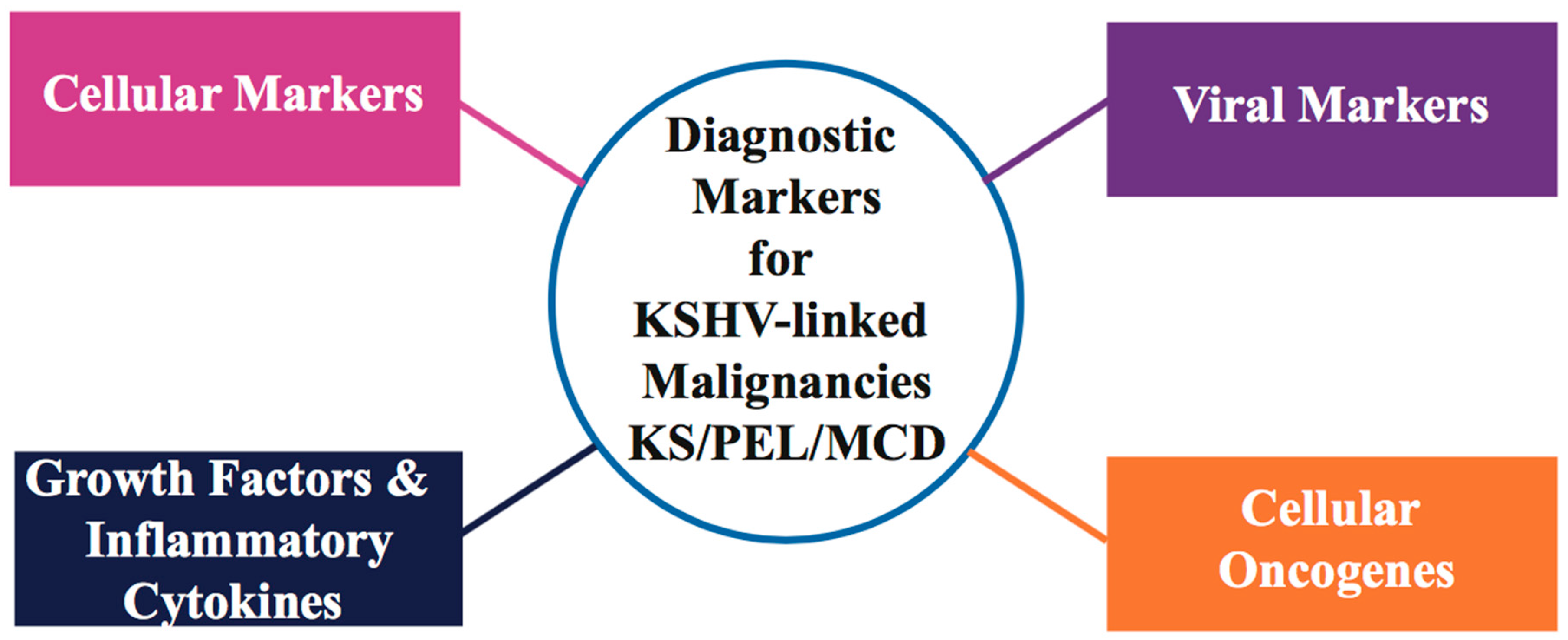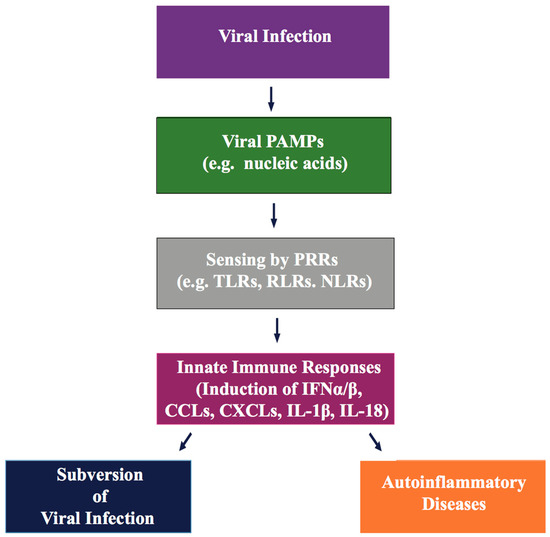 Figure 2. Schematic representation of the key principles involved in innate immune recognition by host pattern recognition receptors (PRRs). Upon viral infection, viral pathogen-associated molecular patterns (PAMPs), such as the viral genome or gene products are recognized by several cellular PRRs present on the cell membrane, in the cytoplasm or within intracellular compartments. Sensing of PAMPs by PRR triggers PRR-mediated signaling pathways and activates antiviral responses, leading to subversion of the infection. Abnormal activation of PRRs may also trigger auto-immunity. Abbreviations: TLRs, Toll-like receptors; NLRs, nucleotide oligomerization domain (NOD)-like receptors; RLRs, retinoic acid-inducible gene I (RIG-I)-like receptors; IFN-α/β, type-I interferons α/β; CCLs/CXCLs, chemokine ligands; IL-1β/IL-18, inflammatory cytokines.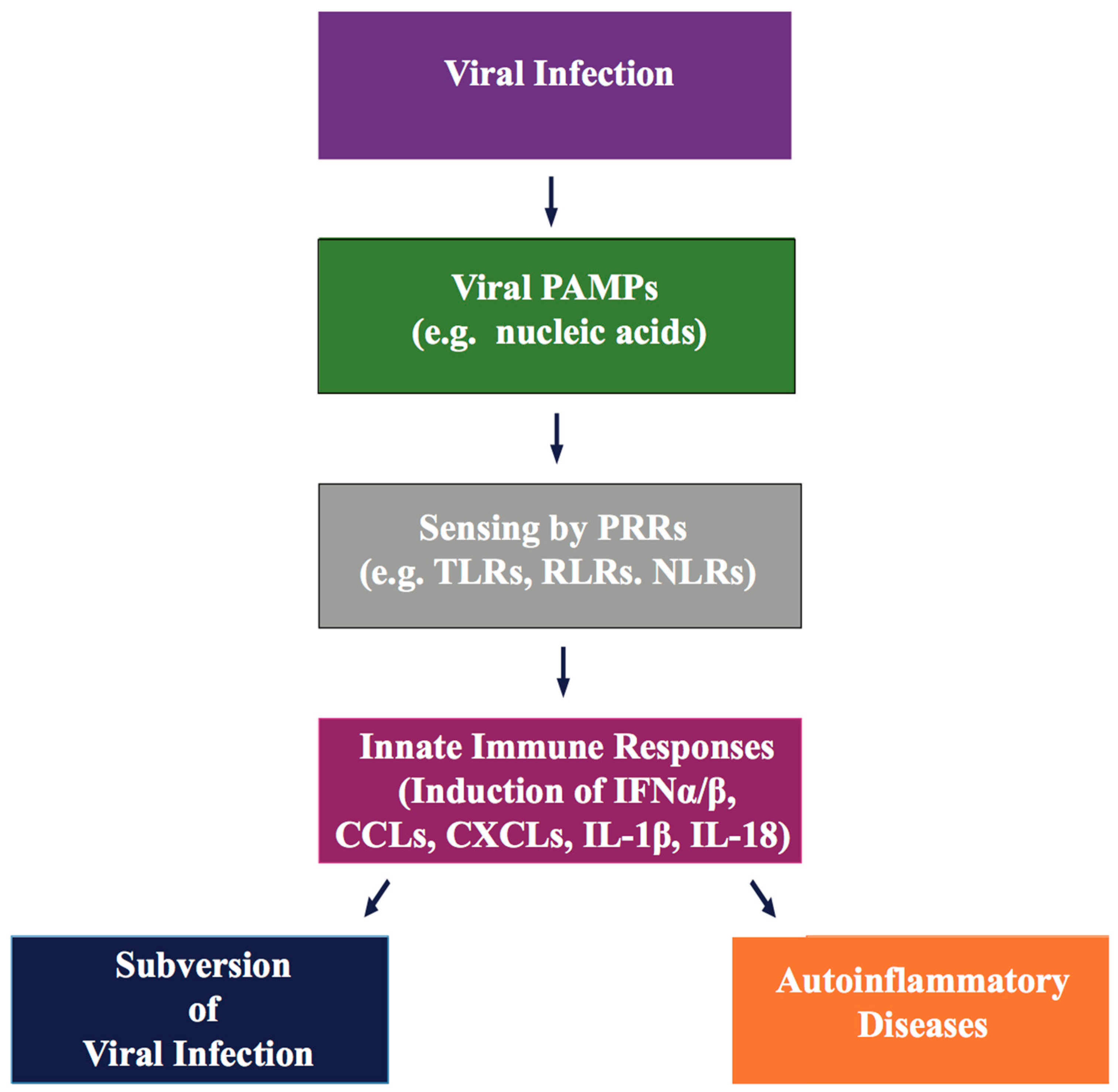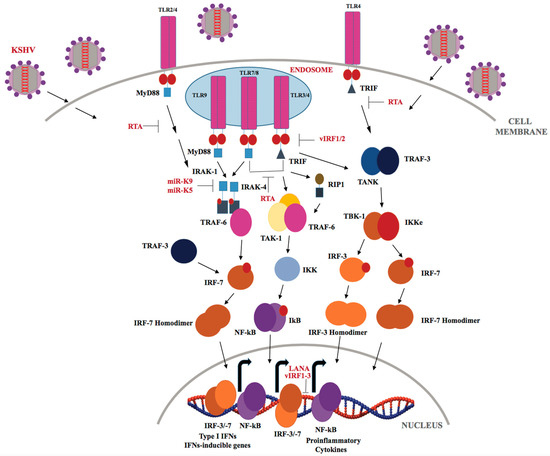 Figure 3. KSHV regulation of the TLR signaling pathway. Upon KSHV infection, TLRs that are expressed either on the cell surface (TLR-2 and 4) or in endosomes (TLR-3, 4, 7, 8, and 9) recruit TIR-domain containing MyD88 and TRIF adaptor molecules. The MyD88 and TRIF molecules then recruit downstream molecules, culminating in the activation of transcription factors such as IRF3/7 and NF-κB, which regulate the production of type I IFNs and inflammatory cytokines.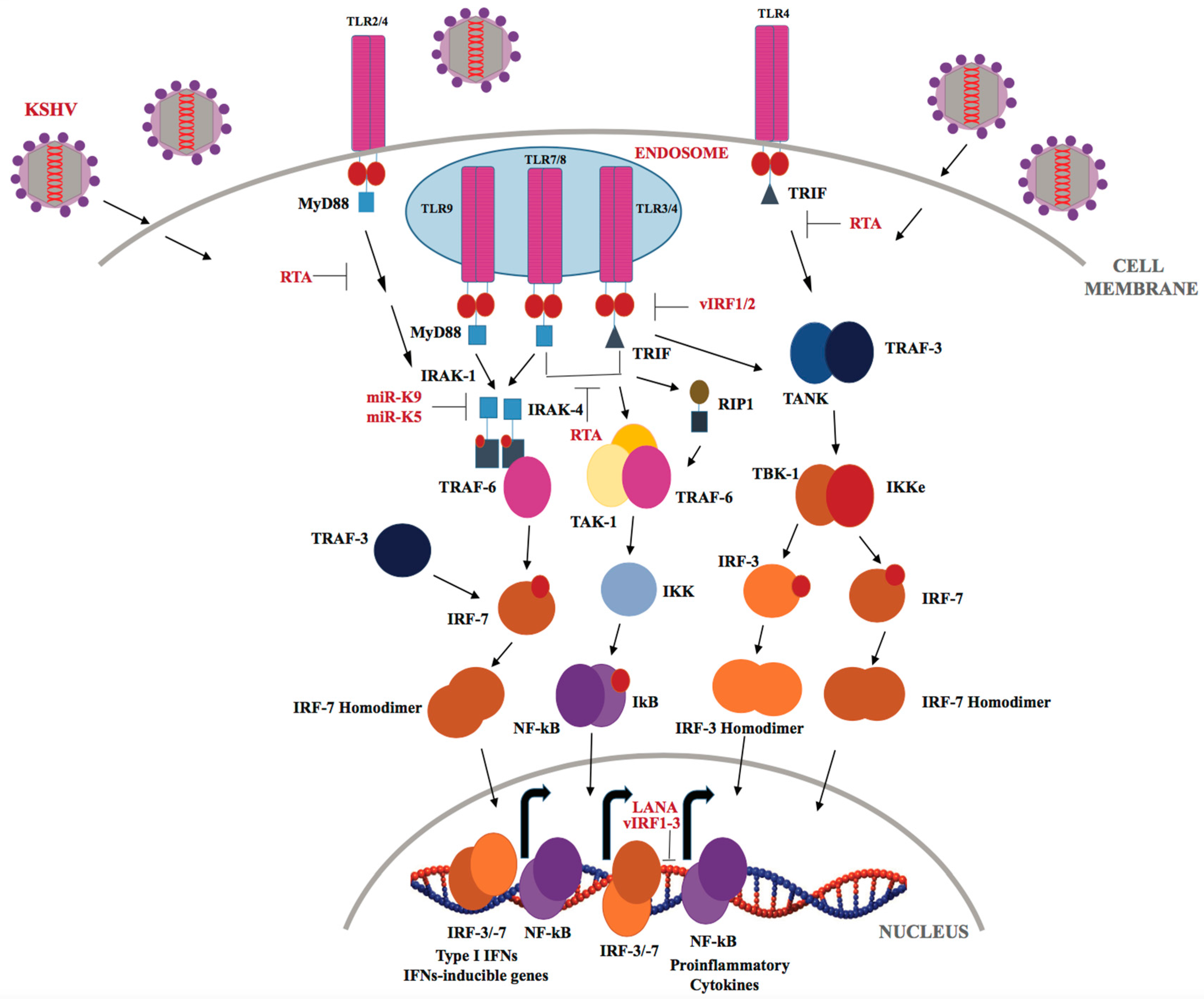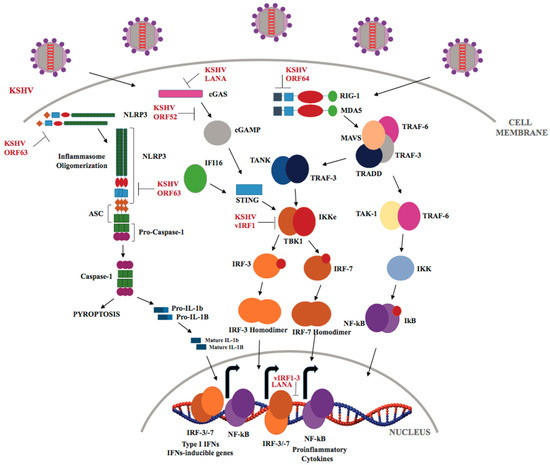 Figure 4. KSHV regulation of NLR, RLR, and cGAS-STING signaling pathways. Following KSHV entry into the host cell, the capsid extrudes KSHV dsDNA in the cytoplasm which is sensed by cGAS resulting in the STING/TBK1/IRF3 signaling and type I IFNs production. KSHV dsDNA is transcribed into dsRNA polymerase III and sensed by RIG-I and MDA-5, leading to activation and polymerization of MAVS and activation of NF-κB. KSHV also controls the inflammatory responses via NLRP-1/3-dependent caspase-1 activation and inhibition of IL-1β and IL-18 production.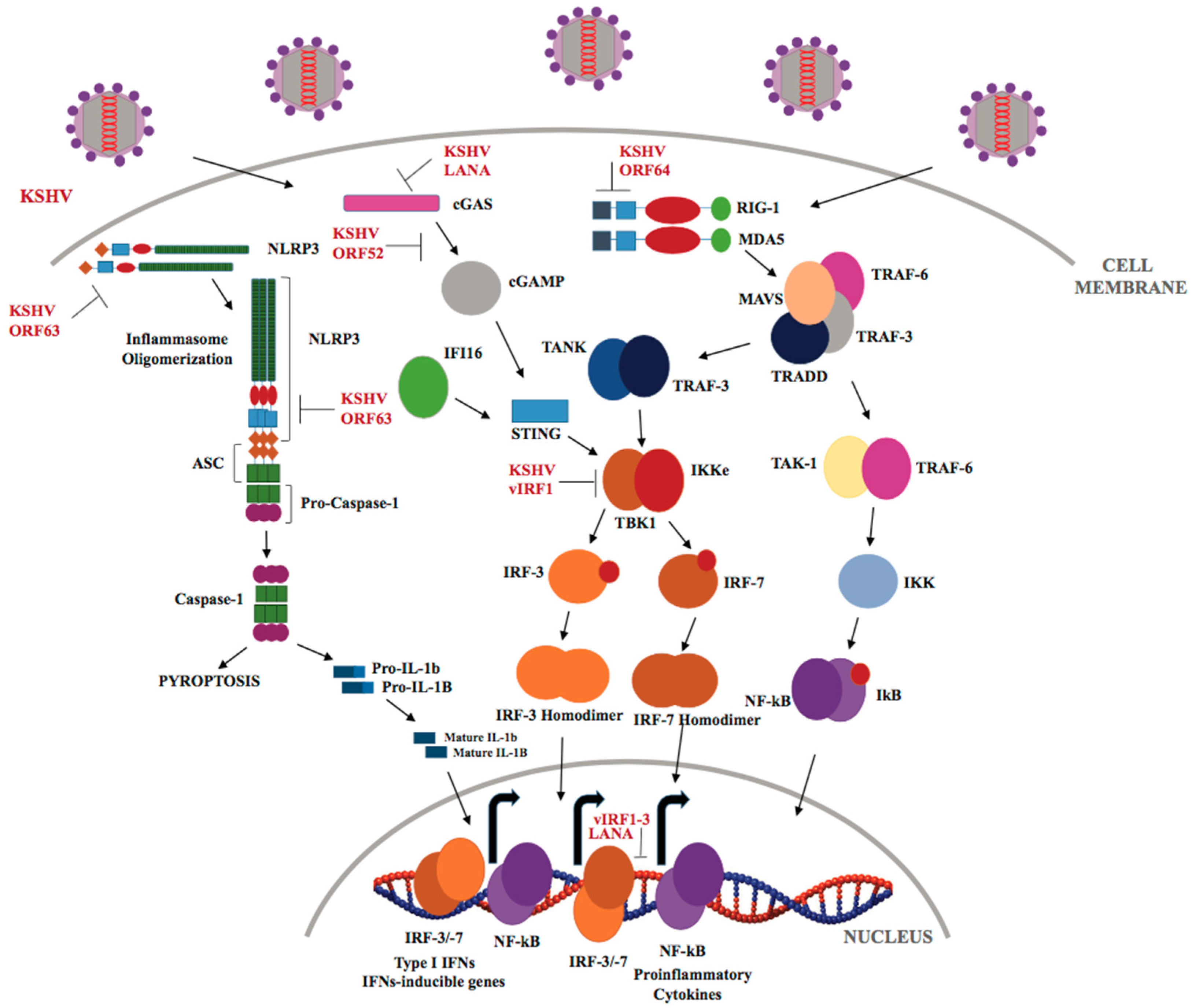 | Cellular Markers | Viral Markers/Proteins | Cellular Oncogenes | Growth Factors/Inflammatory Cytokines |
| --- | --- | --- | --- |
| CD4 Count [41,61,62] | KSHV Virus [63,64,65] | bcl-2 [49,66,67] | CD31 [57,64,68,69] |
| | LANA/ORF73 [64,65,66,70] | c-kit [71,72] | CD34 [57,68,69] |
| | vCyclin/ORF72 [67,73,74] | p53 [46,75,76] | CD36 [51,77,78] |
| | vFLIP/ORF71 [49,74,79,80] | pRb [47,81,82] | CD138/Syndecan-1 [83,84] |
| | K12/Kaposins [49,85,86] | | FLI1 [57,87,88] |
| | miRNAs [48,85,86,89] | | D2-40 [57,90,91] |
| | vIRFs [48,92,93,94] | | Podoplanin [54,55,95] |
| | vIL-6 [49,50,59] | | VEGFR3 [39,56,95,96] |
| | vGPCR/ORF74 [48,97] | | LYVE-1 [39,54,95,96] |
| | | | TNF-α [58,59] |
| | | | bFGF [39,58,98,99] |
| | | | Oncostatin M [58,60,100] |
| | | | vIL-6 [49,50,59] |
| | | | IL-I [58,59,101] |
| PRRs | Cellular Localization | PAMPs | Associated Tumors |
| --- | --- | --- | --- |
| TLR-1/2 | Plasma membrane | Lipoprotein | Colon cancer [191] |
| TLR-3 | Endosome | Double stranded (ds)RNA | Melanoma, Colorectal adenoma, low-grade B-cell Lymphoma, Solid tumors [192,193] |
| TLR-4 | Plasma membrane | Lipopolysaccharides | Lung cancer, Non-Hodgkin's lymphoma [194] |
| TLR-5 | Plasma membrane | Flagellin | Advanced/Metastatic solid tumors [195] |
| TLR-7/8 | Endosome | Single stranded (ss)RNA | Ovarian cancer, Solid tumors [196,197,198] |
| TLR-9 | Endosome | CpG-DNA | Colorectal cancer, Breast cancer, Chronic Lymphocytic Leukemia [199,200,201] |
| MDA5 | Cytoplasm | Long dsRNA | Solid tumors [202] |
| STING | Cytoplasm | dsDNA | Advanced/Metastatic solid tumors [203] |

© 2018 by the authors. Licensee MDPI, Basel, Switzerland. This article is an open access article distributed under the terms and conditions of the Creative Commons Attribution (CC BY) license (http://creativecommons.org/licenses/by/4.0/).