Open Access This article is
freely available
re-usable
Review
New Insights into Protein Kinase B/Akt Signaling: Role of Localized Akt Activation and Compartment-Specific Target Proteins for the Cellular Radiation Response
1
Institute of Cell Biology (Cancer Research), University of Duisburg-Essen Medical School, 45122 Essen, Germany
2
Department of Therapeutic Radiology, Yale University School of Medicine, New Haven, CT 06520, USA
3
Department of Anesthesiology, Yale University School of Medicine, New Haven, CT 06520, USA
†
These authors contributed equal to this work.

Received: 24 February 2018 / Accepted: 16 March 2018 / Published: 18 March 2018
Abstract
:
Genetic alterations driving aberrant activation of the survival kinase Protein Kinase B (Akt) are observed with high frequency during malignant transformation and cancer progression. Oncogenic gene mutations coding for the upstream regulators or Akt, e.g., growth factor receptors, RAS and phosphatidylinositol-3-kinase (PI3K), or for one of the three Akt isoforms as well as loss of the tumor suppressor Phosphatase and Tensin Homolog on Chromosome Ten (PTEN) lead to constitutive activation of Akt. By activating Akt, these genetic alterations not only promote growth, proliferation and malignant behavior of cancer cells by phosphorylation of various downstream signaling molecules and signaling nodes but can also contribute to chemo- and radioresistance in many types of tumors. Here we review current knowledge on the mechanisms dictating Akt's activation and target selection including the involvement of miRNAs and with focus on compartmentalization of the signaling network. Moreover, we discuss recent advances in the cross-talk with DNA damage response highlighting nuclear Akt target proteins with potential involvement in the regulation of DNA double strand break repair.
Keywords:
Protein Kinase B; Akt; PI3K; cellular radiation response; signaling network; Akt targets
1. Introduction
Cancer has the highest incidence and causes the most mortality worldwide [
1
]. The phosphatidylinositol 3-kinase (PI3K)/Protein Kinase B (PKB, Akt) pathway is considered to be one of the most frequently altered pathways in human cancer with documented high relevance to tumor growth, metastatic spread, and resistance to anticancer treatment [
2
,
3
,
4
]. Many human solid tumors harbor genetic alterations driving aberrant activation of the survival kinase Akt such as, oncogenic activation of receptor tyrosine kinases, RAS or phosphatidylinositol-3-kinase (PI3K), loss of the tumor suppressor PTEN, or genomic amplification or gain-of-function mutations in one of the three known human Akt isoforms Akt1 (PKBα), Akt2 (PKBβ) and Akt3 (PKBγ) [
5
,
6
,
7
,
8
].
The three human Akt isoforms, Akt1, 2, 3, differ only in a few amino acids [
9
,
10
]. Akt1 was reported to be widely expressed in the whole body, Akt2 expression was markedly increased in insulin-dependent tissues and Akt3 was mostly observed in brain [
11
]. In vivo studies revealed tissue-related disabilities in animal experiments with Akt1
−/−
mice being smaller and showing enhanced lethality [
12
].Instead Akt2-knockout resulted in a syndrome similar to diabetes [
12
], and Akt3 deficient mice were characterized by smaller brain size [
13
]. Double knockout of Akt1 and Akt2 was lethal after birth, whereas combined deletion of Akt1 and Akt3 even led to embryonic death [
10
,
14
,
15
]. Furthermore, combined targeted deletion of Akt1 and Akt2 in adult mice induced rapid mortality, whereas targeted deletion of Akt1 and Akt3 was tolerated [
16
]. These differences in the survival function of the three isoforms suggest that Akt isoforms may have different functions during development and adult life. These differences may be linked to tissue-specific differences in isoform expression or a distinct spectrum of target proteins. Of note is a recent analysis of copy number variations of the three Akt isoforms across multiple cancer types. This study revealed that amplification of Akt3 but not of Akt2 or Akt1 can be detected in diverse cancers, e.g., glioblastoma, melanoma, ovarian and breast cancer [
17
]. Since initial work has mostly been performed without specification of the isoform(s) or with Akt1, in this review the term "Akt" will be used synonymously with panAkt unless specifically mentioned otherwise.
The serine and threonine kinase Akt plays an essential role in the regulation of various cellular functions, such as cell proliferation, cell growth, cell migration, and cell survival. Moreover, Akt is involved in the regulation of cell metabolism, protein synthesis, and immune cell function [
18
]. Therefore, it influences almost all aspects of cancer biology. Since active Akt promotes cell survival, particularly under stress conditions, including genotoxic stress, hyper-active Akt in malignant tumors has clinical relevance to the outcome of cancer therapy, e.g., by increasing resistance to chemo- and radiotherapy [
5
,
19
,
20
,
21
,
22
,
23
,
24
]. Here, we present current knowledge on the regulation of the multifaceted Akt signaling network including compartmentalized activation (
Figure 1
).
Additionally, we discuss known effector proteins of Akt with potential impact on survival of irradiated cells and highlight nuclear Akt target proteins with a suggested role in the regulation of DNA double strand break repair.
2. Localized Regulation of Akt Activation and Activity
2.1. Phosphorylation and Activation of Akt
The main activation of Akt is done by PDK1 at cellular membranes initiated by growth factor-induced or insulin-induced activation of lipid kinases of the class I PI3K family. Further effectors for Akt phosphorylation are mTORC2 and DNA-PKcs with differing roles in the activation process. Additional phosphorylation sites of Akt, as well as various further sites for posttranslational modification have also been identified.
2.2. Termination of Akt Activity by Dephosphorylation
Two families of phosphatases participate in the termination of Akt activity: (i) The 3′-lipid phosphatase PTEN as well as the 4′-lipid phosphatase inositol polyphosphate-4-phosphatase (INPP4B) remove the activating lipid messengers PI(3,4,5)P
3
and PI(3,4)P
2
resulting in reduced membrane recruitment and activation of Akt [
75
]. (ii) Various protein phosphatases such as the pleckstrin homology domain leucine-rich repeat protein phosphatases (PHLPP1/2) and protein phosphatase 2A (PP2A) inhibit Akt by dephosphorylation of S473 or T308, respectively [
25
].
2.2.1. Lipid Phosphatases PTEN and INPP4B
Based on its ability to convert PI(3,4,5)P
3
into PI(4,5)P
2
the PI3K antagonist PTEN counteracts membrane recruitment of PH-domain containing proteins such as Akt and PDK1, and thereby precludes PDK1-dependent phosphorylation of Akt at T308 in a cell-type and context-dependent manner [
76
]. Cancer cells carrying loss of function mutations in PTEN lack this regulatory function and are therefore characterized by aberrant and constitutive T308-phosphorylation and thus activation of Akt, and accelerated proliferation [
77
,
78
,
79
]. Surprisingly, in rhabdomyosarcoma cell lines are an inverse correlation between PTEN levels and Akt1 phosphorylation at S473 but not T308 has been observed [
80
]. The levels of PTEN or of the active Akt1-mutant E17K did also not correlate with higher Akt-T308 phosphorylation in cells from patients suffering from acute myeloid leukemia [
81
]. These findings suggest that in some cells PTEN might also control Akt phosphorylation at S473, presumably via some indirect effects on mTORC2 signaling: For example a PI(3,4,5)P
3
-dependent recruitment of the PH-domain containing mTORC2-protein Sin1 has been proposed to facilitate S473-phosphorylation [
47
,
48
]. Moreover, PTEN-depletion has been associated with decreased phosphorylation of Rictor at T1135 resulting in improved formation and activation of mTORC2 and enhanced downstream activation Akt in glioblastoma multiforme [
82
].
The action of the 4′ lipid phosphatases INPP4B hydrolyzes PI(3,4)P
2
to PI(3,4,5)P
3
and can also abrogate membrane recruitment and activation of Akt [
83
,
84
]. Interestingly, PI(3,4,5)P
3
can instead activate serum and glucocorticoid-dependent kinase 3 (SGK3), presumably in a context-specific manner, but the importance of this process must be further explored [
75
]. Since PTEN and INPP4B can restrain oncogenic activation of Akt, it is not surprising that loss of PTEN or INPP4B expression or function promotes tumor growth in murine cancer models through enhanced Akt isoform-specific signaling [
75
].
2.2.2. Protein Phosphatases PHLPP1/2, PP2A
Together with the upstream activating protein kinases PDK1, mTORC2, DNA-PKcs and ILK specific phosphatases create a direct Akt activation/deactivation cycle. Inactivating dephosphorylation of S473, S474 and S472 in the hydrophobic motifs of Akt1, Akt2 and Akt3 respectively, is ensured by PHLPP1/2 in an isoform-specific manner: While PHLPP1 dephosphorylates Akt isoforms 2 and 3, PHLPP2 is responsible for dephosphorylation of the Akt isoforms 1 and 3 [
85
,
86
]. Interestingly, PHLPP1/2 dephosphorylates Akt only at its hydrophobic motif [
86
,
87
]. PHLPP1 has been described as a tumor suppressor in prostate cancer [
88
] and there are preliminary findings that aberrant expression of PHLPP1/2 may be associated with poor prognosis in several cancers [
89
,
90
,
91
]. Protein phosphatase 2A (PP2A) constitutes another Akt deactivating phosphatase that preferentially mediates dephosphorylation of Akt at T308 [
92
,
93
,
94
]. PP2A was reported as a selective regulator for Akt1 phosphorylation at T308 [
94
]. Consequently, overexpression of a B55α subunit of PP2A strongly correlated with pT308 inhibition and decreased phosphorylation of Akt targets as well as cell proliferation [
94
]. Moreover, Akt can be directly dephosphorylated at S473 or both, S473 and T308 by protein phosphatase 1A (PP1A) [
95
,
96
].
Perspective
The genetic make-up of specific cancer cells and cell lines impacts Akt regulation by protein kinases, protein phosphatases and lipid phosphatases [
36
,
55
,
56
,
57
,
97
]. Interestingly, the duration of Akt activation and Akt-mediated phosphorylation of target proteins is restricted in a spatiotemporal manner. For example, Akt signaling in the cytosol is more rapid and more transient compared with the cell membrane and the nucleus, suggesting the presence of differentially regulated kinase and phosphatase activity in the different compartments [
32
]. It appears that spatiotemporal intracellular segregation of active kinases and phosphatases may participate in the control of Akt phosphorylation and its localized access to its targets.
2.3. Further Factors Regulating Akt Activation
In addition to phosphorylation and activation as well as termination of Akt activity by dephosphorylation, further regulation can be performed via factors like 5′lipid phosphatase, PH-domain containing proteins, AIM2 and HSP90. Posttranslational modification via ubiquitin-modifying enzymes of Akt could play a more refined regulatory role. Another novel aspect in the regulation of the PI3K/Akt pathway is the involvement of miRNAs.
3. Subcellular Network of Akt Target Proteins
4. Conclusions and Outlook
PI3K/Akt pathway is one of the most frequently dysregulated signaling pathways in human cancer and impacts on almost all aspects of malignant cancer growth, the so-called "hallmarks of cancer". This review describes the multifaceted regulatory aspects of this complex signaling network with a focus on localized activation/deactivation cycles and compartment-specific Akt target proteins.
Moreover, this review highlights of the involvement of diverse Akt substrates in subcellular processes with importance to the DNA damage response, DNA repair, and the maintenance of genomic stability that are expected to impact tumor initiation and progression. The finding that aberrant activation of the survival kinase Akt mostly enhances the repair of DNA DSB through either classical DNA-PKcs-dependent cNHEJ or HRR suggests that aberrant activation of Akt may help the cancer cells to increase the overall capacity for DNA repair upon exposure to genotoxic therapies and thus promotes resistance to genotoxic therapies. A common feature of active Akt in the nucleus seems to be its regulatory effect on the formation of protein-protein/multiprotein repair complexes and the dynamics of complex-dissociation. We assume that through this Akt might facilitate or even accelerate the formation and resolution of DNA repair foci ensuring survival under therapy.
Some of the described Akt substrates have only recently been identified and are currently explored in preclinical investigation suggesting novel opportunities for therapeutic intervention in the future. Herein promising candidates are nuclear Akt target proteins with a documented role in the repair of DNA DSB. Targeting miRNAs involved in regulation of the PI3K/Akt pathway may be another innovative approach to overcome radioresistance of cancer cells caused by PI3K/Akt pathway alterations. Deregulated expression of miRNAs regulating the PI3K/Akt pathway may not only be used as innovative therapeutic targets but also as biomarkers for patient selection in clinical trials.
A comprehensive understanding of the complex PI3K/Akt signaling network, its localized activation/deactivation cycles and its compartment-specific target proteins will help to exploit the full potential of pathway inhibitors in cancer therapy including combination with genotoxic chemotherapy and radiotherapy. The role of PI3K/Akt signaling in the cellular radiation response is a field of intense research in radiation biology with a high potential for groundbreaking findings in the future.
Acknowledgments
The work was supported by grants of the DFG (GRK1739/2) and of the EU (EU-ITN RADIATE) to Verena Jendrossek and by the Medical School of the University Duisburg-Essen to Sebastian Oeck.
Conflicts of Interest
The authors declare no conflict of interest.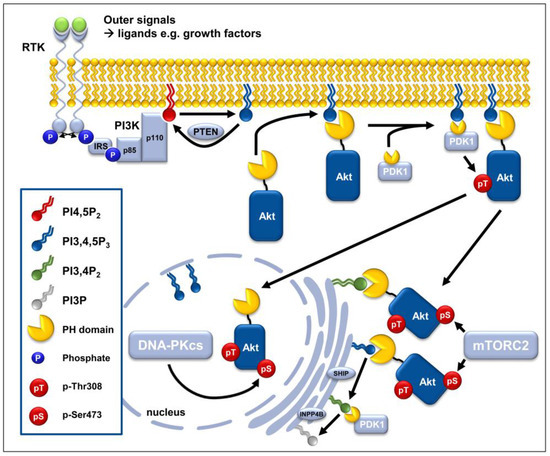 Figure 1.
Schematic representation of compartmentalized Akt activation. PI(3,4,5)P
3
production at the cell membrane depends on PI3K that is activated downstream of active RTKs and GPCRs. Subsequently, Akt is recruited to the cell membrane through binding of its PH-domain to synthesized PI(3,4,5)P
3
. Akt's binding to PI(3,4,5)P
3
allows phosphorylation at T308 by the PH-domain containing PDK1 and at S473 by mTORC2 or DNA-PKcs at distinct subcellular localizations. Akt can also be activated at endomembranes by binding to PI3,4P
2
synthesized during a SHIP-catalyzed reaction from PI(3,4,5)P
3
. Instead, PTEN and INPP4B terminate Akt activation by limiting PI(3,4,5)P
3
and PI(3,4)P
2
. (Inspired by [
5
,
25
]).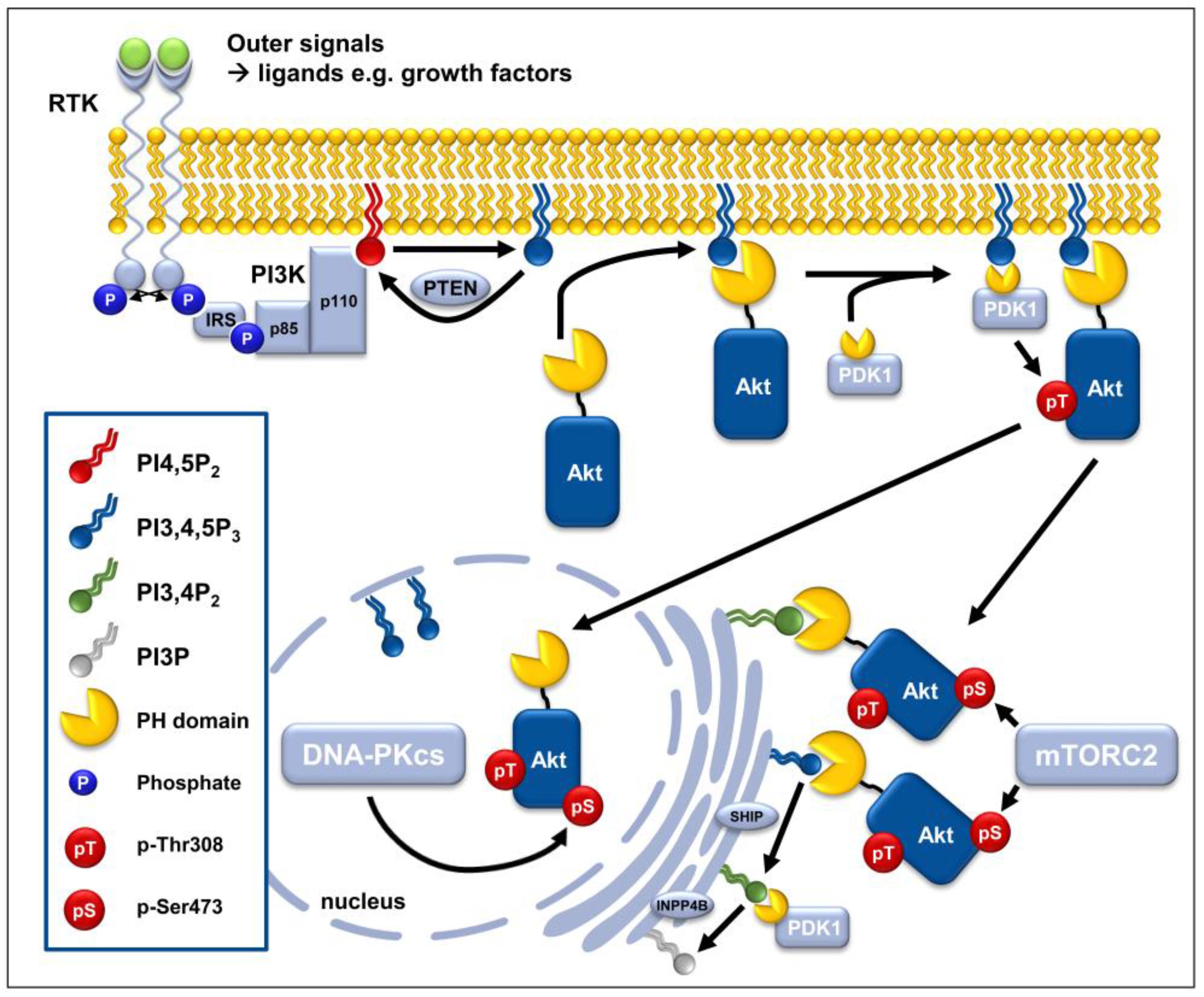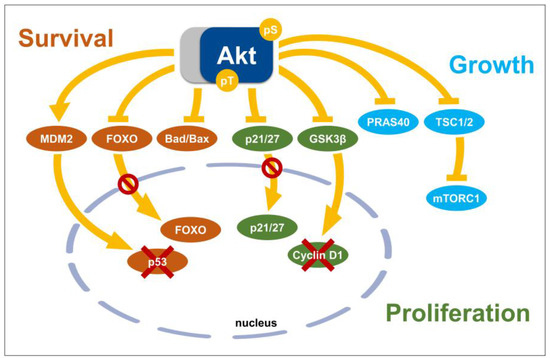 Figure 2. Schematic representation of Akt-substrates involved in the regulation of the cellular radiation response. Akt mediates several subcellular processes, e.g., survival, growth and phosphorylation by phosphorylating different target proteins. Phosphorylation of different Akt targets involved in survival (orange), proliferation (green) and growth (blue) leads to an activation or inhibition of their function. Arrows depict activating phosphorylation whereas blocking lines depict inhibitory phosphorylation. Nuclear translocation of p21/27 and FOXO3A is inhibited upon phosphorylation by Akt depicted by red cross.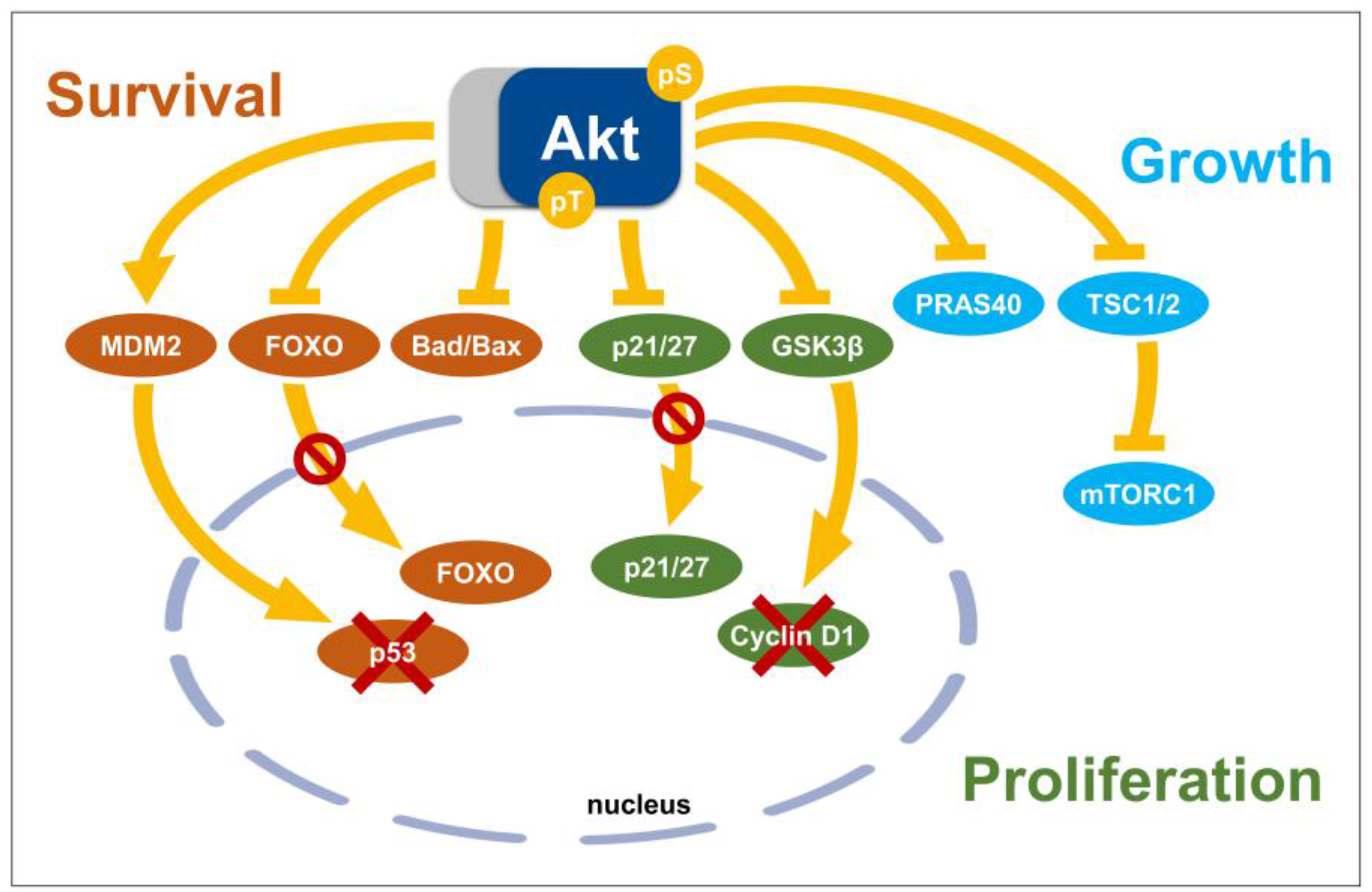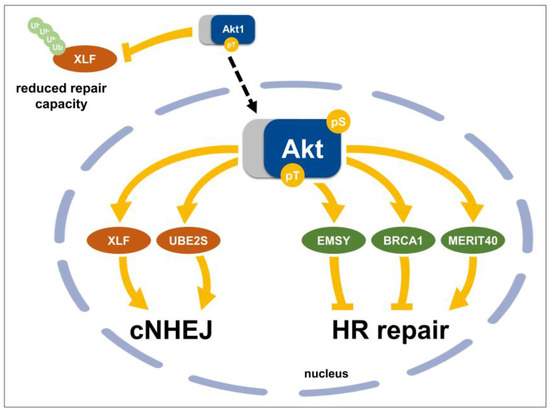 Figure 3.
Schematic representation of the interaction of Akt with DNA repair proteins and pathways. Active Akt influences classic non-homologous end joining (cNHEJ) and homologous recombination repair (HR repair, HRR) pathways by phosphorylating proteins involved in the regulation or execution of DNA repair (cNHEJ and HRR). Proteins associated with cNHEJ are depicted in orange whereas HRR-associated proteins are labeled green. For example, upon phosphorylation XLF is removed from DNA repair complexes, excluded from the nucleus and prone to ubiquitination-dependent degradation [
174
] whereas phosphorylation by Akt stabilizes UBE2S thereby enhances its interaction with Ku70 and the accumulation of UBE2S-Ku70 at sites of DNA damage [
171
]. However, it is still unclear whether the action of Akt on XLF promotes or inhibits cNHEJ [
23
,
174
] By phosphorylating BRCA1 and MERIT40 Akt may either inhibit or promote BRCA1-dependent HRR [
242
,
243
].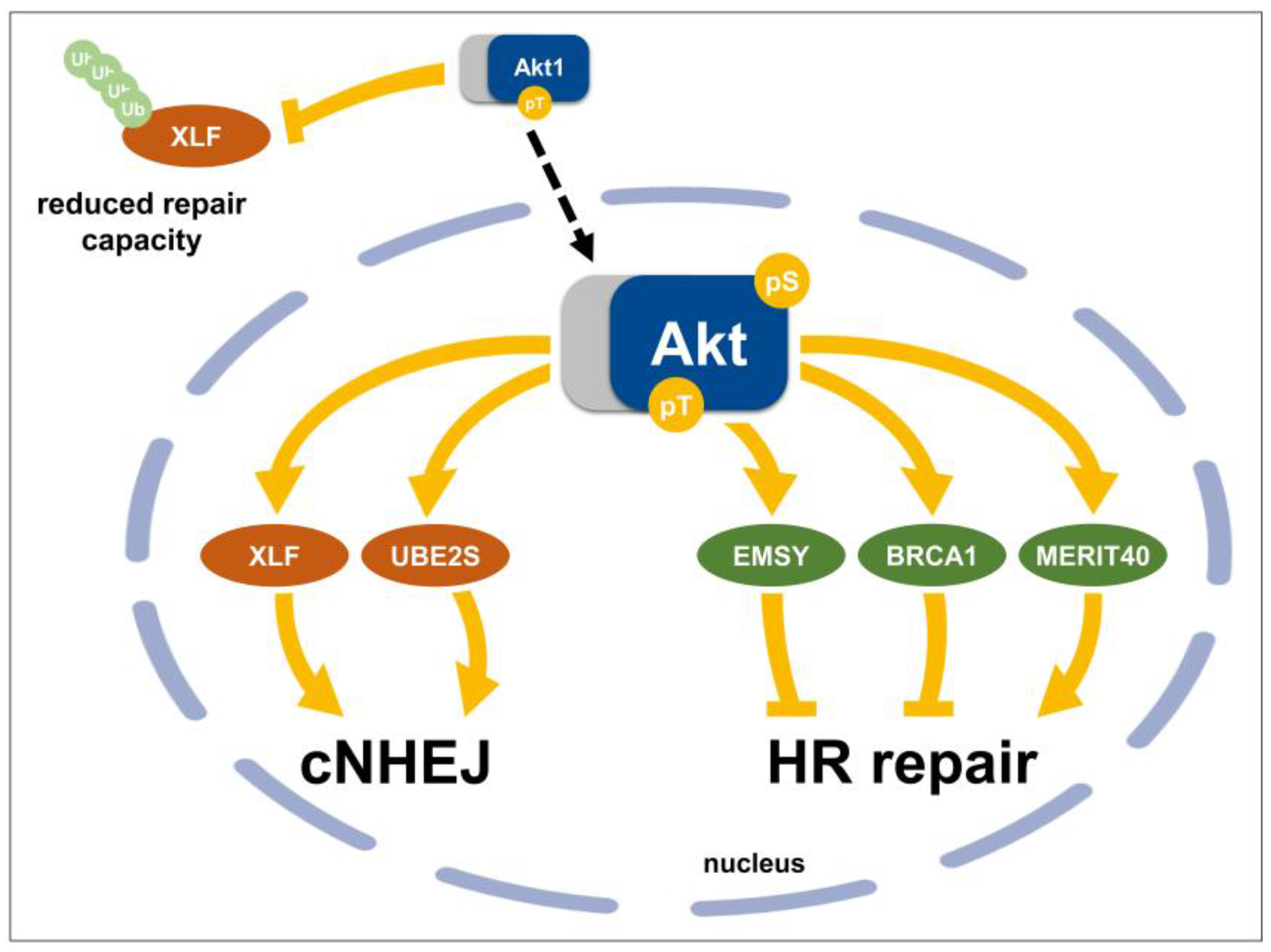 miRNA Name
Function
Reference
miR-20a
Activation of mir-20a correlated with decreased activation of PTEN leading to higher radioresistance. Inhibition of miR-20a by anti-miR-20a led to cell radiosensitization. PI3K inhibitor LY294002 could radiosensitize hepatocellular carcinoma cells.
[110]
miR-21
miR-95
Upregulation of miR-21 and miR-95 expression in lung cancer cells correlating with poor prognosis. Radiosensitization by applying anti-miR-21 and anti-miR-95.
[116]
miR-22
miR-22 activates PI3K/Akt pathway inducing enhanced proliferation of chronic lymphocytic leukemia (CLL) B-cells.
[117]
miR-31
Inhibiting effects of miR-31 evoked downregulation of PI3K/Akt pathway in lung adenocarcinoma cells.
[115]
miR-101-2
miR-125b-2 miR-451a
Exogenous expression of miR-101-2, miR-125b-2, and miR-451a suppressed tumor growth in gastric cancer through decreasing the expression of PI3K/Akt pathway.
[118]
miR-126
miR-126 suppressed proliferation of undifferentiated thyroid carcinoma through repressing PI3K/Akt pathway.
[111]
miR-203
miR-203 is critical factor in radioresistance of nasopharyngeal carcinoma cells by targeting IL8/AKT signaling. This effect could be abolished by an agomir. Overexpression of miR-203 could achieve radiosensitization by affecting DNA repair as well as the PI3K/Akt pathway in malignant glioma cells.
[112]
miR-205
Enhanced expression of miR-205 evokes downregulation of PTEN resulting in enhanced Akt phosphorylation and radioresistance.
[119]
miR-302
Downregulation of miR-302 evokes elevated level of phosphorylated Akt. Restoration of miR-302 expression returned this effect and sensitized cells to radiotherapy.
[113]
miR-519a
miR-519a can promote tumor growth in hepatocellular carcinoma targeting PTEN/PI3K/Akt pathway.
[120]
| Target Name | Function | References |
| --- | --- | --- |
| BAD | Pro-apoptotic protein. Phosphorylation by Akt inhibits its function and promotes cell survival. | [136,137] |
| BRCA1 | Breast cancer susceptibility gene product and tumor suppressor. Phosphorylation by Akt alters its function, perhaps by preventing nuclear localization. | [138,139] |
| CHK1 | DNA damage effector that regulates G2/M transition during DNA damage. Phosphorylation by Akt inhibits its function by preventing phosphorylation by ATM/ATR. | [140,141,142] |
| Cot | Oncogene. Phosphorylation by Akt induces NF-kB-dependent transcription. | [143] |
| EMSY | Oncogenic interacting partner of BRCA2. EMSY overexpression disrupts the BRCA2/RAD51 interaction. | [144,145] |
| FANCA | ATPase involved in DNA repair. Phosphorylation by Akt negatively regulates its function. | [146,147] |
| FOXO1A | Transcription factor involved in cell cycle arrest, apoptosis, and glucose metabolism. Phosphorylation by Akt causes export from the nucleus and inhibits its activity. | [148,149,150] |
| FOXO3A | Transcription factor involved in cell cycle arrest and apoptosis. Phosphorylation by Akt causes export from the nucleus and inhibits its activity. | [151,152,153] |
| FOXO4 | Transcription factor involved in cell cycle arrest, apoptosis, and insulin signaling. Phosphorylation by Akt causes export from the nucleus and inhibits its activity. | [154] |
| Lamin A/C | Plays a role in nuclear assembly, chromatin organization, nuclear membrane and telomere dynamics. Phosphorylation by Akt promotes its degradation. | [155,156] |
| Mdm2 | As an E3 ubiquitin-protein ligase Mdm2 mediates ubiquitination of p53/TP53. | [124,157,158] |
| Merit40 | Component of the BRCA1-A complex that contributes to DNA repair. Phosphorylation by Akt leads to enhanced DNA repair and survival. | [159] |
| p21 | p21 as a CDK-inhibitor regulates cell cycle and survival. Phosphorylation by Akt leads to release from PCNA that results in elevated progression. | [160,161,162] |
| p27 | Cyclin-dependent kinase inhibitor that mediates G1 arrest. Phosphorylation by Akt promotes 14-3-3 binding and cytoplasmic localization resulting in enhanced proliferative effect. | [163,164,165] |
| PRAS40 | Binds to and inhibits mTOR. Phosphorylation causes 14-3-3 binding and facilitates its phosphorylation by mTORC1. | [166,167] |
| PRP19 | PRP19is a member of the spliceosome that also functions in DNA double strand break repair. Phosphorylation by Akt allows 14-3-3 binding and promotes its degradation. | [168] |
| TSC2 | Tumor suppressor that can inhibit mTOR. Phosphorylation by Akt inhibits its function. | [169,170] |
| UBE2S | Ubiquitin-conjugating enzyme E2S plays a role in NHEJ complex. Phosphorylation by Akt enhances its stability by inhibiting proteasomal degradation. | [171,172] |
| Wee1 | Inhibits cell cycle progression. Phosphorylation by Akt inhibits its function associated with changed localization of Wee1 from nuclear to cytoplasmic. | [173] |
| XLF | Involved in NHEJ and promotes the Ligase IV recruitment to the DNA damage site. XLF interacts with XRCC4 to create long filaments promoting ligation of DNA broken ends. Phosphorylation by Akt negatively affects DNA repair. | [174] |

© 2018 by the authors. Licensee MDPI, Basel, Switzerland. This article is an open access article distributed under the terms and conditions of the Creative Commons Attribution (CC BY) license (http://creativecommons.org/licenses/by/4.0/).