Localization Microscopy Analyses of MRE11 Clusters in 3D-Conserved Cell Nuclei of Different Cell Lines
1
Kirchhoff-Institute for Physics, University of Heidelberg, Im Neuenheimer Feld 227, 69120 Heidelberg, Germany
2
Institute of Molecular Biology, Ackermannweg 4, 55128 Mainz, Germany
3
German Cancer Research Center (DKFZ), Im Neuenheimer Feld 280, 69120 Heidelberg, Germany
4
Department Radiation Oncology, Universitätsmedizin Mannheim, University of Heidelberg, Theodor-Kutzer-Ufer 3-5, 68159 Mannheim, Germany
*
Author to whom correspondence should be addressed.
†
Current address: Institute for Transfusion Medicine and Immunology, Universitätsmedizin Mannheim, University of Heidelberg, Friedrich-Ebert-Str. 107, 68167 Mannheim, Germany.
Received: 4 December 2017 / Revised: 12 January 2018 / Accepted: 17 January 2018 / Published: 22 January 2018
Abstract
In radiation biophysics, it is a subject of nowadays research to investigate DNA strand break repair in detail after damage induction by ionizing radiation. It is a subject of debate as to what makes up the cell's decision to use a certain repair pathway and how the repair machinery recruited in repair foci is spatially and temporarily organized. Single-molecule localization microscopy (SMLM) allows super-resolution analysis by precise localization of single fluorescent molecule tags, resulting in nuclear structure analysis with a spatial resolution in the 10 nm regime. Here, we used SMLM to study MRE11 foci. MRE11 is one of three proteins involved in the MRN-complex (MRE11-RAD50-NBS1 complex), a prominent DNA strand resection and broken end bridging component involved in homologous recombination repair (HRR) and alternative non-homologous end joining (a-NHEJ). We analyzed the spatial arrangements of antibody-labelled MRE11 proteins in the nuclei of a breast cancer and a skin fibroblast cell line along a time-course of repair (up to 48 h) after irradiation with a dose of 2 Gy. Different kinetics for cluster formation and relaxation were determined. Changes in the internal nano-scaled structure of the clusters were quantified and compared between the two cell types. The results indicate a cell type-dependent DNA damage response concerning MRE11 recruitment and cluster formation. The MRE11 data were compared to H2AX phosphorylation detected by γH2AX molecule distribution. These data suggested modulations of MRE11 signal frequencies that were not directly correlated to DNA damage induction. The application of SMLM in radiation biophysics offers new possibilities to investigate spatial foci organization after DNA damaging and during subsequent repair.
View Full-Text
►

▼

Figures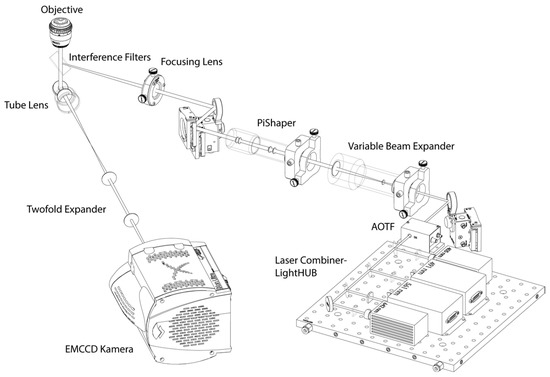 Figure 1
This is an open access article distributed under the
Creative Commons Attribution License
which permits unrestricted use, distribution, and reproduction in any medium, provided the original work is properly cited (CC BY 4.0).

Share & Cite This Article
MDPI and ACS Style
Eryilmaz, M.; Schmitt, E.; Krufczik, M.; Theda, F.; Lee, J.-H.; Cremer, C.; Bestvater, F.; Schaufler, W.; Hausmann, M.; Hildenbrand, G. Localization Microscopy Analyses of MRE11 Clusters in 3D-Conserved Cell Nuclei of Different Cell Lines. Cancers 2018, 10, 25.
Note that from the first issue of 2016, MDPI journals use article numbers instead of page numbers. See further details here.
Related Articles
Comments
[Return to top]