Open Access This article is
freely available
re-usable
Review
Teaming Up for Trouble: Cancer Cells, Transforming Growth Factor-β1 Signaling and the Epigenetic Corruption of Stromal Naïve Fibroblasts
1
Department of Clinical Biochemistry and Pharmacology, Ben Gurion University of the Negev, Beersheva 8410500, Israel
2
Faculty of Health Sciences, Ben Gurion University of the Negev, Beersheva 8410500, Israel
3
Institute of Gastroenterology and Hepatology, Soroka University Medical Center, Beersheva 8410100, Israel
4
Pediatrics Department B, Soroka University Medical Center, Beersheva 8410100, Israel
5
International Institute of Anticancer Research, Kapandriti, Athens 19014, Greece
*
Author to whom correspondence should be addressed.
Received: 10 December 2017 / Accepted: 21 February 2018 / Published: 27 February 2018
Abstract
:
It is well recognized that cancer cells subvert the phenotype of stromal naïve fibroblasts and instruct the neighboring cells to sustain their growth agenda. The mechanisms underpinning the switch of fibroblasts to cancer-associated fibroblasts (CAFs) are the focus of intense investigation. One of the most significant hallmarks of the biological identity of CAFs is that their tumor-promoting phenotype is stably maintained during in vitro and ex vivo propagation without the continual interaction with the adjacent cancer cells. In this review, we discuss robust evidence showing that the master cytokine Transforming Growth Factor-β1 (TGFβ-1) is a prime mover in reshaping, via epigenetic switches, the phenotype of stromal fibroblasts to a durable state. We also examine, in detail, the pervasive involvement of TGFβ-1 signaling from both cancer cells and CAFs in fostering cancer development, taking colorectal cancer (CRC) as a paradigm of human neoplasia. Finally, we review the stroma-centric anticancer therapeutic approach focused on CAFs—the most abundant cell population of the tumor microenvironment (TME)—as target cells.
Keywords:
cancer; tumor microenvironment; transforming growth factor-β; epigenetics; colorectal cancer; cancer-associated fibroblasts
1. Introduction
The reductionist viewpoint of neoplasia based on the autonomous behavior of tumor cells has been superseded by the mounting evidence that cancer is a complex micro-ecosystem comprising not only the transformed cells but also heterotypic non-cancer cell populations resident in the tumor microenvironment (TME), [
1
,
2
]. This view is providing new opportunities for therapeutic approaches [
1
,
2
,
3
]. Previously, stromal fibroblasts enclosing a growing tumor were not at the center of attention as key participants in the process of carcinogenesis. A vast number of studies have discounted this view and showed that the naïve fibroblasts are educated by the adjacent tumor cells to foster their growth program. The "activated" fibroblasts, referred to as myofibroblasts and in the cancer context "cancer-associated fibroblasts" (CAFs), are the most abundant cell population resident in the TME producing an array of oncogenic cytokines and chemokines [
4
,
5
,
6
,
7
,
8
,
9
].
Several cell types have been qualified as progenitors that acquire the CAF phenotype by trans-differentiation explaining, at least in part, the heterogeneity of CAFs in the TME [
4
,
5
,
6
,
7
,
8
,
9
]. Apart from normal resident fibroblasts, the list includes pericytes, adipocytes, smooth muscle cells, hepatic and pancreatic stellate cells to name but a few. Epithelial cancer cells are also able to acquire a CAF-like mesenchymal phenotype via the epithelial–mesenchymal transition (EMT), a trans-differentiation program that strongly favors migration and invasion of cancer cells [
10
]. Irrespective of their disparate cellular origin and lineage, the ultimate purpose of these progenitoronce morphed into CAFss to sustain the demanding lifestyle of the cancer cell. A note of caution is warranted at this point. Tumor stroma does not invariably act as a partner in crime but may restrain cancer growth, an inhibitory role shown in murine pancreatic cancer [
11
,
12
]. In this context, the secretion by CAFs of pro-collagen fibrils into the extracellular matrix (ECM)—referred to as desmoplasia—serves as a barrier impeding the growth of cancer cells instead of enhancing their biological aggressiveness. This protective stromal function proposed by J. Delinasios in early works [
13
] has been extensively reviewed [
14
,
15
].
An extensive survey of how cancer cells impose on non-transformed stromal fibroblasts—a pro-tumorigenic drive to foster their growth agenda—is not the aim of this review and readers seeking detailed information on this rich area of ongoing investigation are directed to several comprehensive reviews (refs. [
4
,
5
,
6
,
7
,
8
,
9
] and references therein). In the present review, among the molecular agents promoting the generation of CAFs, we have singled out TGF-β1, a master cytokine overexpressed by both tumor cells and stromal CAFs essential for the fibroblast-to-myofibroblast trans-differentiation and, consequently, for the shaping of the CAF phenotype [
16
,
17
,
18
,
19
]. TGF-β1 serves as a major conduit for communication between cancer cells and stromal myofibroblasts.
One of the most significant hallmarks of the biological identity of CAFs is that their tumor-promoting phenotype remains stable during in vitro and ex vivo propagation without the continual interaction with neighboring cancer cells. This intriguing finding, discussed in detail below, has been reported in a large number of studies [
20
,
21
,
22
,
23
]; see also citations in the following sections of this review.
Herein, for scrutiny and discussion, we have selected the aforementioned aspects of CAF biology which are of mounting interest for basic research and in translational medicine, and asked the following:
Which genomic changes underpin the long-term memory of co-evolution of CAFs with their rogue cancer neighbors, leading to the durability of the CAF phenotype? How does TGF-β1 signaling program the durable CAF phenotype? How the biological changes imposed on stromal fibroblasts by tumor cells and sustained by TGF-β1 affect cancer medicine?
2. The Durable Gene Signature of Cancer-Associated Fibroblasts: Clonal Somatic Mutations or Epigenetic Changes?
In conclusion, if rare de novo genomic mutations occur in CAFs, they appear not to provide a patently selective advantage for cell growth and these inconsequential somatic gene changes would eventually qualify, at best, as passenger mutations.
3. Epigenetic Changes Underlie Trans-Differentiation of Stromal Fibroblasts to CAFs
We next examine the mounting evidence that epigenetic changes in CAFs—compared to wild type stromal fibroblasts—are part and parcel of their stable genomic landscape. Readers are referred to references [
50
,
51
,
52
,
53
,
54
] for details on epigenetic mechanisms.
3.1. Cancer-Associated Fibroblasts and the DNA Methylome
3.2. Cancer-Associated Fibroblasts and Post-Translational Histone Modifications
4. The Involvement of TGF-β1 Signaling in Shaping the Epigenetic Landscape of Cancer-Associated Fibroblasts
4.1. A Synopsis of TGF-β1 Signaling
Before examining, in detail, the experimental evidence supporting the involvement of TGF-β1 in re-programming the epigenetic signature of stromal fibroblasts, we provide a brief description of the master cytokine as a busy purveyor of key biological information to target cells.
4.2. TGF-β1 Signaling and the Epigenetic Signature of Cancer-Associated Fibroblasts
We have reviewed previously the robust evidence that epigenetic changes define the signature and the stability of the CAF phenotype. A key question comes to the fore: which cues and signals reshape the epigenetic landscape of stromal fibroblasts?
The pervasive involvement of TGF-β1 in the induction of fibroblast-to-myofibroblast trans-differentiation and in the shaping of the CAF phenotype is amply documented [
15
,
16
,
17
,
18
,
19
,
101
,
102
,
103
]. We turn now to discuss, in detail, the substantial evidence—briefly mentioned in [
101
], showing that myofibroblast differentiation provoked by TGF-β1 is associated with epigenetic changes. To this aim, we present below a selected panel of target genes coding for CAF proteins for which robust experimental evidence for epigenetic regulation by TGF-β1 is available. Candidate target genes were also selected on the basis of circumstantial evidence that remains to be validated.
5. TGF-β1 Signaling, Cancer-Associated Fibroblasts and Neoplasia: Colon Cancer as a Paradigm for the Human Disease
Once more, these results show the astute and economical policy governing the cancer cell society: instead of implementing EMT in every cell, only cells at the tumor front in communication with the stroma and with an urgent need of a migratory and invasive mesenchymal phenotype activate the EMT swerve.
6. Concluding Remarks
One may tenably argue that by interfering with stromal DNMT expression, drugs may also deprive TGF-β1 of a key 'substrate' needed for regulation of the epigenetic signature of CAFs.
As discussed in this review, therapeutic targeting of CAFs and of other cell populations in the TME is based on a strong rationale; however, we believe that a therapeutic attack aimed at both cancer cell and the rogue stromal fibroblasts will be more effective in cancer therapy.
7. Few (Out of Many) Outstanding Questions
1. How precisely does the ECM evolve prior its final cellular and non-cellular TME aspect? What are the intermediate stages?
2. What are the molecular mechanisms that make stromal fibroblasts protective in some kinds of cancers?
3. Are there markers unique to the CAF phenotype which are not shared by naïve fibroblasts in normal tissues or expressed in cancer cells?
4. What is the true impact of EMT in cancer cells in providing stromal CAF-like populations?
5. Do fibroblasts exposed to local stimuli such as hypoxia and mechanical stress facilitate pre-neoplastic events in adjacent normal epithelial cells?
Author Contributions
Sergio Lamprecht designed the review, supervised the study, searched the literature and wrote the first draft and final version of the manuscript. Shraga Shany edited and contributed to the first and final version of the manuscript. Ina Sigal-Batikoff, Naim Abu-Freha, Keren Moyal-Atlas, George J. Delinasios and John G. Delinasios contributed to the drafts and editing of the review. Eduard Ling and Alexander Fich contributed to the drafts of the review. All authors read and approved the final manuscript.
Conflicts of Interest
The authors declare no conflict of interest.
Abbreviations
| | |
| --- | --- |
| CAFs | Cancer-associated fibroblasts |
| TGF-β1 | Transforming Growth Factor-β1 |
| CRC | Colorectal cancer |
| TME | Tumor microenvironment |
| EMT | Epithelial–mesenchymal transition |
| ECM | Extracellular matrix |
| LOH | Loss of heterozygosity |
| FFPE | Formalin-fixed paraffin-embedded |
| 5mCyt | 5-methylcytosine |
| DNMT | DNA methyl transferase |
| NSCLC | Non-small cell lung cancer |
| PDAC | Pancreatic ductal adenocarcinoma |
| JAK | Janus kinase |
| STAT | Signal transducer and activator of transcription protein |
| SOCS1 | Suppressor of cytokine signaling 1 |
| LIF | Leukemia-inducing factor |
| LAP | Latency associated peptide |
| LTBP | Large TGF-β binding protein |
| SMAD | Suppressor of mothers against decapentaplegic |
| SMURF | SMAD ubiquitin regulatory factor |
| a-SMA | α-smooth muscle actin |
| LHX | Lysyl hydroxylase |
| HDAC | Histone deacetylase |
| HAT | Histone acetyl transferase |
| CMS | Colorectal cancer mesenchymal subtype |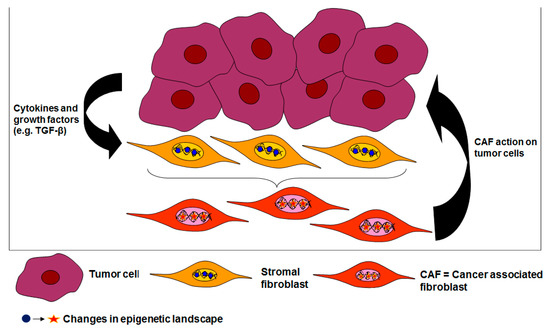 Figure 1. New epigenetic marks are imposed on normal stromal fibroblasts by neighboring cancer cells reshaping their epigenetic landscape. Cancer-derived cytokines such as TGF-β1 are involved in this process. The altered epigenetic signature accounts for the durable phenotype of cancer-associated fibroblasts (CAFs). Once corrupted to CAFs, stromal fibroblasts support the relentless growth and invasive program of the cancer cells. Note the vicious, self-perpetuating sequence of events that propagate and maintain the malevolent liaison between cancer cells and CAFs.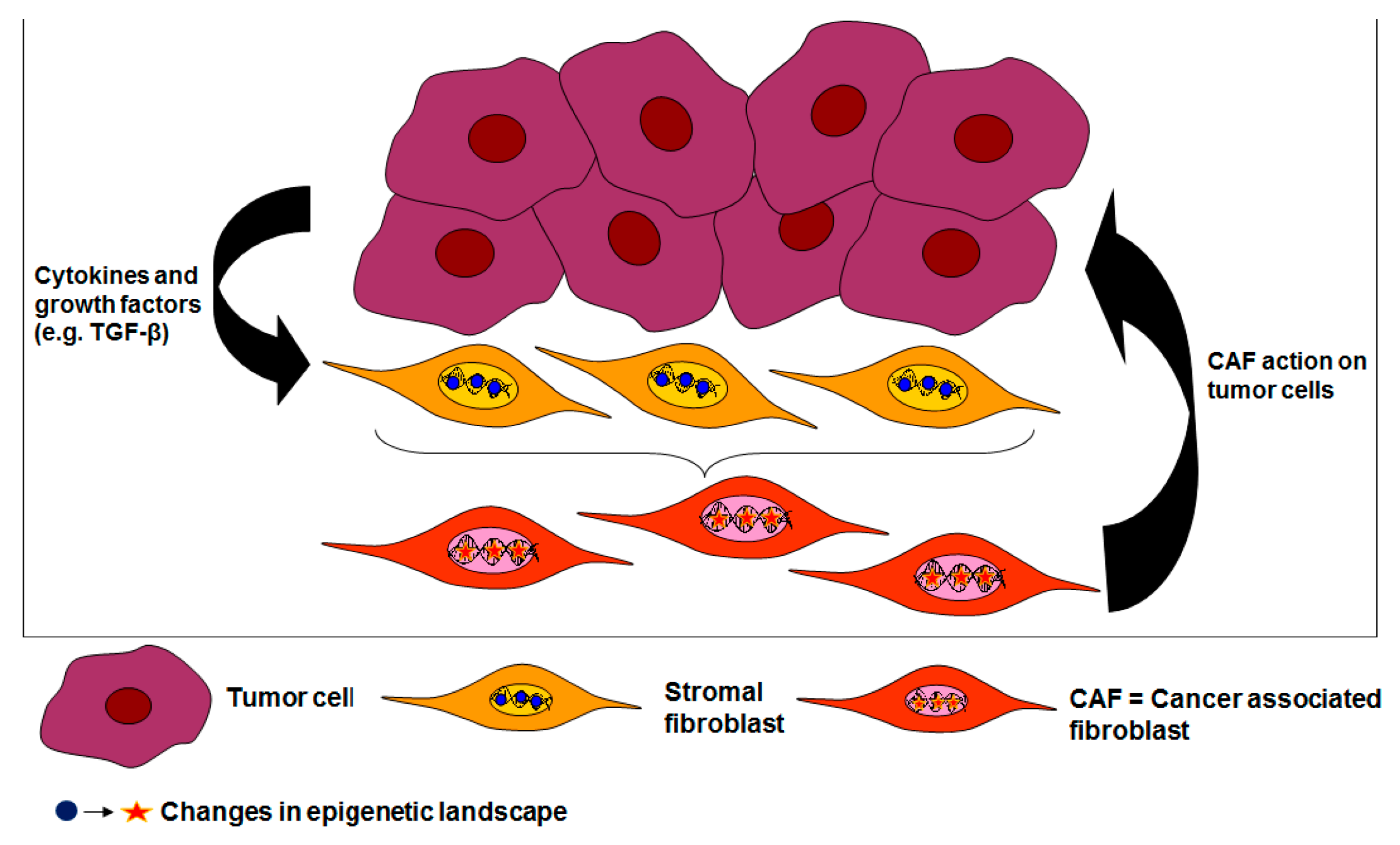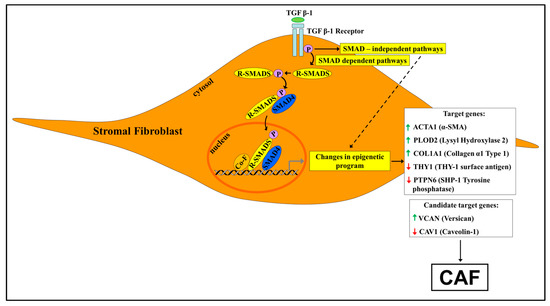 Figure 2.
Cancer-derived TGF-β1 reshapes the epigenetic signature of normal stromal fibroblasts surrounding a growing tumor via SMAD-dependent and SMAD-independent signaling pathways. For clarity's sake, only the SMAD-dependent pathway is shown. TGF-β1 signaling induces changes in nuclear enzymes and regulatory proteins such as DNMTs, histone-modifying enzymes and BET proteins governing the multi-tiered epigenetic program of fibroblast cells. The outcome is chromatin reprogramming and the generation in the tumor microenvironment (TME) of pro-tumorigenic CAFs bearing a stable phenotype. CAFs, in turn, secrete TGF-β1 and therefore participate in a vicious pro-tumorigenic cycle shown in
Figure 1
. Target candidate genes denote stromal fibroblast genes known to be regulated by TGF-β for which, in contrast to target genes, experimental evidence for TGF-β reshaping of epigenetic landscape is, to date, circumstantial. This figure is based on selected papers discussed in the review presenting evidence for TGF-β1-induced alterations in the epigenetic signature of stromal fibroblasts during trans-differentiation to CAFs in cancer (target genes) or in myofibroblasts resident in non-neoplastic fibrotic loci (candidate genes).
Green
arrow: up-regulation.
Red
arrow: down-regulation. In brackets: the coded protein. Co-F: co-factors.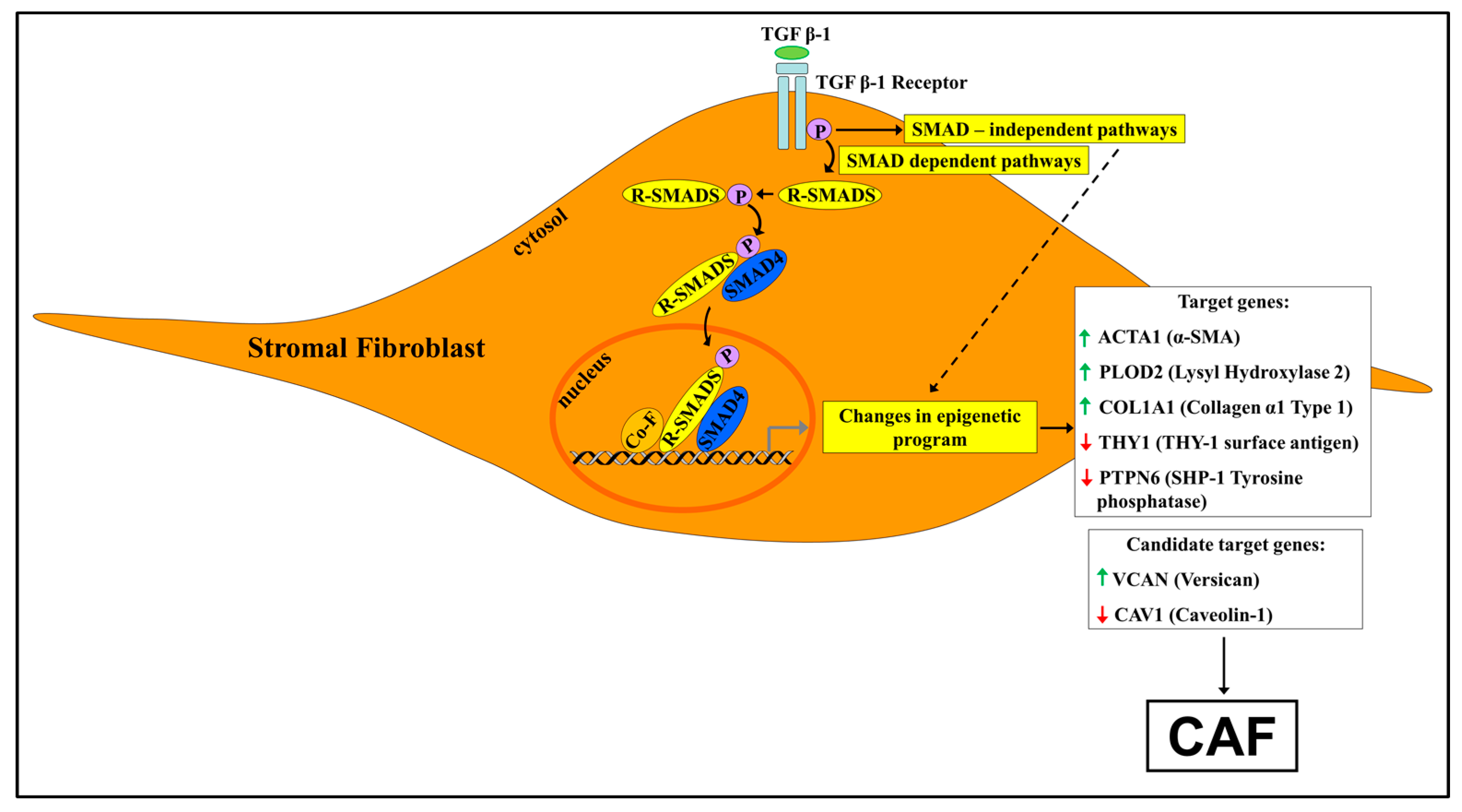 © 2018 by the authors. Licensee MDPI, Basel, Switzerland. This article is an open access article distributed under the terms and conditions of the Creative Commons Attribution (CC BY) license (http://creativecommons.org/licenses/by/4.0/).