Open Access This article is
freely available
re-usable
Review
Post-Translational Modifications of H2A Histone Variants and Their Role in Cancer
1
Josep Carreras Leukaemia Research Institute (IJC), Campus ICO-Germans Trias i Pujol, Universitat Autònoma de Barcelona, 08916 Badalona, Spain
2
PhD Programme of Genetics, Universitat de Barcelona, 08007 Barcelona, Spain
3
Program for Predictive and Personalized Medicine of Cancer, Germans Trias i Pujol Research Institute (PMPPC-IGTP), 08916 Badalona, Spain
*
Author to whom correspondence should be addressed.
Received: 15 January 2018 / Accepted: 25 February 2018 / Published: 27 February 2018
Abstract
:
Histone variants are chromatin components that replace replication-coupled histones in a fraction of nucleosomes and confer particular characteristics to chromatin. H2A variants represent the most numerous and diverse group among histone protein families. In the nucleosomal structure, H2A-H2B dimers can be removed and exchanged more easily than the stable H3-H4 core. The unstructured N-terminal histone tails of all histones, but also the C-terminal tails of H2A histones protrude out of the compact structure of the nucleosome core. These accessible tails are the preferential target sites for a large number of post-translational modifications (PTMs). While some PTMs are shared between replication-coupled H2A and H2A variants, many modifications are limited to a specific histone variant. The present review focuses on the H2A variants H2A.Z, H2A.X, and macroH2A, and summarizes their functions in chromatin and how these are linked to cancer development and progression. H2A.Z primarily acts as an oncogene and macroH2A and H2A.X as tumour suppressors. We further focus on the regulation by PTMs, which helps to understand a degree of context dependency.
Keywords:
histone variants; post-translational modifications; cancer; epigenetics; H2A.Z; H2A.X; macroH2A
Acknowledgments
David Corujo is funded by a the MECD fellowship (FPU14/06542) and research in the Buschbeck lab is supported by the Spanish Ministry of Economy and Competitiveness (MINECO; grants BFU2015-66559-P and ISCIII/PIE16/00011), AGAUR (2017-SGR-305) and the European Commission (H2020-MSCA-ITN-2015-675610). Research leading to inventions at the IJC is supported by the 'La Caixa' Foundation, the Fundació Internacional Josep Carreras, Celgene Spain and the CERCA Programme/Generalitat de Catalunya.
Conflicts of Interest
The authors declare no conflict of interest.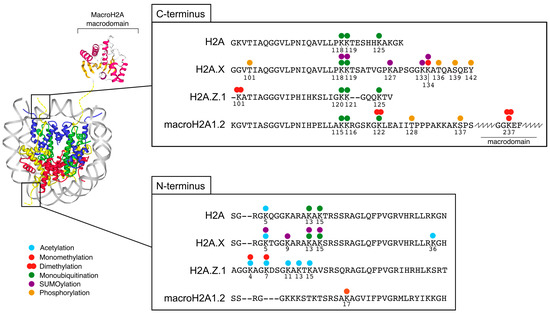 Figure 1.
Amino acid sequence of the N- and C-termini of human H2A variants and their post-translational modifications. Alignment of human H2A type 1 (NCBI ID accession number NP_003501.1), H2A.X (NP_002906.1), H2A.Z.1 (NP_002907.1) and macroH2A1.2 (NP_004884.1). The crystal structure of a nucleosome containing a macroH2A histone is depicted. Histone H2A is colored in yellow, H2B in red, H3 in blue, H4 in green and DNA in grey. Dashed lines represent the H2A tails. The macrodomain of macroH2A is colored by secondary structure (α-helices in magenta and β -sheets in orange). The picture of the nucleosome is based on protein data bank ID 3REH [
20
] and generated with ProteinWorkshop [
21
], the picture of the macroH2A macrodomain is based on PDB ID 2FXK [
22
] and generated with NGL viewer [
23
,
24
].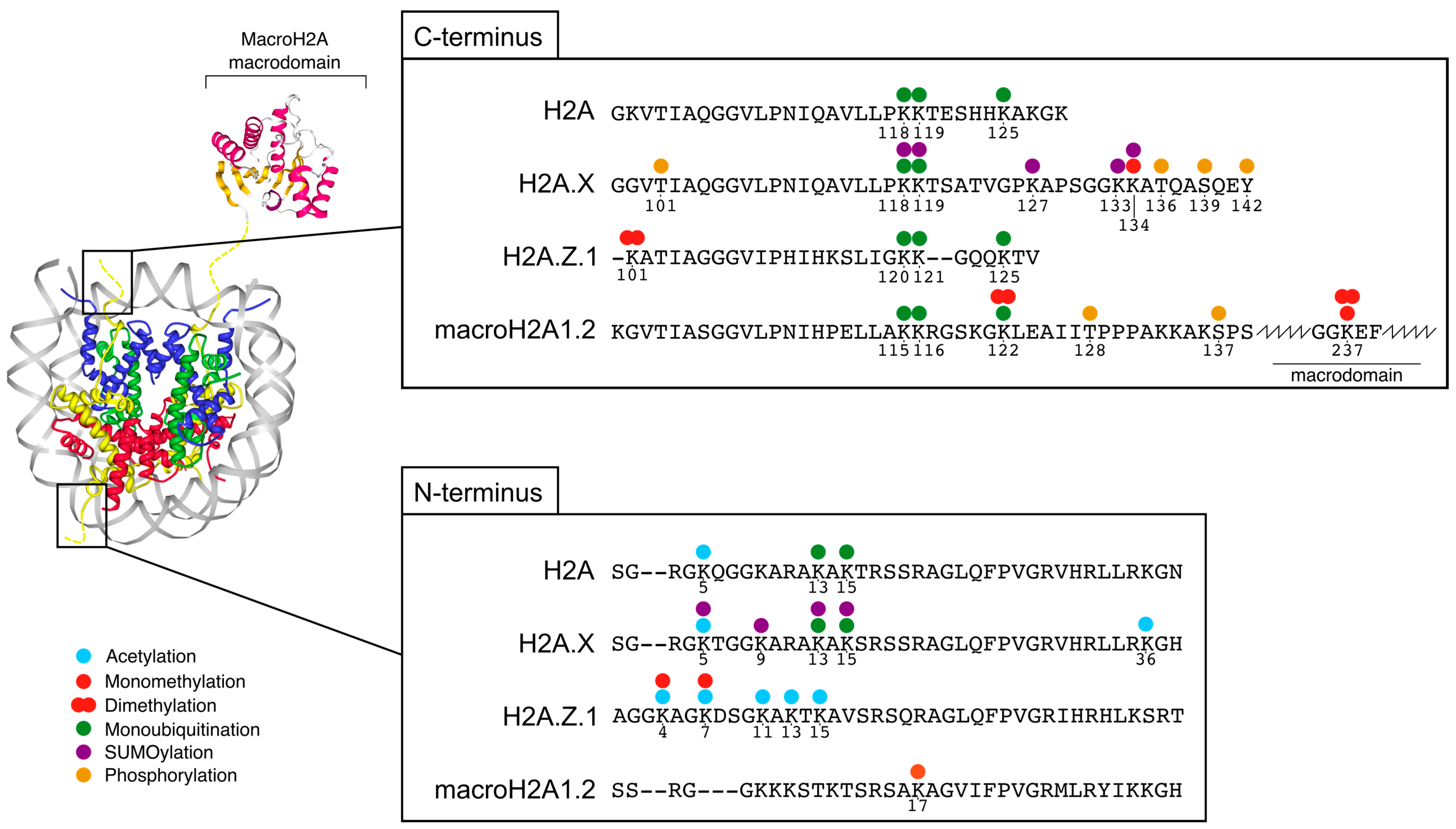 Histone
Modification
Residues
Writers
Erasers
Readers
References
H2A.Z
Acetylation
K4, K7, K11, K13, K15
TIP60
Uncharacterised histone deacetylases (HDACs)
BPTF, Brd2
[19,25,26,27,28,29]
Monoubiquitination
Unknown
RNF168
Unknown
Unknown
[30]
Monoubiquitination
K120, K121, K125
RING1B (PRC1)
USP10
Unknown
[27,31,32]
Methylation
K4, K7
SETD6, SMYD3
Unknown
Unknown
[33]
Dimethylation
K101
SMYD3
Unknown
Unknown
[34]
SUMOylation
K126, K133 (Yeast)
PIAS4
Unknown
Unknown
[35,36]
MacroH2A
Monoubiquitination
K115, K116
PRC1, CULLIN3/SPOP
Unknown
Unknown
[17,37,38,39]
Monoubiquitination
K122
BRCA1
Unknown
Unknown
[40]
Methylation
K17 (mono), K122 (di), K237 (mono/di)
Unknown
Unknown
Unknown
[37]
Phosphorylation
T128
Unknown
Unknown
Unknown
[37]
Phosphorylation
S137
Cdk1/cyclinB, Cdk2/cyclinE, Haspin kinase
Unknown
Unknown
[41,42]
H2A.X
Phosphorylation
T101
Unknown
Unknown
Unknown
[43]
Phosphorylation
T136
DNA-PK
Unknown
Unknown
[44]
Phosphorylation
S139
ATM, ATR, DNA-PK
PP2A, PP4, PP6, Wip1
MDC1
[45,46,47,48,49,50,51,52,53]
Phosphorylation
Y142
WSTF
EYA
Impairs MDC1
[53,54,55,56]
Monoubiquitination
K13, K15
RNF168
USP3, USP11, USP16, USP44, BRCC36, Dub3
53BP1
[57,58,59,60,61,62,63,64,65,66,67,68,69,70]
Monoubiquitination
K118, K119
RNF2-BMI1 (PRC1)
Unknown
Unknown
[71,72,73,74,75]
Acetylation
K5
TIP60
Uncharacterised HDACs
Unknown
[76,77]
Acetylation
K36
CBP/p300
Unknown
Unknown
[78]
Methylation
K134
SUV39H2
Unknown
Unknown
[79,80]
SUMOylation
K5, K9, K13, K15, K118, K119, K127, K133, K134
PIAS4
Unknown
Unknown
[81]
Histone
Cancer Type
Alteration
Observation/Function
PTM Involvement
References
H2A.Z
Breast
Upregulation
Correlates with poor survival, promotes proliferation, involved in gene activation by estrogen signalling
Dimethylation on K101 promotes proliferation by activating cyclinA1
H2A.Z acetylation may be responsible for increased p21 expression in ER-negative p53−/− breast cancer cells
[34,92,134,135,136]
Prostate
Upregulation
Involved in gene activation by androgen signalling, poises PSA activation
Acetylation and deubiquitination are necessary for oncogenic hormone-mediated activation
[32,137,138,139,140]
Bladder
Upregulation
Promotes cell proliferation and oncogene transcription by recruiting WDR5 (MLL complex) and BPTF (NuRD complex)
Unknown
[141]
H2A.Z.1
Hepatocellular carcinoma
Upregulation
Correlates with poor survival, promotes tumour growth and EMT
Unknown
[142]
H2A.Z.2
Melanoma
Upregulation
Correlates with poor survival, its depletion sensitizes cells to chemotherapy
Unknown
[143,144]
macroH2A1,
macroH2A2
Melanoma
Downregulation
Promotes disease progression and metastasis
Unknown
[145,146,147]
macroH2A1, macroH2A2
Bladder cancer
Downregulation
Correlates with disease progression, promotes cell growth, stemness and invasiveness
Unknown
[148,149]
macroH2A1
Hepatocellular carcinoma
Upregulation
Higher immunopositivity in steatosis-associated hepatocellular carcinoma, prevents chemotherapy-induced senescence
Unknown
[150,151]
macroH2A1.1, macroH2A1.2
Breast cancer
Increased macroH2A1.2/macroH2A1.1 ratio
Observed in highly proliferative tumours, correlates with poor survival, promotes tumour growth and metastasis
Unknown
[152]
macroH2A1.1
Colorectal cancer
Downregulation
Correlates with poor survival, promotes proliferation and metastasis
Unknown
[112]
macroH2A1.1
Lung cancer
Downregulation
Correlates with higher risk of tumour recurrence
Unknown
[153,154]
macroH2A2
Anal neoplasm
Downregulation
Correlates with disease progression
Unknown
[155]
H2A.X
Sporadic breast cancer
Deletion
Proposed to increase genomic instability and tumorigenesis as observed in KO mice
Does not apply
[118,119,156,157]
Neuroblastoma
Deletion
Correlates with disease progression and poor prognosis
Does not apply
[158,159]
Head and neck squamous cell carcinoma
Deletion
Associated with higher genomic instability and reduced radiosensitivity, included in predictive model for recurrence and metastasis risk
Does not apply
[160,161,162]
Chronic lymphocytic leukaemia
Deletion
Associated with higher genomic instability, correlates with poor prognosis
Does not apply
[163,164]
Triple negative breast cancer
Upregulation
High levels of γ-H2A.X correlate with poor prognosis
S139 Phosphorylation
[165]
Melanoma
Upregulation
High levels of γ-H2A.X observed in melanocytic lesions
S139 Phosphorylation
[166,167]
Breast cancer
Downregulation
Correlates with better prognosis
Chemotherapy induces H2A.X degradation mediated by polyubiquitination at K13 and K15
[168]
Colon cancer cells
Downregulation
Promotes EMT
Unknown
[169]
Breast cancer cells
Downregulation
Promotes EMT
Unknown
[170]

© 2018 by the authors. Licensee MDPI, Basel, Switzerland. This article is an open access article distributed under the terms and conditions of the Creative Commons Attribution (CC BY) license (http://creativecommons.org/licenses/by/4.0/).