PHD3 Acts as Tumor Suppressor in Mouse Osteosarcoma and Influences Tumor Vascularization via PDGF-C Signaling
1
Department of General, Visceral and Transplantation Surgery, RWTH University Hospital, 52074 Aachen, Germany
2
Department of Pathology, TU Dresden, 01307 Dresden, Germany
3
Department of Biochemistry, University of Münster, 48149 Münster, Germany
4
Department of Dermatology, University Hospital Zurich, CH-8952 Schlieren, Switzerland
5
Institute for Clinical Chemistry and Laboratory Medicine, TU Dresden, 01307 Dresden, Germany
6
Core Facility Cellular Imaging, Experimental Center, Faculty of Medicine, TU Dresden, 01307 Dresden, Germany
7
Institute for Clinical Chemistry and Laboratory Medicine, TU Dresden, 01307 Dresden, Germany
8
Division of Medical Biology, Department of Psychiatry and Psychotherapy, TU Dresden, 01307 Dresden, Germany
*
Author to whom correspondence should be addressed.
Received: 12 October 2018 / Revised: 30 November 2018 / Accepted: 3 December 2018 / Published: 6 December 2018
Abstract
Cancer cell proliferation and insufficient blood supply can lead to the development of hypoxic areas in the tumor tissue. The adaptation to the hypoxic environment is mediated by a transcriptional complex called hypoxia-inducible factor (HIF). HIF protein levels are tightly controlled by oxygen-dependent prolyl hydroxylase domain proteins (PHDs). However, the precise roles of these enzymes in tumor progression and their downstream signaling pathways are not fully characterized. Here, we study PHD3 function in murine experimental osteosarcoma. Unexpectedly, PHD3 silencing in LM8 cells affects neither HIF-1α protein levels, nor the expression of various HIF-1 target genes. Subcutaneous injection of PHD3-silenced tumor cells accelerated tumor progression and was accompanied by dramatic phenotypic changes in the tumor vasculature. Blood vessels in advanced PHD3-silenced tumors were enlarged whereas their density was greatly reduced. Examination of the molecular pathways underlying these alterations revealed that platelet-derived growth factor (PDGF)-C signaling is activated in the vasculature of PHD3-deficient tumors. Silencing of PDGF-C depleted tumor growth, increased vessel density and reduced vessel size. Our data show that PHD3 controls tumor growth and vessel architecture in LM8 osteosarcoma by regulating the PDGF-C pathway, and support the hypothesis that different members of the PHD family exert unique functions in tumors.
View Full-Text
►

▼

Figures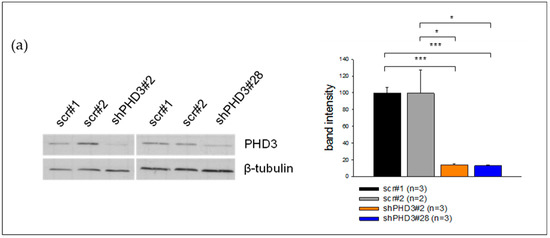 Figure 1
This is an open access article distributed under the
Creative Commons Attribution License
which permits unrestricted use, distribution, and reproduction in any medium, provided the original work is properly cited (CC BY 4.0).

Share & Cite This Article
MDPI and ACS Style
Egners, A.; Rezaei, M.; Kuzmanov, A.; Poitz, D.M.; Streichert, D.; Müller-Reichert, T.; Wielockx, B.; Breier, G. PHD3 Acts as Tumor Suppressor in Mouse Osteosarcoma and Influences Tumor Vascularization via PDGF-C Signaling. Cancers 2018, 10, 496.
Note that from the first issue of 2016, MDPI journals use article numbers instead of page numbers. See further details here.
Related Articles
Comments
[Return to top]