Externalized Keratin 8: A Target at the Interface of Microenvironment and Intracellular Signaling in Colorectal Cancer Cells
1
Univ Lyon, Université Claude Bernard Lyon 1, INSERM U1052, CNRS UMR5286, Centre Léon Bérard, Cancer Research Center of Lyon, 69008 Lyon, France
2
Department of Translational Research and Innovation, Centre Léon Bérard, 69373 Lyon, France
3
iDD Biotech Bâtiment Accinov 317 avenue Jean Jaurès, 69007 Lyon, France
4
Service de Chirurgie Maxillo-Faciale, Centre Hospitalier Universitaire, 37170 Tours, France
5
CALIXAR Functional Membrane Proteins For Life, 60 avenue Rockefeller, 69008 Lyon, France
6
Laboratory of Molecular Microbiology and Structural Biochemistry, CNRS UMR 5086, IBCP, 69367 Lyon, France
7
Biosciences and Biotechnology Institute of Grenoble-Laboratoire Biologie à Grande Echelle (BIG-BGE) U1038 INSERM/CEA/UGA, Commissariat à l'Energie Atomique et aux Energies Alternatives (CEA) Grenoble, F-38054 Grenoble CEDEX 9, France
8
Department of Medical Oncology, Centre Léon Bérard, 69373 Lyon, France
†
Co-senior authors: Pierre Saintigny and Jean-Jacques Diaz.
*
Author to whom correspondence should be addressed.
Received: 3 September 2018 / Revised: 9 November 2018 / Accepted: 10 November 2018 / Published: 16 November 2018
Abstract
Accumulating evidence supports the remarkable presence at the membrane surface of cancer cells of proteins, which are normally expressed in the intracellular compartment. Although these proteins, referred to as externalized proteins, represent a highly promising source of accessible and druggable targets for cancer therapy, the mechanisms via which they impact cancer biology remain largely unexplored. The aim of this study was to expose an externalized form of cytokeratin 8 (eK8) as a key player of colorectal tumorigenesis and characterize its mode of action. To achieve this, we generated a unique antagonist monoclonal antibody (D-A10 MAb) targeting an eight-amino-acid-long domain of eK8, which enabled us to ascertain the pro-tumoral activity of eK8 in both
KRAS
-mutant and wild-type colorectal cancers (CRC). We showed that this pro-tumoral activity involves a bidirectional eK8-dependent control of caspase-mediated apoptosis in vivo and of the plasminogen-induced invasion process in cellulo. Furthermore, we demonstrated that eK8 is anchored at the plasma membrane supporting this dual function. We, therefore, identified eK8 as an innovative therapeutic target in CRC and provided a unique MAb targeting eK8 that displays anti-neoplastic activities that could be useful to treat CRC, including those harboring
KRAS
mutations.
View Full-Text
►

▼

Figures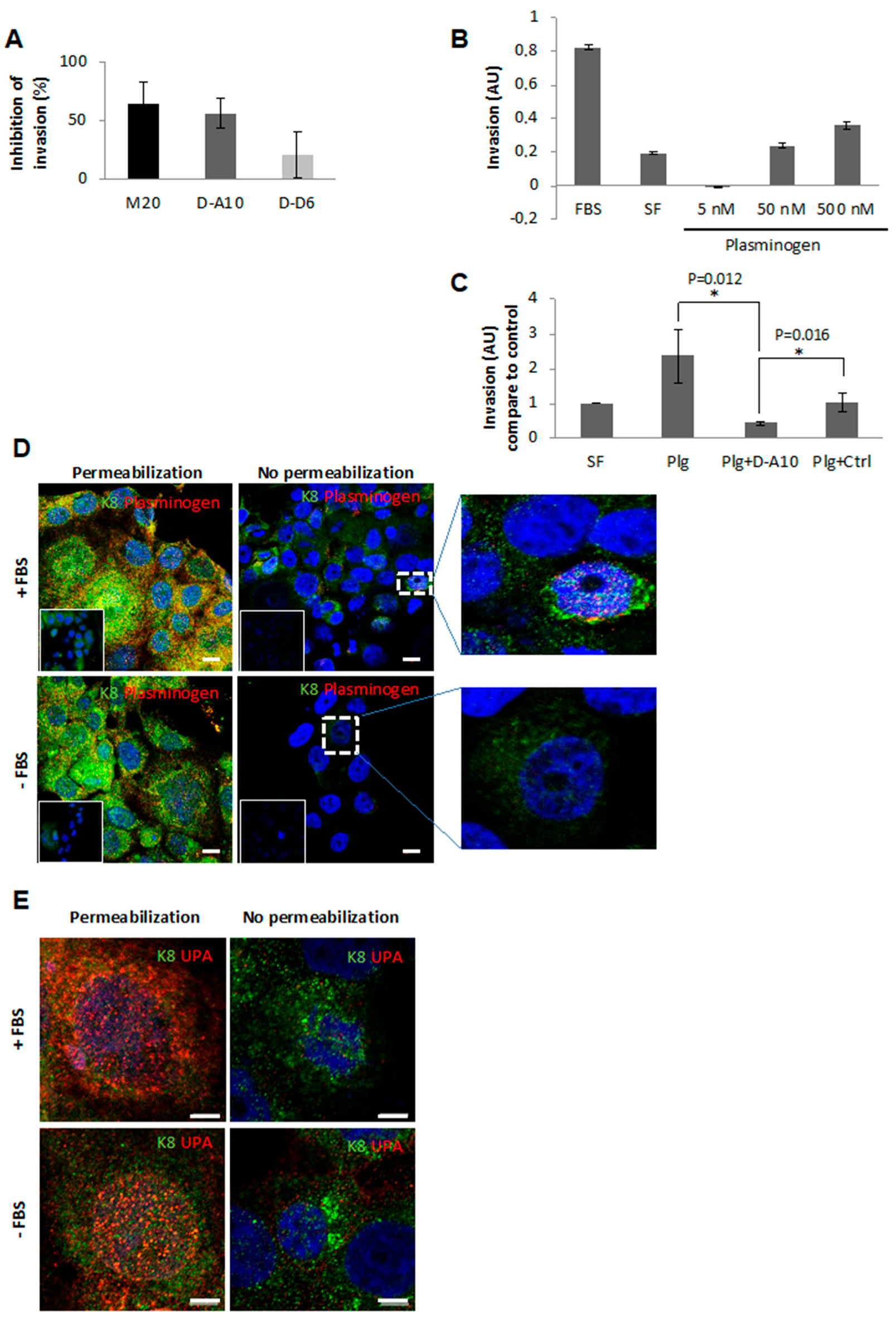 Figure 1
This is an open access article distributed under the
Creative Commons Attribution License
which permits unrestricted use, distribution, and reproduction in any medium, provided the original work is properly cited (CC BY 4.0).

Share & Cite This Article
MDPI and ACS Style
Albaret, M.A.; Vermot-Desroches, C.; Paré, A.; Roca-Martinez, J.-X.; Malet, L.; Esseily, J.; Gerossier, L.; Brière, J.; Pion, N.; Marcel, V.; Catez, F.; De Souza, G.; Vuillermoz, B.; Doerflinger, F.; Lavocat, E.; Subiger, O.; Rousset, C.; Bresson, C.; Mandon, E.; Jawhari, A.; Falson, P.; Jasmin, M.; Coute, Y.; Mertani, H.-C.; Saintigny, P.; Diaz, J.-J. Externalized Keratin 8: A Target at the Interface of Microenvironment and Intracellular Signaling in Colorectal Cancer Cells. Cancers 2018, 10, 452.
Note that from the first issue of 2016, MDPI journals use article numbers instead of page numbers. See further details here.
Related Articles
Comments
[Return to top]