Open Access This article is
freely available
re-usable
Review
Cancer Associated Fibroblasts: Naughty Neighbors That Drive Ovarian Cancer Progression
1
Medical Sciences Program, Indiana University School of Medicine, Bloomington, IN 47401, USA
2
Indiana University Melvin and Bren Simon Cancer Center, Indianapolis, IN 46202, USA
3
Department of Medical and Molecular Genetics, Indiana University School of Medicine, Indianapolis, IN 46202, USA
†
These authors contributed equally to this work.

Received: 12 September 2018 / Accepted: 24 October 2018 / Published: 29 October 2018
Abstract
:
Ovarian cancer is the most lethal gynecologic malignancy, and patient prognosis has not improved significantly over the last several decades. In order to improve therapeutic approaches and patient outcomes, there is a critical need for focused research towards better understanding of the disease. Recent findings have revealed that the tumor microenvironment plays an essential role in promoting cancer progression and metastasis. The tumor microenvironment consists of cancer cells and several different types of normal cells recruited and reprogrammed by the cancer cells to produce factors beneficial to tumor growth and spread. These normal cells present within the tumor, along with the various extracellular matrix proteins and secreted factors, constitute the tumor stroma and can compose 10–60% of the tumor volume. Cancer associated fibroblasts (CAFs) are a major constituent of the tumor microenvironment, and play a critical role in promoting many aspects of tumor function. This review will describe the various hypotheses about the origin of CAFs, their major functions in the tumor microenvironment in ovarian cancer, and will discuss the potential of targeting CAFs as a possible therapeutic approach.
Keywords:
ovarian cancer; tumor microenvironment; cancer associated fibroblasts; fibroblast; cross-talk; invasion; angiogenesis; ECM; chemoresistance; therapy
1. Introduction
Ovarian cancer is the deadliest of all the gynecologic malignancies, and is the fifth leading cause of cancer related deaths among women in the United States. There has been only a modest improvement in ovarian cancer patient prognosis over the last several decades [
1
,
2
]. Therefore, there is a critical need for focused research to improve our understanding of the disease and develop novel therapies that are more effective. In the past, most of the research efforts were focused on the cancer cells in isolation. However, recent research has identified the tumor microenvironment as a key factor in promoting cancer progression [
3
,
4
,
5
,
6
,
7
]. The cancer cells recruit various normal cells and reprogram them to produce factors beneficial to tumor growth and spread. These normal cells present within the tumor constitute the tumor stroma and can compose 10–60% of the tumor volume [
3
].
In order to survive and proliferate, the cancer cells productively interact with their microenvironment. The tumor microenvironment is complex and contains a variety of cells constituting the tumor stroma. Tumors however, can only grow if their complex tissue environment provides them with a milieu of factors and conditions that can sustain their growth and spread [
8
]. A complicated bidirectional interaction is therefore happening at the interface between the genetically unstable malignant cells and the genetically stable stroma, a process that will determine the degree of tumor promotion and proliferation, invasiveness, potential for spread, and even patient prognosis [
9
].
The tumor stroma consists of cellular components like the cancer associated fibroblasts (CAFs), immune cells, endothelial cells, pericytes, adipocytes, and so forth, as well as acellular components like the extra cellular matrix proteins (ECMs) [
3
,
4
,
5
,
6
,
7
]. Each of these tumor microenvironmental elements has been shown to play important roles in tumor growth and progression in various cancers, including ovarian cancer. CAFs are an important constituent of the tumor stroma, and this review will focus on providing an overview of the origin, function, and potential targeting of CAFs in ovarian cancer therapy.
2. Origin of CAFs
There are several hypotheses about the origin of CAFs, which include the reprogramming of the resident normal fibroblasts by the cancer cells, and differentiation of mesenchymal stem cells (
Figure 1
). A less widely accepted theory is that they are already present as a small subpopulation of normal fibroblasts, which are selected for by the cancer cells [
10
]. These subpopulations may have acquired a mutation, or epigenetic alterations, independent of the tumor cells, which transform them into activated fibroblasts. A proinflammatory microenvironment resulting in the generation of reactive oxygen species may promote acquisition of genetic lesions [
11
]. As the tumor develops in their vicinity, these subpopulations might be selected for by the cancer cells for their ability to support tumor growth [
10
]. Since mutations are not commonly found in the tumor stroma, and CAFs are not believed to have clonal populations with distinct genetic changes, this hypothesis has not gained much traction [
12
]. Fibroblasts are mesenchymal cells that are generally present in the basement membrane and serve as a scaffold, secreting ECMs, and growth and trophic factors [
13
,
14
]. They are generally in a quiescent "inactive" state, but retain some plasticity, and are capable of getting "activated" by various physiological stimuli. During development, dermal fibroblasts play a role in tissue patterning, and can differentiate into multiple kind of cells, including hair follicle cells, papillary cells, reticular cells, and pre-adipocytes [
15
]. The fibroblasts get activated at the site of wound healing by factors such as insulin-like growth factors (IGFs), transforming growth factor beta 1,2,3 (TGF-β 1,2,3), and platelet-derived growth factor (PDGF), among others. These activated fibroblasts express α-smooth muscle actin (α-SMA), which makes them contractile, and helps in wound closure. These α-SMA expressing fibroblasts are called myofibroblasts. They secrete various ECMs and extracellular proteases, which help in the initial wound healing and development of the scar. They also secrete factors like TGF-β to stimulate epithelial to mesenchymal transition in the epithelial cells around the wound. This enables the epithelial cells to move and close the wound. Thereafter, as the wound heals, epithelialization is promoted by epidermal growth factors (EGFs) and the keratinocyte growth factor (KGF) produced by the fibroblasts [
16
].
CAFs display several traits of the activated fibroblasts found in healing wounds, including upregulation of TGF-β, increased secretion of ECMs, extra cellular proteases, and expression of α-SMA. It is believed that cancer cells can recruit the resident normal fibroblasts and reprogram them into CAFs. Several reports have demonstrated evidence in support of this hypothesis in ovarian cancer [
7
]. Ovarian cancer cells produce factors including TGF-β and PDGF, that can change normal fibroblasts into "activated" CAFs. We have previously shown that ovarian cancer cells can induce a change in expression of a set of 3 microRNAs in the resident normal omental fibroblasts, which reprograms them into CAFs [
7
]. miR-214 and miR-31 were found to decrease, while miR-155 expression increased, in the normal fibroblasts because of their interaction with the metastasizing ovarian cancer cells. This resulted in their reprogramming into CAFs (
Figure 1
). It was the first report of a set of microRNAs reprogramming normal fibroblasts into CAFs. Simultaneous inhibition of miR-214 and miR-31, along with overexpression of miR-155, could convert normal fibroblasts into CAFs. These results supported previous findings in other cancers, which demonstrated the absence of mutations in CAFs. Moreover, CAFs can be isolated from tumors and cultured in vitro for several passages, and yet retain their phenotype and their ability to support cancer cell functions. This suggested a potential role of epigenetic regulation [
17
]. The role of microRNAs in reprogramming of normal fibroblasts into CAFs further revealed a potential mechanism. Interestingly, overexpressing miR-214 and miR-31 and inhibiting miR-155 simultaneously in CAFs could revert them back into normal fibroblasts. This offers a potential opportunity to normalize a key component of the tumor microenvironment. Research on targeting the tumor microenvironment has revealed that the normalization of the tumor microenvironment is a more effective approach as compared to attempts at obliterating it altogether. The latter typically leads to the cancer cells becoming more aggressive. Depleting α-SMA positive CAFs in a transgenic mouse model of pancreatic ductal adenocarcinoma through induction of thymidine kinase by ganciclovir administration, either early in the tumor precursor stage or late carcinoma stage, led to the development of undifferentiated tumors, which were highly invasive and resulted in decreased survival [
18
]. Since this was observed when the CAFs were ablated in the precursor lesions or in the late carcinomas, it indicated that irrespective of tumor stage, in the absence of the microenvironmental support, the more aggressive cancer cell clones are selected. These findings are similar to the increased metastasis observed upon pericyte depletion [
19
].
Other hypotheses about the origin of CAFs include the recruitment of mesenchymal stem cells by the cancer cells to the tumor [
10
,
20
]. Human pancreatic cancer cells were shown to recruit bone marrow derived progenitors when injected in mice [
21
]. The resulting tumors had about 40% myofibroblasts derived from bone marrow cells. Similarly, CAFs were shown to be derived from mesenchymal stem cells in ovarian cancer and supported tumor growth through the secretion of the paracrine factor IL-6 [
22
]. Ovarian cancer cells have been reported to secrete IL-1β that leads to the decreased expression of p53 protein in the ovarian fibroblasts, converting them into CAFs [
23
]. The decreased p53 resulted in increased secretion of IL-8, growth regulated oncogene-alpha (GRO-α), IL-6, IL-1β, and vascular endothelial growth factor (VEGF) by the CAFs. Mesenchymal stem cell derived CAFs were also shown to regulate ovarian cancer stem cells through bone morphogenetic protein secretion, which resulted in resistance to chemotherapy [
24
,
25
]. The mesothelial cells lining the peritoneum and the omentum have also been reported as a source of CAFs in ovarian cancer peritoneal and omental metastasis [
26
]. The mesothelial cells have been shown to undergo mesothelial to mesenchymal transition under the influence of ovarian cancer cell secreted TGF-β, which can form a subpopulation of the CAFs in ovarian cancer metastatic tumors [
27
]. Others have demonstrated that ovarian cancer cells interact with the mesothelial cells in a β1-integrin-dependent manner to induce mesothelial to mesenchymal transition and convert them into CAFs [
28
].
3. CAF Markers
Since CAFs in the tumor microenvironment are functionally very similar to the activated fibroblasts in healing wounds, they both share several markers. CAFs express α-SMA, which is also a marker of myofibroblasts in wound healing [
10
]. Ovarian cancer CAFs also express α-SMA, while normal fibroblasts do not [
29
]. However, the expression of α-SMA is only one of many changes that occur in activated fibroblasts [
30
]. The levels of expression of α-SMA may also vary between CAFs. As evidenced by the findings of Mhawech-Fauceglia et al., the CAFs in ovarian tumors are predominantly α-SMA positive, but not all of them stain for the protein [
29
]. This indicates the existence of a certain level heterogeneity within the CAF population.
In addition to α-SMA, many other markers have been reported to distinguish CAFs from normal fibroblasts. They include fibroblast activated protein (FAP), S100A4, and platelet derived growth factor receptor, among others [
7
,
29
,
31
]. FAP, a cell surface serine protease, has emerged as a specific marker of CAFs in ovarian cancer [
32
]. While each of them has been shown to be an effective marker by different groups, there is no clear consensus about a universal marker for CAFs. The probable reason for this is that CAFs are a heterogeneous population, with some expressing one marker and others expressing other markers. α-SMA and PDGF positive CAFs do not overlap with S100A4 positive CAFs in pancreatic cancer [
33
]. The mutual exclusivity and heterogeneity in CAF marker expression may impart unique functions; for example, FAP and podoplanin positive CAFs were found to be immunosuppressive through a nitric oxide-dependent mechanism, while FAP positive and podoplanin negative CAFs were not immunosuppressive in lung adenocarcinoma [
34
]. For prostate cancer, CAFs expressing high CD90 had greater tumor promoting capacity than CAFs expressing low CD90 [
35
]. Pancreatic ductal adenocarcinomas have a subpopulation of CAFs that are distinct from those expressing α-SMA. These CAFs express proinflammatory mediators like IL-6, and mediate a paracrine interaction with the carcinoma cells [
36
]. In ovarian cancer, the expression levels of different CAF markers, CD10, podoplanin, FAP, Platelet-derived growth factor receptor alpha (PDGFRα), Platelet-derived growth factor receptor beta (PDGFRβ), S100 calcium binding protein A4 (S100A4), α-SMA, snail family transcriptional repressor 2 (SNAI2, commonly known as Slug), Zinc finger E-box-binding homeobox 1 (ZEB1), and twist family bHLH transcription factor 1 (TWIST1), clustered the CAFs into different subgroups showing different protein expression patterns [
31
].
Due to the continuous reciprocal interactions of CAFs with cancer cells, it is quite possible that the CAFs can undergo dynamic changes in their marker expression and functions depending on the heterogeneity of the cancer cells within the tumors. A recent study identified a unique subset of CAFs expressing the metallo-endopeptidase CD10 and the complement anaphylatoxin receptor GPR77 [
37
]. These CAFs were enriched following neoadjuvant chemotherapy, and were shown to promote cancer stem cell self-renewal through the secretion of IL-6 and IL-8. Therefore, their abundance in the tumors of breast cancer patients predicted a poor prognosis. Similarly, the evolving ovarian cancer metastatic tumors are metabolically reprogrammed by CAFs through the secretion of C-C Motif Chemokine Ligand 5 (CCL5), C-X-C motif chemokine ligand 10 (CXCL10), and IL-6 to utilize glycogen [
38
]. The CAFs with activated p38 MAP kinase signaling were capable of inducing such reprogramming. Therefore, considering the heterogeneity of CAFs, it is important to take into account their functional effects in promoting tumor progression as well as the potential of dynamic changes in them.
4. CAF Functions
CAFs have multiple functions in the tumor microenvironment, which directly or indirectly promote tumor progression. Most of these functions are mediated through the secretion of paracrine factors, ECMs, and proteases, as well as through cell surface receptors and direct contact with cancer cells. These functions and their underlying mechanisms are detailed below, outlined in
Figure 2
, and listed in
Table 1
.
5. Targeting CAFs Clinically
Since CAFs contribute towards so many critical aspects essential for tumor progression, strategies targeting CAFs to treat ovarian cancer can be potentially effective. Moreover, since CAFs themselves are genetically stable and do not have the propensity to mutate, acquiring resistance against these therapies would be less likely. Since CAFs overexpress FAP, a humanized antibody (sibrotuzumab) directed against human FAP has been tested in phase 1 clinical trials to demonstrate that it is safe to administer to patients with high levels of FAP expression in their tumors [
107
]. However, it did not have any beneficial effect in a phase II trial for metastatic colorectal cancer [
108
]. A fusion protein consisting of an anti-FAP antibody fused with IL-2 (RO6874281) is presently under clinical trials as a combination therapy with atezolizumab—an anti-PDL-1 antibody—for advanced or metastatic solid tumors (
ClinicalTrials.gov
: NCT03386721). In addition, a phase I clinical trial is ongoing to test RO6874281 as a single agent, or in combination with trastuzumab or cetuximab, for solid tumor, and breast, head, and neck tumors (
ClinicalTrials.gov
: NCT02627274). As TGF-β plays an essential role in stromal-epithelial interaction and CAF induction, targeting TGF-β is a potentially promising approach to target CAFs as well as cancer cells. Transgenic mice expressing a TGF-β antagonist were resistant to metastasis to multiple organs while not exhibiting the adverse pathological outcomes observed in TGF-β-null mice [
109
]. Transcription profiling of CAFs microdissected from ovarian cancer patient tumors identified a subpopulation that had activation of SMAD signaling [
110
]. These CAFs were markers of poor patient progression, and targeting SMAD signaling with calcitriol inhibited tumor progression in mice. At present there are as many as 60 active clinical trials on TGF-β in cancers (
clinicaltrials.gov
). However, it is very difficult to differentiate the role of CAF derived TGF-β from other stromal sources and cancer cell autocrine TGF-β signaling. The HGF-cMet pathway, involving the cross-talk between CAFs and cancer cells, plays a role in cancer metastasis, and is another potential target for blocking CAF–cancer cell interaction. Targeting c-Met or HGF has shown promising tumor growth inhibition and gemcitabine sensitization in vivo [
111
,
112
]. There are 69 active studies on cMet listed in
clinicaltrials.gov
. Targeting CAF can decrease the immunosuppressive microenvironment of the tumor, as well as lead to CD8+ T-cell activation, and enhance anti-tumor immunity [
18
,
113
].
While several strategies to target CAFs in tumors have been attempted, much remains to be studied before it can be effectively translated to the clinic. Strategies like targeting TGF-β may benefit from attacking both the cancer and stromal compartments. Importantly, the potential of combining such therapies with existing platinum and taxane based chemotherapies should be tested for ovarian cancer. However, previous experiences with targeting the tumor microenvironment have taught us that an approach towards normalization is preferable to an eradication of the tumor stroma. This is because the latter approach tends to give rise to more aggressive cancer cells. Therefore, targeting CAFs should aim for reverting them back to normal fibroblasts, rather than depleting them altogether.
6. Conclusions
CAFs are an important constituent of the ovarian cancer tumor microenvironment, and have been demonstrated to play an important role in tumor progression, metastasis, and chemoresistance. While a universal CAF marker has not been identified, several markers have been demonstrated in unique subpopulations, indicating that CAFs are heterogenous in this context, and this may also dictate their function. Continuous reciprocal interactions of CAFs with cancer cells and other components of the microenvironment shape their fate, marker expression, and function in the tumor. Continuing research towards a better understanding of their plasticity, regulation, function, and heterogeneity would greatly enhance the way we perceive tumors, and will determine how we treat them. Strategies to "normalize" CAFs and deprive the cancer cells of the gamut of factors provided by them may be an effective approach to complement existing therapies targeting the cancer cells.
Author Contributions
Conceptualization, manuscript preparation, figures, and funding acquisition, A.K.M.; Literature review and draft preparation, S.D., Y.F., and A.K.M.; Editing, S.D. and A.K.M.
Funding
This research was funded by a DoD OCRP Ovarian Cancer Academy Award (W81XWH-15-0253) (A.K.M.), a Colleen's Dream Foundation award (A.K.M.), and a Ralph W. and Grace M. Showalter Research Award (A.K.M.).
Conflicts of Interest
The authors declare that they have no conflict of interest.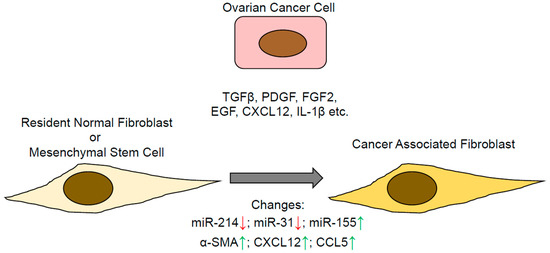 Figure 1. Formation of cancer associated fibroblasts (CAFs) through the reprogramming of resident normal fibroblasts or mesenchymal stem cells by ovarian cancer cells. TGF-β: transforming growth factor beta; PDGF: platelet-derived growth factor; FGF: fibroblast growth factor; EGF: epidermal growth factors; CXCL12: C-X-C Motif Chemokine Ligand 12; CCL5: C-C Motif Chemokine Ligand 5; ↑: upregulated;↓: downregulated.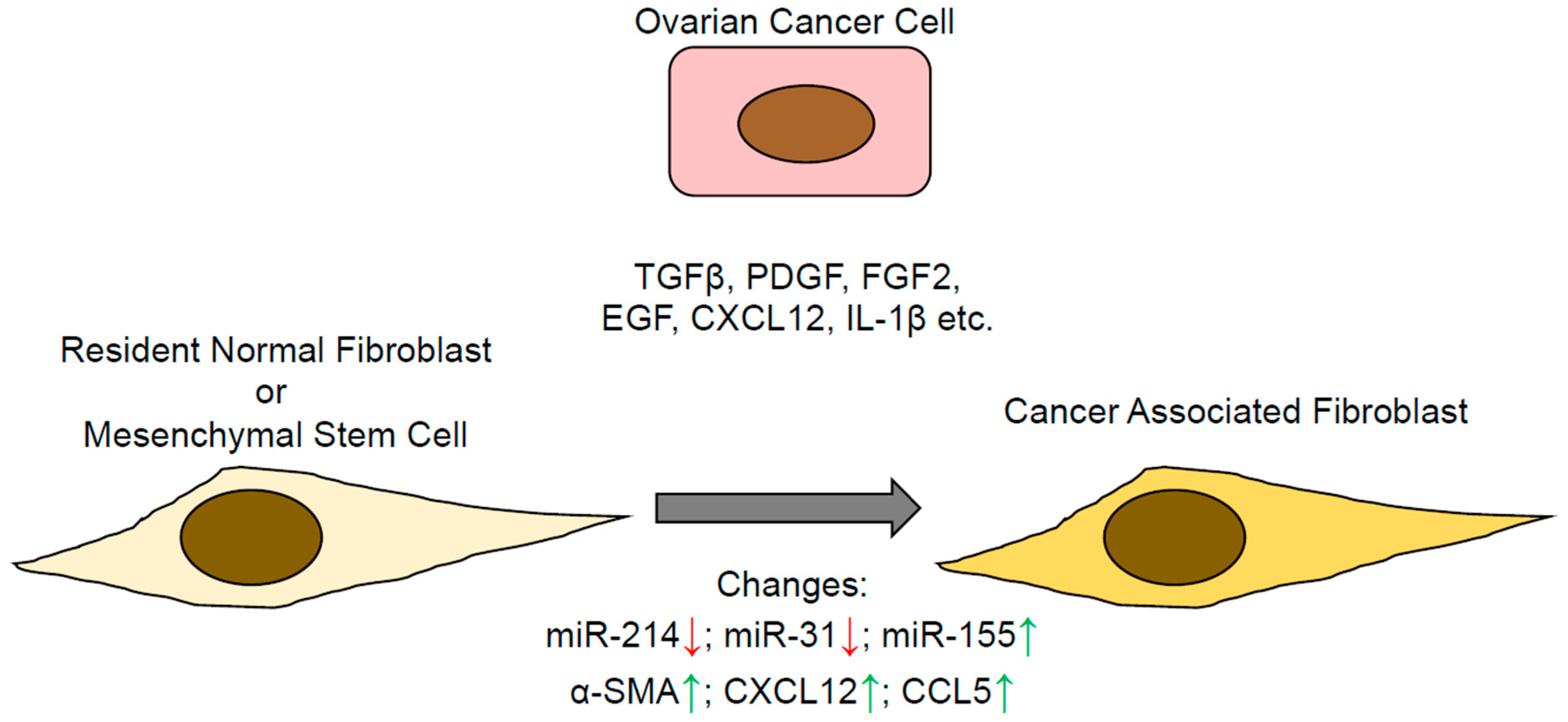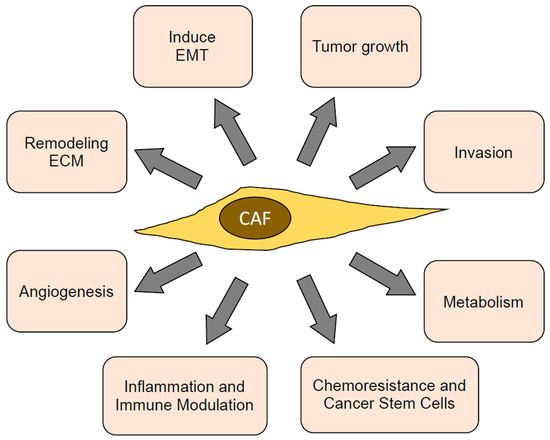 Figure 2. Functions of CAFs contributing towards tumor progression. ECM: extra cellular matrix; EMT: epithelial–mesenchymal transition.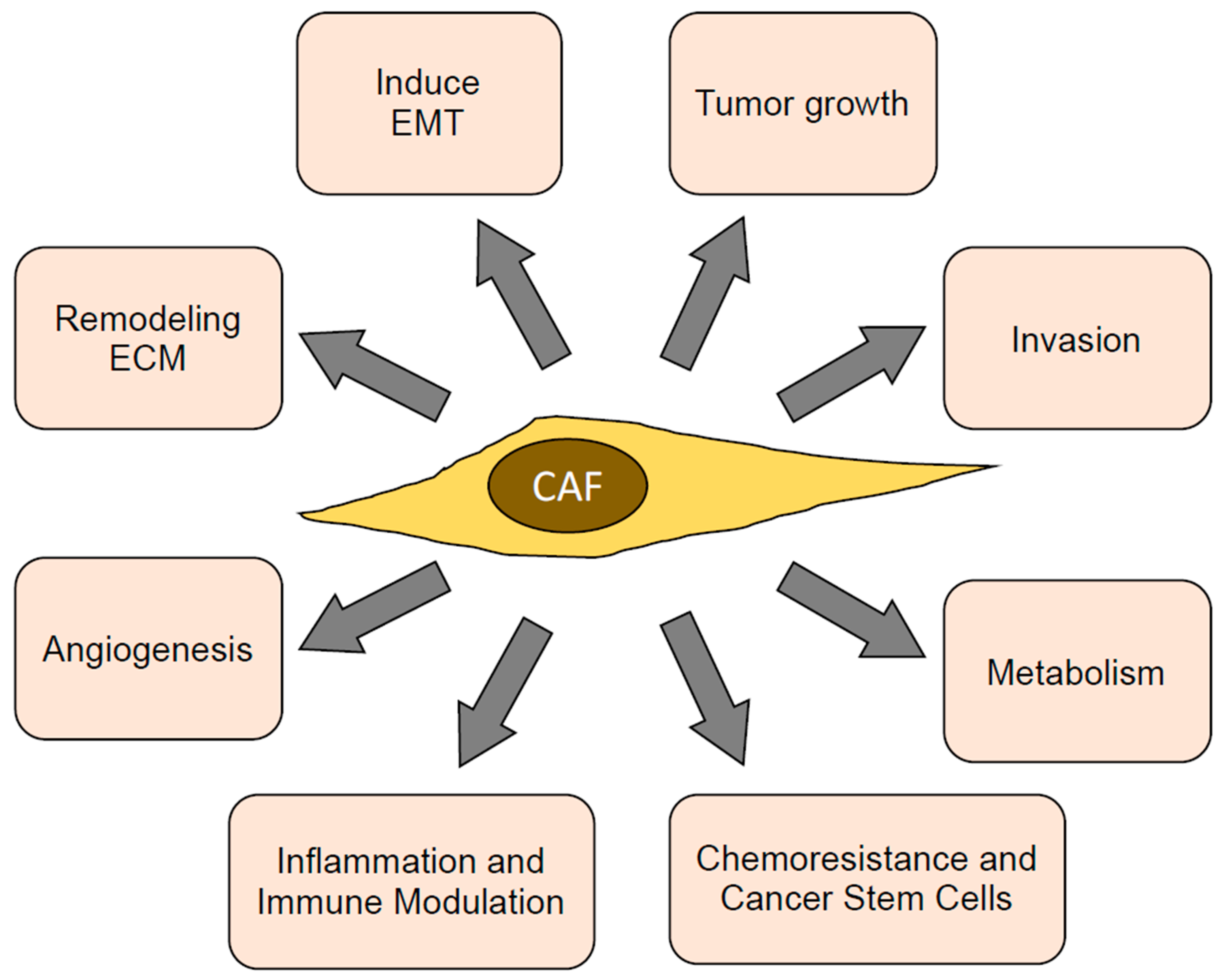 | No. | Functional Role of CAF | References |
| --- | --- | --- |
| 1 | Promoting of tumor growth | [39] |
| 2 | Promoting tumor invasion | [3,40] |
| 3 | Inducing EMT in cancer cells | [41,42] |
| 4 | Remodeling the ECM | [43,44] |
| 5 | Inducing angiogenesis | [45,46] |
| 6 | Inflammation and immune modulation | [7,47] |
| 7 | Promoting chemoresistance and cancer stem cells | [48,49] |
| 8 | Reprogramming cancer metabolism | [3,4,38] |
ECM: extra cellular matrix; EMT: epithelial–mesenchymal transition.

© 2018 by the authors. Licensee MDPI, Basel, Switzerland. This article is an open access article distributed under the terms and conditions of the Creative Commons Attribution (CC BY) license (http://creativecommons.org/licenses/by/4.0/).