Audencel Immunotherapy Based on Dendritic Cells Has No Effect on Overall and Progression-Free Survival in Newly Diagnosed Glioblastoma: A Phase II Randomized Trial
1
University Clinic for Neurosurgery, Kepler University Hospital, Johannes Kepler University, Wagner-Jauregg-Weg 15, 4020 Linz, Austria
2
Department of Neurosurgery, Medical University of Vienna, Währinger Gürtel 18-20, 1090 Vienna, Austria
3
Institute of Neurology, Medical University of Vienna, Währinger Gürtel 18-20, 1090 Vienna, Austria
4
Department of Internal Medicine and Neurooncology, Kepler University Hospital, Johannes Kepler University, Wagner-Jauregg-Weg 15, 4020 Linz, Austria
5
Clinical Division of Medical Oncology, Department for Internal Medicine I, Medical University of Vienna, Währinger Gürtel 18-20, 1090 Vienna, Austria
6
Department of Neurology, Medical University of Innsbruck, Christoph-Probst-Platz 1, Innrain 52, 6020 Innsbruck, Austria
7
Department of Neurosurgery, Medical University of Innsbruck, Christoph-Probst-Platz 1, Innrain 52, 6020 Innsbruck, Austria
8
Department of Neurology, University Clinic St. Pölten, Karl Landsteiner Privat Universität, Dunant-Platz 1, 3100 St. Pölten, Austria
9
Department of Neurosurgery, Landeskrankenhaus Salzburg, University Clinic of the Paracelsus Private Medical University, Müllner Hauptstraße 48, 5020 Salzburg, Austria
10
Department of Neurosurgery, Medical University of Graz, Auenbruggerplatz 29, 8036 Graz, Austria
11
Department of Internal Medicine 2, Donauspital, Langobardenstraße 122, 1220 Vienna, Austria
12
Department of Neurosurgery, Friedrich-Alexander-Universität Erlangen-Nürnberg, Schwabachanlage 6, 91054 Erlangen, Germany
13
Department of Blood Group Serology and Transfusion Medicine, Medical University of Vienna, Währinger Gürtel 18-20, 1090 Vienna, Austria
14
Activartis Biotech GmbH, Wilhelminenstraße 91/IIf, 1160 Vienna, Austria
*
Author to whom correspondence should be addressed.
†
These authors contributed equally to this work.
Received: 24 August 2018 / Revised: 22 September 2018 / Accepted: 30 September 2018 / Published: 5 October 2018
Abstract
Dendritic cells (DCs) are antigen-presenting cells that are capable of priming anti-tumor immune responses, thus serving as attractive tools to generate tumor vaccines. In this multicentric randomized open-label phase II study, we investigated the efficacy of vaccination with tumor lysate-charged autologous DCs (Audencel) in newly diagnosed glioblastoma multiforme (GBM). Patients aged 18 to 70 years with histologically proven primary GBM and resection of at least 70% were randomized 1:1 to standard of care (SOC) or SOC plus vaccination (weekly intranodal application in weeks seven to 10, followed by monthly intervals). The primary endpoint was progression-free survival at 12 months. Secondary endpoints were overall survival, safety, and toxicity. Seventy-six adult patients were analyzed in this study. Vaccinations were given for seven (3–20) months on average. No severe toxicity was attributable to vaccination. Seven patients showed flu-like symptoms, and six patients developed local skin reactions. Progression-free survival at 12 months did not differ significantly between the control and vaccine groups (28.4% versus 24.5%,
p
= 0.9975). Median overall survival was similar with 18.3 months (vaccine: 564 days, 95% CI: 436–671 versus control: 568 days, 95% CI: 349–680;
p
= 0.89, harzard ratio (HR) 0.99). Hence, in this trial, the clinical outcomes of patients with primary GBM could not be improved by the addition of Audencel to SOC.
View Full-Text
►

▼

Figures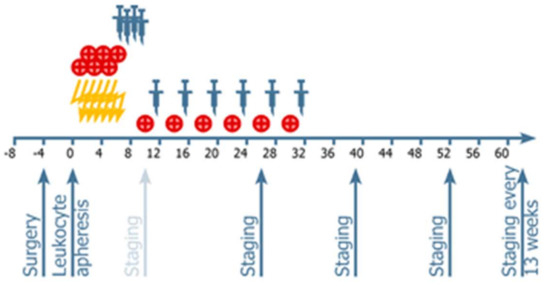 Figure 1
This is an open access article distributed under the
Creative Commons Attribution License
which permits unrestricted use, distribution, and reproduction in any medium, provided the original work is properly cited (CC BY 4.0).

Share & Cite This Article
MDPI and ACS Style
Buchroithner, J.; Erhart, F.; Pichler, J.; Widhalm, G.; Preusser, M.; Stockhammer, G.; Nowosielski, M.; Iglseder, S.; Freyschlag, C.F.; Oberndorfer, S.; Bordihn, K.; Von Campe, G.; Hoffermann, M.; Ruckser, R.; Rössler, K.; Spiegl-Kreinecker, S.; Fischer, M.B.; Czech, T.; Visus, C.; Krumpl, G.; Felzmann, T.; Marosi, C. Audencel Immunotherapy Based on Dendritic Cells Has No Effect on Overall and Progression-Free Survival in Newly Diagnosed Glioblastoma: A Phase II Randomized Trial. Cancers 2018, 10, 372.
Note that from the first issue of 2016, MDPI journals use article numbers instead of page numbers. See further details here.
Related Articles
Comments
[Return to top]