Oncobox Bioinformatical Platform for Selecting Potentially Effective Combinations of Target Cancer Drugs Using High-Throughput Gene Expression Data
1
National Research Centre "Kurchatov Institute", Centre for Convergence of Nano-, Bio-, Information and Cognitive Sciences and Technologies, 1 Akademika Kurchatova pl., Moscow 123182, Russia
2
Laboratory of Clinical and Genomic Bioinformatics, I.M. Sechenov First Moscow State Medical University (Sechenov University), Moscow 119991, Russia
3
OmicsWay Corp., Walnut, CA 91798, USA
4
Shemyakin-Ovchinnikov Institute of Bioorganic Chemistry, Moscow 117997, Russia
5
D. Rogachev Federal Research Center of Pediatric Hematology, Oncology and Immunology, 1 Samory Mashela str., Moscow 117997, Russia
6
Orekhovich Institute of Biomedical Chemistry, Moscow 119832, Russia
7
Center of Personalized Oncology, I.M. Sechenov First Moscow State Medical University (Sechenov University), Moscow 119991, Russia
8
Clinical Center Vitamed, Moscow 121309, Russia
9
Kaluga Regional Oncological Hospital, Kaluga 248007, Russia
10
N.N. Blokhin Russian Cancer Research Center, Moscow 115478, Russia
11
State Research Center-Burnasyan Federal Medical Biophysical Center of Federal Medical Biological Agency, Moscow 123098, Russia
*
Author to whom correspondence should be addressed.
Received: 29 August 2018 / Revised: 24 September 2018 / Accepted: 25 September 2018 / Published: 29 September 2018
Abstract
Sequential courses of anticancer target therapy lead to selection of drug-resistant cells, which results in continuous decrease of clinical response. Here we present a new approach for predicting effective combinations of target drugs, which act in a synergistic manner. Synergistic combinations of drugs may prevent or postpone acquired resistance, thus increasing treatment efficiency. We cultured human ovarian carcinoma SKOV-3 and neuroblastoma NGP-127 cancer cell lines in the presence of Tyrosine Kinase Inhibitors (Pazopanib, Sorafenib, and Sunitinib) and Rapalogues (Temsirolimus and Everolimus) for four months and obtained cell lines demonstrating increased drug resistance. We investigated gene expression profiles of intact and resistant cells by microarrays and analyzed alterations in 378 cancer-related signaling pathways using the bioinformatical platform Oncobox. This revealed numerous pathways linked with development of drug resistant phenotypes. Our approach is based on targeting proteins involved in as many as possible signaling pathways upregulated in resistant cells. We tested 13 combinations of drugs and/or selective inhibitors predicted by Oncobox and 10 random combinations. Synergy scores for Oncobox predictions were significantly higher than for randomly selected drug combinations. Thus, the proposed approach significantly outperforms random selection of drugs and can be adopted to enhance discovery of new synergistic combinations of anticancer target drugs.
View Full-Text
►

▼

Figures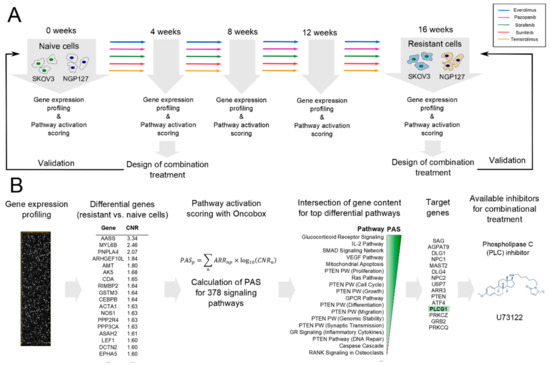 Figure 1
This is an open access article distributed under the
Creative Commons Attribution License
which permits unrestricted use, distribution, and reproduction in any medium, provided the original work is properly cited (CC BY 4.0).

Share & Cite This Article
MDPI and ACS Style
Sorokin, M.; Kholodenko, R.; Suntsova, M.; Malakhova, G.; Garazha, A.; Kholodenko, I.; Poddubskaya, E.; Lantsov, D.; Stilidi, I.; Arhiri, P.; Osipov, A.; Buzdin, A. Oncobox Bioinformatical Platform for Selecting Potentially Effective Combinations of Target Cancer Drugs Using High-Throughput Gene Expression Data. Cancers 2018, 10, 365.
Note that from the first issue of 2016, MDPI journals use article numbers instead of page numbers. See further details here.
Related Articles
Comments
[Return to top]