Open Access This article is
freely available
re-usable
Article
3D Shape Reconstruction of 3D Printed Transparent Microscopic Objects from Multiple Photographic Images Using Ultraviolet Illumination
1
Graduate School of Engineering, Yokohama National University, 79-5 Tokiwadai, Hodogaya, Yokohama 240-8501, Japan
2
Faculty of Engineering, Yokohama National University, 79-5 Tokiwadai, Hodogaya, Yokohama 240-8501, Japan
*
Author to whom correspondence should be addressed.
Received: 11 May 2018 / Accepted: 25 May 2018 / Published: 27 May 2018
Abstract
:
We propose and demonstrate a simple, low-cost, three-dimensional (3D) shape acquisition method for transparent 3D printed microscopic objects. Our method uses ultraviolet (UV) illumination to obtain high-contrast silhouette images of transparent 3D printed polymer objects. Multiple silhouette images taken from different viewpoints make it possible to reconstruct the 3D shape of this transparent object. A 3D shape acquisition system consisting of a UV light-emitting diode, charge-coupled device camera and a rotation stage was constructed and used to successfully reconstruct the 3D shape of a transparent bunny model produced using micro-stereolithography. In addition, 3D printed pillar array models, with different diameters on the order of several hundred micrometers, were reconstructed. This method will be a promising tool for the 3D shape reconstruction of transparent 3D objects on both the micro- and macro-scale by changing the imaging lens.
Keywords:
3D shape reconstruction; shape from silhouette; 3D printing; additive manufacturing; micro-stereolithography; transparent object; photopolymer
Author Contributions
K.K. and T.F. performed the experiments. K.K. and M.T. calculated and evaluated the 3D shapes of the target objects. K.K. and S.M. wrote the paper. S.M. supervised the research.
Funding
This work was supported by the Cross-ministerial Strategic Innovation Promotion Program (SIP) of the New Energy and Industrial Technology Development Organization (NEDO).
Acknowledgments
We thank Takashi Maekawa for the useful discussion on 3D shape reconstruction and for providing software for the SFS method. We also thank CMET Inc. for providing the photocurable resin (TSR-883).
Conflicts of Interest
The authors declare no conflict of interest.

Figure 1. 3D shape reconstruction based on shape from silhouette (SFS) method. (a) visual cone obtained by back projection of silhouette image; (b) visual hull obtained by intersection of two visual cones; and, (c) 3D shape acquired by bounding geometry of resultant visual hull with multiple visual cones.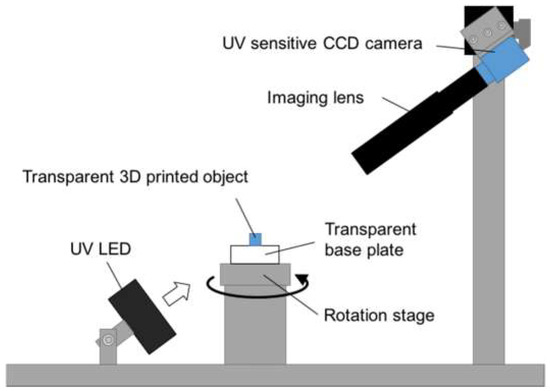 Figure 2. Optical setup for SFS using ultraviolet (UV) illumination. A silhouette image of the target object with UV illumination was captured by the UV sensitive charge-coupled device camera. Multiple silhouette images with different viewpoints were obtained by rotating the rotation stage at 10° intervals.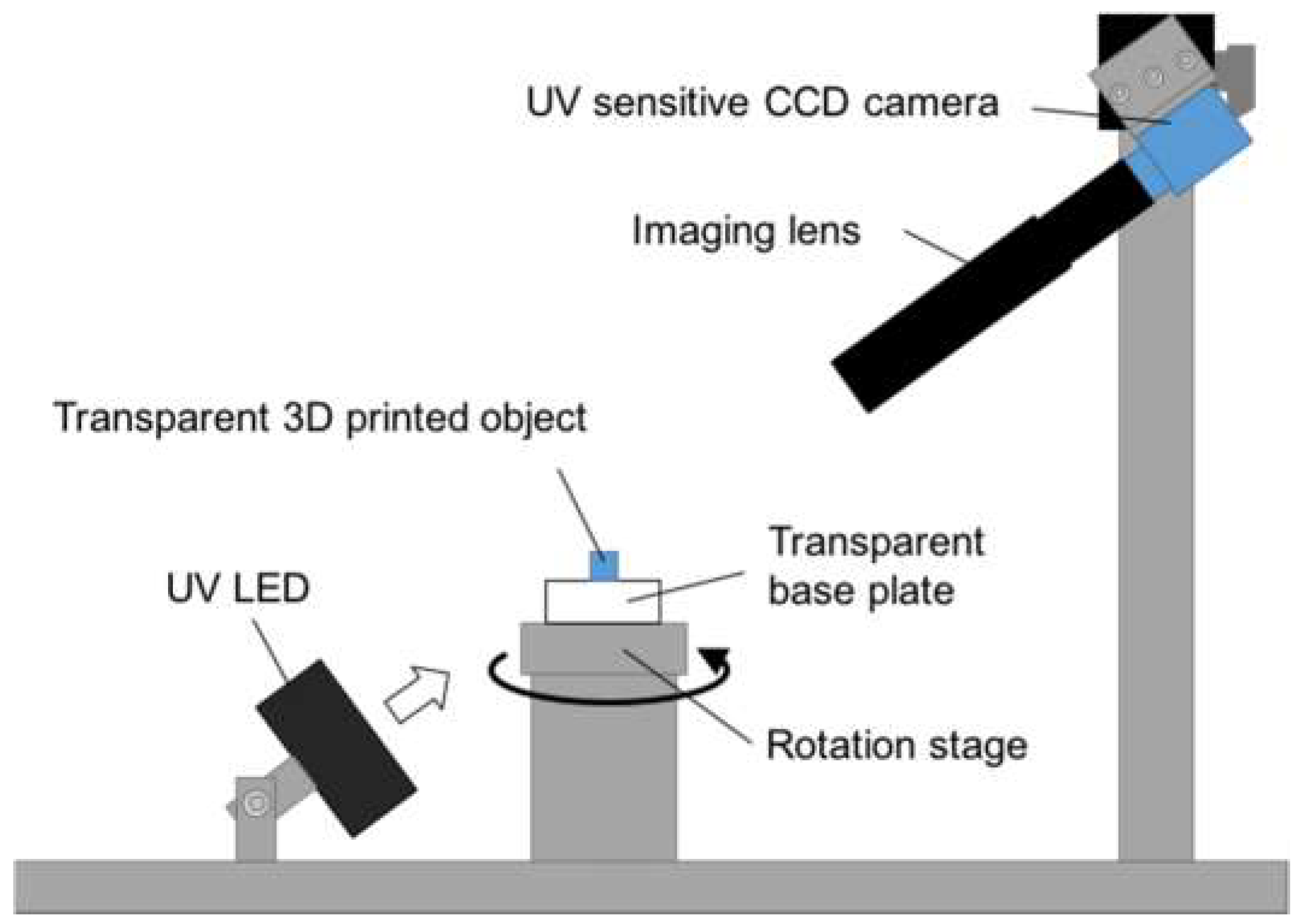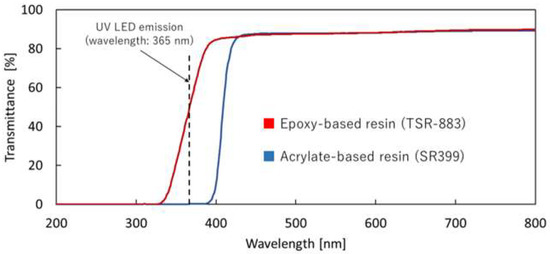 Figure 3. Transmission spectra of two cured resins: a commercial epoxy-based resin (TSR-883) and a laboratory-made acrylate-based resin containing SR399.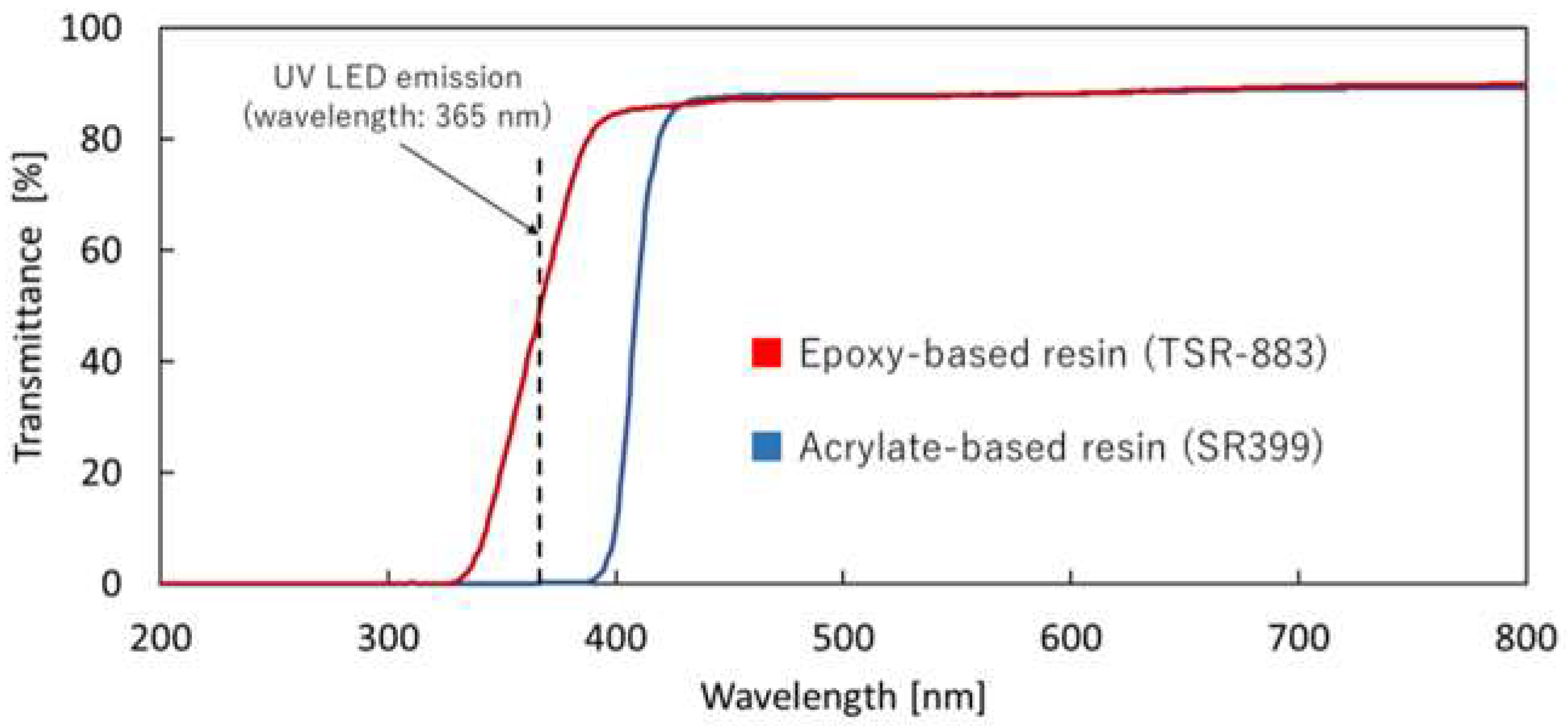 Figure 4. Comparison of silhouette images of a 3D printed bunny model using visible and UV light. (a) optical microscope image of an epoxy-based resin model of a bunny, produced using micro-stereolithography; (b) silhouette image obtained with visible transmitted light; and, (c) silhouette image obtained with UV transmitted light.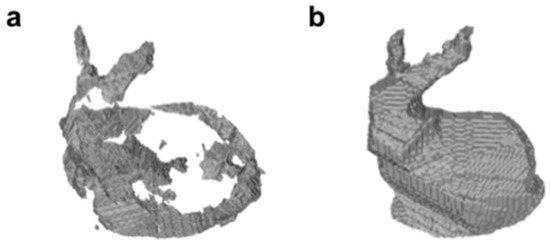 Figure 5. 3D shape reconstruction of a bunny model using (a) visible light and (b) UV transmitted light illumination.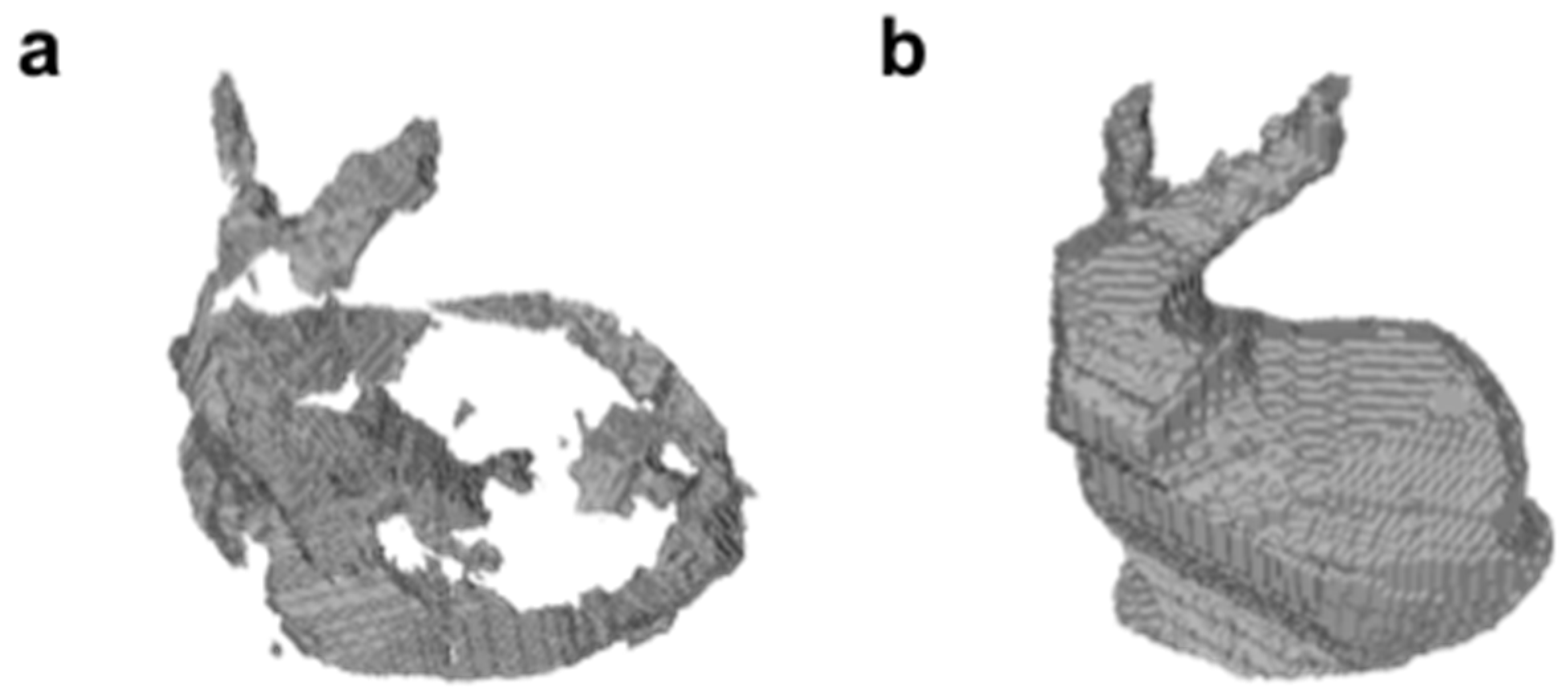 Figure 6. 3D shape reconstruction of a 3D printed pillar array model made of acrylate-based resin. (a) optical microscope image; (b) silhouette obtained using UV illumination; (c) reconstruction of the pillar array model using a shape from silhouette method; and (d) a cross section at half the height of each reconstructed pillar.

| Pillar Number | Actual Pillar Diameter Measured by an Optical Microscope | Averaged Pillar Diameter Estimated by SFS Method |
| --- | --- | --- |
| 1 | 106 μm | 94 μm |
| 2 | 152 μm | 151 μm |
| 3 | 248 μm | 268 μm |
| 4 | 347 μm | 333 μm |

© 2018 by the authors. Licensee MDPI, Basel, Switzerland. This article is an open access article distributed under the terms and conditions of the Creative Commons Attribution (CC BY) license (http://creativecommons.org/licenses/by/4.0/).