Open Access This article is
freely available
re-usable
Article
Monitoring Acid–Base Titrations on Wax Printed Paper Microzones Using a Smartphone
1
Instituto de Química, Universidade Federal de Goiás, Campus Samambaia, Goiânia, GO 74690-900, Brazil
2
Instituto Nacional de Ciência e Tecnologia em Bioanalítica, Campinas, SP 13084-971, Brazil
*
Author to whom correspondence should be addressed.
Academic Editors: Frank A. Gomez, Carlos D. Garcia and Nam-Trung Nguyen
Received: 30 January 2017 / Accepted: 28 April 2017 / Published: 2 May 2017
Abstract
:
This study describes the use of a smartphone for monitoring acid–base titrations on wax printed paper microzones. An array of twelve microzones of 5 mm diameter each was wax printed on filter paper. The analytical performance of the proposed devices was explored with acid–base titrations examples, where jaboticaba peel extract was used as a natural pH indicator. The color intensity was captured using a smartphone and analyzed through a free App named Photometrix®. Before titrations, color intensity versus pH was calibrated to be used as a reference in titrations as (i) strong acid versus strong base; (ii) strong base versus strong acid; and (iii) weak acid versus strong base. In all examples, images were obtained after the addition of each aliquot of titrant solutions. The obtained titration curves showed the same behavior as the conventional titration curves. After evaluating the feasibility of the proposed methodology, the concentration level of acetic acid was obtained in three vinegar samples. Although the obtained values ranged from 5% to 8% compared to the concentrations on the conventional method, the proposed methodology presented high analytical reliability. The calculated concentrations of acetic acid in three samples ranged from 3.87% to 3.93%, and the proposed methodology did not significantly differ from classic acid–base titration at a confidence level of 95%. The acid–base titration on paper-based devices is outstanding, since any titration can be completed within 5 min using 20 µL volumes. Besides, the use of a smartphone to capture images followed by analysis in a free app offers simplicity to all users. The proposed methodology arises as a new strand to be exploited in the diffusion of the analytical chemistry education field as well as an alternative for quantitative analysis with extremely simplified instrumentation.
Keywords:
cell-phone analysis; chemical education; instrument-free chemical assays; microfluidic paper-based analytical devices; paper microfluidics; spot tests
Acknowledgments
This study was supported by INCTBio (grant 465389/2014-7), CAPES (grant 3363/2014), CNPq (grant 448089/2014-9) and FAPEG. CNPq is also acknowledged for the scholarship and researcher fellowships (grants 311744/2013-3 and 308140/2016-8) granted to the LRS and WKTC, respectively. The authors would like to acknowledge Gilson A. Helfer and Marco F. Ferrão for their technical support on data analysis performed by using Photometrix®. Lastly, Fabrício R. de Souza and M. Hathcock for the support on statistical analysis and English translation, respectively.
Author Contributions
S.A.N. and W.K.T.C. conceived and designed the experiments; S.A.N., L.R.S., N.K.L.S. and P.H.F.R. performed the experiments, analyzed the data and contributed reagents/materials/analysis tools; S.A.N. and W.K.T.C. wrote the paper.
Conflicts of Interest
The authors declare no conflict of interest. The founding sponsors had no role in the design of the study; in the collection, analyses, or interpretation of data; in the writing of the manuscript, and in the decision to publish the results.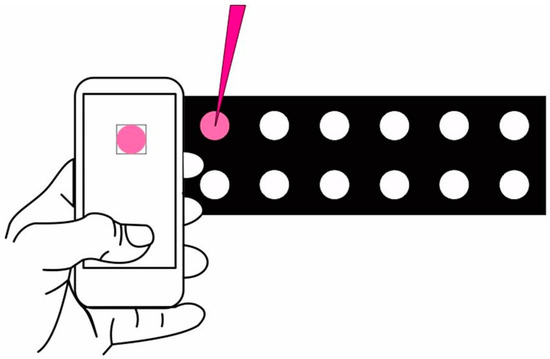 Figure 1. Scheme of paper devices for acid–base reactions and procedure for colorimetric reading by smartphone.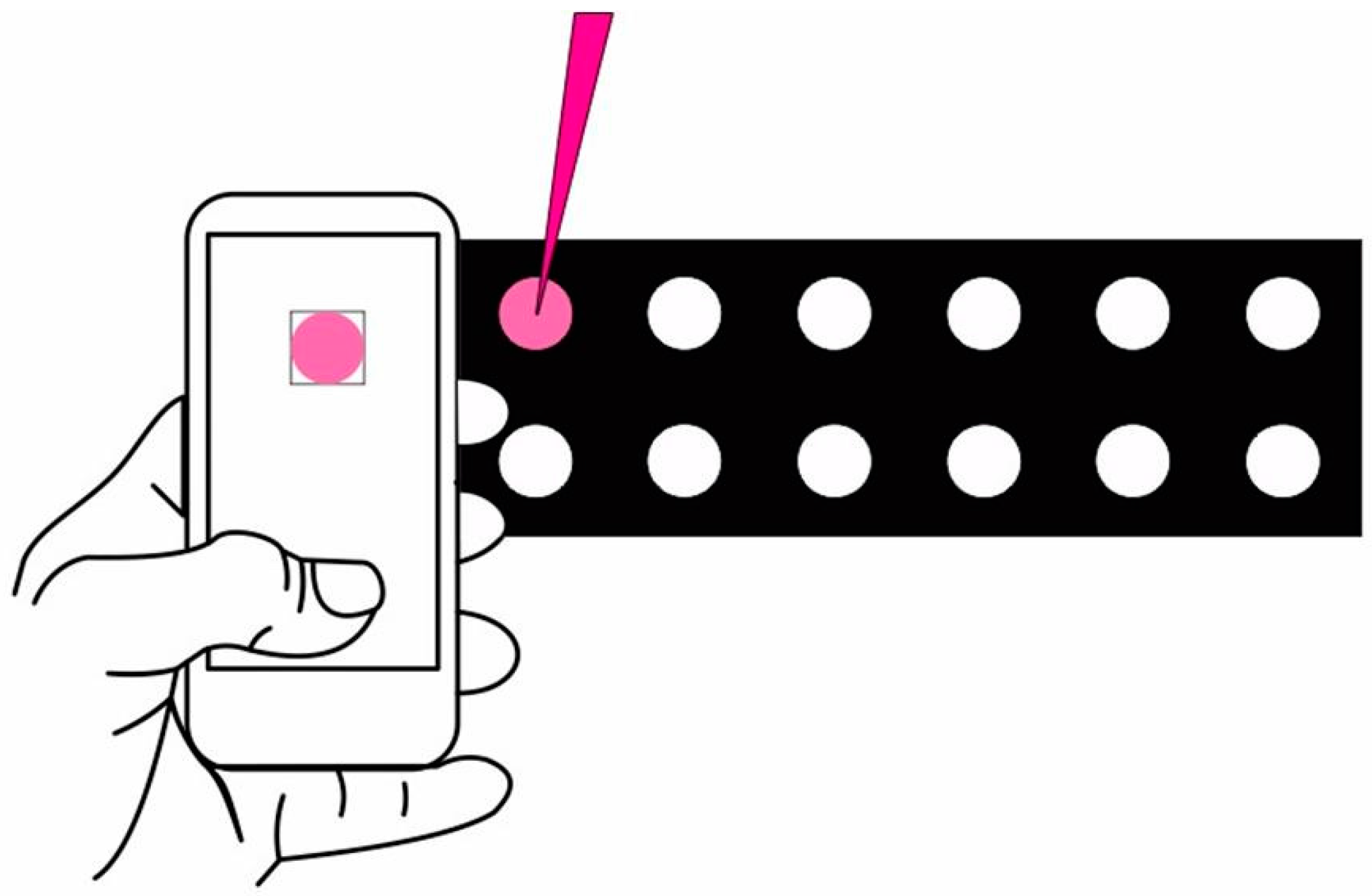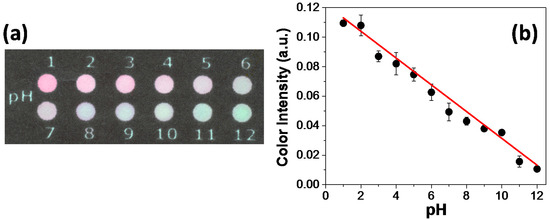 Figure 2. Presentation of (a) an optical micrograph showing the color changes on printed zones and (b) color intensity analysis over different pH values. In (a), microzones were first spotted with 5 µL of the natural indicator. Then, 5 µL of different solutions prepared at pH range from 1 to 12 were added on microzones prior to image capture. The labels depicted in (a) indicate the used microzones for each pH value.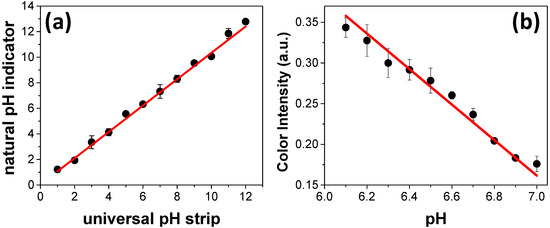 Figure 3.
Presentation of (
a
) pH values measured with universal pH strip and wax printed paper zones previously spotted with natural pH indicator and (
b
) pH resolution measured on paper zones. In (a), all measurements were recorded for standard solutions prepared in a pH range between 1 and 12. For the readings using universal pH strips, each device was introduced inside sample solution requiring a volume of ca. 1 mL to obtain coloration and allow the comparison with a pH scale defined in a color gradient as reference. In (b), the color intensity was determined in phosphate buffer solutions prepared in a pH range between 6.1 and 7.0. For pH determination on paper zones spotted with natural indicator, see
Figure 2
.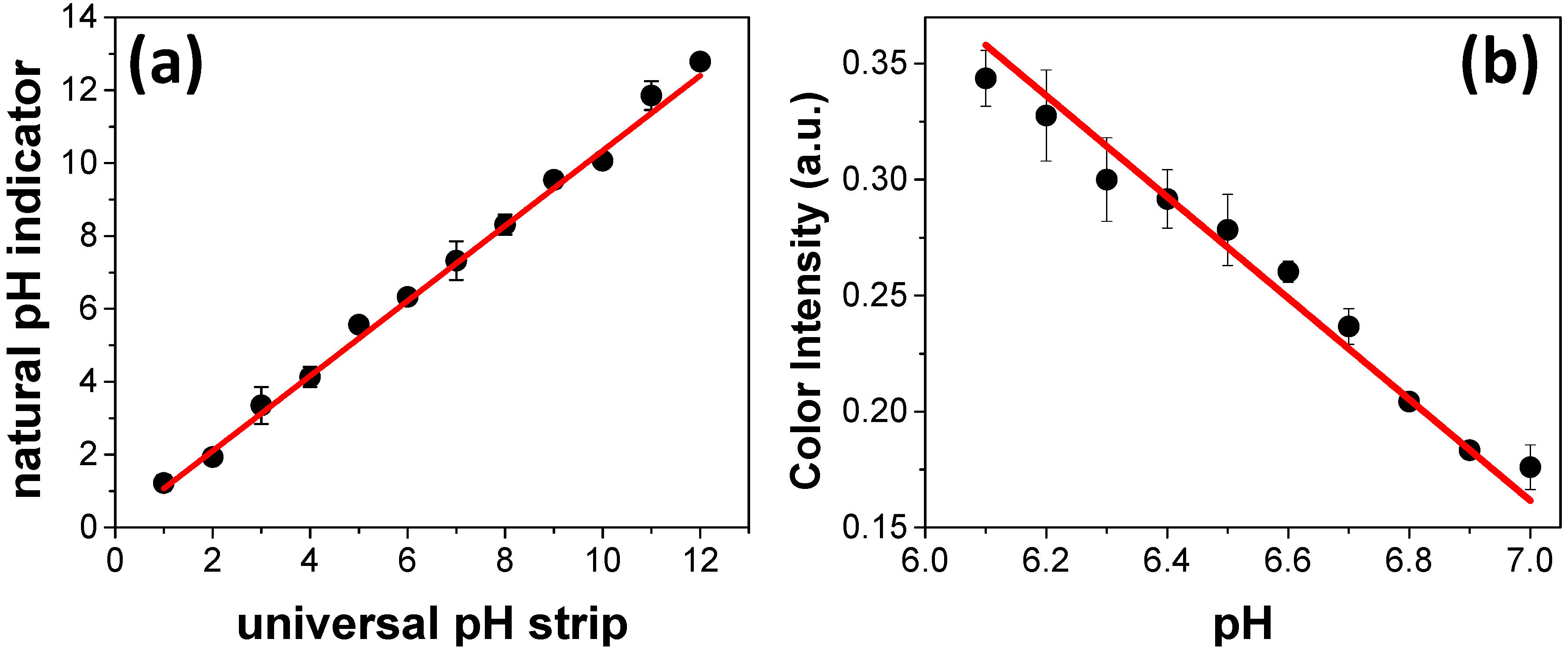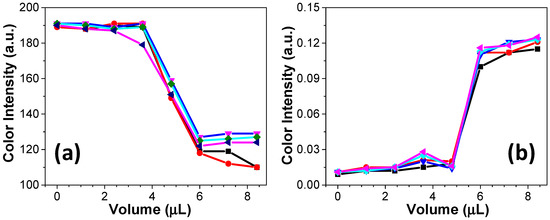 Figure 4. Titration curves performed on wax printed paper microzones showing examples of (a) NaOH versus HCl and (b) HCl versus NaOH titrations. In both examples, titrations were carried out using equimolar solutions (0.1 mol/L). For each titration, microzones were first spotted with 5 µL of the natural indicator. In (a,b), the color intensities were recorded after adding 1.2 µL aliquots of HCl and NaOH, respectively. Color intensity was captured by smartphone and analyzed through the Photometrix® App.


Table 1.
Comparison of the acetic acid levels achieved in vinegar samples through classical acid–base titration and the proposed method using wax printed paper-based microzones (
n
= 3).
Samples
Standard Method
Paper Zones
#A
4.25% ± 0.07% (

v

:

v

)
3.93% ± 0.19% (

v

:

v

)
#B
4.14% ± 0.02% (

v

:

v

)
3.87% ± 0.18% (

v

:

v

)
#C
4.11% ± 0.02% (

v

:

v

)
3.92% ± 0.11% (

v

:

v

)

© 2017 by the authors. Licensee MDPI, Basel, Switzerland. This article is an open access article distributed under the terms and conditions of the Creative Commons Attribution (CC BY) license (http://creativecommons.org/licenses/by/4.0/).