Open Access This article is
freely available
re-usable
Review
Function and Role of ATP-Binding Cassette Transporters as Receptors for 3D-Cry Toxins
Graduate School of Bio-Applications and Systems Engineering, Tokyo University of Agriculture and Technology, Naka 2-24-16, Koganei, Tokyo 184-8588, Japan
*
Author to whom correspondence should be addressed.
Received: 25 January 2019 / Accepted: 15 February 2019 / Published: 19 February 2019
Abstract
:
When ABC transporter family C2 (ABCC2) and ABC transporter family B1 (ABCB1) were heterologously expressed in non-susceptible cultured cells, the cells swelled in response to Cry1A and Cry3 toxins, respectively. Consistent with the notion that 3D-Cry toxins form cation-permeable pores,
Bombyx mori
ABCC2 (BmABCC2) facilitated cation-permeable pore formation by Cry1A when expressed in
Xenopus
oocytes. Furthermore, BmABCC2 had a high binding affinity (
KD
) to Cry1Aa of 3.1 × 10
−10
M. These findings suggest that ABC transporters, including ABCC2 and ABCB1, are functional receptors for 3D-Cry toxins. In addition, the Cry2 toxins most distant from Cry1A toxins on the phylogenetic tree used ABC transporter A2 as a receptor. These data suggest that 3D-Cry toxins use ABC transporters as receptors. In terms of inducing cell swelling, ABCC2 has greater activity than cadherin-like receptor. The pore opening of ABC transporters was hypothesized to be linked to their receptor function, but this was repudiated by experiments using mutants deficient in export activity. The synergistic relationship between ABCC2 and cadherin-like receptor explains their ability to cause resistance in one species of insect.
Keywords:
mode of action; 3-domain Cry toxin; functional receptor; ABC transporter; ABCC2; cadherin-like receptor
Key Contribution: ABC transporters are one of the primary receptors for several 3D-Cry toxins and synergism of ABC transporters and cadherin-like receptor seems to play a major role in susceptibility determination for 3D-Cry toxins of insects. Appreciation of these is important for developing strategies to prevent resistance development for 3D-Cry toxins of insects.
1. Introduction
Here, we review biochemical, cell biological, and physical studies of the role of ABC transporters as receptors for 3D-Cry toxins.
2. ABC Transporters are One of the Primary Receptors for Several 3D-Cry Toxins
2.1. ABC Transporters Facilitate Induction of Cell Swelling by 3D-Cry Toxins
3D-Cry toxins cause insect death by inducing cell swelling in the midgut [
26
]. Incubation of
B. mori
midgut with 100 nM Cry1Aa resulted in swelling of columnar cells, followed by their protrusion from the epithelium and rupture within 60 min. Thus, if ABC transporters are receptors for 3D-Cry toxins, they should induce swelling in non-susceptible cultured cells in the presence of 3D-Cry toxins. At concentrations insufficient to induce cell swelling, 3D-Cry toxins induced apoptosis of columnar cells in
B. mori
, as indicated by nuclear fragmentation, within 2 to 3 days [
27
]. This programmed cell death promoted repair of damaged midgut tissue by removing injured cells. Furthermore, oncosis-like programmed cell death occurred in S5 cells heterologously expressing cadherin-like receptor [
28
,
29
]. However, this oncosis-like programmed cell death pathway has not been reported to induce cell swelling and collapse of the midgut.
BmABCC2 facilitated induction of swelling by Cry1Aa, Cry1Ab, and Cry1Ac in non-susceptible Sf9 cells when heterologously expressed using a baculovirus expression system [
30
]. The cells started swelling within 3 min, became non-refractive, reached the maximum volume after 15 min, and burst when they were administrated with 1.2 μM Cry1Aa toxin. As more than 90% of the cells expressed BmABCC2, a quantitative evaluation was conducted [
30
] (
Video S1
). BmABCC2 also facilitated induction of swelling by Cry1As in human HEK293T cells [
31
]. Sf9 and HEK293T cells are phylogenetically dissimilar and do not have any adaptor molecules for BmABCC2. Therefore, it is not easy to imagine that BmABCC2 triggered the same kind of programed cell death in these two cell lines, although cadherin-like receptor triggered programed cell death and facilitated induction of swelling simultaneously in S5 cells [
28
,
29
]. When BmABCC2 was expressed in wing-disc cells of
Drosophila melanogaster
using the Gal4-UAS system, the cells became susceptible, swelled, and died in response to administration of 200 nM Cry1Aa in vitro [
32
]. In addition, when transgenic
D. melanogaster
larvae were injected with 25 nM Cry1Aa, the wing disc died by necrosis (with cell swelling) and wingless adults emerged [
32
]. ABCC2s from other insect species also facilitate cell-swelling induction by Cry1A.
H. virescens
ABCC2 (HevABCC2) conferred susceptibility to Sf9 cells [
33
].
Drosophila melanogaster
larvae expressing PxABCC2 in the midgut showed susceptibility and died upon feeding on a diet containing 0.05 ppm Cry1Ac [
34
]. As described above, the susceptibility-conferring ability of ABCB1 from
C. tremula
was confirmed using a heterologous expression system in Sf9 cells [
17
]. Therefore, heterologous expression of ABC transporters facilitates Cry1As-mediated induction of cell swelling. Cell swelling shown in these reports coincides well the symptom seen in the Cry1As intoxicated insect midgut [
26
].
2.2. BmABCC2 Facilitates Cation-Permeable Pore Formation by Cry1A Toxins
In artificial phospholipid membrane vesicles or planar lipid bilayers reconstituted with purified aminopeptidase N or GPI-linked receptor complex, Cry1A formed cation-permeable pores and transports Rb
+
through the membrane [
20
,
21
,
22
]. An osmotic swelling assay showed that the internal diameter of the pore formed by Cry1Ac was approximately 2.4 nm [
35
]. In addition, apical-to-basal K
+
flux was detected by short-circuit current measurement in the midgut of an insect treated with Cry1Aa and Ac [
36
]. Thus, Cry1A forms cations-permeable pores in lipid membranes.
According to the Structural Classification of Proteins [
37
] (
http://scop.mrc-lmb.cam.ac.uk/scop/
), domain I of 3D-Cry toxins is the membrane translocation domain. The α-helices of this domain in colicin A and diphtheria toxin form pores or translocate to the cell membrane [
38
,
39
]. Furthermore, cell swelling is induced by water influx into the cytosol through the cell membrane [
40
], likely driven by the osmotic pressure generated by K
+
influx [
41
]. Therefore, the facilitation of cation-permeable pore formation by ABCC2 suggests it is a functional receptor for 3D-Cry toxins.
To determine whether it facilitates cation-permeable pore formation by 3D-Cry toxins, BmABCC2 was heterologously expressed in the
Xenopus
oocyte membrane and subjected to two-electrode voltage clamp assay. BmABCC2 facilitated the inward negative current (inward flow of cations) generated by Cry1Aa and Cry1Ab [
42
]. In addition, the magnitude of the inward negative current increased continuously; a similar result was obtained using the combination of BmABCC2 and Cry1Ab. Thus, it is likely that one molecule of BmABCC2 can continuously facilitate pore formation by Cry1A toxins, i.e., the cycle of Cry1A associating with BmABCC2, inserting α-helices into the membrane, and dissociating from BmABCC2 repeats continuously. Furthermore, after incubation with a high concentration of Cry1A, the pigment at the animal pole of
BmABCC2
-expressing
Xenopus
oocytes was dispersed and the cell membrane ruptured within 1 h [
42
]. The same principle may be in operation in the midgut columnar cells of insects exposed to Cry1A.
2.3. Binding to 3D-Cry Toxins
Receptors must be able to bind their target molecules. Thus, receptors in the midgut cell membrane were identified by screening for molecules that bind to 3D-Cry toxins using ligand blotting and pull-down assays. This resulted in the identification of cadherin-like receptor [
43
], aminopeptidase N [
44
], alkaline phosphatase [
45
], chlorophyllide-binding protein P252 [
46
,
47
], and BTR-270 glycoprotein [
48
] as candidate functional receptors. However, there was no report on the identification of ABCC2.
In a ligand blotting assay conducted in the authors' laboratory, 10 ng BmABCC2 separated by sodium dodecyl sulfate polyacrylamide gel electrophoresis (SDS-PAGE) did not bind to Cry1Aa toxin, likely because of denaturation of its 12 membrane-spanning domains. Thus, the binding ability of ABCC2 might be lost upon disruption of its three-dimensional structure. To evaluate the binding ability of ABCC2, BmABCC2 was produced as a FLAG-tagged protein in Sf9 cells using a baculovirus expression system, solubilized with n-dodecyl-β-D-maltoside (used for X-ray crystallography of ABC transporters [
49
]), purified using an anti-FLAG
®
M2 affinity gel, and its binding ability was assessed by dot blotting and surface plasmon resonance (SPR) [
50
]. SPR showed that BmABCC2 had a very low dissociation rate and a dissociation constant (
KD
) of 3.1 × 10
−10
M, indicating a high binding affinity for Cry1Aa [
50
].
The high binding affinity and promotion of cell-swelling induction and cations-permeable pore formation of Cry1A indicate that BmABCC2 is a functional receptor for Cry1A.
3. Role of ABC Transporters as Receptors for 3D-Cry Toxins
4. Receptor Functions of ABCC2, Cadherin-Like Receptor, and Aminopeptidase N
5. Relationship between Binding Affinity to 3D-Cry Toxins and Receptor Activity
The specificity and activity of 3D-Cry toxins should be determined by their receptor-binding affinity. The receptor activities of BmABCC2, BmABCC3, and BtR175 were evaluated using several heterologous expression systems, and their binding affinities to 3D-Cry toxins were determined by SPR [
31
,
50
,
54
]. The relationships between the 3D-Cry toxin-binding affinities and receptor activities of BmABCC2, BmABCC3, and BtR175 in cultured cells are shown in
Table 1
. In general, receptors with high toxin-binding affinities induced cell swelling in low concentration of 3D-Cry toxins. For example, only BmABCC2 and BmABCC2-R (BmABCC2 derived from a Cry1Ab resistant strain, Chinese No.2) with
KD
values <10
−10
M responded to 0.1–10 nM 3D-Cry toxin (
Table 1
). In contrast, receptors with
KD
values >10
−7
M did not facilitate induction of cell swelling by 1 µM Cry1Aa, Cry1Ab, Cry1Ca, Cry1Da, Cry3Bb, or Cry8Ca. For BmABCC3 and Cry1Aa, and TcABCC4A and Cry8Ca, a
KD
<10
−8
M indicated receptor activity. However, some molecules with
KD
of 10
−8
M did not function as receptors (
Table 1
). Furthermore, although the
KD
was 10
−10
M, BmABCC2 showed low receptor activity for Cry1Ab (
Table 1
). This suggests that a factor other than binding affinity affects receptor function. The inability of BmABCC2-R, which was from a resistant
B. mori
strain, to function as a receptor for Cry1Ab despite a
KD
of 2.39 × 10
−8
was considered to be due to inhibition of some processes after binding by insertion of a tyrosine at position 234 of BmABCC2 [
30
].
In contrast, although the
KD
for BtR175-TBR and Cry1Aa is 7.2 × 10
−10
M [
50
], Sf9 cells expressing BtR175-TBR facilitated induction of cell swelling by >200 nM Cry1Aa [
30
] (
Table 1
). The molecular shape, distance between the membrane and the 3D-Cry toxin-binding site, and the angle of binding of 3D-Cry toxins might differ between BmABCC2 and BtR175-TBR. In addition, cadherin-like receptor induces oligomerization of 3D-Cry toxins [
66
,
70
]. Thus, to understand the reason of difference in the receptor activities of BmABCC2 and BtR175-TBR further studies are needed.
6. Structures of BmABCC2 Responsible for Its Function as a Cry1Aa Toxin Receptor
Comparisons of ABCC2 molecules from different insect species and of ABCC2 and ABCC3 from the same insect species have indicated the importance of ECL1 and ECL4 in determining receptor activity to Cry1A. ECL2 and ECL3 may also play roles in determining incompatibility. Therefore, ECL1, 2, 3, and 4 of ABCC2 and ABCC3 are determinants of the receptor activity and/or species specificity of Cry1A.
7. ABCC2-Binding Sites in Cry1Aa
The binding sites in Cry1Aa were analyzed by SPR using deletion mutants [
50
]. A loop-3 deletion mutant exhibited 1000-fold lower activity for facilitating induction of cell swelling in BmABCC2-expressing Sf9 cells and significantly lower toxin-binding affinity, suggesting that the BmABCC2-binding site is in loop 3. In contrast, a loop-2 deletion mutant had 1000-fold lower cell swelling induction-facilitating activity, but its toxin-binding affinity was unchanged. In addition, alanine replacement of three or four amino acids in the central region of loops 2 and 3 did not impact the binding affinity to BmABCC2, suggesting that the binding sites are located in the root of loops 2 and 3, which were not mutated. Mutants with unchanged binding affinity had long unchanged regions in the root of loops 2 and 3 [
50
]. The decreased binding affinity of the loop-3 deletion mutant may have been caused by structural distortion of the root region. In contrast, many mutants with a reduced ability to facilitate induction of cell swelling retained their Cry1Aa-binding affinity [
50
], suggesting that after binding to BmABCC2 the loops of Cry1Aa have some other roles in its insertion into the membrane.
The cadherin-like receptor-binding sites of Cry1A toxins are in the loop region of domain II [
73
,
74
,
75
]. A binding inhibition assay showed that the BmABCC2- and BtR175-TBR-binding sites overlap in the loop region [
50
]. Thus, the binding pocket of Cry1Aa domain II consists of loops that bind not only to the structurally related BmABCC2 and BmABCC3 [
31
] (
Table 1
) but also to the structurally unrelated BtR175. That is, the binding pocket has a multiple binding property. Moreover, multiple binding property was also reported for domain III of Cry1a toxins [
65
]. Thus, Cry1A toxins has two multiple binding domains. This fact deeply impresses that
B. thuringiensis
is a pathogenic bacterium and uses toxins in hunting hosts. Although, several hypotheses have been proposed, the role of domain III in hunting is unclear. Only the loop region of domain II is adequately indicated to function as a binding site to functional receptors.
Binding of Cry1A to ABCC2 via ECL1 and ECL4 is unlikely to occur while the gate is open because ECL1 and ECL4 are separated [
18
]. In addition, binding of Cry1A to ABCC2 via the domain II loops would hamper insertion of the α-helices of the domain I into the intramolecular pore of ABCC2, because these loops seemed to cover the closed gate of the latent pore (
Figure 2
A). Thus, the α-helices likely access the lipid layer around ABCC2 molecules.
8. Synergism of ABCCs and Cadherin-Like Receptor and Roles in Susceptibility Determination
9. Production of Multiple Toxins by
B. Thuringiensis
Several strains of
B. thuringiensis
produce multiple toxins, including 3D-Cry toxins, e.g., Cry1A, Cry1B, Cry1C, Cry1D and Cry2 [
83
,
84
]. A
P. xylostella
strain, NO-QA was resistant to Cry1A toxins but not to Cry1B, Cry1C, or Cry1D [
85
]. Conversely,
P. xylostella
BCS-Cry1C-2 was resistant to Cry1C but susceptible to Cry1A [
86
]. These suggests that several toxins use their original factors as receptors. Furthermore, an ABCA2 truncation-dependent Cry2Ab-resistant
H. armigera
strain was susceptible to Cry1Ac [
15
]. In addition, Cry1Aa, but not Cry1C or Cry1D, use ABCC2 and ABCC3 [
54
] (
Figure 1
). Therefore, simultaneous production of multiple 3D-Cry toxins that use different receptors promotes survival in
B. thuringiensis
by preventing development of host resistance. The
B. thuringiensis
subspecies
israelensis
(Bti) is used to control mosquitoes and black flies; however, no outbreak of highly resistant strains has been reported [
87
,
88
]. This might be due to production of Cry4Aa, Cry4Ba, Cry10Aa, Cry11Aa, Cyt1Aa, and Cyt2Ba by Bti. Alternatively, simultaneous production of multiple toxins may function simply to increase insecticidal activity, e.g., simultaneous production of Cry1Ca and Cry9Aa exerted a synergistic effect against
H. armigera
[
89
]. In addition, synergism between 3D-Cry and Cyt toxins and between 3D-Cry toxins and vegetative insecticidal protein has been reported [
90
,
91
]. The utility of this strategy used by
B. thuringiensis
is increasingly useful to Bt spray and 3D-Cry toxin gene-integrated GMOs.
Supplementary Materials
The following are available online at
https://www.mdpi.com/2072-6651/11/2/124/s1
, Video S1 1. Swelling of BmABCC2-expressing Sf9 cells incubated with 1.2 μM Cry1Aa. In the video, 32 min are shortened to 10 s. Under phase-contrast microscopy, the cells started swelling after 3 min, became non-refractive, reached the maximum volume after 15 min, and burst.
Author Contributions
R.S. conceptualized, wrote and reviewed the manuscript. S.A., X.L., S.T. and H.E. gathered information and prepared the figures. S.A. and X.L. also conducted additional experiments for sharpening the vision.
Funding
This work was supported financially by a Grant-in-Aid for Scientific Research (B) (18H03397) from the Ministry of Education, Culture, Sports, Science, and Technology of Japan.
Conflicts of Interest
The authors declare no conflict of interest.
Abbreviations
| | |
| --- | --- |
| ABC transporters | ATP-binding cassette transporters |
| 3D-Cry toxins | 3-domain Cry toxins |
| ABCC2 | ABC transporter family C2 |
| ABCB1 | ABC transporter family B1 |
| ABCA2 | ABC transporter family A2 |
| ECL | extracellular loop |
| BtR175-TBR | BtR175 toxin-binding region |
| SPR | surface plasmon resonance |
Figure 1.
Use of ABC transporters as functional receptors by 3D-Cry toxins. Receptor activity data for Cry2Ab using ABC transporter-expressing HEK293T cells or Sf9 cells and previous results for Cry toxins [
17
,
30
,
31
,
54
]; arrow width indicates the level of activity. Phylogenetic tree of ABC transporters generated using the amino acid sequences of BmABCC2 (BAK82127.1), SeABCC2 (AIB06821.1), BmABCC3 (XP_012547933.1), SeABCC3 (AIB06823.1), TcABCC4 (XP_969849.1), AaABCC4 (APG42670.1), humABCC4 (NP_005836.2), CtABCB1 (APK18402.1), and BmABCA2 (ALE60402.1) with CLUSTAL W. Bm,
Bombyx mori
; Ct,
Chrysomela tremula
; Se,
Spodoptera exigua
; Tc,
Tribolium castaneum
; Aa,
Aedes albopictus
. A part of the phylogenetic tree of Cry toxins (
Bacillus thuringiensis
Toxin Nomenclature;
http://www.lifesci.sussex.ac.uk/home/Neil_Crickmore/Bt/intro.html
).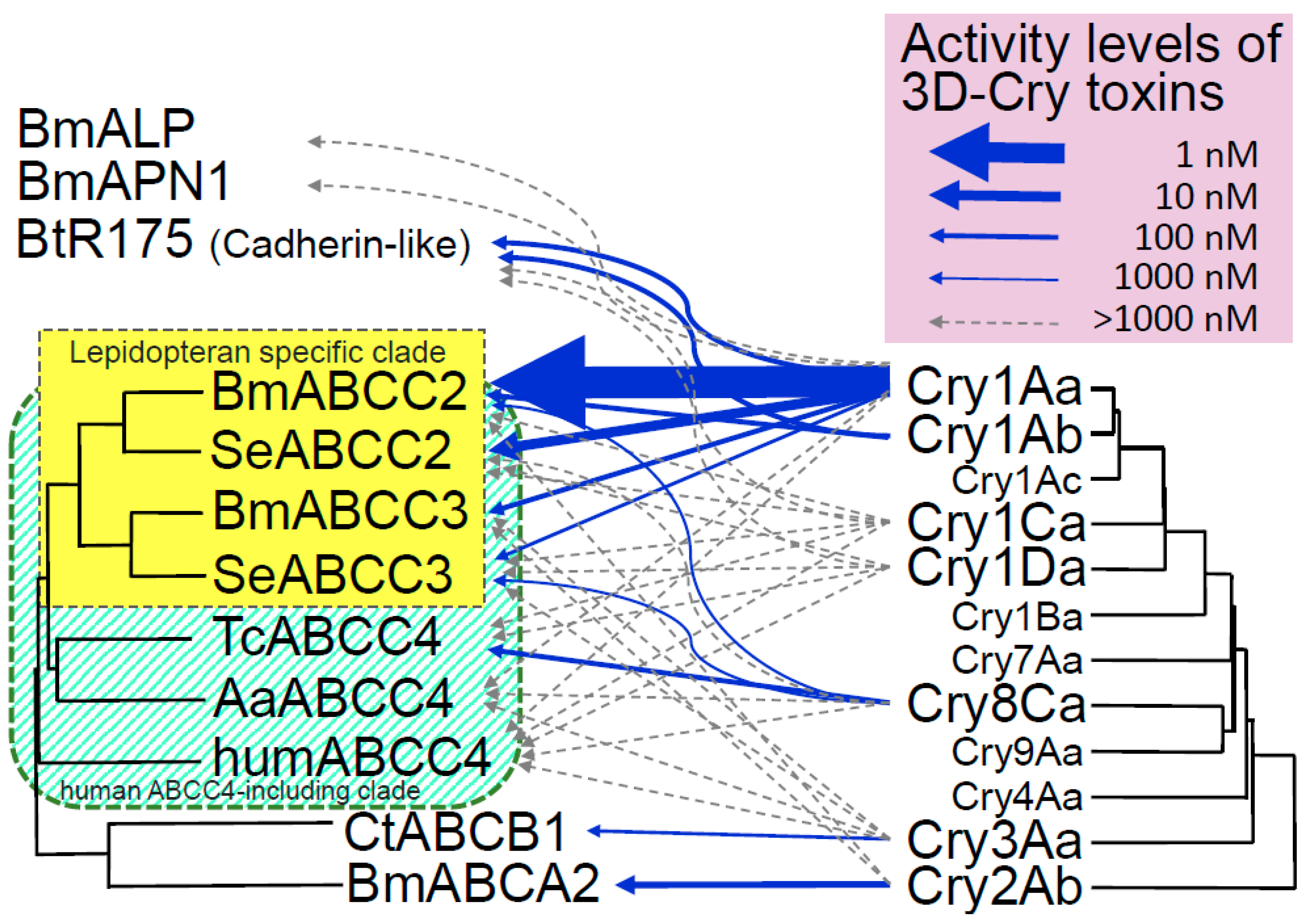 Figure 2.
BmABCC2 structures that affect Cry1As receptor activity. (
A
) Nucleotide-binding domain-deleted BmABCC2 mutants, D1del and D2del, that exhibit receptor activity for Cry1Aa when expressed in the membranes of Sf9 or HEK293T cells [
24
]. ECL, extracellular loop. (
B
) Mutation sites in BmABCC2 that affect receptor activity for Cry1Aa or Cry1Ab [
24
] and a site at which amino acid replacement increases BmABCC3 receptor activity [
54
].
Receptor.
Toxin
KD (M) 1
Effective Conc. (nM) in Cell Swelling Assay 2
BmABCC2
Cry1Aa
3.1 × 10−10
0.1
Cry1Ab
2.6 × 10−10
100
Cry1Ca
1.7 × 10−7
>10,000
Cry1Da
2.3 × 10−6
>2000
Cry3Bb
2.0 × 10−5
>500
Cry8Ca
1.9 × 10−5
1000
BmABCC2 from resistant line
Cry1Aa
2.8 × 10−10
10
Cry1Ab
2.4 × 10−8
>1000
BmABCC3
Cry1Aa
3.4 × 10−8
100
Cry1Ab
6.9 × 10−8
>4500
Cry1Ca
3.9 × 10−7
>1000
Cry1Da
4.2 × 10−4
>1000
Cry3Bb
4.0 × 10−8
>1000
TcABCC4A
Cry1Aa
not detectable
>1000
Cry1Ca
not detectable
>2500
Cry1Da
not detectable
>2000
Cry3Bb
1.8 × 10−5
>1700
Cry8Ca
4.0 × 10−8
100
BtR175(BmCad)
Cry1Aa
7.2 × 10−10
200

© 2019 by the authors. Licensee MDPI, Basel, Switzerland. This article is an open access article distributed under the terms and conditions of the Creative Commons Attribution (CC BY) license (http://creativecommons.org/licenses/by/4.0/).