Temporal Change of the Content of 10 Oligosaccharides in the Milk of Chinese Urban Mothers
1
Nestlé Research Centre, Vers-Chez-Les-Blanc, Lausanne 1000, Switzerland
2
Nestlé Research Center Beijing, Beijing 100095, China
3
Department of Nutrition and Food Hygiene, School of Public Health, Peking University Health Science Center, Beijing 100191, China
4
Department of Social Medicine and Health Education, School of Public Health, Peking University Health Science Center, Beijing 100191, China
*
Author to whom correspondence should be addressed.
Received: 5 April 2016 / Revised: 20 May 2016 / Accepted: 31 May 2016 / Published: 8 June 2016
Abstract
Breastfed infants tend to be less prone to infections and may have improved cognitive benefits compared to formula-fed infants. Human milk oligosaccharides (HMO) are the third most abundant component of human milk, but are absent from formulae. They may be partially responsible for the benefits of breastfeeding. In this cross-sectional observational study, the HMO composition of milk from Chinese mothers was studied to determine the impact of stage of lactation, mode of delivery and geographical location. The content of 10 HMO was measured by HPLC in 446 milk samples from mothers living in three different cities in China. Around 21% of the samples contained levels of 2′-fucosyllactose (2′-FL) below the limit of quantification, which is similar to the frequency of fucosyltransferase-2 non-secretors in other populations, but 2′-FL was detected in all samples. Levels of most of the HMO studied decreased during the course of lactation, but the level of 3-fucosyllactose increased. Levels of 2′-FL and 3-fucosyllactose seem to be strongly correlated, suggesting some sort of mechanism for co-regulation. Levels of 6′-sialyllactose were higher than those of 3′-sialyllactose at early stages of lactation, but beyond 2–4 months, 3′-sialyllactose was predominant. Neither mode of delivery nor geographical location had any impact on HMO composition.
View Full-Text
►

▼

Figures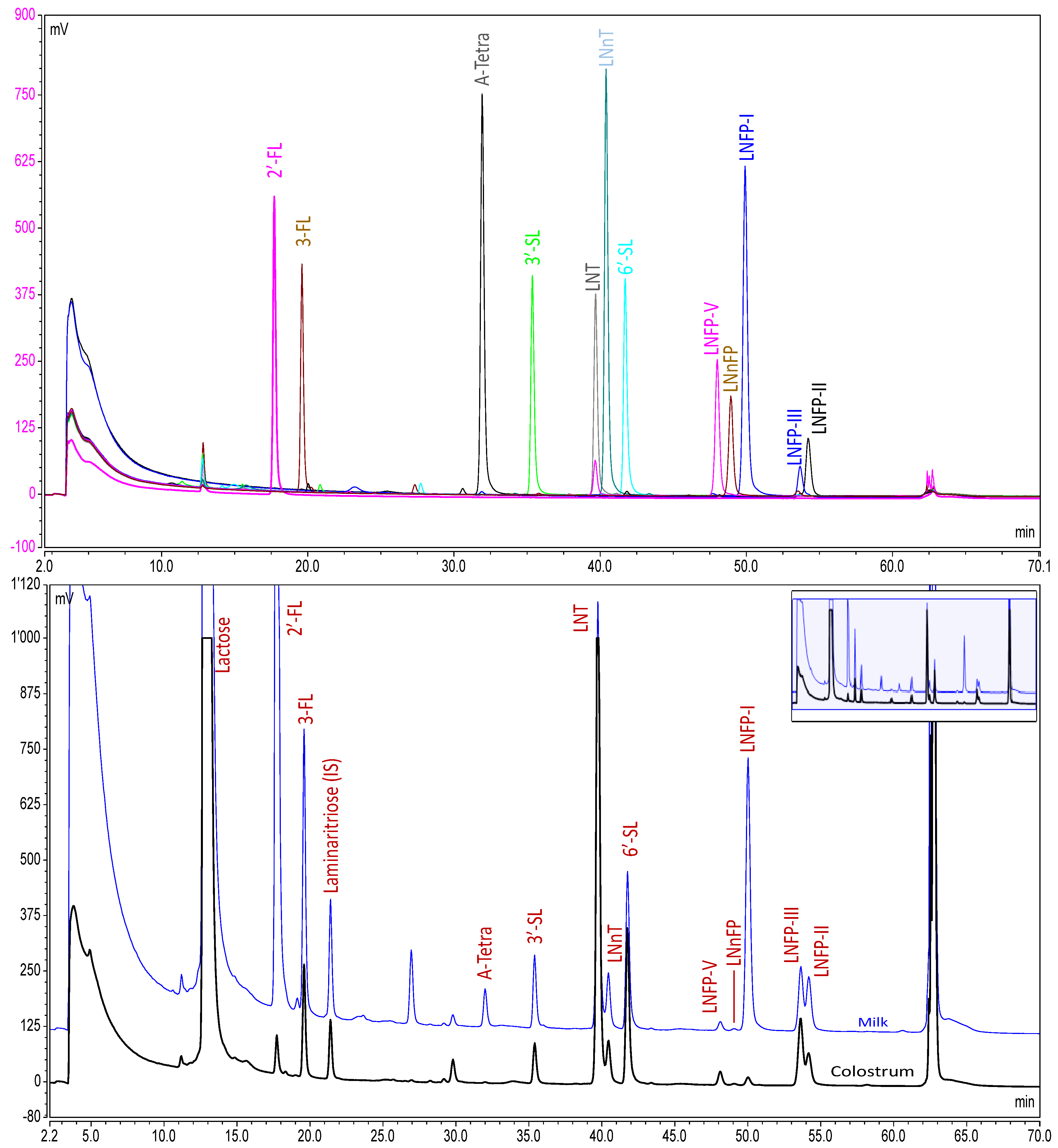 Figure 1
This is an open access article distributed under the
Creative Commons Attribution License
which permits unrestricted use, distribution, and reproduction in any medium, provided the original work is properly cited (CC BY 4.0).

Share & Cite This Article
MDPI and ACS Style
Austin, S.; De Castro, C.A.; Bénet, T.; Hou, Y.; Sun, H.; Thakkar, S.K.; Vinyes-Pares, G.; Zhang, Y.; Wang, P. Temporal Change of the Content of 10 Oligosaccharides in the Milk of Chinese Urban Mothers. Nutrients 2016, 8, 346.
Note that from the first issue of 2016, MDPI journals use article numbers instead of page numbers. See further details here.
Related Articles
Comments
[Return to top]