Effects of Vitamin D Supplementation on Serum 25-Hydroxyvitamin D Concentrations in Cirrhotic Patients: A Randomized Controlled Trial
1
Division of Endocrinology and Diabetology, Department of Internal Medicine, Medical University of Graz, Auenbruggerplatz 15, 8036 Graz, Austria
2
Department of Internal Medicine, Landeskrankenhaus Hoergas-Enzenbach, Hörgas 30, 8112 Gratwein-Straßengel, Austria
3
Division of Gastroenterology and Hepatology, Department of Internal Medicine, Medical University of Graz, Auenbruggerplatz 15, 8036 Graz, Austria
4
Clinical Institute of Medical and Chemical Laboratory Diagnostics, Medical University of Graz, Auenbruggerplatz 15, 8036 Graz, Austria
*
Authors to whom correspondence should be addressed.
†
These authors contributed equally as first authors to this work.
Received: 18 February 2016 / Revised: 26 April 2016 / Accepted: 4 May 2016 / Published: 10 May 2016
Abstract
Background
: The liver is crucial for 25-hydroxyvitamin D (25(OH)D) metabolism, and vitamin D deficiency is highly prevalent in patients with cirrhosis and predicts adverse outcomes. We aimed to evaluate whether vitamin D supplementation in patients with cirrhosis is effective in increasing 25(OH)D serum concentrations. Secondary outcome measures included liver function tests (aspartate aminotransferase (AST), alanine aminotransferase (ALT), gamma glutamyltransferase (GGT), and alkaline phosphatase (AP)), albumin, International Normalized Ratio (INR), bilirubin, the liver fibrosis marker hyaluronic acid, and parameters of mineral metabolism including parathyroid hormone (PTH).
Methods
: This is a double-center, double-blind, placebo-controlled study conducted from December 2013 to May 2014 at the Medical University of Graz, and the hospital Hoergas-Enzenbach, Austria. We enrolled 36 consecutive patients with cirrhosis and 25(OH)D concentrations below 30 ng/mL. Study participants were randomly allocated to receive either 2800 International Units of vitamin D3 per day as oily drops (
n
= 18) or placebo (
n
= 18) for 8 weeks.
Results
: Thirty-three study participants (mean (SD) age: 60 (9) years; 21% females; 25(OH)D: 15.6 (7.4) ng/mL) completed the trial. The mean treatment effect (95% CI) for 25(OH)D was 15.2 (8.0 to 22.4) ng/mL (
p
< 0.001). There was no significant effect on any secondary outcome.
Conclusions
: In this randomized controlled trial, vitamin D supplementation increases 25(OH)D serum concentrations, even in cirrhotic patients.
View Full-Text
►

▼

Figures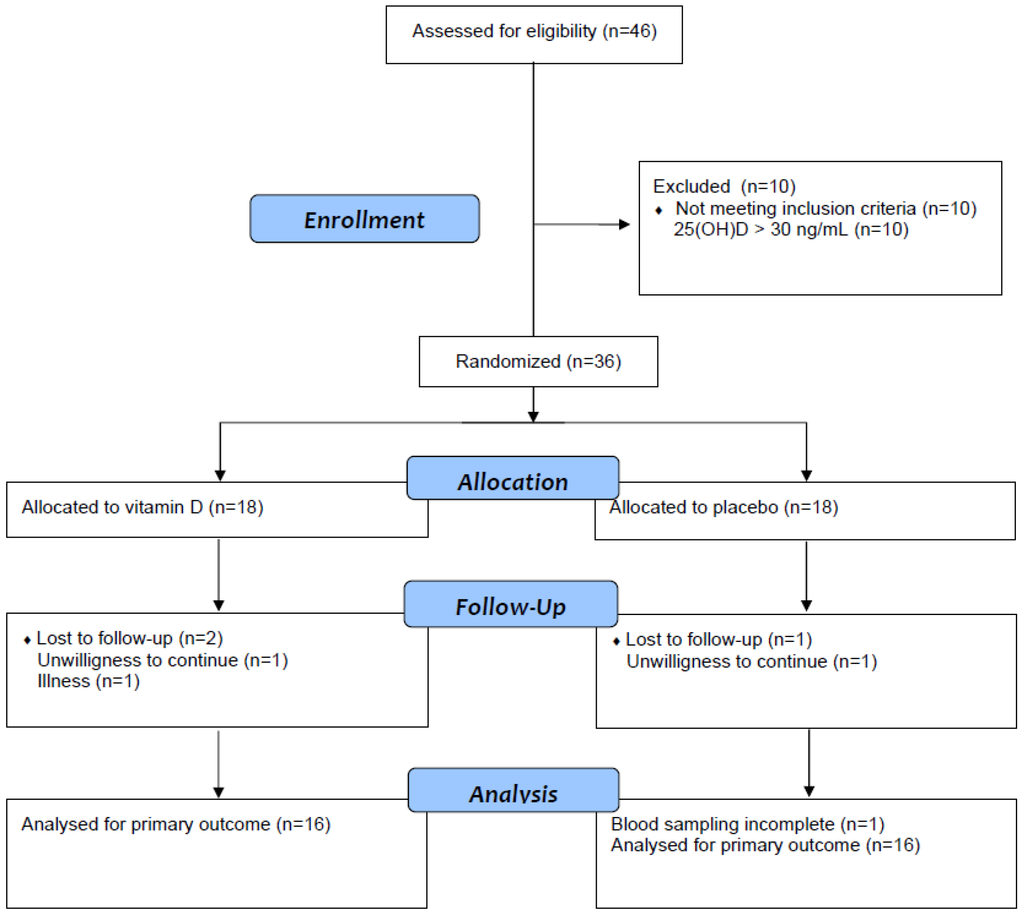 Figure 1
This is an open access article distributed under the
Creative Commons Attribution License
which permits unrestricted use, distribution, and reproduction in any medium, provided the original work is properly cited (CC BY 4.0).

Share & Cite This Article
MDPI and ACS Style
Pilz, S.; Putz-Bankuti, C.; Gaksch, M.; Spindelboeck, W.; Haselberger, M.; Rainer, F.; Posch, A.; Kreuzer, P.; Stojakovic, T.; Stadlbauer, V.; Obermayer-Pietsch, B.; Stauber, R.E. Effects of Vitamin D Supplementation on Serum 25-Hydroxyvitamin D Concentrations in Cirrhotic Patients: A Randomized Controlled Trial. Nutrients 2016, 8, 278.
Note that from the first issue of 2016, MDPI journals use article numbers instead of page numbers. See further details here.
Related Articles
Comments
[Return to top]