Low-Dose Curcumin Nanoparticles Normalise Blood Pressure in Male Wistar Rats with Diet-Induced Metabolic Syndrome
1
Functional Foods Research Group, University of Southern Queensland, Toowoomba, QLD 4350, Australia
2
School of Health and Wellbeing, University of Southern Queensland, Toowoomba, QLD 4350, Australia
3
Texas A&M Rangel College of Pharmacy, Texas A&M University–College Station, TX 77843, USA
*
Author to whom correspondence should be addressed.
Received: 10 June 2019 / Revised: 27 June 2019 / Accepted: 5 July 2019 / Published: 8 July 2019
Abstract
Nanoparticle formulations improve bioavailability and so may allow low-dose formulations of food-derived compounds such as curcumin to attenuate chronic systemic disease despite intrinsically low oral bioavailability. The current study induced metabolic syndrome in male Wistar rats aged eight–nine weeks using a high-carbohydrate, high-fat diet (H) with corn starch diet (C) as control. Using a reversal protocol, rats were given curcumin as either nanoparticles encapsulated in poly(lactic–co–glycolic acid) (5 mg/kg/day, HCNP) or as an unformulated low dose or high-dose suspension in water (low-dose, 5 mg/kg/day, HC5; high-dose, 100 mg/kg/day, HC100) or blank nanoparticles (HBNP) for the final eight weeks of the 16 week study. We analysed cardiovascular parameters including systolic blood pressure and left ventricular diastolic stiffness along with histopathology, liver parameters including plasma liver enzymes, histopathology and metabolic parameters, including glucose tolerance, blood lipid profile and body composition, and plasma curcumin concentrations. HC100 and HCNP but not HBNP normalised systolic blood pressure (C = 120 ± 4; H = 143 ± 5; HBNP = 141 ± 3; HC5 = 143 ± 4; HC100 = 126 ± 4; HCNP = 128 ± 4 mmHg), left ventricular diastolic stiffness and liver fat deposition. No other improvements were induced in HC100 or HCNP or other intervention groups (HC5 and HBNP). We conclude that 5 mg/kg/day curcumin nanoparticles in H rats showed similar improvements in cardiovascular function as 100 mg/kg/day unformulated curcumin correlating with similar plasma curcumin concentrations.
View Full-Text
►

▼

Figures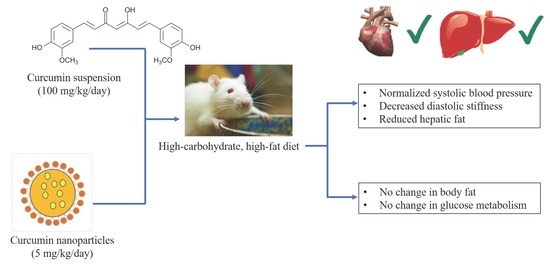 Graphical abstract
This is an open access article distributed under the
Creative Commons Attribution License
which permits unrestricted use, distribution, and reproduction in any medium, provided the original work is properly cited (CC BY 4.0).

Share & Cite This Article
MDPI and ACS Style
du Preez, R.; Pahl, J.; Arora, M.; Ravi Kumar, M.N.V.; Brown, L.; Panchal, S.K. Low-Dose Curcumin Nanoparticles Normalise Blood Pressure in Male Wistar Rats with Diet-Induced Metabolic Syndrome. Nutrients 2019, 11, 1542.
Note that from the first issue of 2016, MDPI journals use article numbers instead of page numbers. See further details here.
Related Articles
Comments
[Return to top]