Genetic Permissiveness and Dietary Glycemic Load Interact to Predict Type-II Diabetes in the Nile rat (
Arvicanthis niloticus

)

Biology Department, Brandeis University, Waltham, MA 02453, USA

*

Author to whom correspondence should be addressed.

Received: 10 April 2019 / Revised: 16 June 2019 / Accepted: 1 July 2019 / Published: 6 July 2019
Abstract
Objective
: The Nile rat (Arvicanthis niloticus) is a superior model for Type-II Diabetes Mellitus (T2DM) induced by diets with a high glycemic index (GI) and glycemic load (GLoad). To better define the age and gender attributes of diabetes in early stages of progression, weanling rats were fed a high carbohydrate (hiCHO) diet for between 2 to 10 weeks.
Methods
: Data from four experiments compared two diabetogenic semipurified diets (Diet 133 (60:20:20, as % energy from CHO, fat, protein with a high glycemic load (GLoad) of 224 per 2000 kcal) versus Diets 73 MBS or 73 MB (70:10:20 with or without sucrose and higher GLoads of 259 or 295, respectively). An epidemiological technique was used to stratify the diabetes into quintiles of blood glucose (Q1 to Q5), after 2–10 weeks of dietary induction in 654 rats. The related metagenetic physiological growth and metabolic outcomes were related to the degree of diabetes based on fasting blood glucose (FBG), random blood glucose (RBG), and oral glucose tolerance test (OGTT) at 30 min and 60 min.
Results
: Experiment 1 (Diet 73MBS) demonstrated that the diabetes begins aggressively in weanlings during the first 2 weeks of a hiCHO challenge, linking genetic permissiveness to diabetes susceptibility or resistance from an early age. In Experiment 2, ninety male Nile rats fed Diet 133 (60:20:20) for 10 weeks identified two quintiles of resistant rats (Q1,Q2) that lowered their RBG between 6 weeks and 10 weeks on diet, whereas Q3–Q5 became progressively more diabetic, suggesting an ongoing struggle for control over glucose metabolism, which either stabilized or not, depending on genetic permissiveness. Experiment 3 (32 males fed 70:10:20) and Experiment 4 (30 females fed 60:20:20) lasted 8 weeks and 3 weeks respectively, for gender and time comparisons. The most telling link between a quintile rank and diabetes risk was telegraphed by energy intake (kcal/day) that established the cumulative GLoad per rat for the entire trial, which was apparent from the first week of feeding. This genetic permissiveness associated with hyperphagia across quintiles was maintained throughout the study and was mirrored in body weight gain without appreciable differences in feed efficiency. This suggests that appetite and greater growth rate linked to a fiber-free high GLoad diet were the dominant factors driving the diabetes. Male rats fed the highest GLoad diet (Diet 73MB 70:10:20, GLoad 295 per 2000 kcal for 8 weeks in Experiment 3], ate more calories and developed diabetes even more aggressively, again emphasizing the Cumulative GLoad as a primary stressor for expressing the genetic permissiveness underlying the diabetes.
Conclusion
: Thus, the Nile rat model, unlike other rodents but similar to humans, represents a superior model for high GLoad, low-fiber diets that induce diabetes from an early age in a manner similar to the dietary paradigm underlying T2DM in humans, most likely originating in childhood.
View Full-Text
►

▼

Figures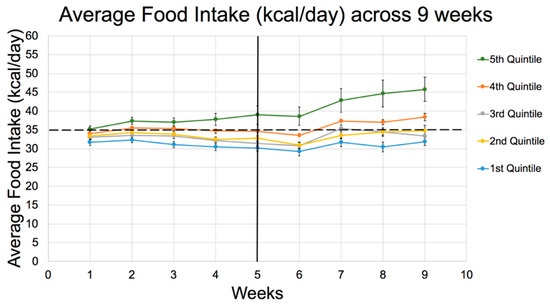 Figure 1
This is an open access article distributed under the
Creative Commons Attribution License
which permits unrestricted use, distribution, and reproduction in any medium, provided the original work is properly cited (CC BY 4.0).

Share & Cite This Article
MDPI and ACS Style
Subramaniam, A.; Landstrom, M.; Hayes, K.C. Genetic Permissiveness and Dietary Glycemic Load Interact to Predict Type-II Diabetes in the Nile rat (Arvicanthis niloticus). Nutrients 2019, 11, 1538.
Note that from the first issue of 2016, MDPI journals use article numbers instead of page numbers. See further details here.
Related Articles
Comments
[Return to top]