Tomato Juice Supplementation Influences the Gene Expression Related to Steatosis in Rats
1
Department of Food Technology, Food Science and Nutrition, Faculty of Veterinary Sciences, Regional Campus of International Excellence "Campus Mare Nostrum", Biomedical Research Institute of Murcia (IMIB-Arrixaca-UMU), University Clinical Hospital "Virgen de la Arrixaca", University of Murcia, Espinardo, 30071 Murcia, Spain
2
Department of Food Engineering, Tierra Blanca Superior Technological Institute, Tierra Blanca, 95180 Veracruz, Mexico
3
Department of Histology and Pathologic Anatomy, Faculty of Veterinary Sciences, Regional Campus of International Excellence "Campus Mare Nostrum", University of Murcia, Espinardo, 30071 Murcia, Spain
*
Authors to whom correspondence should be addressed.
Received: 3 August 2018 / Revised: 25 August 2018 / Accepted: 31 August 2018 / Published: 2 September 2018
Abstract
The objective of this work was to identify the effect of tomato juice on the expression of genes and levels of metabolites related to steatosis in rats. Male Sprague Dawley rats (8 weeks-old) were grouped (6 rats/group) in four experimental groups: NA (normal diet and water), NL (normal diet and tomato juice), HA (high-fat diet and water), and HL (high-fat diet and tomato juice). After an intervention period of 5 weeks, rats were sacrificed and biochemical parameters, biomarkers of oxidative stress, liver metabolites, and gene expression were determined. Although the H diet provoked dislipemia related to steatosis, no changes in isoprostanes or liver malondialdehyde (MDA) were observed. Changes in the gene expression of the HA group were produced by the high consumption of fat, whereas the consumption of tomato juice had different effects, depending on the diet. In the NL group, the genes involved in β-oxidation were upregulated, and in groups NL and HL upregulation of
CD36
and downregulation of
APOB
and
LPL
were observed. In addition, in the HL group the accumulation of lycopene upregulated the genes
FXR
and
HNF4A
, which have been suggested as preventive factors in relation to steatosis. Regarding the metabolomics study, intake of tomato juice stimulated the biosynthesis of glutathione and amino acids of the transulfurization pathway, increasing the levels of metabolites related to the antioxidant response.
View Full-Text
►

▼

Figures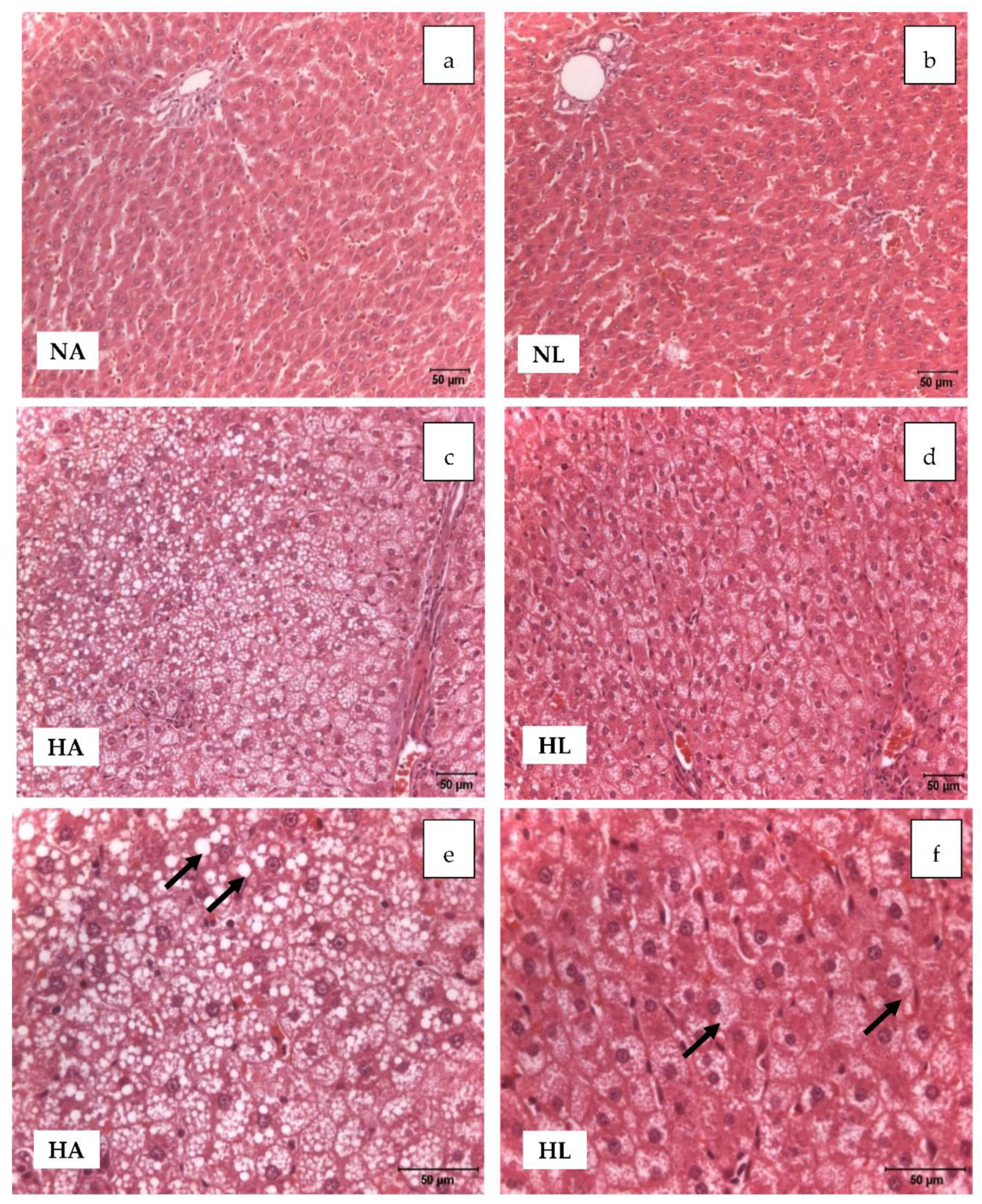 Figure 1
This is an open access article distributed under the
Creative Commons Attribution License
which permits unrestricted use, distribution, and reproduction in any medium, provided the original work is properly cited (CC BY 4.0).

Share & Cite This Article
MDPI and ACS Style
Elvira-Torales, L.I.; Navarro-González, I.; González-Barrio, R.; Martín-Pozuelo, G.; Doménech, G.; Seva, J.; García-Alonso, J.; Periago-Castón, M.J. Tomato Juice Supplementation Influences the Gene Expression Related to Steatosis in Rats. Nutrients 2018, 10, 1215.
Note that from the first issue of 2016, MDPI journals use article numbers instead of page numbers. See further details here.
Related Articles
Comments
[Return to top]