CFTR Deletion Confers Mitochondrial Dysfunction and Disrupts Lipid Homeostasis in Intestinal Epithelial Cells
1
Research Centre, CHU Sainte-Justine, 3175 Sainte-Catherine Rd., Montreal, QC H3T 1C5, Canada
2
Department of Nutrition, Faculty of Medicine, Université de Montréal, 2405 Sainte-Catherine Rd., Montreal, QC H3T 1A8, Canada
3
Division of Gastroenterology, Faculty of Medicine, IBD Laboratory, Research Institute, McGill University Health Center, McGill University, Montreal, QC H3G 1A4, Canada
4
Montreal Clinical Research Institute, Montreal, QC H2W 1R7, Canada
*
Author to whom correspondence should be addressed.
Received: 29 May 2018 / Revised: 23 June 2018 / Accepted: 25 June 2018 / Published: 27 June 2018
Abstract
Background: Cystic Fibrosis (CF) is a genetic disease in which the intestine exhibits oxidative and inflammatory markers. As mitochondria are the central source and the main target of reactive oxygen species, we hypothesized that cystic fibrosis transmembrane conductance regulator (CFTR) defect leads to the disruption of cellular lipid homeostasis, which contributes to mitochondrial dysfunction. Methods. Mitochondrial functions and lipid metabolism were investigated in Caco-2/15 cells with CFTR knockout (CFTR
-/-
) engineered by the zinc finger nuclease technique. Experiments were performed under basal conditions and after the addition of the pro-oxidant iron-ascorbate (Fe/Asc) complex. Results. Mitochondria of intestinal cells with CFTR
-/-
, spontaneously showed an altered redox homeostasis characterised by a significant decrease in the expression of PPARα and nuclear factor like 2. Consistent with these observations, 8-oxoguanine-DNA glycosylase, responsible for repair of ROS-induced DNA lesion, was weakly expressed in CFTR
-/-
cells. Moreover, disturbed fatty acid β-oxidation process was evidenced by the reduced expression of CPT1 and acyl-CoA dehydrogenase long-chain in CFTR
-/-
cells. The decline of mitochondrial cytochrome c and B-cell lymphoma 2 expression pointing to magnified apoptosis. Mitochondrial respiration was also affected as demonstrated by the low expression of respiratory oxidative phosphorylation (OXPHOS) complexes and a high adenosine diphosphate/adenosine triphosphate ratio. In contrast, the FAS and ACC enzymes were markedly increased, thereby indicating lipogenesis stimulation. This was associated with an augmented secretion of lipids, lipoproteins and apolipoproteins in CFTR
-/-
cells. The addition of Fe/Asc worsened while butylated hydroxy toluene partially improved these processes. Conclusions: CFTR silencing results in lipid homeostasis disruption and mitochondrial dysfunction in intestinal epithelial cells. Further investigation is needed to elucidate the mechanisms underlying the marked abnormalities in response to CFTR deletion.
View Full-Text
►

▼

Figures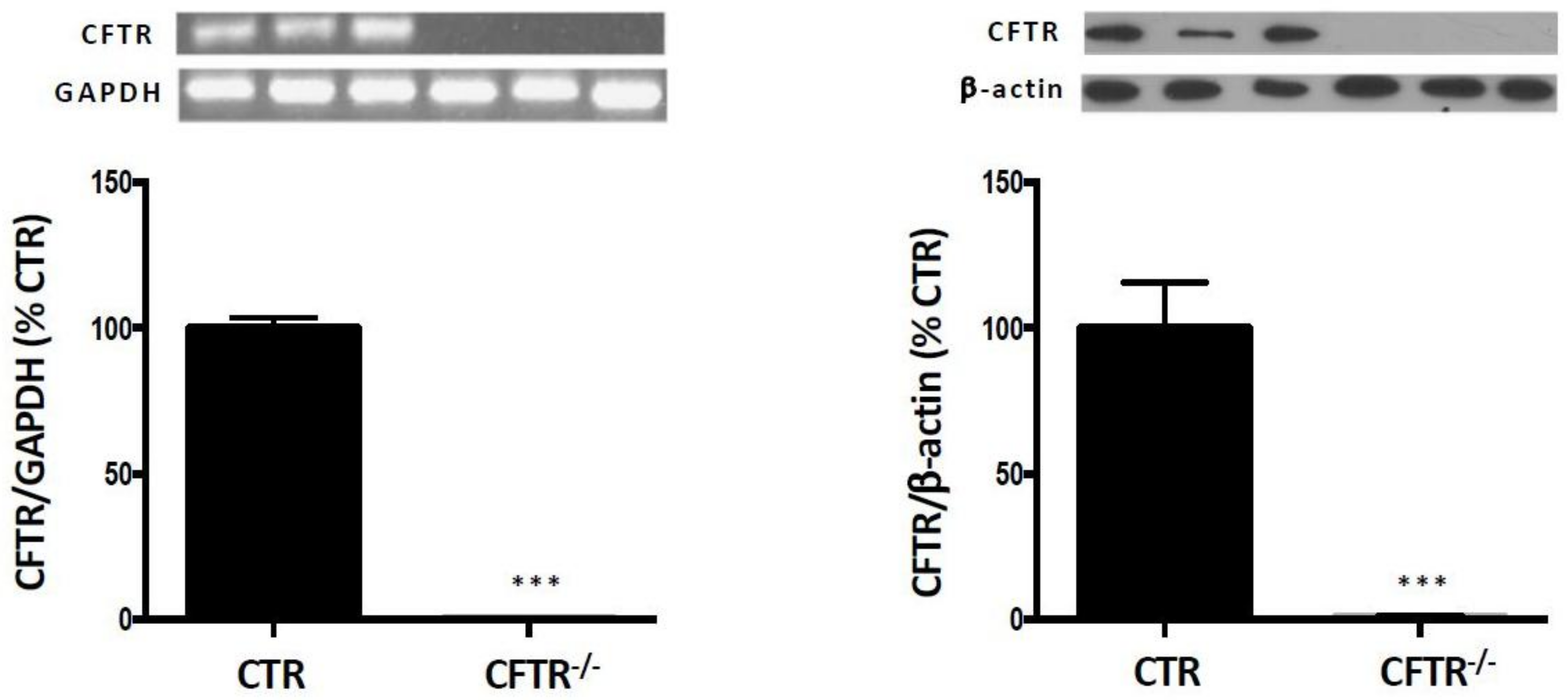 Figure 1
This is an open access article distributed under the
Creative Commons Attribution License
which permits unrestricted use, distribution, and reproduction in any medium, provided the original work is properly cited (CC BY 4.0).

Share & Cite This Article
MDPI and ACS Style
Kleme, M.L.; Sané, A.; Garofalo, C.; Seidman, E.; Brochiero, E.; Berthiaume, Y.; Levy, E. CFTR Deletion Confers Mitochondrial Dysfunction and Disrupts Lipid Homeostasis in Intestinal Epithelial Cells. Nutrients 2018, 10, 836.
Note that from the first issue of 2016, MDPI journals use article numbers instead of page numbers. See further details here.
Related Articles
Comments
[Return to top]