Antiobesity Effects of Ginsenoside Rg1 on 3T3-L1 Preadipocytes and High Fat Diet-Induced Obese Mice Mediated by AMPK
1
College of Life Science, Jilin Agricultural University, Changchun, Jilin 130118, China
2
National Engineering Laboratory for Wheat and Corn Deep Processing, Changchun, Jilin 130118, China
3
College of Food Science and Engineering, Jilin Agricultural University, Changchun, Jilin 130118, China
4
Chinese Medicine Science Academy of Jilin Province, Changchun, Jilin 130118, China
*
Author to whom correspondence should be addressed.
Received: 16 May 2018 / Revised: 7 June 2018 / Accepted: 21 June 2018 / Published: 27 June 2018
Abstract
Ginsenosides Rg1 is one of the major pharmacologically active saponins in ginseng, which as an antioxidant reduces oxidative damage in the liver and can also be used to prevent cardiovascular diseases and diabetes. However, there is no research targeting the effect of lipid metabolism in high-fat diet (HFD)-induced mice. In this study, we evaluated the anti-obesity effects of Rg1 in 3T3-L1 adipocyte cells and HFD-induced obese C57BL/6J mice. Administration of Rg1 to HFD-induced obese mice significantly decreased body weight, total cholesterol, and total triglyceride levels. In addition to effects in 3T3-L1 cells, Rg1 reduced the accumulation of lipid droplets in a dose-dependent manner. Furthermore, Rg1 exhibits an anti-adipogenic effect via regulation of the expression of the transcriptional factors and lipid metabolism-related genes in vivo and in vitro. We observed that Rg1 administration significantly increased the phosphorylation level of AMP-activated protein kinase (AMPK) in both epididymal white adipose tissue and 3T3-L1 cells. These results indicated that Rg1 works both in an anti-adipogenic and anti-obesity manner through inducing AMPK activation, inhibiting lipogenesis, and decreasing intracellular lipid content, adipocyte size, and adipose weight.
View Full-Text
►

▼

Figures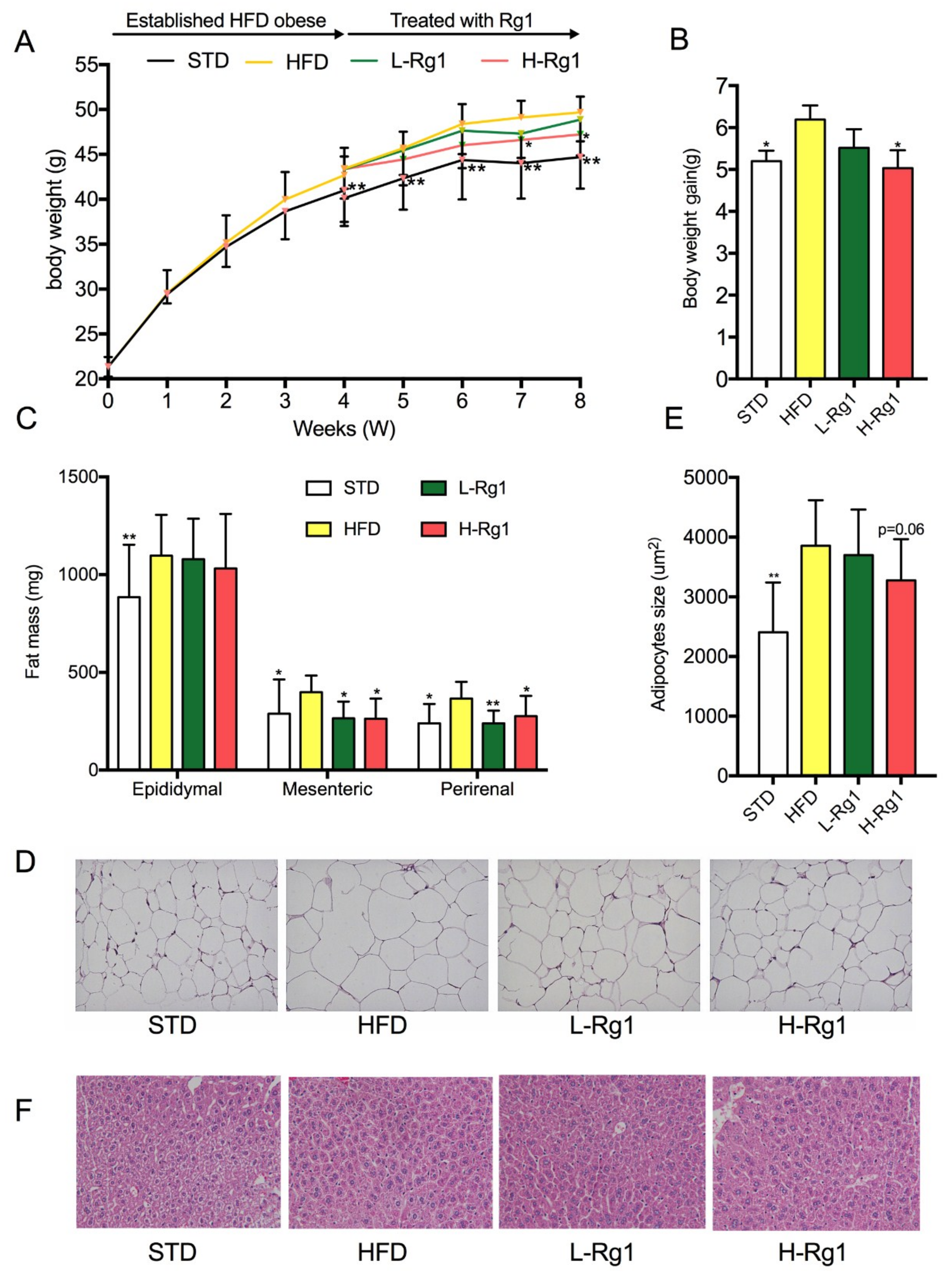 Figure 1
This is an open access article distributed under the
Creative Commons Attribution License
which permits unrestricted use, distribution, and reproduction in any medium, provided the original work is properly cited (CC BY 4.0).

Share & Cite This Article
MDPI and ACS Style
Liu, H.; Wang, J.; Liu, M.; Zhao, H.; Yaqoob, S.; Zheng, M.; Cai, D.; Liu, J. Antiobesity Effects of Ginsenoside Rg1 on 3T3-L1 Preadipocytes and High Fat Diet-Induced Obese Mice Mediated by AMPK. Nutrients 2018, 10, 830.
Note that from the first issue of 2016, MDPI journals use article numbers instead of page numbers. See further details here.
Related Articles
Comments
[Return to top]