Effects of Glutamine and Alanine Supplementation on Central Fatigue Markers in Rats Submitted to Resistance Training
1
Department of Food and Experimental Nutrition, Faculty of Pharmaceutical Sciences, University of São Paulo, Avenida Professor Lineu Prestes 580, São Paulo SP 05508-000, Brazil
2
Department of Nutrition, Faculty of Public Health, University of São Paulo, Avenida Doutor Arnaldo 715, São Paulo SP 01246-904, Brazil
3
Faculty of Nutrition, Federal University of Mato Grosso, Avenida Fernando Correa 2367, Cuiabá MT 78060-900, Brazil
*
Authors to whom correspondence should be addressed.
Received: 22 December 2017 / Revised: 19 January 2018 / Accepted: 23 January 2018 / Published: 25 January 2018
Abstract
Recent evidence suggests that increased brain serotonin synthesis impairs performance in high-intensity intermittent exercise and specific amino acids may modulate this condition, delaying fatigue. This study investigated the effects of glutamine and alanine supplementation on central fatigue markers in rats submitted to resistance training (RT). Wistar rats were distributed in: sedentary (SED), trained (CON), trained and supplemented with alanine (ALA), glutamine and alanine in their free form (G + A), or as dipeptide (DIP). Trained groups underwent a ladder-climbing exercise for eight weeks, with progressive loads. In the last 21 days, supplementations were offered in water with a 4% concentration. Albeit without statistically significance difference, RT decreased liver glycogen, and enhanced the concentrations of plasma glucose, free fatty acids (FFA), hypothalamic serotonin, and ammonia in muscle and the liver. Amino acids affected fatigue parameters depending on the supplementation form. G + A prevented the muscle ammonia increase by RT, whereas ALA and DIP augmented ammonia and glycogen concentrations in muscle. DIP also increased liver ammonia. ALA and G + A reduced plasma FFA, whereas DIP increased this parameter, free tryptophan/total tryptophan ratio, hypothalamic serotonin, and the serotonin/dopamine ratio. The supplementations did not affect physical performance. In conclusion, glutamine and alanine may improve or impair central fatigue markers depending on their supplementation form.
View Full-Text
►

▼

Figures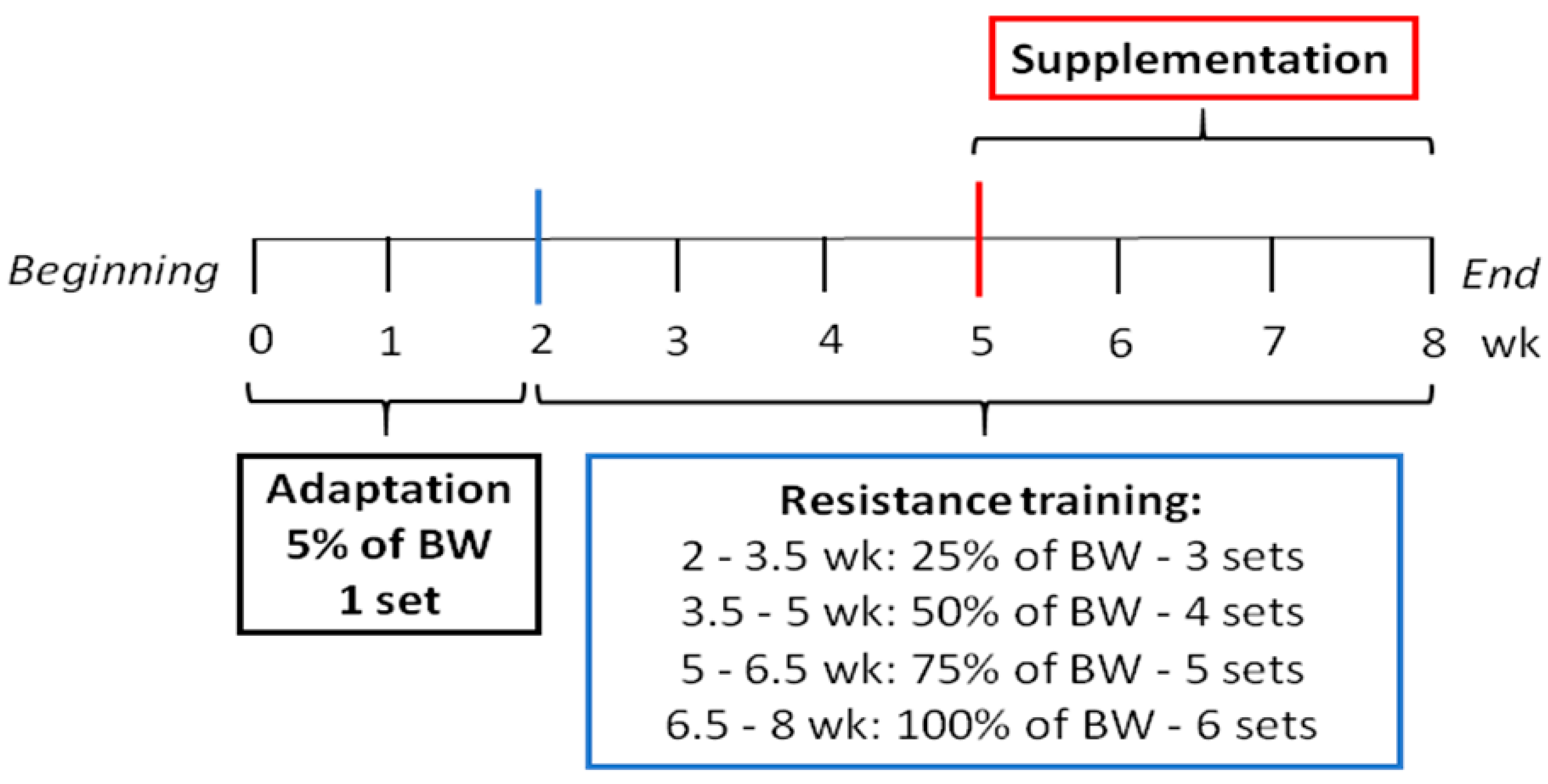 Figure 1
This is an open access article distributed under the
Creative Commons Attribution License
which permits unrestricted use, distribution, and reproduction in any medium, provided the original work is properly cited (CC BY 4.0).

Share & Cite This Article
MDPI and ACS Style
Coqueiro, A.Y.; Raizel, R.; Bonvini, A.; Hypólito, T.; Godois, A.D.M.; Pereira, J.R.R.; Garcia, A.B.O.; Lara, R.D.S.B.; Rogero, M.M.; Tirapegui, J. Effects of Glutamine and Alanine Supplementation on Central Fatigue Markers in Rats Submitted to Resistance Training. Nutrients 2018, 10, 119.
Note that from the first issue of 2016, MDPI journals use article numbers instead of page numbers. See further details here.
Related Articles
Comments
[Return to top]