Creating a Regional MODIS Satellite-Driven Net Primary Production Dataset for European Forests
1
Institute of Silviculture, Department of Forest and Soil Sciences, University of Natural Resources and Life Sciences, Vienna 1190, Austria
2
Centre for Wood Science, World Forestry, University of Hamburg, Hamburg 21031, Germany
3
Department of Forest Sciences, University of Helsinki, Helsinki 00014, Finland
4
Finnish Forest Research Institute, Joensuu 80101, Finland
5
Department of Bioscience and Territory, University of Molise, 86090 Pesche (IS), Italy
6
geoLAB—Laboratory of Forest Geomatics, Department of Agricultural, Food and Forestry Systems, Università degli Studi di Firenze, Firenze 50145, Italy
7
Facuty of Forestry, Universitatea Stefan del Mare, Suceava 720229, Romania
8
Tartu Observatory, Tõravere 61602, Estonia
9
Division Forest, Nature and Landscape, Department of Earth and Environmental Sciences, KU Leuven—University of Leuven, Leuven 3001, Belgium
10
Technological Institute, Furniture, Environment, Economy, Primary Processing and Supply, Champs sur Marne 77420, France
11
Laboratory of Dendrometry and Forest Productivity, Faculty of Forestry, Warsaw University of Life Sciences, Warsaw 02-776, Poland
12
Faculty of Forestry and Wood Sciences, Czech University of Life Sciences, Prague 16521, Czech Republic
13
Departamento de Selvicultura y Gestión de los Sistemas Forestales, INIA-CIFOR, Madrid 28040, Spain
14
Norwegian Institute for Bioeconomy Research, Ås 1431, Norway
15
Forest Ecology and Forest Management Group, Wageningen University, Wageningen 6700, The Netherlands
16
Department of Geographical Sciences, University of Maryland, Collage Park, MD 20742, USA
*
Author to whom correspondence should be addressed.
Academic Editors: Lars T. Waser and Prasad S. Thenkabail
Received: 5 April 2016 / Revised: 21 June 2016 / Accepted: 25 June 2016 / Published: 29 June 2016
Abstract
Net primary production (NPP) is an important ecological metric for studying forest ecosystems and their carbon sequestration, for assessing the potential supply of food or timber and quantifying the impacts of climate change on ecosystems. The global MODIS NPP dataset using the MOD17 algorithm provides valuable information for monitoring NPP at 1-km resolution. Since coarse-resolution global climate data are used, the global dataset may contain uncertainties for Europe. We used a 1-km daily gridded European climate data set with the MOD17 algorithm to create the regional NPP dataset MODIS EURO. For evaluation of this new dataset, we compare MODIS EURO with terrestrial driven NPP from analyzing and harmonizing forest inventory data (NFI) from 196,434 plots in 12 European countries as well as the global MODIS NPP dataset for the years 2000 to 2012. Comparing these three NPP datasets, we found that the global MODIS NPP dataset differs from NFI NPP by 26%, while MODIS EURO only differs by 7%. MODIS EURO also agrees with NFI NPP across scales (from continental, regional to country) and gradients (elevation, location, tree age, dominant species, etc.). The agreement is particularly good for elevation, dominant species or tree height. This suggests that using improved climate data allows the MOD17 algorithm to provide realistic NPP estimates for Europe. Local discrepancies between MODIS EURO and NFI NPP can be related to differences in stand density due to forest management and the national carbon estimation methods. With this study, we provide a consistent, temporally continuous and spatially explicit productivity dataset for the years 2000 to 2012 on a 1-km resolution, which can be used to assess climate change impacts on ecosystems or the potential biomass supply of the European forests for an increasing bio-based economy. MODIS EURO data are made freely available at
ftp://palantir.boku.ac.at/Public/MODIS_EURO
.
View Full-Text
►

▼

Figures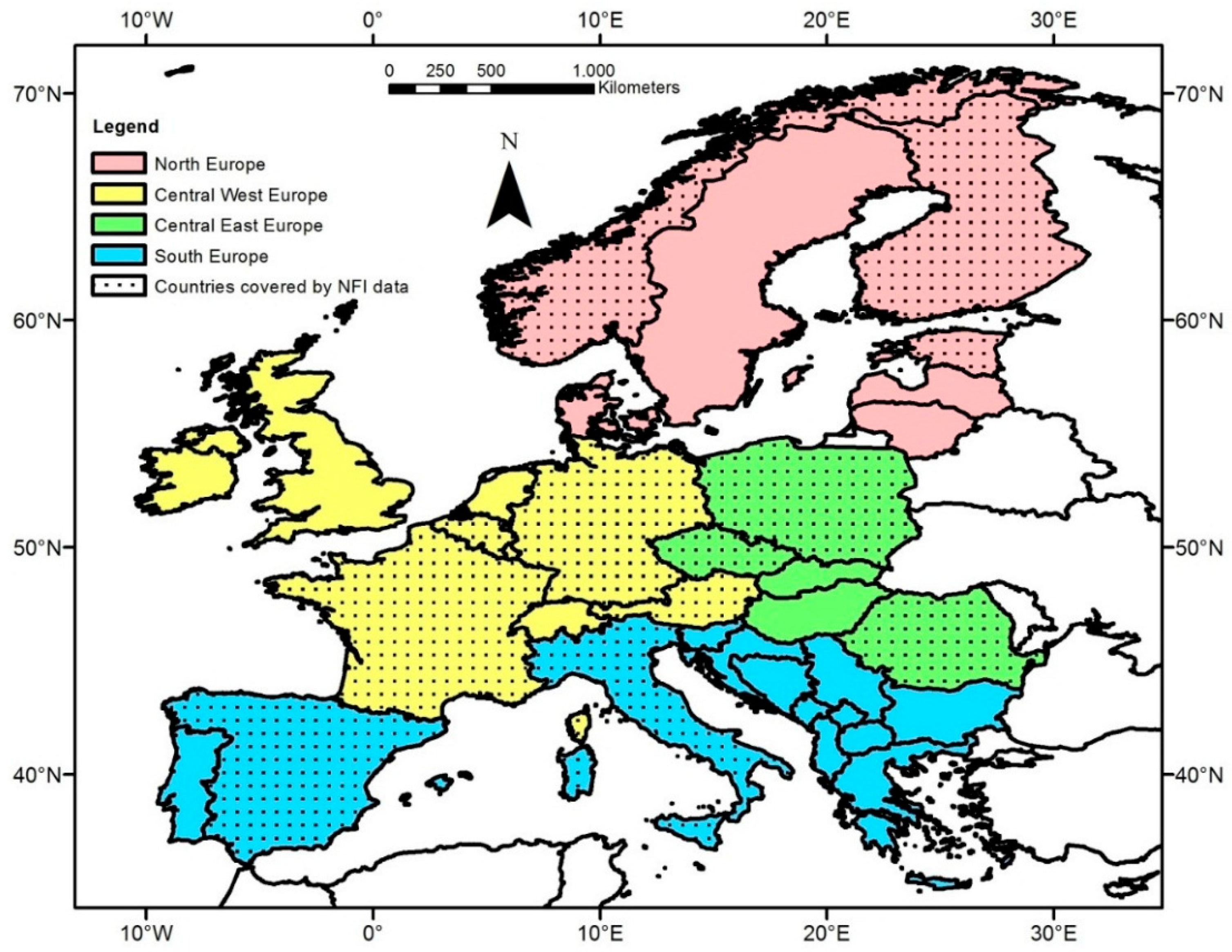 Figure 1
This is an open access article distributed under the
Creative Commons Attribution License
which permits unrestricted use, distribution, and reproduction in any medium, provided the original work is properly cited (CC BY 4.0).

Share & Cite This Article
MDPI and ACS Style
Neumann, M.; Moreno, A.; Thurnher, C.; Mues, V.; Härkönen, S.; Mura, M.; Bouriaud, O.; Lang, M.; Cardellini, G.; Thivolle-Cazat, A.; Bronisz, K.; Merganic, J.; Alberdi, I.; Astrup, R.; Mohren, F.; Zhao, M.; Hasenauer, H. Creating a Regional MODIS Satellite-Driven Net Primary Production Dataset for European Forests. Remote Sens. 2016, 8, 554.
Note that from the first issue of 2016, MDPI journals use article numbers instead of page numbers. See further details here.
Related Articles
Comments
[Return to top]