Comparison of Medium Spatial Resolution ENVISAT-MERIS and Terra-MODIS Time Series for Vegetation Decline Analysis: A Case Study in Central Asia
1
Center for Remote Sensing of Land Surfaces (ZFL), University of Bonn, Walter-Flex Str. 3, Bonn 53113, Germany
2
Institute of Crop Science and Resource Conservation (INRES), University of Bonn, Katzenburgweg 5, Bonn 53115, Germany
3
Center for Development Research (ZEF), University of Bonn, Walter-Flex Str. 3, Bonn 53113, Germany
4
Remote Sensing Research Group, Department of Geography, University of Bonn, Meckenheimer Allee 166, Bonn 53115, Germany
*
Author to whom correspondence should be addressed.
Received: 2 October 2013 / Revised: 30 May 2014 / Accepted: 30 May 2014 / Published: 6 June 2014
Abstract
Accurate monitoring of land surface dynamics using remote sensing is essential for the synoptic assessment of environmental change. We assessed a Medium Resolution Imaging Spectrometer (MERIS) full resolution dataset for vegetation monitoring as an alternative to the more commonly used Moderate-Resolution Imaging Spectroradiometer (MODIS) data. Time series of vegetation indices calculated from 300 m resolution MERIS and 250 m resolution MODIS datasets were analyzed to monitor vegetation productivity trends in the irrigated lowlands in Northern Uzbekistan for the period 2003–2011. Mann-Kendall trend analysis was conducted using the time series of Normalized Differenced Vegetation Index (NDVI), Soil-Adjusted Vegetation Index (SAVI), and MERIS-based Terrestrial Chlorophyll Index (MTCI) to detect trends and examine the capabilities of each sensor and index. The methodology consisted of (1) preprocessing of the original imagery; (2) processing and statistical analysis of the corresponding time series datasets; and (3) comparison of the resulting trends. Results confirmed the occurrence of widespread vegetation productivity decline, ranging from 5.5% (MERIS-MTCI) to 21% (MODIS-NDVI) of the total irrigated cropland in the study area. All indices identified the same spatial patterns of decreasing vegetation. Average vegetation index values of NDVI and SAVI were slightly higher when measured by MERIS than by MODIS. These differences merit further investigation to allow a fusion of these datasets for consistent monitoring of cropland productivity decline at scales suitable for guiding operational land management practices.
View Full-Text
►

▼

Figures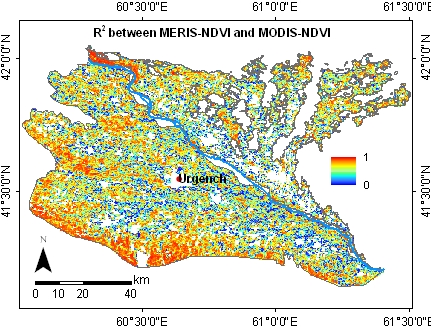 Graphical abstract

Share & Cite This Article
MDPI and ACS Style
Tüshaus, J.; Dubovyk, O.; Khamzina, A.; Menz, G. Comparison of Medium Spatial Resolution ENVISAT-MERIS and Terra-MODIS Time Series for Vegetation Decline Analysis: A Case Study in Central Asia. Remote Sens. 2014, 6, 5238-5256.
Related Articles
Comments
[Return to top]