Beyond Site Detection: The Role of Satellite Remote Sensing in Analysing Archaeological Problems. A Case Study in Lithic Resource Procurement in the Atacama Desert, Northern Chile
1
Programa de Doctorado en Antropología UCN-UTA, Universidad Católica del Norte, Calle R.P. Gustavo Le Paige 380, San Pedro de Atacama, 1410000 Antofagasta, Chile. CONICYT-PCHA/Doctorado Nacional/2015-21150953. FONDECYT 1151203
2
Instituto de Ciencias del Patrimonio (Incipit), Consejo Superior de Investigaciones Científicas (CSIC), Av. de Vigo, 15705 Santiago de Compostela, Spain
3
Earth Sciences Department, University of Memphis, Memphis, 109 Johnson Hall, Memphis, TN 38152, USA
4
Departamento de Antropología, Facultad de Ciencias Sociales, Universidad de Chile, Ignacio Carrera Pinto 1045, Núñoa, 7800284 Santiago, Chile. FONDECYT 1151203
5
Centro de Estudios Avanzados en Zonas Áridas (CEAZA), Ossandón 877, 1781681 Coquimbo, Chile. FONDECYT 3170913, 1151203
6
Programa de Doctorado en Antropología UCN-UTA, Universidad Católica del Norte, Calle R.P. Gustavo Le Paige 380, San Pedro de Atacama, 1410000 Antofagasta, Chile. FONDECYT 1151203
7
Carrera de Antropología, Universidad de Concepción, Víctor Lamas 1290, 4070386 Concepción, Chile. FONDECYT 1151203
*
Author to whom correspondence should be addressed.
Received: 28 February 2019 / Revised: 2 April 2019 / Accepted: 5 April 2019 / Published: 10 April 2019
Abstract
Remote sensing archaeology in recent years has emphasized the use of high-precision and high-accuracy tools to achieve the detailed documentation of archaeological elements (drones, LIDAR, etc.). Satellite remote sensing has also benefited from an increase in the spatial and spectral resolution of the sensors, which is enabling the discovery and documentation of new archaeological features and sites worldwide. While there can be no doubt that a great deal is being gained via such "site detection" approaches, there still remains the possibility of further exploring remote sensing methods to analyse archaeological problems. In this paper, this issue is discussed by focusing on one common archaeological topic: the mapping of environmental resources used in the past and, in particular, the procurement of lithic raw material by hunter-gatherer groups. This is illustrated by showing how the combined use of Landsat 8 images and "ground-truthing" via focused field studies has allowed the identification of a number of potential chert sources, the major lithic resource used by coastal groups between 11,500–1,500 cal. BP, in a vast area of the Atacama Desert covering 22,500 km
2
. Besides discussing the case study, the strength of remote sensing techniques in addressing archaeological questions comprising large spatial scales is highlighted, stressing the key role they can play in the detection and study of specific environmental resources within challenging physical settings.
View Full-Text
►

▼

Figures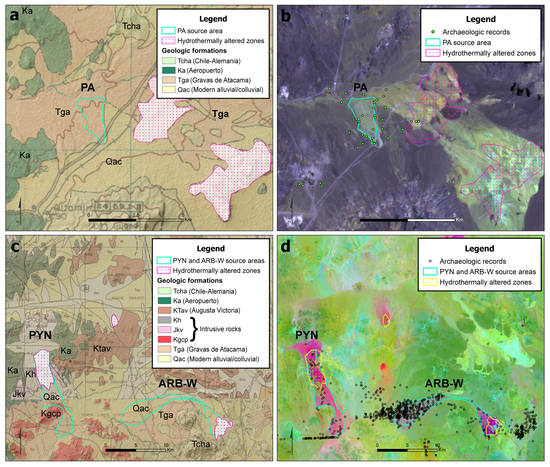 Graphical abstract
This is an open access article distributed under the
Creative Commons Attribution License
which permits unrestricted use, distribution, and reproduction in any medium, provided the original work is properly cited (CC BY 4.0).

Share & Cite This Article
MDPI and ACS Style
Borie, C.; Parcero-Oubiña, C.; Kwon, Y.; Salazar, D.; Flores, C.; Olguín, L.; Andrade, P. Beyond Site Detection: The Role of Satellite Remote Sensing in Analysing Archaeological Problems. A Case Study in Lithic Resource Procurement in the Atacama Desert, Northern Chile. Remote Sens. 2019, 11, 869.
Note that from the first issue of 2016, MDPI journals use article numbers instead of page numbers. See further details here.
Related Articles
Comments
[Return to top]