Mapping Cropping Practices on a National Scale Using Intra-Annual Landsat Time Series Binning
1
Geomatics Lab, Humboldt-Universität zu Berlin, Unter den Linden 6, 10117 Berlin, Germany
2
Integrative Research Institute on Transformation of Human-Environment Systems, Humboldt-Universität zu Berlin, Unter den Linden 6, 10117 Berlin, Germany
3
Earth Observation, Science, Applications & Climate Department, European Space Agency, Largo Galileo Galilei 1, 00044 Frascati (Roma), Italy
4
Department of Forest and Wildlife Ecology, University of Wisconsin, 1630 Linden Drive, Madison, WI 53726, USA
*
Author to whom correspondence should be addressed.
Received: 21 December 2018 / Revised: 17 January 2019 / Accepted: 17 January 2019 / Published: 23 January 2019
Abstract
Spatially explicit information on cropland use intensity is vital for monitoring land and water resource demands in agricultural systems. Cropping practices underlie substantial spatial and temporal variability, which can be captured through the analysis of image time series. Temporal binning helps to overcome limitations concerning operability and repeatability for mapping large areas and can improve the thematic detail and consistency of maps in agricultural systems. We here assessed the use of annual, quarterly, and eight-day temporal features for mapping five cropping practices on annual croplands across Turkey. We used 2403 atmospherically corrected and topographically normalized Landsat Collection 1 L1TP images of 2015 to compute quarterly best-pixel composites, quarterly and annual spectral-temporal metrics, as well as gap-filled eight-day time series of Tasseled Cap components. We tested 22 feature sets for binary cropland mapping, and subsequent discrimination of five cropping practices: Spring and winter cropping, summer cropping, semi-aquatic cropping, double cropping, and greenhouse cultivation. We evaluated area-adjusted accuracies and compared cropland area estimates at the province-level with official statistics. We achieved overall accuracies above 90%, when using either all quarterly features or the eight-day Tasseled Cap time series, indicating that temporal binning of intra-annual image time-series into multiple temporal features improves representations of cropping practices. Class accuracies of winter and spring, summer, and double cropping were robust, while omission errors for semi-aquatic cropping and greenhouse cultivation were high. Our mapped cropland extent was in good agreement with province-level statistics (r
2
= 0.85, RMSE = 7.2%). Our results indicate that 71.3% (±2.3%) of Turkey's annual croplands were cultivated during winter and spring, 15.8% (±2.2%) during summer, while 8.5% (±1.6%) were double-cropped, 4% (±1.9%) were cultivated under semi-aquatic conditions, and 0.32% (±0.2%) was greenhouse cultivation. Our study presents an open and readily available framework for detailed cropland mapping over large areas, which bears the potential to inform assessments of land use intensity, as well as land and water resource demands.
View Full-Text
►

▼

Figures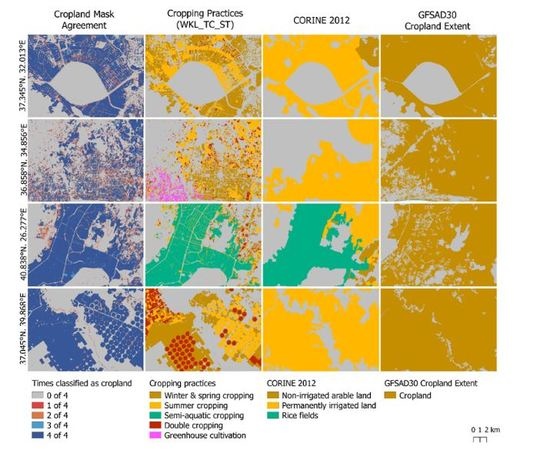 Graphical abstract
This is an open access article distributed under the
Creative Commons Attribution License
which permits unrestricted use, distribution, and reproduction in any medium, provided the original work is properly cited (CC BY 4.0).

Share & Cite This Article
MDPI and ACS Style
Rufin, P.; Frantz, D.; Ernst, S.; Rabe, A.; Griffiths, P.; Özdoğan, M.; Hostert, P. Mapping Cropping Practices on a National Scale Using Intra-Annual Landsat Time Series Binning. Remote Sens. 2019, 11, 232.
Note that from the first issue of 2016, MDPI journals use article numbers instead of page numbers. See further details here.
Related Articles
Comments
[Return to top]