Open Access This article is
freely available
re-usable
Article
Multi-Hazard Exposure Mapping Using Machine Learning Techniques: A Case Study from Iran
1
Geographic Information Science Research Group, Ton Duc Thang University, Ho Chi Minh 758307, Viet Nam
2
Faculty of Environment and Labour Safety, Ton Duc Thang University, Ho Chi Minh 758307, Viet Nam
3
Soil Conservation and Water Management Research Department, Chaharmahal and Bakhtiari Agricultural and Natural Resources Research and Education Center, AREEO, Shahrekord 8814843114, Iran
4
Department of Physical Geography and Bolin Centre for Climate Research, Stockholm University, SE-106 91 Stockholm, Sweden
5
Department of Geography, University of Tartu, Vanemuise St. 46, 51003 Tartu, Estonia
6
NIWA, Gate 10 Silverdale Road, Hillcrest, Hamilton 3216, New Zealand
7
Faculty of Natural Resources, University of Tehran, Karaj 31587-77871, Iran
8
Soil Physics and Land Management Group, Wageningen University, Droevendaalsesteeg 4, 6708 PB Wageningen, The Netherlands
9
Center for Agricultural Research and Ecological Studies (CARES), Vietnam National University of Agriculture (VNUA), Trau Quy, Gia Lam, Hanoi 100000, Vietnam
10
Institute of Research and Development, Duy Tan University, Da Nang 550000, Viet Nam
*
Author to whom correspondence should be addressed.
Received: 11 July 2019 / Accepted: 14 August 2019 / Published: 20 August 2019
Abstract
:
Mountainous areas are highly prone to a variety of nature-triggered disasters, which often cause disabling harm, death, destruction, and damage. In this work, an attempt was made to develop an accurate multi-hazard exposure map for a mountainous area (Asara watershed, Iran), based on state-of-the art machine learning techniques. Hazard modeling for avalanches, rockfalls, and floods was performed using three state-of-the-art models—support vector machine (SVM), boosted regression tree (BRT), and generalized additive model (GAM). Topo-hydrological and geo-environmental factors were used as predictors in the models. A flood dataset (n = 133 flood events) was applied, which had been prepared using Sentinel-1-based processing and ground-based information. In addition, snow avalanche (n = 58) and rockfall (n = 101) data sets were used. The data set of each hazard type was randomly divided to two groups: Training (70%) and validation (30%). Model performance was evaluated by the true skill score (TSS) and the area under receiver operating characteristic curve (AUC) criteria. Using an exposure map, the multi-hazard map was converted into a multi-hazard exposure map. According to both validation methods, the SVM model showed the highest accuracy for avalanches (AUC = 92.4%, TSS = 0.72) and rockfalls (AUC = 93.7%, TSS = 0.81), while BRT demonstrated the best performance for flood hazards (AUC = 94.2%, TSS = 0.80). Overall, multi-hazard exposure modeling revealed that valleys and areas close to the Chalous Road, one of the most important roads in Iran, were associated with high and very high levels of risk. The proposed multi-hazard exposure framework can be helpful in supporting decision making on mountain social-ecological systems facing multiple hazards.
Keywords:
natural disasters; Sentinel-1; hazard; artificial intelligence; Asara watershed
1. Introduction
Specific objectives of the study were to: (1) Produce an exposure map based on proximity to residential areas, main roads, rural roads, and power transmission lines; (2) apply three advanced machine learning models including BRT (Boosted Regression Trees), GAM (Generalized Additive Model), and SVM (Support Vector Machine) to produce a multi-hazard map (avalanche, flood, and rockfall hazards); (3) evaluate the performance of each model using threshold-dependent and threshold-independent methods; and (4) produce an integrated multi-hazard exposure map. The intention was for the practical framework of multi-hazard exposure mapping developed in the study to be transferable to other mountainous areas around the world.
2. Study Area
The study area, the Asara watershed, is in Alborz province, which is located in the Alborz mountains of Iran (
Figure 1
). The watershed occupies an area of 1094.9 km
2
, with a range of elevation from 1332 m.a.s.l at the watershed outlet to 4323 m.a.s.l at the headwaters. Mean annual precipitation in the study area is 265 mm, of which 40% falls as snow. Chalous Road, which is one of the most important transfer lines to the north of Iran, passes through the Asara watershed with 79.54 km. Traffic on the road is generally very heavy, especially on the weekends and on state holidays.
In a land use perspective, the watershed is almost entirely covered by rangeland (95%), but it has 46 villages with around 5000 residents and many restaurants (near the main road). However, only 0.33% of the watershed is residential area. In this mountainous watershed, there are markedly high frequencies and magnitudes of natural hazards, but the level of exposure and risk are also increasing due to socio-economic changes such as the increase of population [
50
,
51
]. Some rivers and watercourses in this semiarid region generate flashy stormflows that rapidly peak following brief and intense storms which cause flashy floods in the area. The geological structure and geomorphological characteristics of the study area is considerably complicated which often prone to rockfall and snow avalanche events occurring [
52
].
3. Methodology
In this section, we provide a step-by-step account of our machine learning approach to creating a multi-hazard exposure map for the study watershed, using an exposure map and a multi-hazard map. A flowchart of the methodology is presented in
Figure 2
.
The first step of the study is to record the location of disaster occurrences (snow-avalanches, rockfalls, and floods) over previous years (2010–2018). Next, the hazard susceptibility map of each disaster was created and then they were integrated using a weighted linear combination (WLC) technique (i.e., the same weights were considered for all hazard maps) to produce a multi-hazard map. The accuracy of each hazard map was evaluated using statistical criteria including the area under the receiver operating characteristic curve (AUC) and true skill score (TSS). To prepare a multi-hazard exposure map, an exposure map should be created.
3.1. Multi-Hazard Modelling
3.2. Exposure-Related Factors
Main road network, rural road network, residential areas, and power transmission lines in the study watershed were defined as vulnerable components. The Euclidian distance tool was used to prepare maps of exposure-related factors in the ArcGIS environment. Based on the analytical hierarchy process (AHP) method [
71
], the weight of each factor was determined. In this step, questionnaires were prepared and distributed to ten experts (hydrologists, geologists, etc.) within and outside Iran. In order to assess the consistency of the comparisons, the consistency ratio (CR) should be calculated. A CR value less than 0.1 indicates that comparisons are consistent and acceptable. In addition, a rate (R) was assigned to each class of exposure-related factor, according to the order of their importance and exposure, using an expert knowledge-based method [
71
]. Following Adiat et al. [
1
], R values of 1, 2, 3, 4, and 5 were assigned to classes indicating, respectively, very low, low, medium, high, and very high exposure. These rates were then normalized for use in the spatial analysis of exposure.
3.3. Multi-Hazard Exposure Mapping
In order to generate the final multi-hazard exposure map, avalanche hazard (AH), rockfall hazard (RH), and flood hazard (FH) maps with the highest accuracy from the three machine learning models were selected. Next, a multi-hazard map was produced by combining the most accurate AH, RH, and FH maps (multi-hazard = AH + RH + FH). Finally, the exposure and multi-hazard maps were fed into a risk equation (Risk = Hazard × Exposure) [
71
,
72
] and a multi-hazard exposure map for the Asara watershed was generated.
4. Results
4.2. Exposure Map
Figure 8
represents exposure factors and
Table 4
illustrates the classes of each exposure factor and their normalized rate (NR) values. Results of the AHP based exposure analysis showed that the distance from the residential area (DFRA) is the most important factor, whereas the distance from power transmission lines (DFPTL) had the least importance among exposure-related factors (
Table 5
). It is worth noting that the consistency ratio (CR) was 0.07 in this study. Therefore, it shows that there is a reasonable level of consistency in the pairwise comparison because it is less than 0.1. Based on the maps of exposure-related factors (main roads, rural roads, residential areas, and power transmission lines), the final exposure map was produced (
Figure 9
). It indicates that residential areas and roads are the most important elements in terms of the exposure analysis.
4.3. Multi-Hazard Exposure Map
Figure 10
represents the multi-hazard exposure map in the Asara watershed. Based on the multi-hazard exposure classification (equal interval method), the watershed was classified into five classes: ery low risk, low risk, medium risk, high risk, and very high risk. There is significant spatial variation in multi-hazard exposure. High risk areas cover 1.88% and very high cover 0.08% of the study area, whereas 52.12%, 36.27%, and 9.65% of study watershed were classified as very-low, low, and medium risk areas, respectively.
6. Conclusions
A multi-hazard exposure study was conducted based on three natural disasters (avalanches, rockfalls, and floods) in a mountainous region in Iran. The SVM, BRT, and GAM models were used to predict disaster prone areas for a very important Iranian watershed with a high level of vehicular traffic. Results indicated that the SVM model had the highest accuracy for avalanches and rockfalls hazards, while BRT demonstrated the best performance for spatially predicting flood hazard. Therefore, the hazard models applied differed in their accuracy of prediction for the different hazards, which should be borne in mind when selecting a model for risk mapping. Furthermore, results revealed that hazard type can affect the ranking of the models. The approach presented and the results obtained could be very useful for multi-risk mapping in mountainous areas around the world. The multi-hazard exposure analysis helps to spatially prioritize the areas of implementation of most cost-efficient engineering and nature-based solution practices in high risk areas. Therefore, it helps the communities to adapt to natural disasters. Further research should be done to investigate the importance of predictive factors in multi-hazard modeling.
Author Contributions
Conceptualization, O.R. and D.T.B.; Data curation, Z.K. and T.T.; Formal analysis, O.R., S.Y., T.T. and T.D.P.; Investigation, S.K.; Methodology, O.R., S.Y., E.U., S.K. and D.T.B.; Resources, Z.K.; Software, S.Y.; Supervision, D.T.B; Writing—original draft, O.R. and E.U.; Writing—review & editing, Z.K., S.K., T.D.P. and D.T.B.
Funding
This research was supported by the GIS Research Group, Ton Duc Thang University, Ho Chi Minh City, Vietnam.
Acknowledgments
We thank the Iranian Department of Water Resources Management (IDWRM), Iranian Department of Geology, the Road Organization of Iran, and Natural Resource Department and Regional Water Company (NRDRWC) for providing data and maps. We greatly appreciate the three anonymous reviewers for their constructive comments that helped us to improve the paper.
Conflicts of Interest
The authors declare no conflict of interest.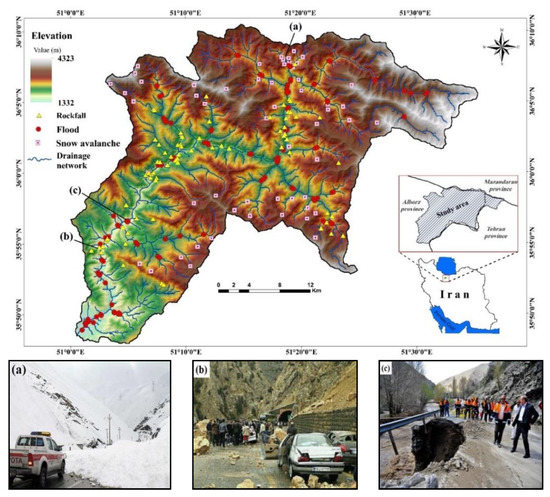 Figure 1. Geographical position of study area and different natural hazard occurrences including flood, snow-avalanche, and rockfall. Field photographs of some natural hazard events occurred in the study area: (a) Snow-avalanche between Kandovan Tunnel and Gachsar, (b) rockfall in the South of Vineh village, and (c) flood in the north of Vineh village.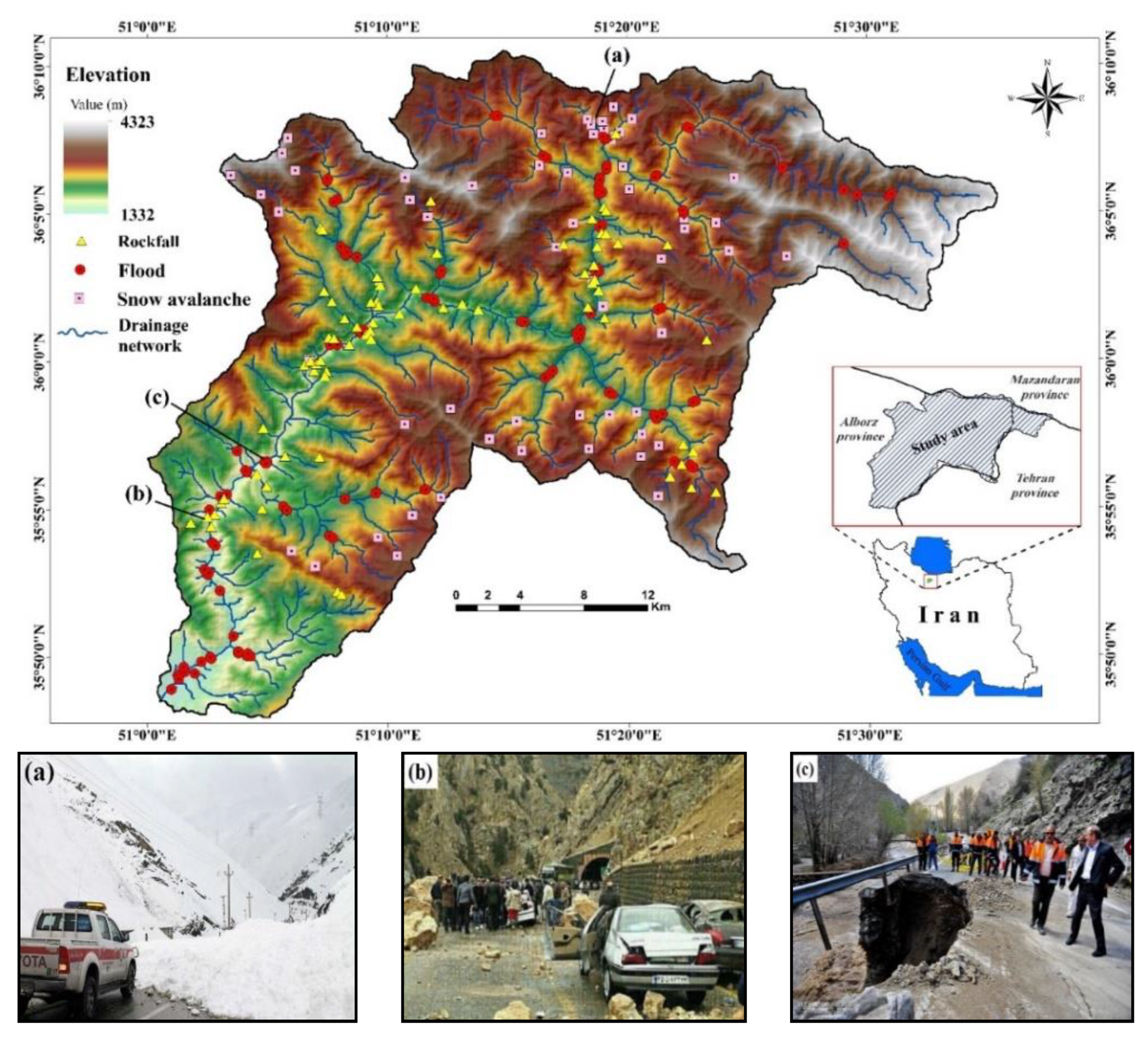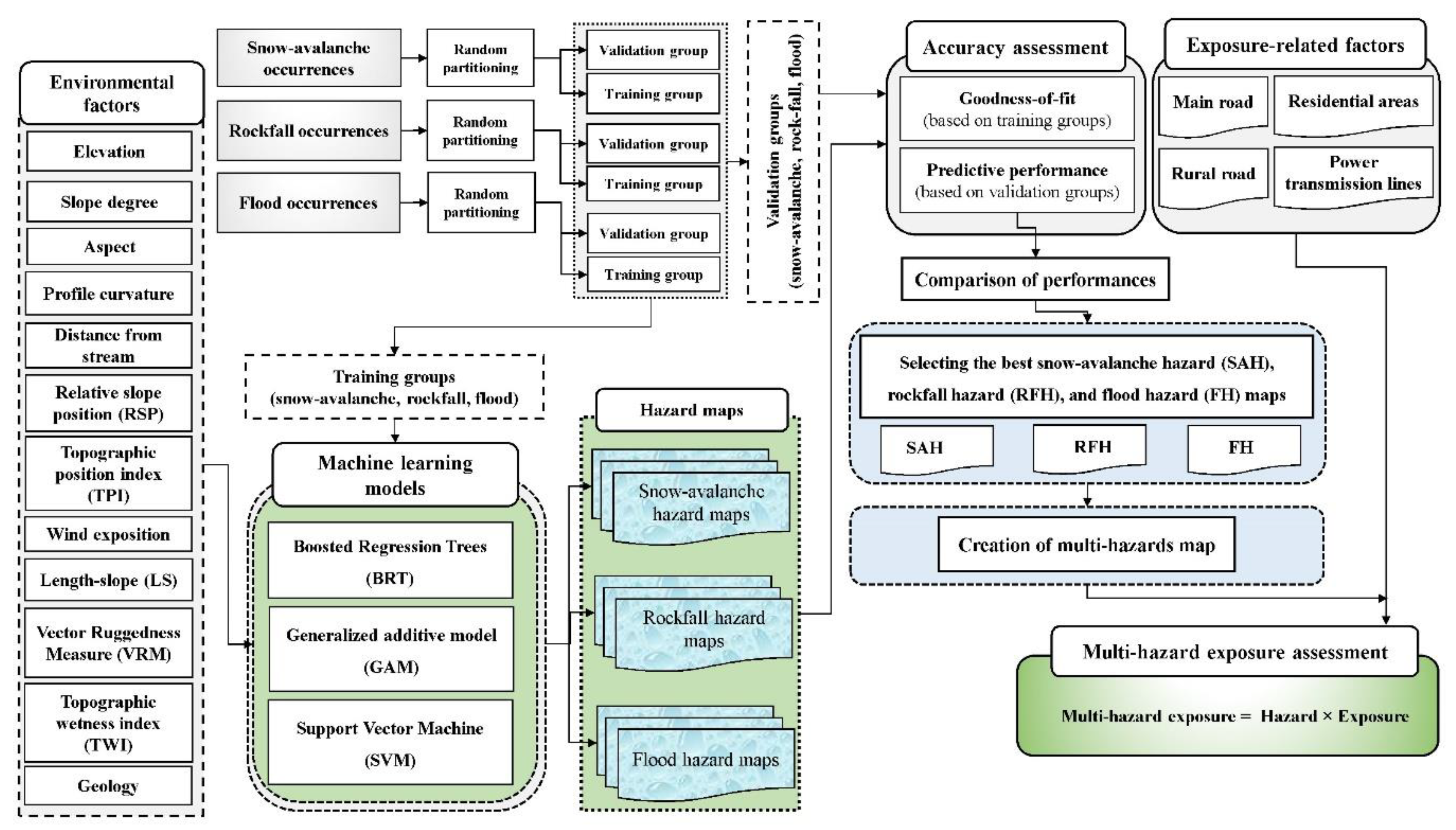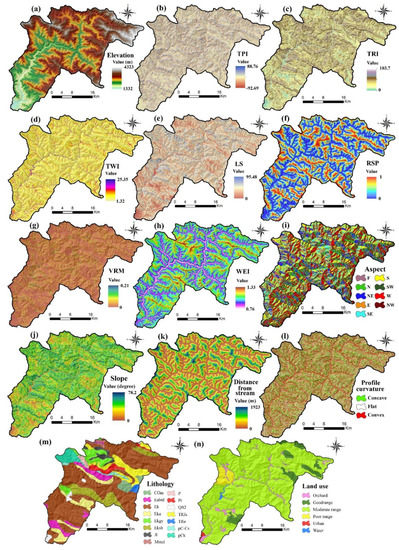 Figure 3. Predictive factors: (a) Elevation, (b) TPI, (c) TRI, (d) TWI, (e) LS, (f) RSP, (g) VRM, (h) WEI, (i) aspect, (j) slope, (k) distance from stream, (l) profile curvature, (m) lithology, and (n) land use.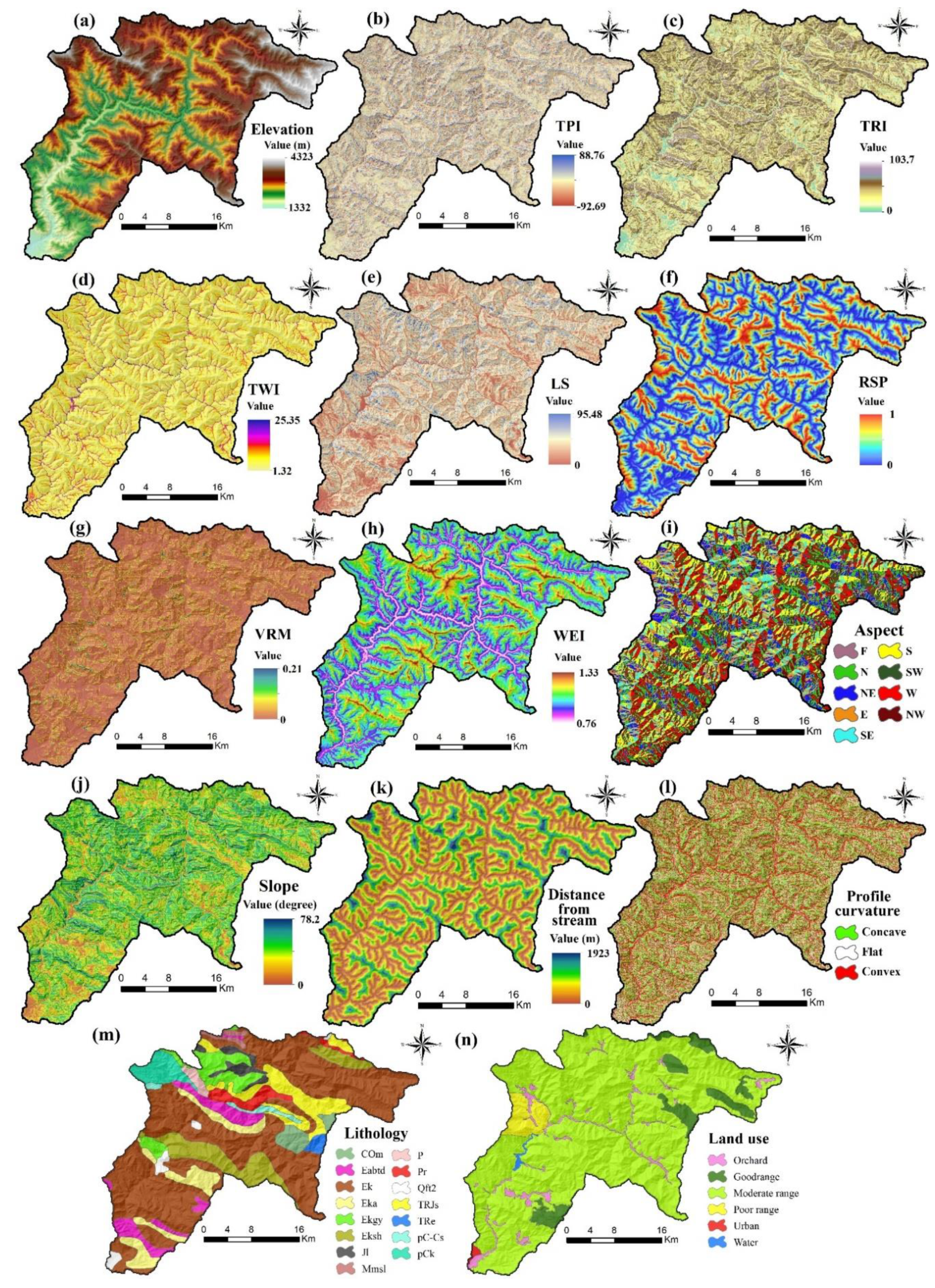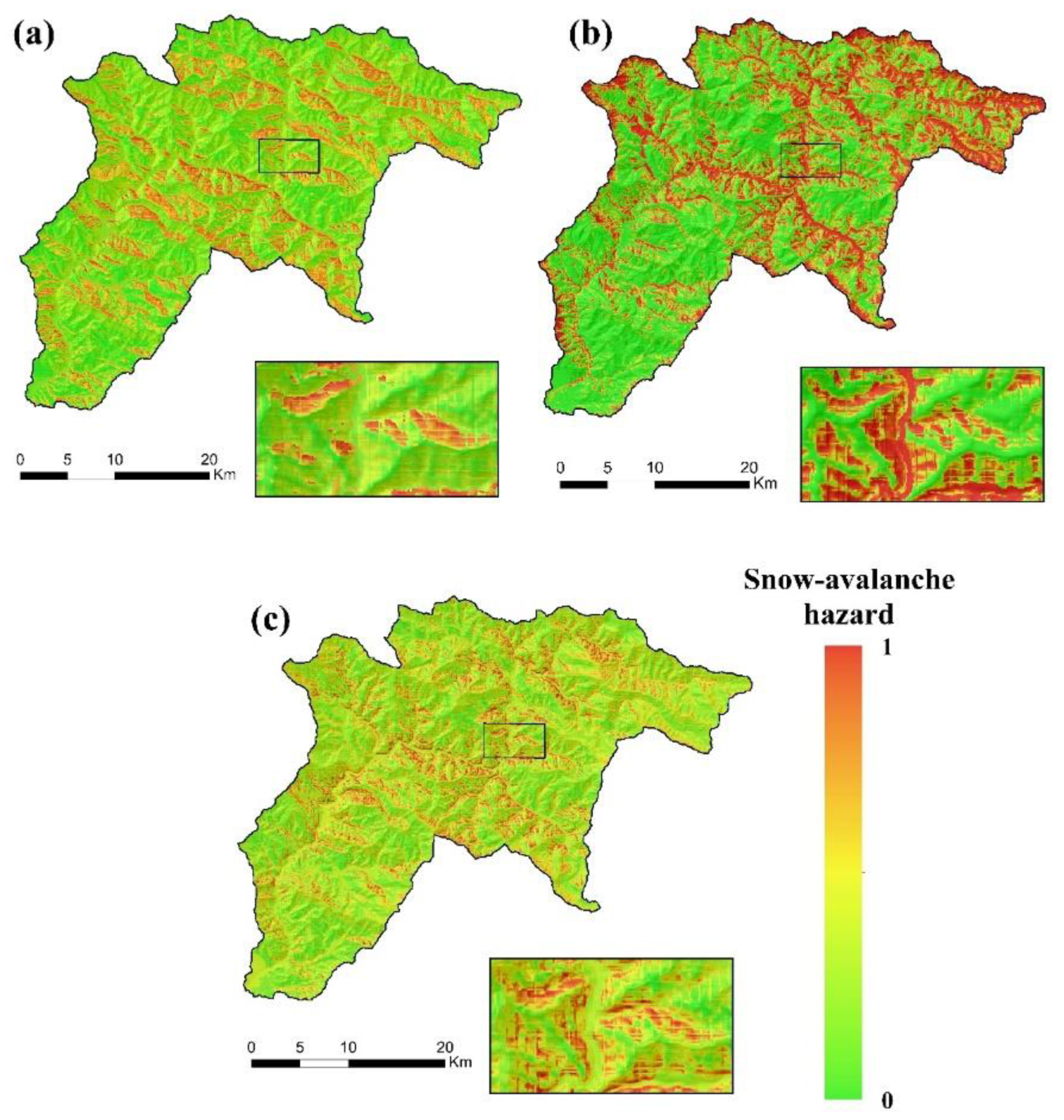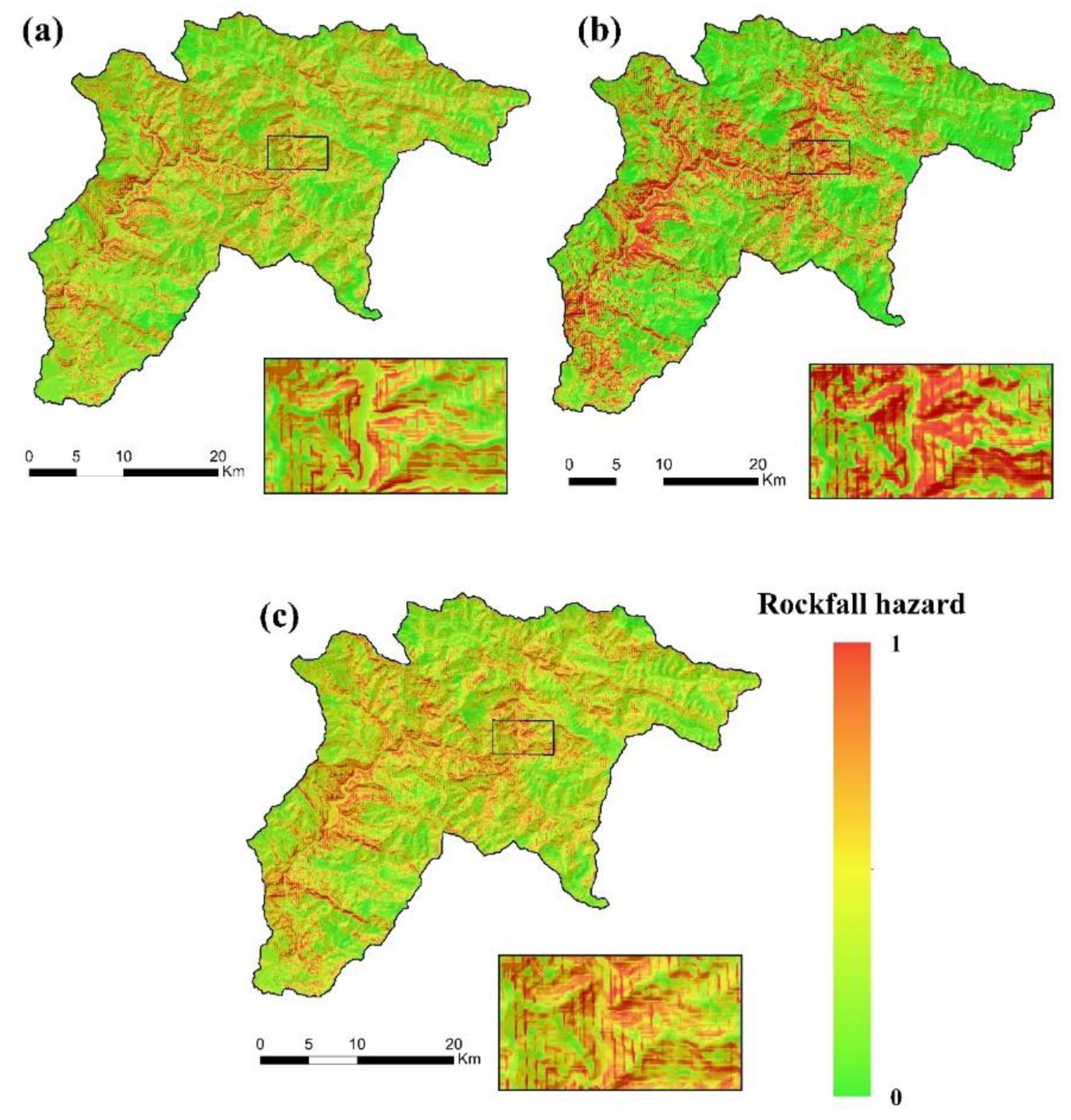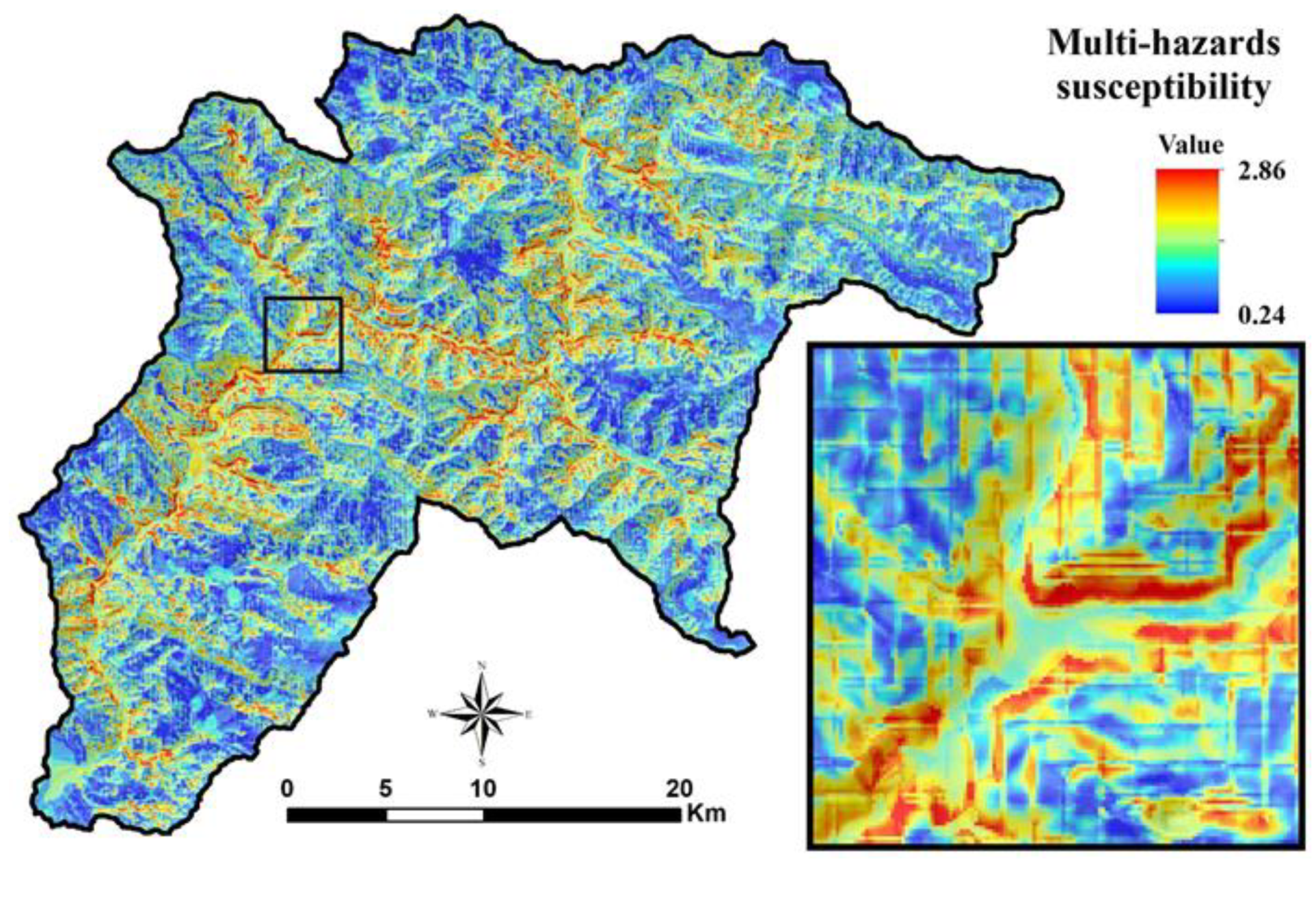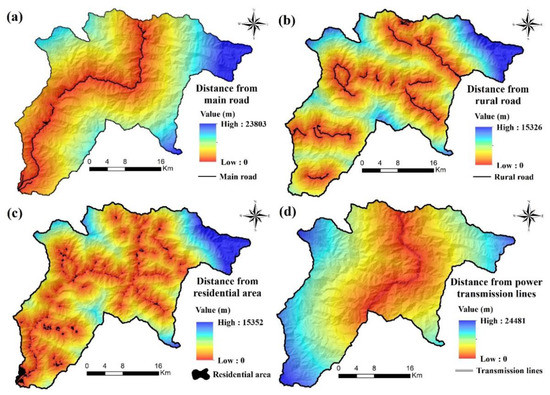 Figure 8. Exposure-related factors: (a) Distance from main roads, (b) distance from rural roads, (c) distance from residential areas, and (d) distance from power transmission lines.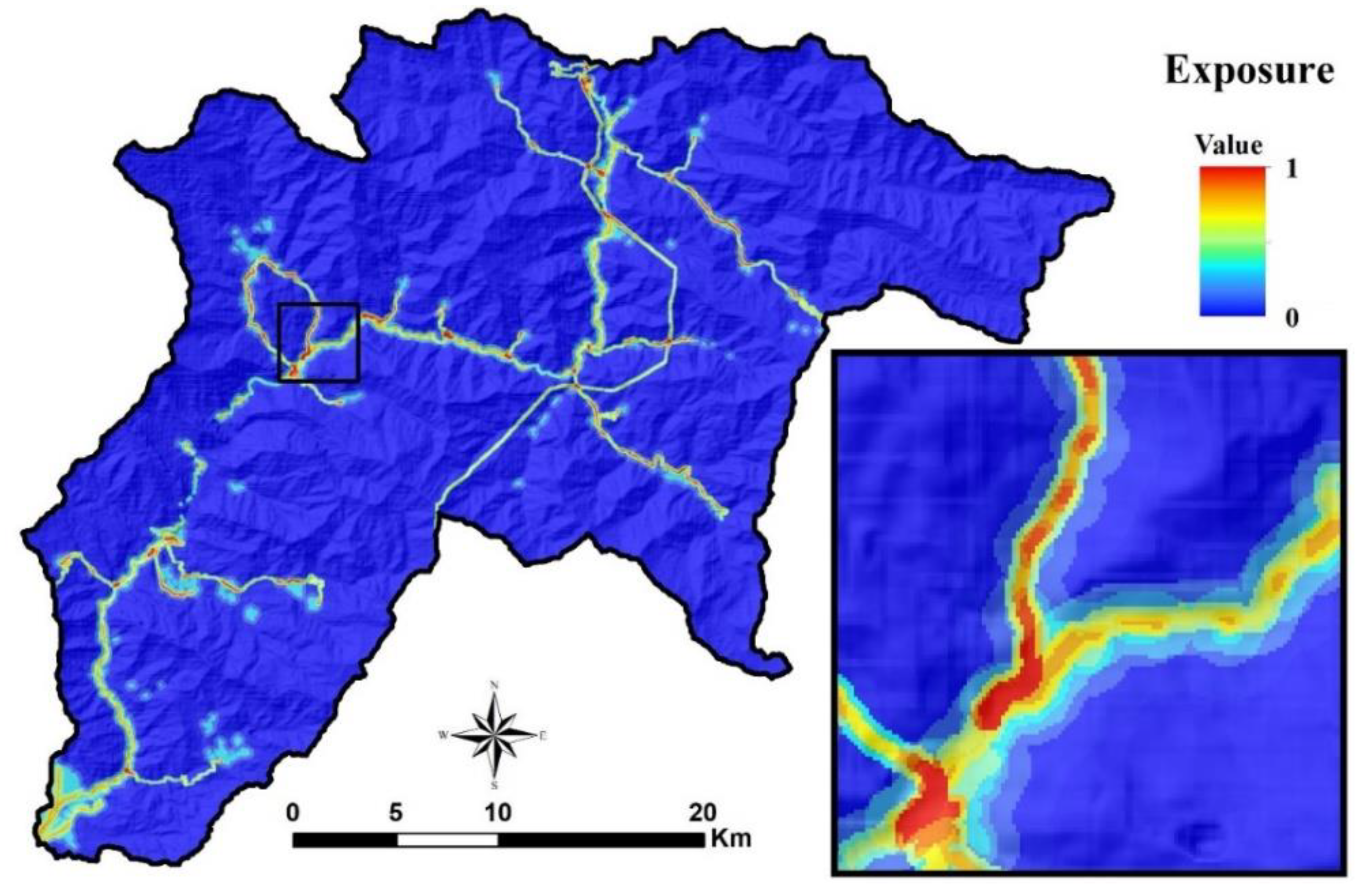 | Code | Formation | Description | Area (%) |
| --- | --- | --- | --- |
| COm | Mila | Dolomite platy and flaggy limestone containing trilobite; sandstone and shale | 2.12 |
| Eabtd | - | Andesitic and basaltic volcanic tuff deictic | 5.34 |
| Ek | Ziarat | Reef-type limestone and gypsiferous marl | 0.03 |
| Ek | Karaj | Well bedded green tuff and tuffaceous shale | 53.20 |
| Ek.a | Asara | Calcareous shale with subordinate tuff | 6.41 |
| Ekgy | - | Gypsum | 5.04 |
| Eksh | Shale | Greenish-black shale, partly tuffaceous with intercalations of tuff | 7.96 |
| Jl | Lar | Light grey, thin—bedded to massive limestone | 2.03 |
| Mm,s,l | - | Marl, calcareous sandstone, sandy limestone and minor conglomerate | 0.72 |
| P | - | Undifferentiated Permian rocks | 0.87 |
| pC-Cs | Soltanieh | Thick dolomite and limestone unit, portly cherty with thick shale intercalations | 1.06 |
| pCk | Kahar | Dull green grey salty shales with subordinate intercalation of quarzitic sandstone | 3.13 |
| Pr | Ruteh | Dark grey medium—bedded to massive limestone | 2.81 |
| Qft2 | - | Low level pediment fan and valley terrace deposits | 1.24 |
| TRe | Elikah | thick bedded to pinkish shaly limestone with worm tracks and well to thick | 0.75 |
| TRJs | Shemshak | Dark grey shale and sandstone | 7.30 |
Factor
Natural Hazard Type
Data Type and Scale
Snow-Avalanche
Rockfall
Flood
Elevation
✓
✓
✓
Grid (10m)
Topographic position index (TPI)
✓
✓
✓
Grid (10m)
Terrain Ruggedness Index (TRI)
✓
✓
✓
Grid (10m)
Topographic wetness index (TWI)
-
-
✓
Grid (10m)
Length-slope (LS)
✓
✓
-
Grid (10m)
Relative slope position (RSP)
✓
✓
-
Grid (10m)
Vector Ruggedness Measure (VRM)
✓
✓
-
Grid (10m)
Wind exposition index (WEI)
✓
-
-
Grid (10m)
Aspect
✓
✓
-
Grid (10m)
Slope degree
✓
✓
✓
Grid (10m)
Distance from stream
-
-
✓
Grid (10m)
Profile curvature
✓
✓
✓
Grid (10m)
Lithology
✓
✓
✓
Polygon (1:100,000)
Land use
✓
✓
✓
Polygon (1:100,000)
Hazard Type
Model
Goodness-of-Fit (Training Step)
Predictive Performance (Validation Step)
AUC (%)
TSS
AUC (%)
TSS
Snow-avalanche
BRT
91.2
0.73
89.6
0.71
GAM
84.4
0.68
83.1
0.61
SVM
94.1
0.82
92.4
0.72
Rock-fall
BRT
92.6
0.75
88.5
0.67
GAM
92.2
0.72
90.3
0.69
SVM
95.3
0.84
93.7
0.81
Flood
BRT
96.5
0.83
94.2
0.8
GAM
89.7
0.72
86.9
0.67
SVM
91.9
0.75
89.3
0.69
Vulnerability Factors
Class
Rate (R)
Normalized Rate (NR)
Distance from residential area (m)
0–50
5
5/15 = 0.333
50–100
4
4/15 = 0.266
100–250
3
3/15 = 0.2
250–500
2
2/15 = 0.133
>500
1
1/15 = 0.066
Total
15
-
Distance from main road (m)
0–50
5
0.416
50–100
4
0.333
100–250
2
0.166
>250
1
0.083
Distance from rural road (m)
0–50
5
0.555
50–100
3
0.333
>100
1
0.111
Distance from power transmission lines (m)
0–50
5
0.625
50–100
2
0.25
>100
1
0.125
| | DFRA | DFMR | DFRR | DFPTL | Weight |
| --- | --- | --- | --- | --- | --- |
| DFRA | 1 | 3 | 5 | 7 | 0.546 |
| DFMR | | 1 | 5 | 6 | 0.304 |
| DFRR | | | 1 | 3 | 0.099 |
| DFPTL | | | | 1 | 0.055 |
DFRA: distance from residential area; DEMR: distance from main road; DFRR: Distance from rural road; DFPTL: Distance from power transmission lines.

© 2019 by the authors. Licensee MDPI, Basel, Switzerland. This article is an open access article distributed under the terms and conditions of the Creative Commons Attribution (CC BY) license (http://creativecommons.org/licenses/by/4.0/).