Open Access This article is
freely available
re-usable
Article
Using Multi-Angle Imaging SpectroRadiometer Aerosol Mixture Properties for Air Quality Assessment in Mongolia
1
University of Southern California, Los Angeles, CA 90032, USA
2
NASA Jet Propulsion Laboratory, California Institute of Technology, Pasadena, CA 91109, USA
3
NASA Ames Research Center, Moffett Field, Mountain View, CA 94035, USA
†
These authors contributed equally to this work.

Received: 6 July 2018 / Accepted: 16 August 2018 / Published: 20 August 2018
Abstract
:
Ulaanbaatar (UB), the capital city of Mongolia, has extremely poor wintertime air quality with fine particulate matter concentrations frequently exceeding 500 μg/m3, over 20 times the daily maximum guideline set by the World Health Organization. Intensive use of sulfur-rich coal for heating and cooking coupled with an atmospheric inversion amplified by the mid-continental Siberian anticyclone drive these high levels of air pollution. Ground-based air quality monitoring in Mongolia is sparse, making use of satellite observations of aerosol optical depth (AOD) instrumental for characterizing air pollution in the region. We harnessed data from the Multi-angle Imaging SpectroRadiometer (MISR) Version 23 (V23) aerosol product, which provides total column AOD and component-particle optical properties for 74 different aerosol mixtures at 4.4 km spatial resolution globally. To test the performance of the V23 product over Mongolia, we compared values of MISR AOD with spatially and temporally matched AOD from the Dalanzadgad AERONET site and find good agreement (correlation r = 0.845, and root-mean-square deviation RMSD = 0.071). Over UB, exploratory principal component analysis indicates that the 74 MISR AOD mixture profiles consisted primarily of small, spherical, non-absorbing aerosols in the wintertime, and contributions from medium and large dust particles in the summertime. Comparing several machine learning methods for relating the 74 MISR mixtures to ground-level pollutants, including particulate matter with aerodynamic diameters smaller than 2.5 μm () and 10 μm (), as well as sulfur dioxide (), a proxy for sulfate particles, we find that Support Vector Machine regression consistently has the highest predictive performance with median test for , , and equal to 0.461, 0.063, and 0.508, respectively. These results indicate that the high-dimensional MISR AOD mixture set can provide reliable predictions of air pollution and can distinguish dominant particle types in the UB region.
Keywords:
MISR; aerosol optical depth; aerosol types; air pollution; particulate matter; machine learning
1. Introduction
Ulaanbaatar, Mongolia (UB) is the coldest capital city, and has some of the worst air pollution in the world. In winter, concentrations of fine particulate matter (particles with aerodynamic diameter ≤2.5 μm; ) frequently exceed 500 μg/m
3
, which is over 20 times the World Health Organization (WHO) guideline value that limits 24 h concentrations to 25 μg/m
3
[
1
]. In a report by the World Bank, it was estimated that up to one third of the mortality in greater UB could be prevented by lowering local ambient air pollution levels to 10 μg/m
3
, the WHO annual guideline [
2
]. The primary source of air pollution in the UB area comes from burning coal and biomass for heating and cooking in the outskirt Ger settlements during the harsh, cold winter [
3
]. Approximately 60% of UB households are located in the Ger district, and in winter these households account for up to 70% of the emissions [
2
]. Three coal-fired power plants within the city limits are also an important source of particulates, contributing approximately 27% of the annual emissions [
3
]. Air quality is worsened by the geographic position of UB, which is in a valley surrounded by mountains, and by its extreme winter weather, which is affected by the mid-continental Siberian anticyclone that causes a wintertime temperature inversion that effectively traps pollutants within the breathing level of the city's population. Although the total population of the country is small (3.2 million), according to the National Statistical Office of Mongolia, nearly half of Mongolians live in the greater capital city area and are affected by extremely high levels of air pollution during the wintertime months (October–March) [
4
].
There have been a few efforts by researchers to measure and characterize air pollution in Mongolia. An emissions inventory was developed to estimate the contributions of household and industrial sources of the major particulate (, ) and gaseous (, , CO) pollutants [
3
]. Chemical speciation of coarse and fine particulate matter from a two-day per week sampling campaign at the University of Mongolia in 2004–2008 showed that the dominant source of was coal combustion, with sulfur and black carbon being the largest components of the particle mass [
5
]. In another short-term seasonal sampling campaign in 2008 [
6
], analyzed for chemical speciation was significantly higher in carbon (elemental and organic) and sulfate in the winter, compared to the summer. Hasenkopf et al. [
7
] imaged particles from a site located 600 m from the Ger district from June 2012 to March 2013 using transmission electron microscopy and ice nucleation coupled with microscopy to determine their shape (spherical, fractal, irregular) and type (mineral dust, soot, sulfate/organic). They found the collected samples primarily consisted of spherical particles with sulfate/organic composition and that, in winter months, when the concentrations of PM increased, so did their sulfur content. Furthermore, spherical particles were most generally related to PM with aerodynamic diameter ≤2.5 μm, and over the study period 99% of the particles sampled were smaller than 10 μm in diameter.
Despite the magnitude and severity of the air pollution problem in UB, this issue has garnered little attention outside of Mongolia. There have been very few health effects studies with adequate exposure assessment because of scarce resources and inadequate coverage of monitoring stations. Ground measurements of air pollutants in the region are sparse, with only three monitoring sites providing inconsistent data, and one primary weather station. Harnessing satellite observations of aerosol optical depth (AOD) to provide air pollution estimates in regions where ground-level monitoring is severely lacking has been instrumental in global studies [
8
,
9
]. The two most common polar-orbiting satellite instruments providing AOD, the Moderate Resolution Imaging Spectroradiometer (MODIS) and Multi-angle Imaging SpectroRadiometer (MISR) onboard the NASA Terra Earth Observing System (EOS) satellite, launched in 1999, have been used in global estimation of . One limitation of aerosol remote sensing is the difficulty in discerning the contribution of aerosol atmospheric scattering from bright surface reflectance, such as desert or snow. In Mongolia, where long winters come with snow cover for 4–6 months of the year, this is a major issue. MISR is regarded as providing one of the most reliable satellite based aerosol products over land [
10
], and with its nine camera angles it has been shown to reliably retrieve particle optical and microphysical properties over bright surfaces [
11
,
12
] more effectively than other instruments [
13
]. MISR also has the capability of distinguishing AOD by its component-particle optical properties covering ranges of "small", "medium", and "large" nonabsorbing, absorbing, spherical, and randomly oriented nonspherical types [
12
,
14
]. These properties have been used to develop the current 74 MISR aerosol mixtures [
12
,
14
], which are related to particle composition, and are a key factor in the performance of the AOD retrieval [
15
].
In this paper we evaluate the new 4.4 km MISR Version 23 (V23) global aerosol product in its ability to estimate air pollution concentrations over Ulaanbaatar, Mongolia. In our evaluation, we first compare MISR and AERONET AOD observed at the only location in Mongolia, Dalanzadgad, which is 300 km southwest of UB. We then apply several machine learning methods to AOD retrieved from the complete set of 74 MISR mixtures to determine the best performing method of estimating ground-level , , and concentrations.
2. Materials and Methods
Ulaanbaatar is located at approximately 1300 m above sea level 47.920°N, 106.920°E, along the Tuul River in a valley at the foot of Bogd Khan Mountain (
Figure 1
). Due to its high elevation, relatively northerly latitude, and distance from the Pacific Ocean, UB experiences an extreme continental climate with long winters and short summers. Mongolian winters are cold and clear, and in UB specifically, winter is typically characterized by clear skies, weak synoptic winds, and a temperature inversion under the influence of a Siberian high pressure anticyclone [
16
]. Summer (June through August) is warm and dry, with highs between 20–25 °C, low humidity, and average monthly precipitation of approximately 60 mm. In this study we examine data from January 2011 through December 2016. During this period, there was snow cover in UB between 90% to 100% of the days in the months of November through February, and there was some snow in all other months with the exception of June, July, and August [
17
].
5. Conclusions
In regions of the world with limited ground monitoring, observations of AOD from polar orbiting satellites provide valuable spatial and temporal coverage needed for estimating air pollution concentrations. We find that by applying machine learning methods to the high-dimensional set of 74 MISR AOD mixtures in combination with data from 2–3 monitoring sites we can reliably estimate ground-level and (a proxy for sulfate particles) in Ulaanbaatar, Mongolia. Our results from Support Vector Machine regression show good cross-validation statistics and estimates that capture relevant spatial and temporal patterns over the region. While coverage in the wintertime was sparse due to snow cover, MISR mixture and AOD_raw data in the "AUXILLARY" field of the new V23 aerosol product provided some additional days of observations due to the relaxed cloud screening mask. Coupled with MISR's reliability over bright surfaces, this increased coverage is extremely beneficial, particularly since other satellite aerosol products are unable to provide AOD under such conditions. Our results are promising in that they show predictive power comparable to other studies without introducing additional data, such as meteorology, into the regression models. Future work that incorporates chemical transport and weather forecasting model output will help provide much needed information when there are gaps in satellite aerosol retrievals.
Author Contributions
Conceptualization, M.F.; Methodology, M.F., K.C., M.J.G., O.V.K. and M.S.-H.; Formal Analysis, K.C. and M.F.; Validation, M.F., M.J.G., M.S.-H., Data Curation, M.J.G., T.E., Writing—Original Draft Preparation, M.F., Writing—Review & Editing, K.C., O.V.K., M.J.G., and M.S.-H.; Supervision, M.F.; Project Administration, M.F.; Funding Acquisition, M.F. and O.V.K.
Funding
This research was funded by National Aeronautics and Space Administration grant number NNN12AA01C. M. S-.H. effort was funded by the NASA post doctoral program administered by USRA.
Acknowledgments
Portions of this work were conducted at the Jet Propulsion Laboratory, California Institute of Technology under a contract with the National Aeronautics and Space Administration. We would like to thank Dr. David Warburton for his assistance and contribution to this work.
Conflicts of Interest
The authors declare no conflict of interest.
Figure 1. Ulaanbaatar, Mongolia study region showing gaseous and particulate air pollution monitoring stations, weather station, and representative 4.4 km grid.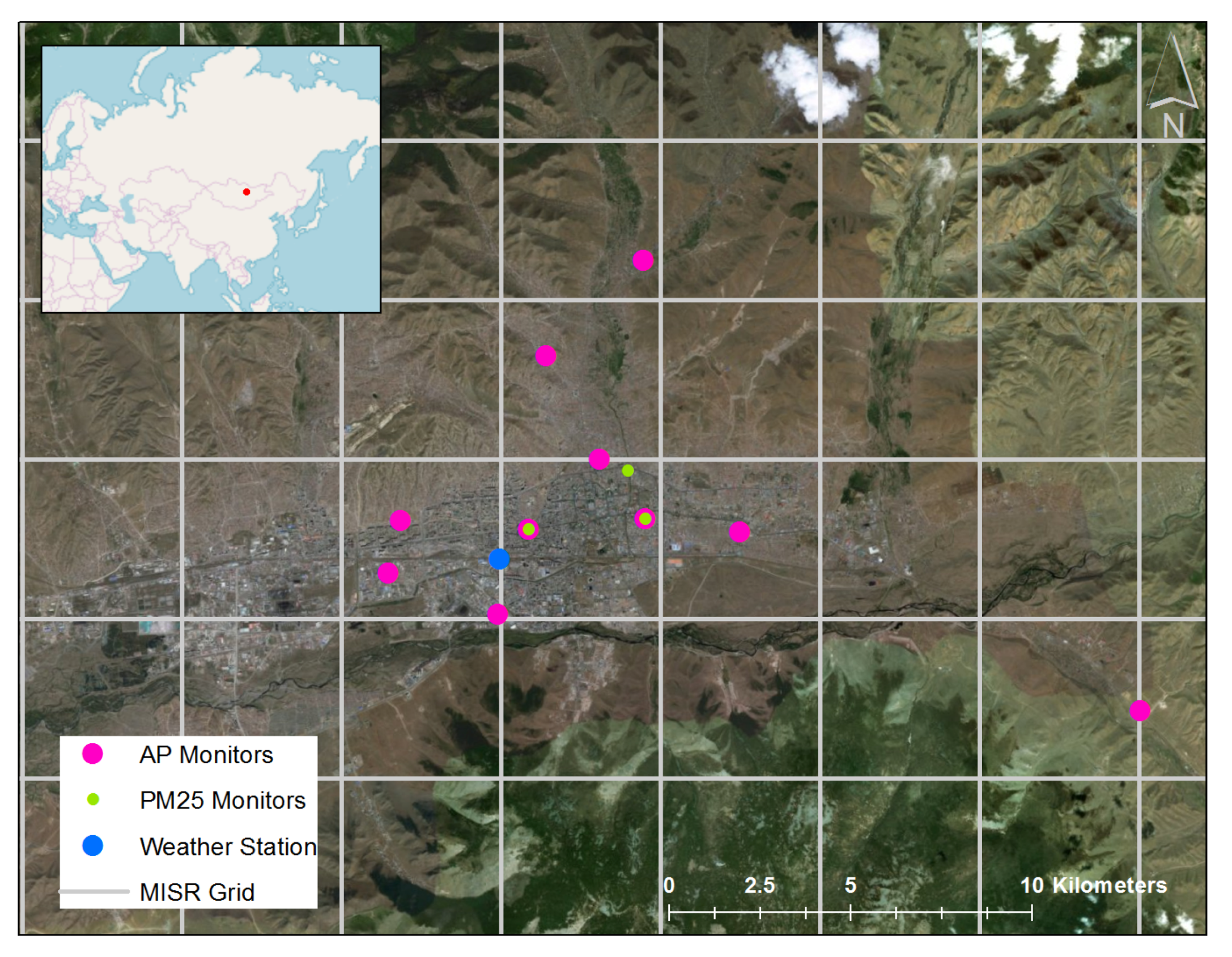 Figure 2. Daily concentrations of (black), (green), and (blue) at one of two UB sites measuring all three pollutants from January 2011 through December 2016.
Figure 3. Validation of AERONET AOD interpolated to 550 nm versus MISR AOD (left) and MISR AOD_raw (right) with 1-to-1 line and expected error (EE) envelope.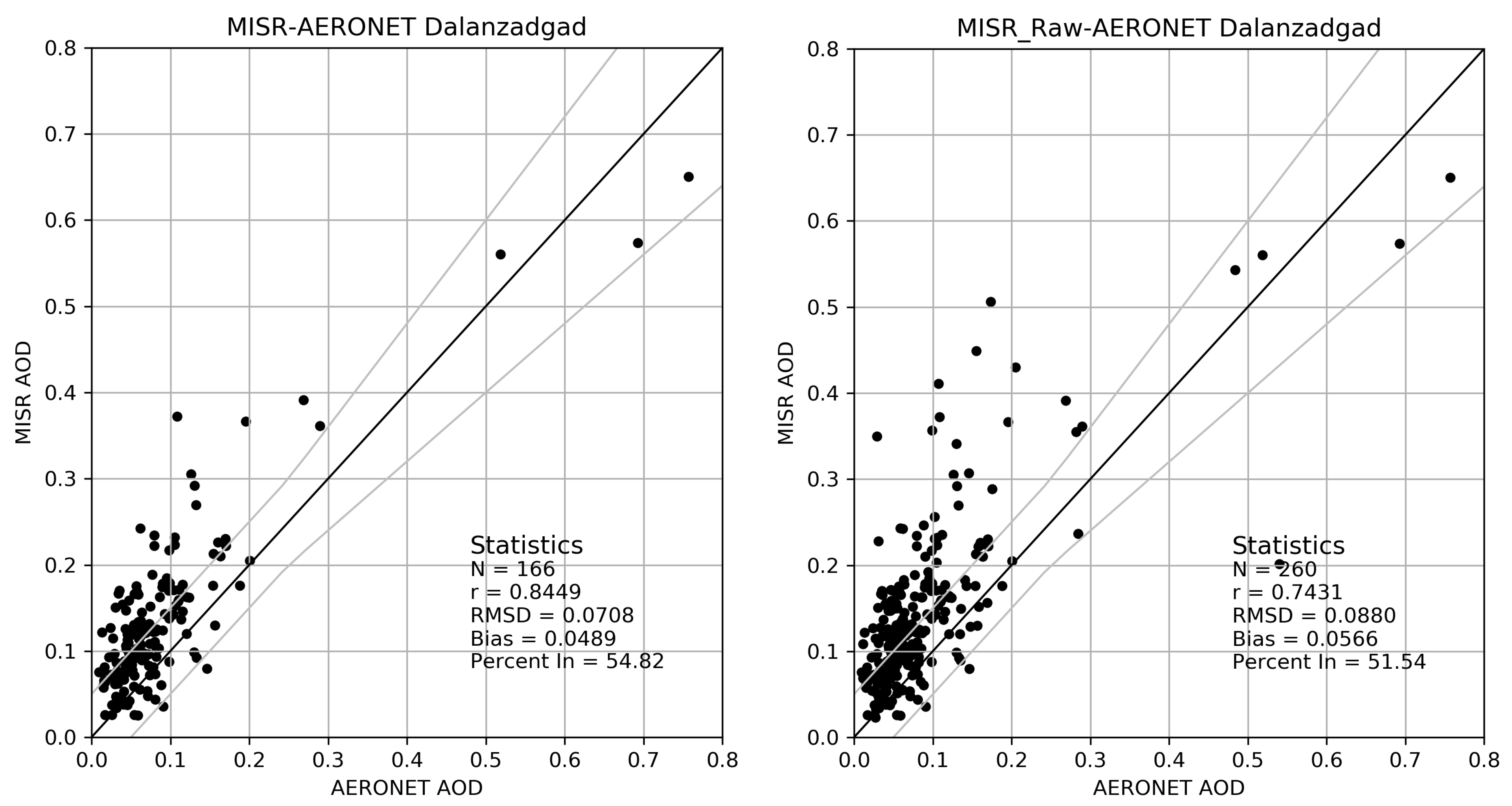 Figure 4. Correlation heatmap of 74 MISR mixtures ordered based on a hierarchical cluster tree. The x-axis has the same ordering as the y-axis, starting with Mixture 47.
Figure 5. Predicted vs. observed from 1000 iterations of Support Vector Machine regression applied to 74 MISR AOD mixtures. Linear regression (dashed line) with 95% confidence band (gray shading) and 1-to-1 line (solid line) shown with corresponding statistics.
Figure 6. Predicted from Support Vector Machine regression over the greater UB region averaged over study period 2011–2016 for boreal summer (left) and winter (right).

Table 1. Description of machine learning methods applied to the 74 MISR mixture AOD retrievals to predict , , and .
Method
Description
Tuning
KNN
Searched through the entire set of 74 mixtures for the K most similar neighbors based on Euclidean distance.
Tuned for the optimal number of K neighbors.
LASSO
Linear regression forcing weak associations between the 74 mixtures and the pollution outcome to zero, constraining coefficient estimation via L1 regularization.
Tuned for the penalty coefficient

λ

.
GB
Simple regression trees that iteratively improved their predictive power by minimizing the residual error.
Tuned for the number of iterations, shrinkage (rate of learning).
RF
Uncorrelated regression trees generated via bootstrap sampling.
Tuned for the number of trees.
SVM
Regression with linear or non-linear kernels on the 74 mixtures with minimized prediction errors by tolerating soft margins of error.
Tuned for the parameter of the kernel (i.e., the radial basis function kernel parameter

σ

), and the soft margin constant

C

.

Table 2.
MISR mixtures with largest contributions to the top three principal components. Normal text indicates spherical, non-absorbing particles;
bold
indicates spherical, absorbing particles; and
italics
indicates nonspherical particles.
All (

N

= 4824)
% of Variance
MISR Mixtures
1
85%
16, 17, 18, 19, 38, 39,

40

,

52

,

54

,

55

2
5%

60

,

61

,

62

,

67

,

68

,

69

,

70

,

71

,

72

,

73

3
4%
41, 42, 43, 44, 45, 46, 48,

70

,

7374

Summer ()
1
85%
15,16, 17, 18, 19, 20, 38, 39,

52

,

54

,

55

2
4%
31, 32, 41, 42, 43, 44, 45, 46,

47

,

48

3
4%

65

,

66

,

67

,

68

,

69

,

70

,

71

,

72

,

73

,

74

Winter ()
1
83%
17, 18, 19, 36, 37, 38, 39,

52

,

54

,

55

2
7%
1, 2, 3, 4, 5, 6, 7, 8, 9, 12
3
5%
41, 42, 43, 44, 45, 46, 47,

66

,

73

,

74

Table 3. Sample sizes of spatiotemporally matched MISR mixtures with median test for each machine learning method and pollutant. Largest for each pollutant is indicated in bold.
| Pollutant | Tuning/Training (N) | Testing (N) | Total (N) | KNN | LASSO | GB | RF | SVM |
| --- | --- | --- | --- | --- | --- | --- | --- | --- |
| | 359 | 154 | 513 | 0.338 | 0.154 | 0.295 | 0.302 | 0.360 |
| (<10 km) | 86 | 38 | 124 | 0.371 | 0.072 | 0.320 | 0.330 | 0.461 |
| | 742 | 318 | 1060 | 0.111 | 0.067 | 0.147 | 0.107 | 0.151 |
| (<10 km) | 193 | 83 | 276 | 0.033 | 0.003 | 0.047 | | 0.063 |
| | 1060 | 455 | 1515 | 0.355 | 0.130 | 0.292 | 0.371 | 0.390 |
| (<10 km) | 269 | 116 | 385 | 0.451 | 0.161 | 0.453 | 0.469 | 0.508 |

© 2018 by the authors. Licensee MDPI, Basel, Switzerland. This article is an open access article distributed under the terms and conditions of the Creative Commons Attribution (CC BY) license (http://creativecommons.org/licenses/by/4.0/).