On the Use of Unmanned Aerial Systems for Environmental Monitoring
1
Dipartimento delle Culture Europee e del Mediterraneo: Architettura, Ambiente, Patrimoni Culturali (DiCEM), Università degli Studi della Basilicata, 75100 Matera, Italy
2
Water Desalination and Reuse Center, King Abdullah University of Science and Technology, 23955 Thuwal, Saudi Arabia
3
The James Hutton Institute, Aberdeen AB15 8QH, UK
4
Department of Geography and Earth Sciences, Aberystwyth University, Aberystwyth, Ceredigion SY23 3DB, UK
5
Svarmi ehf., Árleyni 22, 112 Reykjavík, Iceland
6
Department of Forestry and Management of the Environment and Natural Resources, Democritus University of Thrace, 67100 Xanthi, Greece
7
Department of Geography and Human Environment, Tel Aviv University (TAU), Tel Aviv 6997801, Israel
8
Department of Geography and the Environment, Bar-Ilan University, Ramat Gan 52900, Israel
9
Graduate School of Geography, Clark University, Worcester, MA 01610, USA
10
Dipartimento di Ingegneria Civile, Ambientale, Aerospaziale, dei Materiali, University of Palermo, 90128 Palermo, Italy
11
Department GIS and Remote Sensing, Institute of Botany, The Czech Acad. Sciences, 252 43 Průhonice, Czech Republic
12
Centro per l'Innovazione Tecnologica e lo Sviluppo del Territorio (CINTEST), Università degli Studi della Tuscia, 01100 Viterbo, Italy
13
Marine and Environmental Sciences Centre, Department of Civil Engineering, University of Coimbra, 3000-370 Coimbra, Portugal
14
Research Group of Hydrological and Environmental Modelling (GIHMA), Research Institute of Water and Environmental Engineering, Universidad Politecnica de Valencia, 46022 València, Spain
15
Department of Geography, University of California, Santa Barbara, CA 93106-3060, USA
16
Department of Geology, University of Tartu, 50090 Tartu, Estonia
17
School of Geography, Politics and Sociology, Newcastle University, Newcastle upon Tyne NE1 7RU, UK
18
Department of Crop Production Ecology, Swedish University of Agricultural Sciences (SLU), 750 07 Uppsala, Sweden
19
Department of Water Resources in Faculty of Geo-Information and Earth Observation, University of Twente, 7522 NB Enschede, The Netherlands
20
Institute for Soil Sciences and Agricultural Chemistry, Centre for Agricultural Research, Hungarian Academy of Sciences, H-1022 Budapest, Hungary
21
Department of Crop Production and Soil Science, University of Pannonia, 8360 Keszthely, Hungary
*
Author to whom correspondence should be addressed.
Received: 12 March 2018 / Revised: 17 April 2018 / Accepted: 17 April 2018 / Published: 20 April 2018
Abstract
Environmental monitoring plays a central role in diagnosing climate and management impacts on natural and agricultural systems; enhancing the understanding of hydrological processes; optimizing the allocation and distribution of water resources; and assessing, forecasting, and even preventing natural disasters. Nowadays, most monitoring and data collection systems are based upon a combination of ground-based measurements, manned airborne sensors, and satellite observations. These data are utilized in describing both small- and large-scale processes, but have spatiotemporal constraints inherent to each respective collection system. Bridging the unique spatial and temporal divides that limit current monitoring platforms is key to improving our understanding of environmental systems. In this context, Unmanned Aerial Systems (UAS) have considerable potential to radically improve environmental monitoring. UAS-mounted sensors offer an extraordinary opportunity to bridge the existing gap between field observations and traditional air- and space-borne remote sensing, by providing high spatial detail over relatively large areas in a cost-effective way and an entirely new capacity for enhanced temporal retrieval. As well as showcasing recent advances in the field, there is also a need to identify and understand the potential limitations of UAS technology. For these platforms to reach their monitoring potential, a wide spectrum of unresolved issues and application-specific challenges require focused community attention. Indeed, to leverage the full potential of UAS-based approaches, sensing technologies, measurement protocols, postprocessing techniques, retrieval algorithms, and evaluation techniques need to be harmonized. The aim of this paper is to provide an overview of the existing research and applications of UAS in natural and agricultural ecosystem monitoring in order to identify future directions, applications, developments, and challenges.
View Full-Text
►

▼

Figures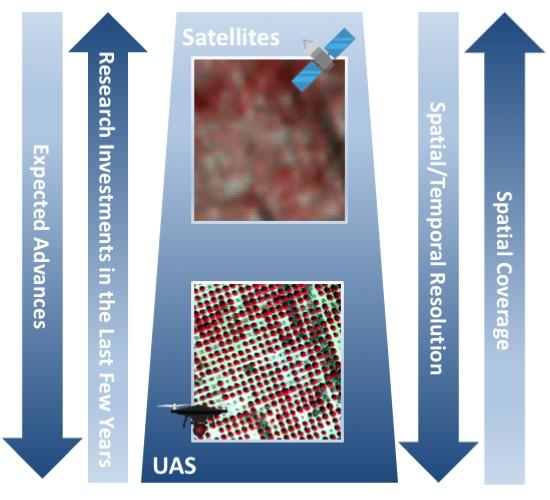 Graphical abstract
This is an open access article distributed under the
Creative Commons Attribution License
which permits unrestricted use, distribution, and reproduction in any medium, provided the original work is properly cited (CC BY 4.0).

Share & Cite This Article
MDPI and ACS Style
Manfreda, S.; McCabe, M.F.; Miller, P.E.; Lucas, R.; Pajuelo Madrigal, V.; Mallinis, G.; Ben Dor, E.; Helman, D.; Estes, L.; Ciraolo, G.; Müllerová, J.; Tauro, F.; De Lima, M.I.; De Lima, J.L.M.P.; Maltese, A.; Frances, F.; Caylor, K.; Kohv, M.; Perks, M.; Ruiz-Pérez, G.; Su, Z.; Vico, G.; Toth, B. On the Use of Unmanned Aerial Systems for Environmental Monitoring. Remote Sens. 2018, 10, 641.
Note that from the first issue of 2016, MDPI journals use article numbers instead of page numbers. See further details here.
Related Articles
Comments
[Return to top]