Open Access This article is
freely available
re-usable
Article
The Development of a Low-Cost, Near Infrared, High-Temperature Thermal Imaging System and Its Application to the Retrieval of Accurate Lava Lake Temperatures at Masaya Volcano, Nicaragua
1
Department of Geography, The University of Sheffield, Winter Street, Sheffield S10 2TN, UK
2
Department of Electronic and Electrical Engineering, The University of Sheffield, Portobello Centre, Pitt Street, Sheffield S1 4ET, UK
3
School of Geosciences, The University of Sydney, Sydney 2006, Australia
*
Author to whom correspondence should be addressed.
Received: 29 January 2018 / Accepted: 10 March 2018 / Published: 13 March 2018
Abstract
:
Near infrared thermal cameras can provide useful low-cost imaging systems for high temperature applications, as an alternative to ubiquitous mid-/long-wavelength infrared systems. Here, we present a new Raspberry Pi-based near infrared thermal camera for use at temperatures of ≈>500 °C. We discuss in detail the building of the optical system, calibration using a Sakuma-Hattori model and quantification of uncertainties in remote temperature retrievals. We then present results from the deployment of the system on Masaya Volcano, Nicaragua, where the active lava lake was imaged. Temperatures reached a maximum of 1104 ± 14 °C and the lake radiative power output was found to range between 30 and 45 MW. To the best of our knowledge, this is the first published ground-based data on the thermal characteristics of this relatively nascent lava lake, which became visible in late 2015.
Keywords:
thermal imaging; low-cost sensor; lava lake; Masaya volcano; Raspberry Pi; near infrared
2. Materials and Methods
2.2. Calibration Procedure
In view of later discussion, we note here that since is monotonic, = .
2.3. Extinction and Emissivity
From Equation (1), it can be seen that in order to retrieve accurate temperature measurements from our NIR thermal images, two final parameters need to be considered: the extinction of radiation between the object and the observer and the emissivity of the object. Both can have significant effects on the apparent temperatures observed by the instrument.
The water absorption effect could be almost entirely removed by using a second optical filter to attenuate radiation around the absorption peak at ≈940 nm. Rudimentary tests of this were attempted in the field using band-pass filters, centred at 850 and 1080 nm (10 nm full-width-at-half-maximum; Knight Optical), mounted to the fore of the lens system. Due to this optical setup, however, images appear to display some vignetting/aberrations. Furthermore, longer shutter speeds (100–200 ms) were required in order to obtain greater signal, due to the decrease in radiation incident upon the sensor caused by the filters. Since Masaya's lava lake was moving extremely rapidly, this caused some blurring of the image scene. In cases of extremely humid conditions or long path lengths, or where the scene is relatively stationary, an additional filter could be advantageous. Here, however, we discuss only data acquired using the single long-pass 850 nm filter.
2.4. Uncertainty Analysis
A number of uncertainties can be quantified with respect to the final quoted temperatures. Quite often these are neglected or poorly constrained within the field of volcano remote sensing, however, it is important to understand these constraints when evaluating datasets. We therefore give a detailed discussion of our uncertainty analysis herein. We will discuss each uncertainty separately, as they are considered independent and can, therefore, be added in quadrature to provide a total uncertainty estimate of a retrieved temperature. Lane et al. [
31
] provide a comprehensive overview of much of the work presented in this section.
The calibration uncertainty consists of four sources (
Table 1
). These uncertainties are, again, assumed uncorrelated and, thus, added in quadrature to provide a total calibration uncertainty (). In this case, we multiply the total by a factor of 2 to provide a 95% confidence interval:
It can be seen that this uncertainty is temperature dependent due to the temperature dependence of the blackbody furnace's emissivity uncertainty. Therefore, this standard uncertainty can be plotted against temperature and a linear regression is performed to estimate given any temperature, :
The measurement noise is specific to the camera sensor. In an optical system which is performing optimally this will be dominated by shot noise, which has a square root dependence on signal:
where, in this case, the fit coefficients and were empirically determined to be 0.109768 and 0.15447, respectively. This can be converted to a temperature uncertainty, again at 95% confidence level, using:
In this study, we do not employ any flat-field (i.e., uniform pixel illumination) correction, which can account for variation in pixel-to-pixel sensitivity, vignetting and other optical effects, and dust or scratches on the sensor. By imaging a homogenous surface, or clear sky at dusk or dawn, variations across the field of the camera can be accounted for; thus, it should be possible to totally remove, or at least make negligible, this uncertainty. Instead, here we quantify this uncertainty as another contributor to the overall uncertainty estimate. An image was taken of a flat reflecting object and the standard deviation of signal across the sensor was determined. The fraction of this standard deviation relative to the mean signal across the sensor can then be used to quantify the flat-field related temperature uncertainty, , as follows:
where is the temperature uncertainty at 95% confidence level and = 0.03 is the empirically derived fractional standard deviation across the sensor. It should be noted that this flat-field image will also contain other associated sensor noise components, such as shot noise. To remove this uncertainty from the image we average a sequence of 30 images, on a pixel-by-pixel basis, making the contribution from this noise source negligible. The uncertainty associated with random sensor noise is equal to where
N
is the sample size and is the standard deviation. Therefore, it is important to use enough images to make this uncertainty negligible; we found that 30 images were adequate here. The standard deviation of the resulting image is therefore almost entirely due to deviation from a perfect flat-field setup.
The total temperature uncertainty is now calculated by adding all considered uncertainties in quadrature:
where represents the sum of the squares of any further uncertainties which may not be directly associated with the PiCam instrument or calibration. In our case, we further estimate transmission coefficient and emissivity uncertainties, following from the discussion in
Section 2.3
.
There are two uncertainties associated with the transmission coefficient . The first uncertainty pertains to atmospheric variability. For simplicity, we assume that the extreme values of atmospheric conditions stated in
Section 2.3
provide the bounds for a uniform distribution function of the path transmission coefficient. The standard deviation, , can then be calculated by the general equation:
where and are the lower and upper limits of a variable, , respectively; in this case this is the path transmission coefficient .
There is also a transmission coefficient uncertainty associated with object temperature (see
Section 2.3
). Using the extremes of temperatures to calculate two transmission coefficients, again we use Equation (10) to find the standard deviation of with respect to temperature changes. The final transmission coefficient, therefore, incorporates uncertainties related to both atmospheric conditions and the temperature of the emitting object. These are independent of each other and are, therefore, added in quadrature to be incorporated into the final uncertainty. We do not include extinction through scattering in our quantification of uncertainties, since it is difficult to constrain; however, we acknowledge and later show (see
Section 3
), that it can have a significant impact on measurements.
The uncertainty of can now be calculated using the general equation:
where for the uncertainty at 95% confidence level of variable , which is in this case ; is then the product of any further scaling factors from Equation (1), which in this case is simply the emissivity, .
As stated in the previous section, emissivity was also assumed to have a uniform distribution, between 0.9 and 1.0, due to the paucity of data on this parameter; furthermore, its high dependence on composition suggests that drawing values from articles at different volcanoes may be somewhat fallible. Again, the standard deviation, , is defined by Equation (10) and the standard uncertainty, , is calculated from Equation (11), where is now the path transmission coefficient .
All uncertainties have a signal or temperature dependence, displayed in
Figure 4
for a calibration at 1 ms shutter speed. Signal noise shows a very strong temperature dependence at lower temperatures, since this is approaching a signal of 0 and, thus, the SNR is extremely low. Neglecting these large low-temperature uncertainties, we find that the flat-field uncertainty contribution is the largest uncertainty in a measurement. This indicates that a flat-field correction would be highly advantageous and could markedly reduce the overall error. However, poor knowledge of the emissivity of the image object also limits the precision of the instrument; as discussed, accurately constraining this parameter can be difficult. Furthermore, it is likely that the total uncertainty quantified here somewhat underestimates the overall uncertainty of this instrument, due to other contributions which are more difficult to accurately quantify. For instance, we do not consider the point spread function herein (e.g., [
31
,
32
]), which introduces another uncertainty into temperature measurements. Due to pixel cross-talk and imperfections in the optical system, the signal of a pixel is a function of an area surrounding that pixel, not just the area imaged by the pixel itself. For example, this can lead to small hot objects appearing cooler than they are. Although it is important to be aware of this phenomenon, reconciling this error is a topic of current research in radiometry; therefore, it is beyond the scope of this article.
Notably, within the bounds of conditions measured at Masaya on this field campaign, the H
2
O uncertainty is negligible. Use of a single path transmission coefficient, rather than varying it with changing atmospheric conditions and source temperatures, is therefore adequate. However,
Figure 3
B shows that the lack of any water vapour correction may lead to a relatively significant underestimation of the object's temperature. Overall, our results somewhat corroborate those of Furukawa [
11
] and Radebaugh et al. [
12
], who both identified that NIR silicon sensors show relatively low dependence on water vapour column in the observation path and suggest that thermal imaging at these wavelengths is less susceptible to instabilities in atmospheric conditions relative to at MWIR/LWIIR wavelengths. Nevertheless, we advise that some form of correction should still be applied if accurate temperature retrievals are required.
The lower limit of temperature that can be imaged by this instrument is not directly addressed in this study. Furukawa [
11
] suggest their system is imaging fumaroles of temperatures a little above 300 °C. Since our system is also based on a silicon focal plane array, a similar temperature sensitivity should be attainable; however, with the large sensor noise temperature uncertainty present in the 1 ms measurement at 600 °C (
Figure 4
), we more conservatively estimate that the system can work well for temperatures of ≥500 °C. This would require an increase in the exposure time, to increase the SNR and, therefore, reduce the associated temperature uncertainty. Furthermore, this would require more consideration of the effects of reflected solar radiation, which can become more of an issue when attempting to image lower temperature targets (see
Appendix A
).
2.5. Field Deployment
The camera system was deployed at Masaya Volcano, Nicaragua, where a lava lake has been visible in the Santiago crater since 2015. Masaya is a basaltic volcano which stands at an altitude of 635 m in the west of Nicaragua, approximately 20 km south-east of the capital Managua. The volcano is currently displaying a vigorously overturning lava lake, one of fewer than 10 known current lava lakes on Earth. Nevertheless, to the best of our knowledge there are currently no articles in the scientific literature which report ground-based data on the thermal characteristics of this most recent phase of Masaya's activity.
Between 12 and 17 June 2017, a range of tests were performed with the thermal imaging PiCam. Here, we discuss a dataset from 12 June, acquired after sundown; therefore, any uncertainty due to reflected solar radiation was avoided. Images were acquired at a framerate 0.5 Hz. Due to extracting the RAW sensor data here, which is packed into the start of the standard JPEG files, this framerate is at the upper limit of what is currently achievable with our software. One significant advantage of previous PiCam work by Radebaugh et al. [
12
] is the high framerate afforded by use of the video port. Current work to directly access the RAW sensor data, bypassing image post-processing on the board itself, could open up much higher framerates for our system in the future.
The viewing platform was located approximately 400 m above the lake; viewing geometry is displayed in
Figure 2
. From this position, a region of the lava lake is obscured by a crater terrace and, thus, it should be noted that work presented here does not represent measurements of the entire exposed lava lake surface.
To accurately interrogate the lava lake and its thermal features it is important to isolate the lake from its surroundings; however, due to windy conditions, there is a relatively significant camera shake apparent in the image sequences (
Video S1
). Two methods were therefore tested for defining the lava lake region of interest (ROI) in each frame. Firstly, the image sequences were stabilised by utilising a Lucas-Kanade image registration [
33
] of each frame to the template of the first frame; this was implemented in Matlab using the Image Alignment Toolbox [
34
]. From here, a ROI, i.e., the lava lake, can be extracted by defining its extent with a polygon; for each subsequent frame the same polygon is then extracted. However, the image registration in most cases here was not perfect, possibly due to the fast-flowing lava lake and intermittent presence of aerosols, as well as the difficulty in finding optimal input parameters for this algorithm. Some camera shake is, therefore, still observable in a video stabilised in this manner (
Video S2
); although the larger image shifts have been removed, it appears that smaller shake has been exacerbated. We therefore attempted to define the lava lake in a separate manner, using a threshold of any temperature above 850 °C representing the lake. This temperature was determined first by a best estimate and refined by observing how the resultant threshold mask visibly compares to the lake surface. A video of this threshold mask shows that in places it can provide an accurate determination of the lava lake extent, where clearly defined edge features are tracked from frame to frame (
Video S3
); however, in regions where there is spattering at the lake edges, or intense scattering from aerosols, the lava lake can become over or under-defined; the former issue is also commented on in Radebaugh et al. [
12
]. For the data discussed in this article we apply the first method, image registration, since we believe this to be the most robust method in most cases; it also has the potential to be much improved relative to our example here. However, there are a number of studies in which thresholding could be extremely useful, for example, for calculating the extent of cooled plates within a lava lake, or where there is minimal aerosol and spattering such that the lava lake boundary can easily be defined by a temperature contrast with the surrounding crater wall.
3. Results and Discussion
4. Concluding Remarks
We have presented and discussed the development of a new low-cost, NIR thermal camera based on a modified Raspberry Pi camera module. This work builds upon previous articles which have utilised consumer electronics silicon sensors, primarily designed for visible imagery, as high temperature thermal cameras. The modified sensor has heightened NIR sensitivity, is free from the mosaic response caused by the presence of a Bayer Filter in standard visible imaging cameras and provides 10-bit images. Furthermore, our rigorous calibration, using a blackbody furnace and a Sakuma-Hattori model fit, should provide accurate temperature retrievals. We suggest that the presented system will work well for high temperature applications (≥500 °C) and, thus, could provide a good low-cost alternative to commercial thermal imaging cameras for many aspects of volcanology as well as a range of other fields. It is important to note that for temperatures close to 500 °C solar reflections may become significant; therefore, imaging at night or applying a solar correction could be necessary for accurate retrievals.
We have discussed and quantified a number of uncertainties, caused by both the calibration procedure and the sensor itself, as well as considering emissivity and path transmission issues. In our case, the flat-field uncertainty is most significant at higher temperatures; we therefore suggest that a flat-field correction would be desirable. Due to the spectral range of the camera (≈850–1100 nm), uncertainties associated with atmospheric absorption are shown to be relatively small under the conditions experienced on Masaya during this campaign; however, we still suggest that a single correction for this factor is applied. In general, it is likely that path lengths and atmospheric/plume conditions are much less of a concern than when trying to retrieve accurate temperatures with mid-/long-wavelength infrared systems, where CO2 and H2O have relatively large absorption features. Difficulties were, however, encountered when the volcanic plume was highly condensed; therefore, this must be considered when determining appropriate sites for deployment of this instrument.
We tested the system on Masaya volcano, Nicaragua, where an active lava lake has been present since 2015. The mean surface temperature of the lake was determined to be ≈970 °C, with a maximum temperature of 1104 ± 14 °C being retrieved. The radiative power output of the lake ranged from 30 to 45 MW, with an estimated area of 280 m2. To the best of our knowledge, this report is the first published ground-based thermal data on Masaya's lava lake, since it emerged in late 2015.
Supplementary Materials
The following are available online at
https://www.mdpi.com/2072-4292/10/3/450/s1
, Video S1: A video of temperatures from the lava lake, acquired on 12 June 2017, between 17:44 and 18:11 UTC. Significant camera shake is evident; Video S2: A stabilised version of Video S1. The video has been stabilised with the Lukas-Kanade method discussed in
Section 2.5
. Although small scale shake can still be seen, this represents a notable improvement on the larger frame shifts present in the raw video frame; Video S3: A threshold video produced from the data in Video S1. A temperature threshold of 850 °C is used, such that all pixels above this value are displayed in red and all below are displayed as blue. It is evident that in places this thresholding tracks the shake of the camera, defining the edge of the lava lake well; this is particularly good on the right-hand side. However, in regions where aerosols are abundant, or there is significant spattering and heating of the crater wall, this threshold does not accurately define the lake outline.
Acknowledgments
We greatly acknowledge the sponsors of this work. We thank INETER for their help with access to Masaya volcano and in particular Wilfried Strauch for logistical assistance. T.C.W. acknowledges a Department of Geography, University of Sheffield, studentship. J.R.W. acknowledges the support of an Engineering and Physical Sciences Research Council grant (EP/M009106/1). AMcG acknowledges a Leverhulme Research Fellowship (RF-2016-580) and the Rolex Institute. T.D.P. acknowledges the support of the Royal Society (RG170226).
Author Contributions
A.J.S.M., J.R.W. and T.C.W. conceived the idea. J.R.W. and T.C.W. designed and built the instrument. L.R.S. performed the calibration and uncertainty analysis. T.D.P. led the field campaign; T.C.W. and R.A.E. aided in fieldwork. Data analyses were predominantly performed by T.C.W. T.C.W. wrote the paper, with valuable contributions from all authors.
Conflicts of Interest
The authors declare no conflict of interest.
Appendix A
In this section, we quantify the effects of solar radiation on measurements made using our NIR system. We model the reflected solar radiance from the lake, thereby calculating the proportion of sensor signal originating from reflections rather than the lake's emitted radiation. We use the reference air mass 1.5 solar spectral irradiance data provided by the American Society for Testing and Materials (ASTM) retrieved from
http://rredc.nrel.gov/solar/spectra/am1.5/
. This models the spectra using the Simple Model for Atmospheric Transmission of Sunshine (SMARTS2 v 2.9.2) developed by Gueymard [
45
]. The model provides the spectral irradiance at the earth's surface assuming a cloudless sky; hence, solar influences presented here will be worst-case scenarios of atmospheric conditions. The irradiance is calculated for a plane inclined towards the sun at 37° towards the equator, at a solar zenith angle of 48.19°; this will cause an over estimation of the solar irradiance on a surface parallel to the ground.
Assuming direct sunlight is incident on the lava lake, under the assumption of Lambertian reflectance, the reflected spectral radiance is calculated by:
where is the surface reflectance (), is the solar spectral irradiance incident on the lake and is the reflected spectral radiance. The emitted spectral irradiance , at a given temperature is then calculated using Planck's law for black body emission and scaled by the emissivity .
Both the reflected and emitted spectral radiances are then filtered by the normalized responsivity of our PiCam instrument (as in
Section 2.3
). The total radiances of each contribution, calculated by integrating the spectral radiances over the instrument's response band (0.85–1.15 μm), can then be used to determine the relative contribution of reflected solar radiation , to the signal measured by the PiCam:
where and are the reflected and emitted radiances, respectively.
For a range of pertinent temperatures, we use Equation (1) to find the associated measured signal, then use to determine the signal associated with both emitted and reflected radiation from the lake. We are thus able to calculate the temperature of the lake itself or, similarly, determine the temperature error caused by reflected solar radiation (
Figure A1
). All calculations assumed a path transmission coefficient of , as in
Section 2.3
.
Figure A1. (A) Temperature errors associated with solar reflection vs. emissivity, for a range of temperatures. (B) As in (A) but for a much lower temperature of 500 °C. For lava lake temperatures presented in this article (predominantly 900–1100 °C) errors caused by solar reflections are minimal (all < 6 °C) for emissivities > 0.9. At much lower temperatures (500 °C) the solar effect is much more significant, even at emissivities approaching 1; therefore, it is likely that applications imaging such temperatures would need to be either away from direct sunlight, at night, or possibly with a sophisticated correction for solar radiance.
It can be seen that the error caused by solar reflections is relatively small (<6 °C) for lava lake temperatures presented herein, assuming an emissivity of greater than 0.9. Moreover, in scenarios where the emissivity is considerably lower the temperature, error remains less than 10 °C at high temperatures (≈>1100 °C). It is also important to reiterate that this model assumes a cloudless sky and that the imaged object (i.e., the lake in this case) is directly illuminated by the sun on an inclined plane. The majority of the time, therefore, solar contributions will be considerably less than those presented here.
For lower temperature applications (≈500 °C),
Figure A1
B highlights that the solar contribution is significantly greater, causing errors of >100 °C for emissivities less than 0.95; the error remains high for emissivities greater than 0.95 until it reduces to 0 at , as required by Kirchoff's Law. This result suggests that lower temperature applications would benefit significantly from being performed at night, or they may still be feasible in daytime if direct sunlight is avoided. This model does not consider the effects of diffuse sky radiation on temperature retrievals and, thus, it is difficult to provide detailed comments on imaging under such conditions. Alternatively, it may be possible to develop a sunlight correction scheme, which would enable imaging of relatively low temperature targets even in direct sunlight. A more sophisticated time of year and time of day dependent model can be made, which would give a representative contribution to the measured radiance of a reflecting pool. Or more precisely, the spectral irradiance close to a target could be directly measured by another instrument, making a correction relatively straightforward.
Appendix B
In
Table A1
we present the calibration and uncertainty fit parameters for the PiCam discussed in this paper, using a shutter speed of 1 ms; these values apply to the system with the 850 nm long-pass filter mounted in place and no band-pass filters included. It should be noted that these values were empirically determined and are specific to the instrument and calibration performed herein. Therefore, any subsequent work will need to calculate these parameters independently and it should be expected that they may differ considerably.
Parameter
Value
Used in Equation

A

0
1.35 × 10−8
1–3

A

1
8.6697 × 10−7
1–3

A

2
3.90586 × 10−5
1–3
[°C]
1.08
4

B

0
0.6966
5

B

1
0.002594
5

C

0
0.1098
6

C

1
0.1545
6
The standard error, , is given by the standard deviation of the Sakuma-Hattori fit residuals.
Appendix C
Although already examined in Wilkes et al. [
15
], here we again had an opportunity to evaluate the linearity of the sensor's response with respect to incident radiation. Furthermore, the test here is more robust than the clear-sky imaging in the former paper, since the radiance from the black-body furnace is likely to be much more stable than that from the clear-sky, the latter of which is highly dependent on atmospheric conditions. It would be expected that the sensor responds linearly and this characteristic is a necessity for accurate radiometric applications. Since a wide range of shutter speeds were used in the field with the 1080 nm band-pass filter mounted to the fore of the optical system (as mentioned in
Section 2.3
), our linearity tests utilise the calibrations from this optical setup, rather than the single 850 nm long-pass filter setup, which is the arrangement used to gather the majority of the data discussed in this article. Although the filter arrangements are slightly different, this should not affect the linearity tests presented here; therefore, it is reasonable to assume that the results also relate to the 850 nm long-pass filter setup.
Figure A2
displays the results of imaging a blackbody furnace at a range of shutter speeds and for a number of temperatures. Each data point represents an average Digital Number (DN) from 30 images taken at that shutter speed and temperature. The values are therefore averaged in both the spatial and temporal domains. The lines represent a best fit from a linear regression, which all have extremely high
r
2
values (
r
2
> 0.99) but do not all intersect close to the origin; in particular, at 950 °C, for an unknown reason the dark current subtraction has shifted the regression to intersect well below the origin, at a DN of ≈ −8.6. By forcing the regression through the origin, we degrade the quality of the fit. We believe it is this error which affects the quality of the second calibration method discussed in
Section 2.2
.
Figure A2. A plot of Digital Number (DN) vs. Shutter Speed (ms), where the DN is found from an average of 30 images taken imaging the blackbody furnace at the specified temperature. Error bars represent the associated uncertainty of this 30-member mean. The optical system used for this test had the 1080 nm band-pass filter mounted to the fore of the system, as well as the 850 nm long pass filter mounted behind the lens triplet.
References
Spampinato, L.; Calvari, S.; Oppenheimer, C.; Boschi, E. Volcano surveillance using infrared cameras.

Earth Sci. Rev.

2011,

106

, 63–91. [Google Scholar] [CrossRef]
Patrick, M.R.; Orr, T.; Antolik, L.; Lee, L.; Kamibayashi, K. Continuous monitoring of Hawaiian volcanoes with thermal cameras.

J. Appl. Volcanol.

2014,

3

, 1. [Google Scholar] [CrossRef]
Oppenheimer, C.; Yirgu, G. Thermal imaging of an active lava lake: Erta 'Ale volcano, Ethiopia.

Int. J. Remote Sens.

2002,

23

, 4777–4782. [Google Scholar] [CrossRef]
Peters, N.; Oppenheimer, C.; Killingsworth, D.R.; Frechette, J.; Kyle, P. Correlation of cycles in Lava Lake motion and degassing at Erebus Volcano, Antarctica.

Geochem. Geophys. Geosyst.

2014,

15

, 3244–3257. [Google Scholar] [CrossRef]
Delle Donne, D.; Ripepe, M. High-frame rate thermal imagery of strombolian explosions: Implications for explosive and infrasonic source dynamics.

J. Geophys. Res. Solid Earth

2012,

117

, B09206. [Google Scholar] [CrossRef]
McGonigle, A.J.S.; Aiuppa, A.; Giudice, G.; Tamburello, G.; Hodson, A.J.; Gurrieri, S. Unmanned aerial vehicle measurements of volcanic carbon dioxide fluxes.

Geophys. Res. Lett.

2008,

35

, 3–6. [Google Scholar] [CrossRef]
Amici, S.; Turci, M.; Giulietti, F.; Giammanco, S.; Buongiorno, M.F.; La Spina, A.; Spampinato, L. Volcanic environments monitoring by drones, Mud Volcano case Study.

Int. Arch. Photogramm. Remote Sens. Spat. Inf. Sci.

2013,

XL-1/W2

, 5–10. [Google Scholar] [CrossRef]
Mori, T.; Hashimoto, T.; Terada, A.; Yoshimoto, M.; Kazahaya, R.; Shinohara, H.; Tanaka, R. Volcanic plume measurements using a UAV for the 2014 Mt. Ontake eruption.

Earth Planets Space

2016,

68

, 49. [Google Scholar] [CrossRef]
Chio, S.H.; Lin, C.H. Preliminary study of UAS equipped with thermal camera for volcanic geothermal monitoring in Taiwan.

Sensors

2017,

17

, 1649. [Google Scholar] [CrossRef] [PubMed]
Saito, T.; Sakai, S.; Iizawa, I.; Suda, E.; Umetani, K.; Kaneko, K.; Furukawa, Y.; Ohkura, T. A new technique of radiation thermometry using a consumer digital camcorder: Observations of red glow at Aso volcano, Japan.

Earth Planets Space

2005,

57

, 5–8. [Google Scholar] [CrossRef]
Furukawa, Y. Infrared thermography of the fumarole area in the active crater of the Aso volcano, Japan, using a consumer digital camera.

J. Asian Earth Sci.

2010,

38

, 283–288. [Google Scholar] [CrossRef][Green Version]
Radebaugh, J.; Lopes, R.M.; Howell, R.R.; Lorenz, R.D.; Turtle, E.P. Eruptive behavior of the Marum/Mbwelesu lava lake, Vanuatu and comparisons with lava lakes on Earth and Io.

J. Volcanol. Geotherm. Res.

2016,

322

, 105–118. [Google Scholar] [CrossRef]
Dixon, J.

Radiation Thermometry

; John Wiley & Sons: Hoboken, NJ, USA, 1988. [Google Scholar]
Ball, M.; Pinkerton, H. Factors affecting the accuracy of thermal imaging cameras in volcanology.

J. Geophys. Res. Solid Earth

2006,

111

, B11203. [Google Scholar] [CrossRef]
Wilkes, T.C.; McGonigle, A.J.S.; Pering, T.D.; Taggart, A.; White, B.; Bryant, R.; Willmott, J.R. Ultraviolet Imaging with Low Cost Smartphone Sensors: Development and Application of a Raspberry Pi-Based UV Camera.

Sensors

2016,

16

, 1649. [Google Scholar] [CrossRef] [PubMed]
Gunturk, B.K.; Glotzbach, J.; Altunbasak, Y.; Schafer, R.W.; Mersereau, R.M. Demosaicking: Color filter array interpolation.

IEEE Signal Process. Mag.

2005,

22

, 44–54. [Google Scholar] [CrossRef]
Patrick, M.R.; Orr, T.; Lee, L.; Moniz, C.J.

A Multipurpose Camera System for Monitoring Kilauea Volcano, Hawai'i

; U.S. Geological Survey: Reston, VA, USA, 2015.
Wilkes, T.C.; Pering, T.D.; McGonigle, A.J.S.; Tamburello, G.; Willmott, J.R. A Low-Cost Smartphone Sensor-Based UV Camera for Volcanic SO2 Emission Measurements.

Remote Sens.

2017,

9

, 27. [Google Scholar] [CrossRef]
Wilkes, T.C.; McGonigle, A.J.S.; Willmott, J.R.; Pering, T.D.; Cook, J.M. Low-cost 3D printed 1  nm resolution smartphone sensor-based spectrometer: Instrument design and application in ultraviolet spectroscopy.

Opt. Lett.

2017,

42

, 4323. [Google Scholar] [CrossRef] [PubMed]
Aiuppa, A.; de Moor, J.M.; Arellano, S.; Coppola, D.; Francofonte, V.; Galle, B.; Giudice, G.; Liuzzo, M.; Mendoza, E.; Saballos, A.; et al. Tracking Formation of a Lava Lake From Ground and Space: Masaya Volcano (Nicaragua), 2014–2017.

Geochem. Geophys. Geosyst.

2018, 2014–2017. [Google Scholar] [CrossRef]
Report on Masaya (Nicaragua). In

Bulletin of the Global Volcanism Network

; Venzke, E. (Ed.) Smithsonian Institution: Washington, DC, USA, 2017; Volume 42. [Google Scholar]
Lane, B.; Whitenton, E.P.

Calibration and Measurement Procedures for a High Magnification Thermal Camera

; National Institute of Standards and Technology: Gaithersburg, MD, USA, 2015. [CrossRef]
Saunders, P.; White, D.R. Physical basis of interpolation equations for radiation thermometry.

Metrologia

2003,

40

, 195–203. [Google Scholar] [CrossRef]
Sawyer, G.M.; Burton, M.R. Effects of a volcanic plume on thermal imaging data.

Geophys. Res. Lett.

2006,

33

, L14311. [Google Scholar] [CrossRef]
Gordon, I.E.; Rothman, L.S.; Hill, C.; Kochanov, R.V.; Tan, Y.; Bernath, P.F.; Birk, M.; Boudon, V.; Campargue, A.; Chance, K.V.; et al. The HITRAN2016 molecular spectroscopic database.

J. Quant. Spectrosc. Radiat. Transf.

2017,

203

, 3–69. [Google Scholar] [CrossRef]
Pliutau, D.; Roslyakov, K. Bytran -|- spectral calculations for portable devices using the HITRAN database.

Earth Sci. Inform.

2017,

10

, 395–404. [Google Scholar] [CrossRef]
Kochanov, R.V.; Gordon, I.E.; Rothman, L.S.; Wcisło, P.; Hill, C.; Wilzewski, J.S. HITRAN Application Programming Interface (HAPI): A comprehensive approach to working with spectroscopic data.

J. Quant. Spectrosc. Radiat. Transf.

2016,

177

, 15–30. [Google Scholar] [CrossRef]
Pinkerton, H.; James, M.; Jones, A. Surface temperature measurements of active lava flows on Kilauea volcano, Hawai'i.

J. Volcanol. Geotherm. Res.

2002,

113

, 159–176. [Google Scholar] [CrossRef]
Rothery, D.A.; Francis, P.W.; Wood, C.A. Volcano Monitoring Using Short Wavelength Infrared Data from Satellites.

J. Geophys. Res.

1988,

93

, 7993–8008. [Google Scholar] [CrossRef]
Ripepe, M.; Harris, A.J.L.; Marchetti, E. Coupled thermal oscillations in explosive activity at different craters of Stromboli volcano.

Geophys. Res. Lett.

2005,

32

, L17302. [Google Scholar] [CrossRef]
Lane, B.; Whitenton, E.; Madhavan, V.; Donmez, A. Uncertainty of temperature measurements by infrared thermography for metal cutting applications.

Metrologia

2013,

50

, 637–653. [Google Scholar] [CrossRef]
Du, H.; Voss, K.J. Effects of Point-Spread Function on Calibration and Radiometric Accuracy of CCD Camera.

Appl. Opt.

2004,

43

, 665. [Google Scholar] [CrossRef] [PubMed]
Baker, S.; Matthews, I. Lucas-Kanade 20 years on: A unifying framework.

Int. J. Comput. Vis.

2004,

56

, 221–255. [Google Scholar] [CrossRef]
Evangelidis, G. IAT: A Matlab Toolbox for Image Alignment. Available online: https://sites.google.com/site/imagealignment/ (accessed on 10 November 2017).
Spampinato, L.; Ganci, G.; Hernández, P.A.; Calvo, D.; Tedesco, D.; Pérez, N.M.; Calvari, S.; Del Negro, C.; Yalire, M.M. Thermal insights into the dynamics of Nyiragongo lava lake from ground and satellite measurements.

J. Geophys. Res. Solid Earth

2013,

118

, 5771–5784. [Google Scholar] [CrossRef]
Carling, G.T.; Radebaugh, J.; Saito, T.; Lorenz, R.D.; Dangerfield, A.; Tingey, D.G.; Keith, J.D.; South, J.V.; Lopes, R.M.; Diniega, S. Temperatures, thermal structure, and behavior of eruptions at Kilauea and Erta Ale volcanoes using a consumer digital camcorder.

GeoResJ

2015,

5

, 47–56. [Google Scholar] [CrossRef]
Harris, A.J.L.; Flynn, L.P.; Rothery, D.A.; Oppenheimer, C.; Sherman, S.B. Mass flux measurements at active lava lakes: Implications for magma recycling.

J. Geophys. Res.

1999,

104

, 7117–7136. [Google Scholar] [CrossRef]
Calkins, J.; Oppenheimer, C.; Kyle, P.R. Ground-based thermal imaging of lava lakes at Erebus volcano, Antarctica.

J. Volcanol. Geotherm. Res.

2008,

177

, 695–704. [Google Scholar] [CrossRef]
Le Guern, F.; Carbonnelle, J.; Tazieff, H. Erta'Ale lava lake: Heat and gas transfer to the atmosphere.

J. Volcanol. Geotherm. Res.

1979,

6

, 27–48. [Google Scholar] [CrossRef]
Oppenheimer, C.; McGonigle, A.J.S.; Allard, P.; Wooster, M.J.; Tsanev, V. Sulfur, heat, and magma budget of Erta 'Ale lava lake, Ethiopia.

Geology

2004,

32

, 509–512. [Google Scholar] [CrossRef]
Spampinato, L.; Oppenheimer, C.; Calvari, S.; Cannata, A.; Montalto, P. Lava lake surface characterization by thermal imaging: Erta 'Ale volcano (Ethiopia).

Geochem. Geophys. Geosyst.

2008,

9

, Q12008. [Google Scholar] [CrossRef]
Cipar, J.J.; Anderson, G.P.; Cooley, T.W. Temperature and power output of the lava lake in Halema'uma'u crater, Hawaii, using a space-based hyperspectral imager.

IEEE J. Sel. Top. Appl. Earth Obs. Remote Sens.

2012,

5

, 617–624. [Google Scholar] [CrossRef]
Le Guern, F. Mechanism of Energy Transfer in the Lava Lake of Niragongo (Zaire), 1959–1977.

J. Volcanol. Geotherm. Res.

1987,

31

, 17–31. [Google Scholar] [CrossRef]
Coppola, D.; Staudacher, T.; Cigolini, C. Field thermal monitoring during the August 2003 eruption at Piton de la Fournaise (La Réunion).

J. Geophys. Res. Solid Earth

2007,

112

, B05215. [Google Scholar] [CrossRef]
Gueymard, C.A. Parameterized transmittance model for direct beam and circumsolar spectral irradiance.

Sol. Energy

2001,

71

, 325–346. [Google Scholar] [CrossRef]

Figure 1. (A) Lens design in OpticStudio (Zemax Ltd.) showing the position of each lens in the triplet, the aperture, filter and sensor from the PiCam. Colours represent light rays terminating at different field heights on the focal plane array; red displays the rays at the edge of the camera field of view (5° from the optical axis), whilst blue represents rays parallel to the optical axis. (B) Image of the 3D printed lens holder and camera mount. The filter holder slides into the camera mount during operation. The triplet lens holder is threaded and thus can be focused (at infinity) in the field.

Figure 2. Main image: Photograph of the PiCam capturing images of the lava lake at Masaya volcano on 12 June 2017. The plume aerosols are quite clearly visible, as are bubble bursts in the lake itself. Inset: A schematic of the estimated viewing geometry provided by Instituto Nicaragüense de Estudios Territoriales (INETER; Personal Communication, 2017); figure not to scale.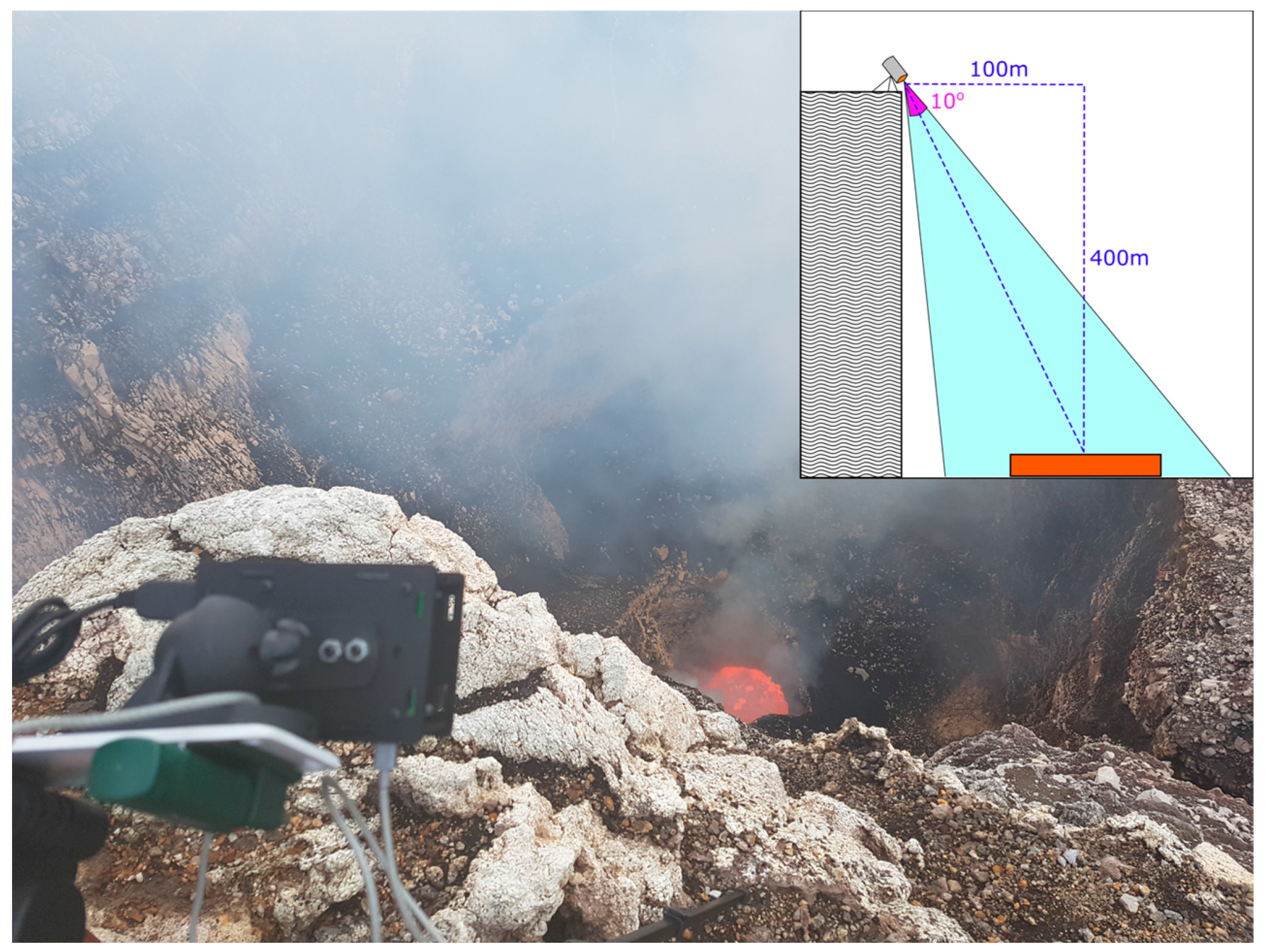 Figure 3.
(
A
) A plot showing how retrieved temperature varies with emissivity of the object. Displayed at 3 different Digital Numbers (DNs), for a shutter speed of 1 ms and with a path transmission coefficient of 0.8789. (
B
) As (
A
) but displaying the effect of a water vapour correction on the retrieved temperature, i.e., larger estimated water vapour loadings in the path cause higher temperatures to be retrieved since there is more absorption of radiation across the path. For each data point the transmission coefficient was calculated as the mean between 800–1200 °C (see
Section 2.3
for further explanation). Data is plotted for an emissivity of 0.95, with atmospheric temperature and pressure of 26.5 °C and 94,300 Pa, respectively; relative humidity is quoted using a path length of 412 m, used in the field tests on Masaya volcano (see
Section 2.5
).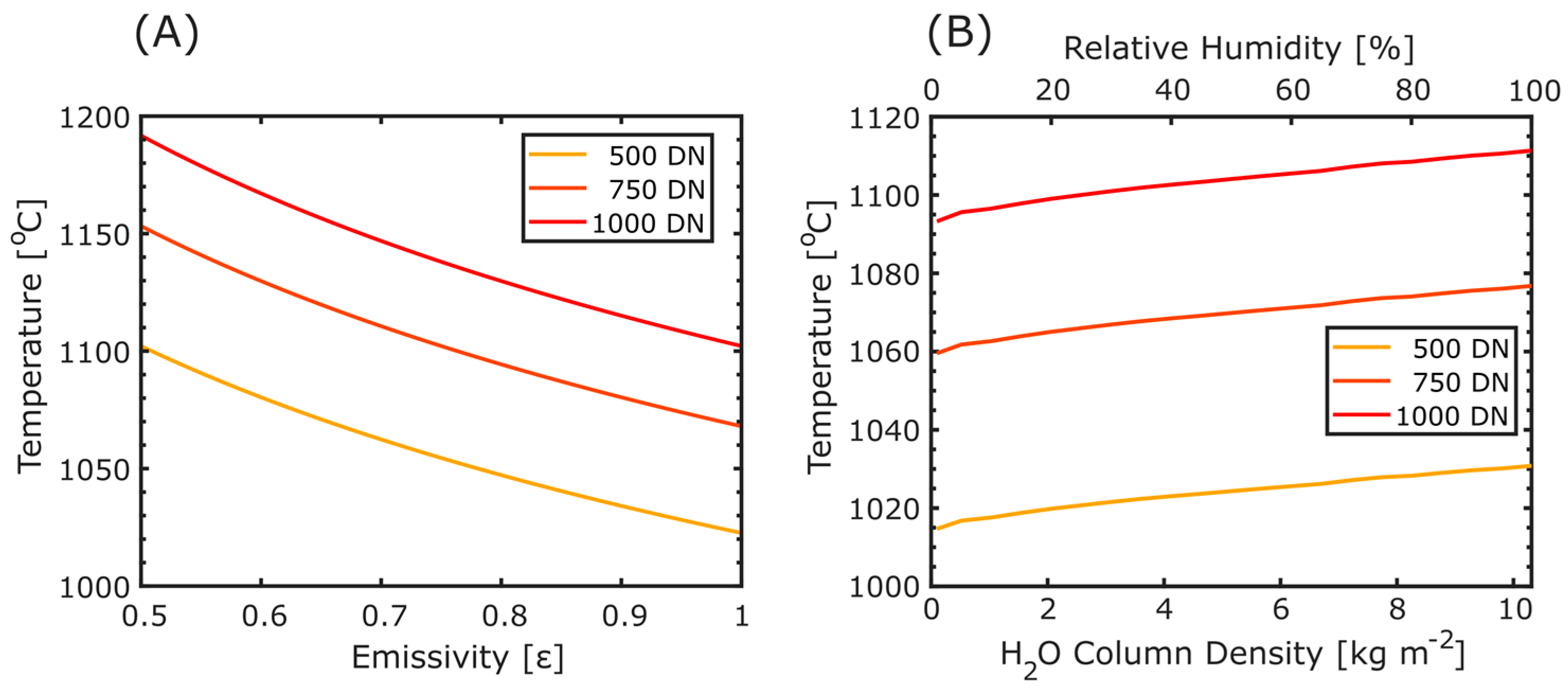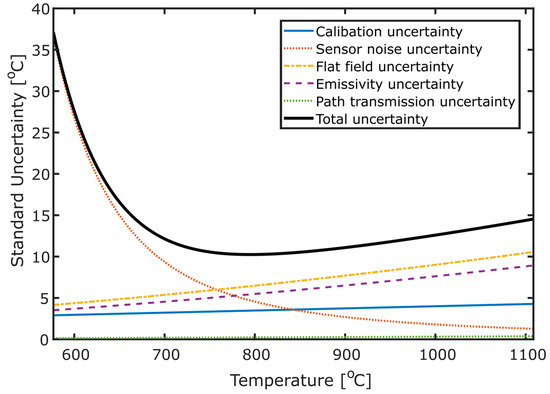 Figure 4.
Calculated measurement uncertainties vs measured temperature for 1 ms exposure time on the PiCam. As in the discussion of
Section 2.4
, all uncertainties are for a 95% confidence interval. For the majority of uncertainties, a larger temperature is concomitant with larger measurement uncertainty, apart from the sensor noise uncertainty, since the signal-to-noise ratio increases with increasing signal/temperature; longer exposure times will decrease the sensor noise uncertainty for a given temperature and, thus, somewhat extend the use of this system to lower temperatures. Since flat-field uncertainty could be corrected for and emissivity could possibly be more accurately constrained than in this study, the minimum uncertainties of this technique are likely constrained by the sensor noise and calibration uncertainties.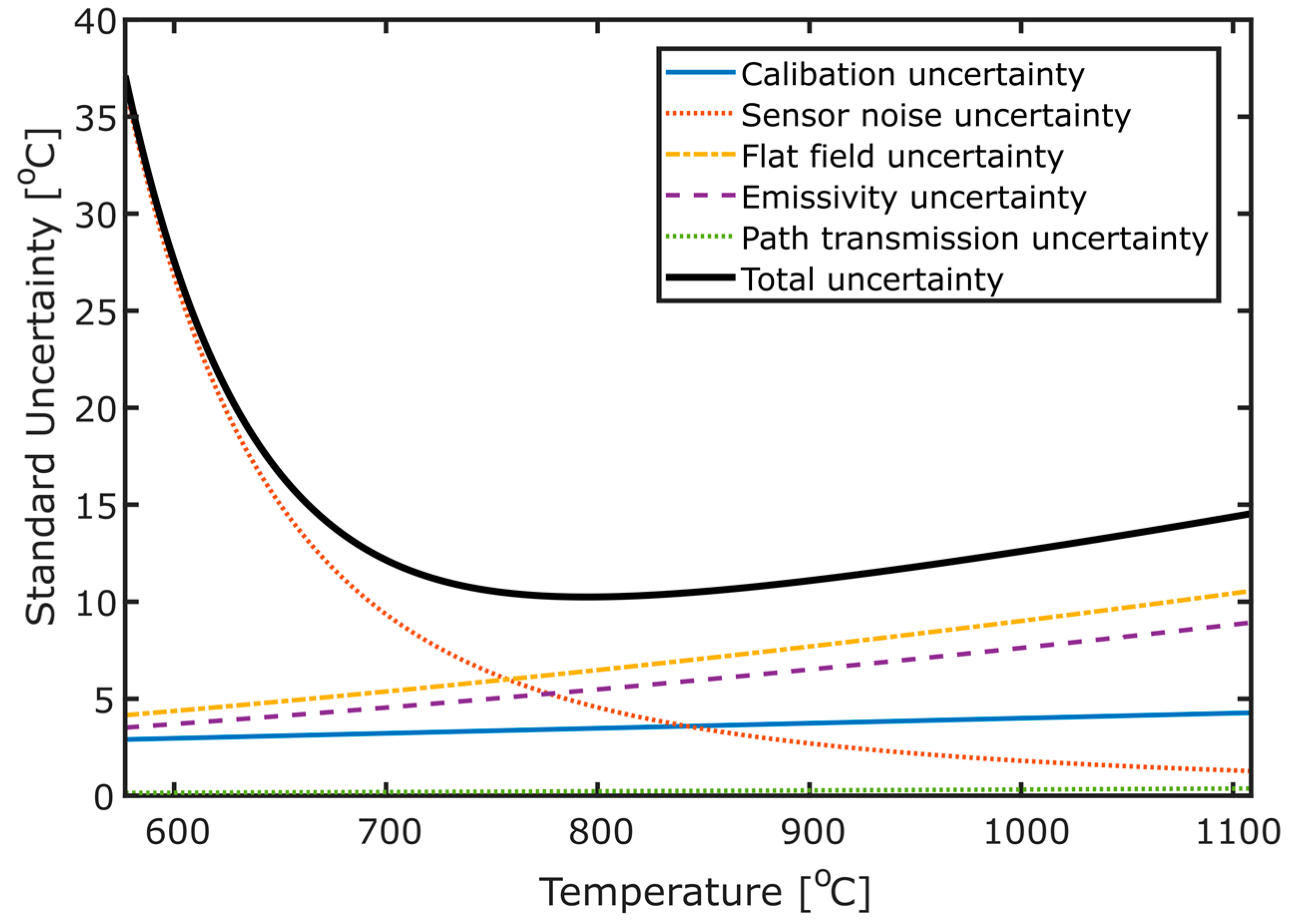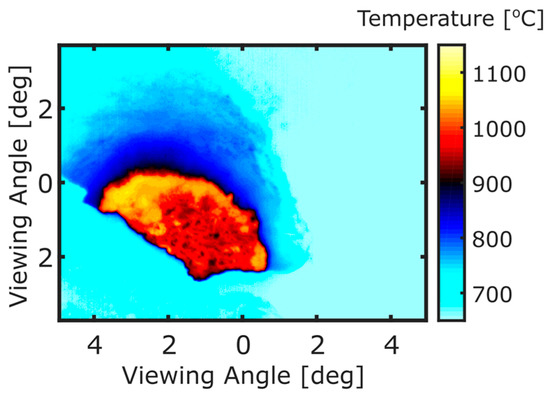 Figure 5. A PiCam image of the Masaya lava lake, taken on 12 June 2017 at 18:12:20 UTC. Lake temperatures of up to 1059 ± 14 °C are observed here. Temperatures are highest towards the edges where collisions with the crater wall appear to occur and elsewhere in the lake when bubble bursts expose fresh magma. The high apparent temperature of the crater wall is due to reflection of the lake's radiation, either by aerosols or by the wall itself; these temperatures are, therefore, inaccurate.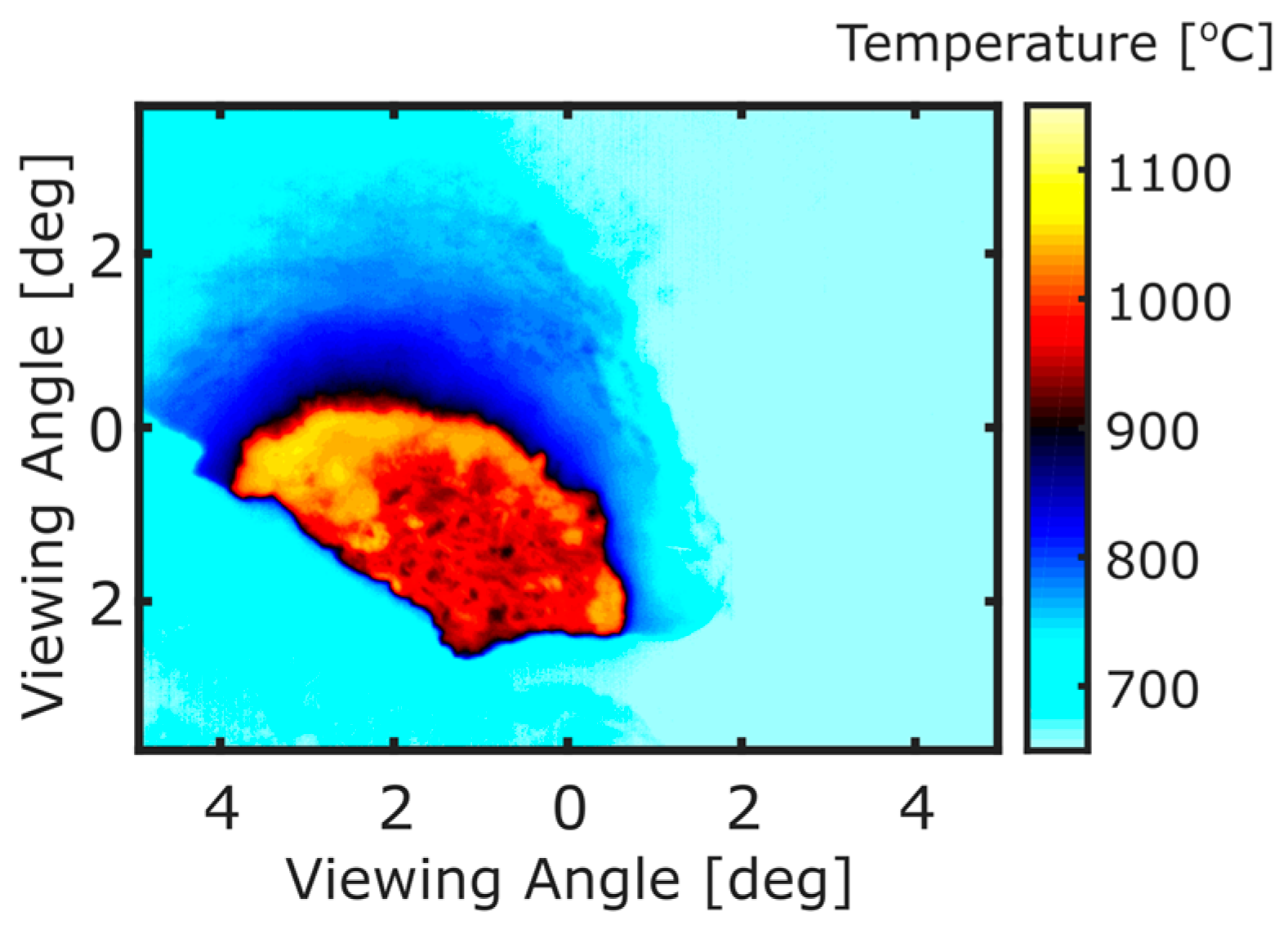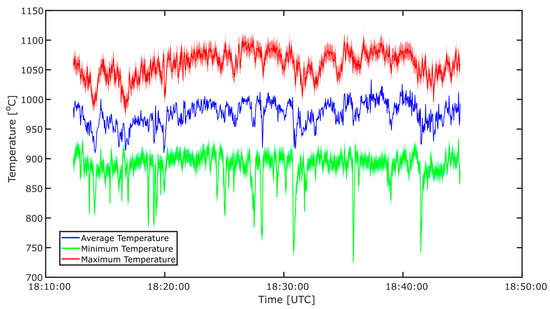 Figure 6. Temperature time series from 18:12:20 to 18:44:48 UTC on 12 June 2017, taken with a 1 ms shutter speed at a framerate of 0.5 Hz. Maximum, minimum and average temperatures of the lava lake region of interest (ROI) and displayed. Maximum and minimum temperatures have associated total uncertainties displayed as a shaded region.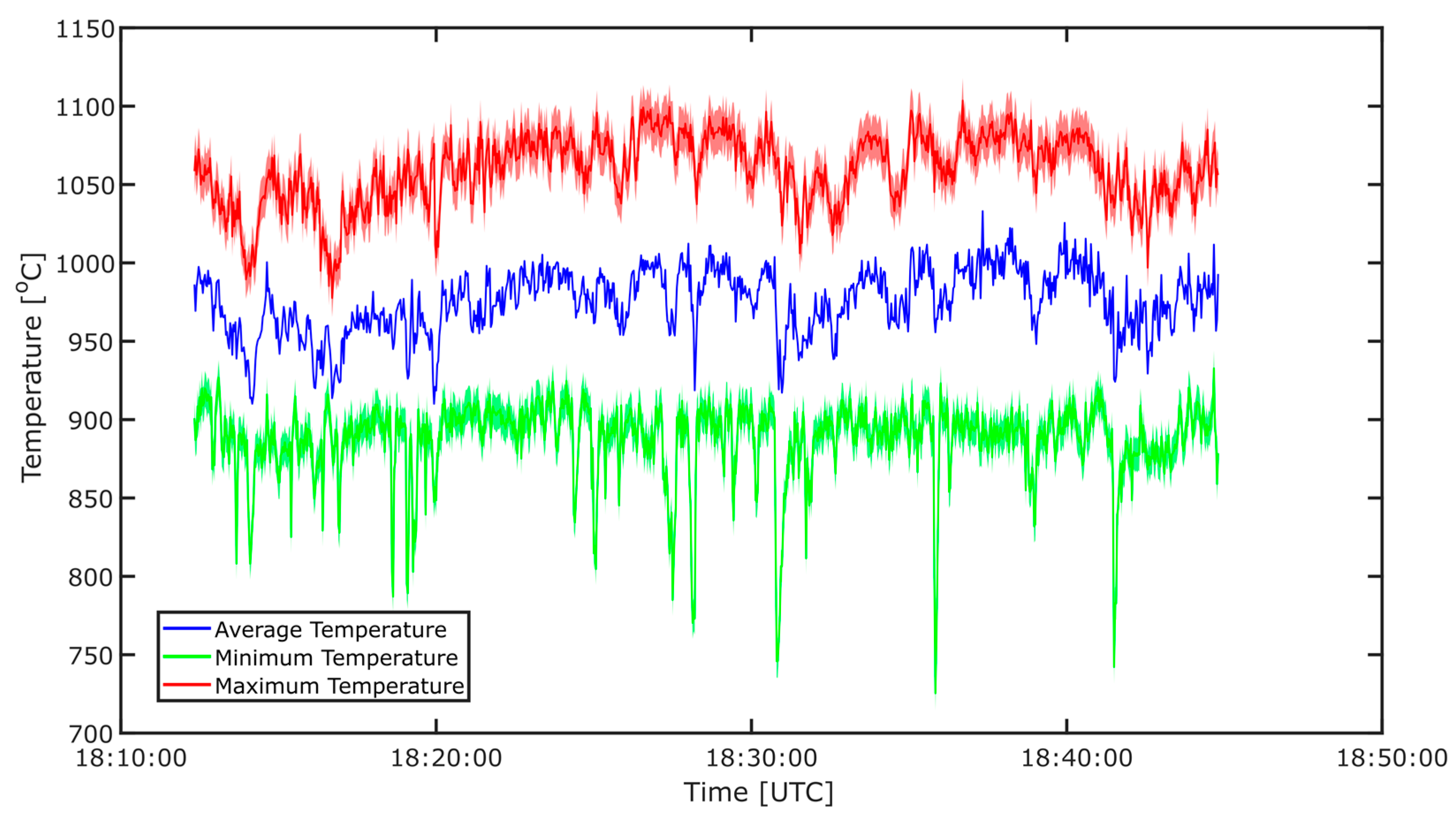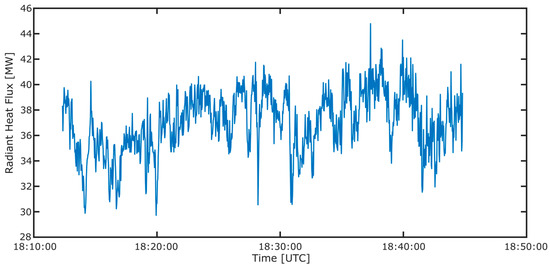 Figure 7. Radiant flux time series from 18:12:20 to 18:44:48 UTC on 12 June 2017. The flux ranges from 30 to 45 MW, with an average of 37 MW. The lake area, used in this calculation (Equation (11)), was estimated to be 280 m2.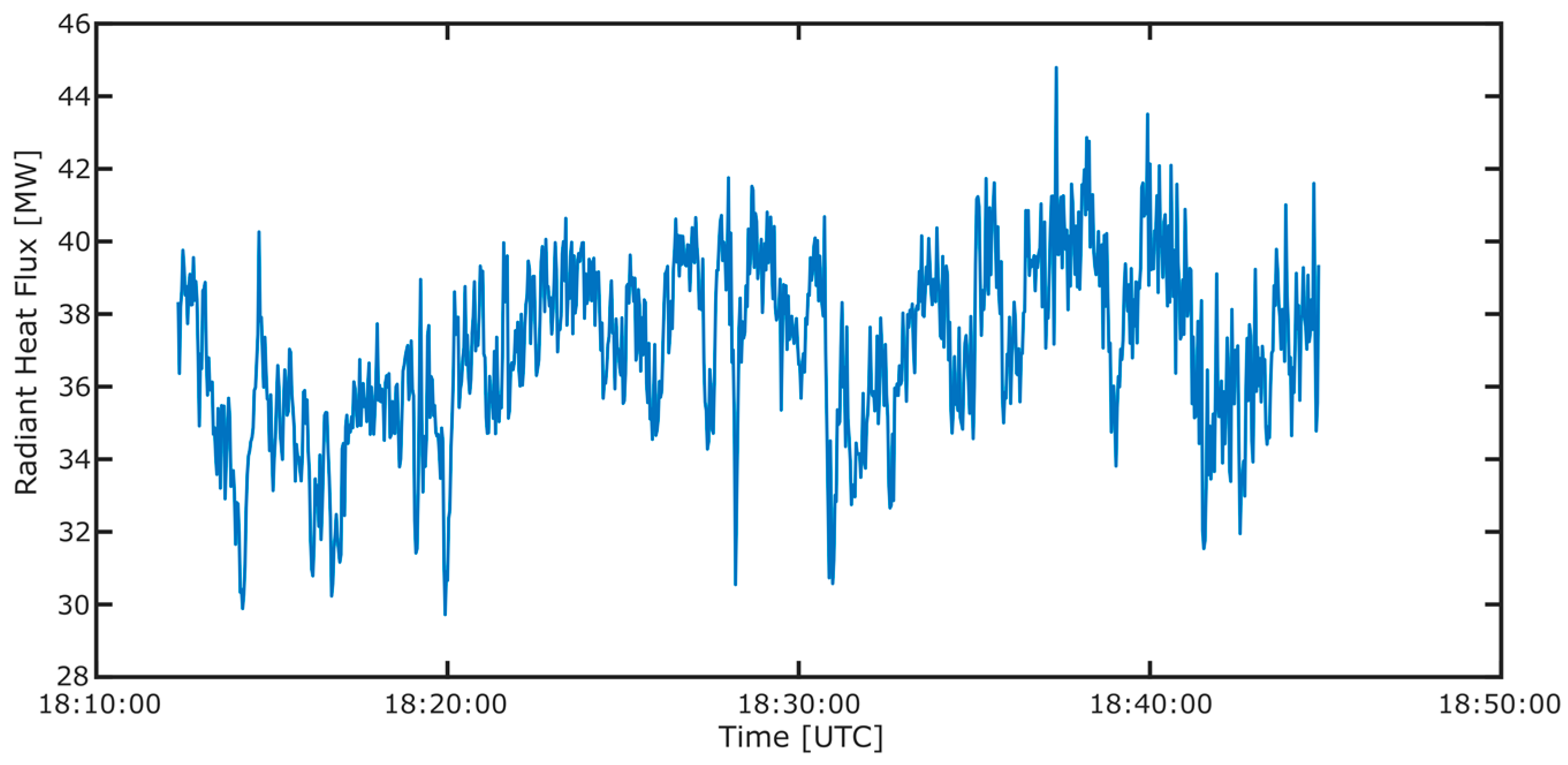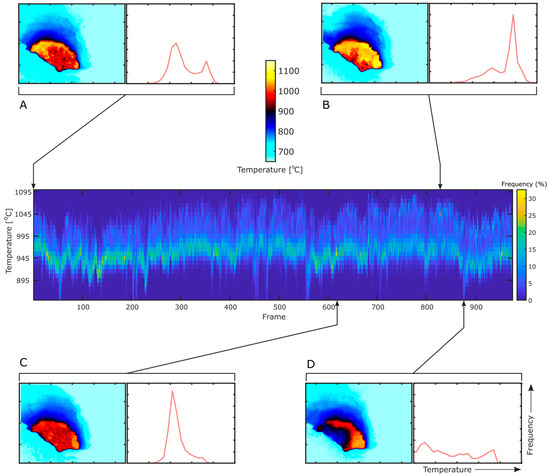 Figure 8.
A stack of lava lake temperature histograms (central pane), similar to the RadTherm plots of Coppola et al. [
44
]. Surrounding subplots display lava lake thermal images and the associated temperature histograms; for ease of comparison, all histograms are plotted on the same axis scale, as in
Figure 9
. Subplots show examples of: (
A
) bimodal temperature distribution due to a relatively large amount of spattering at the lake edge and the cooler crust surface; (
B
) extremely hot temperatures due to high levels of edge spattering and large bubble bursts exposing fresh hot lava; (
C
) weak-positively skewed distribution of temperatures due to a relatively undisturbed cooled crust, along with small bubble bursts; (
D
) aerosol extinction obscuring the view of the lava lake and, thus, causing significantly lower retrieved temperatures. Note that the frequency colour scale relates to the central stacked histogram figure, whilst the temperature colour scale relates to the lava images.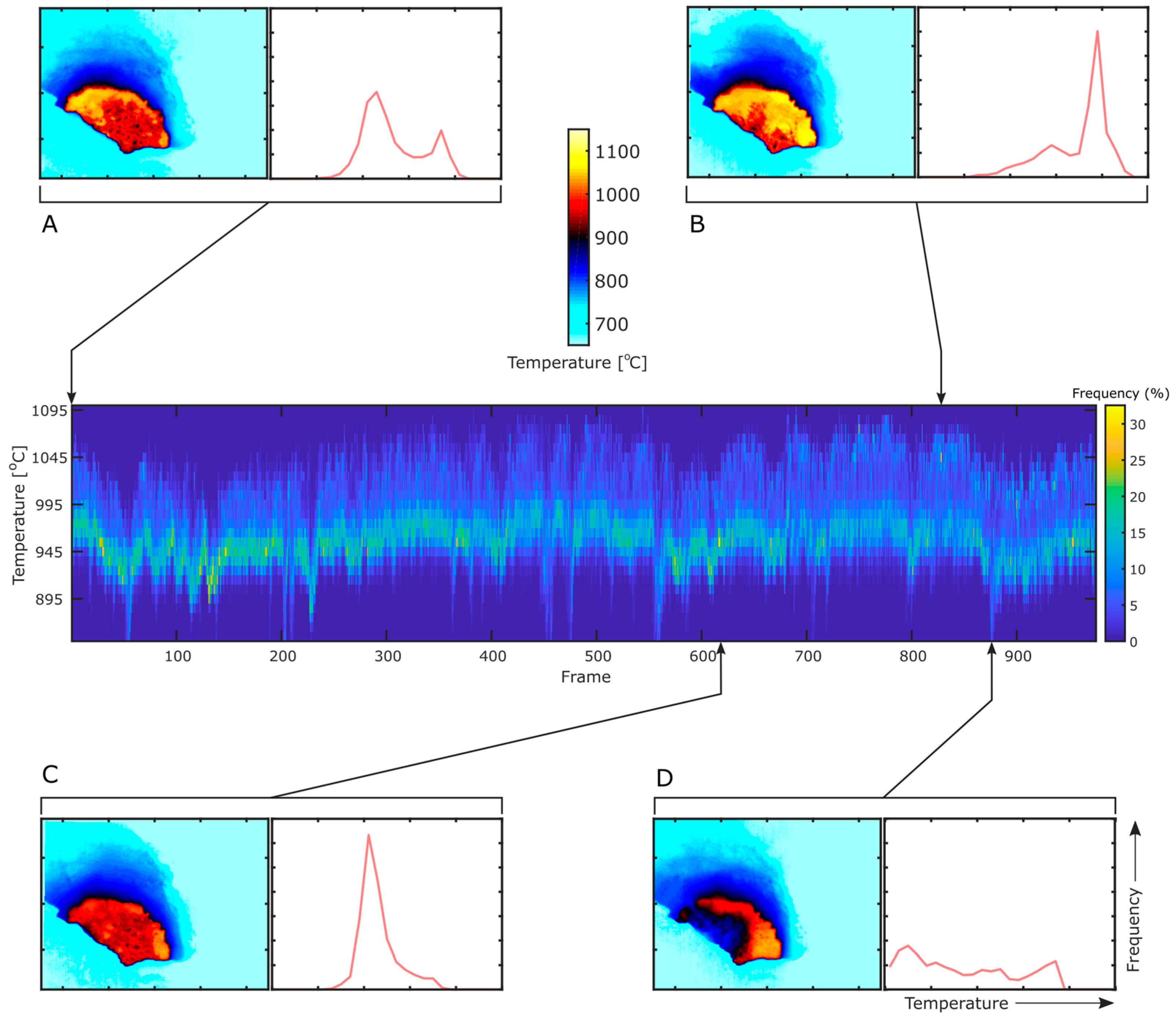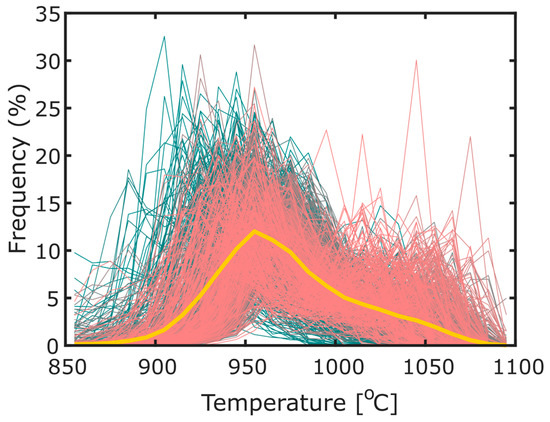 Figure 9. Histograms of temperature distributions, in 10 °C bins, across the lava lake from 18:12:20 to 18:44:48 UTC on 12 June 2017. The lava lake area was defined by a user-defined region of interest. For clarity, histograms are coloured by the frame time they represent; earlier frames are more blue and later frames are more red. The bold yellow line represents the mean distribution, which is a slight positive skew. This is likely due to bubble bursts and lake turbulence which introduce hotter lava into what otherwise would be a steadily cooling crust which you may expect to display a Gaussian temperature distribution.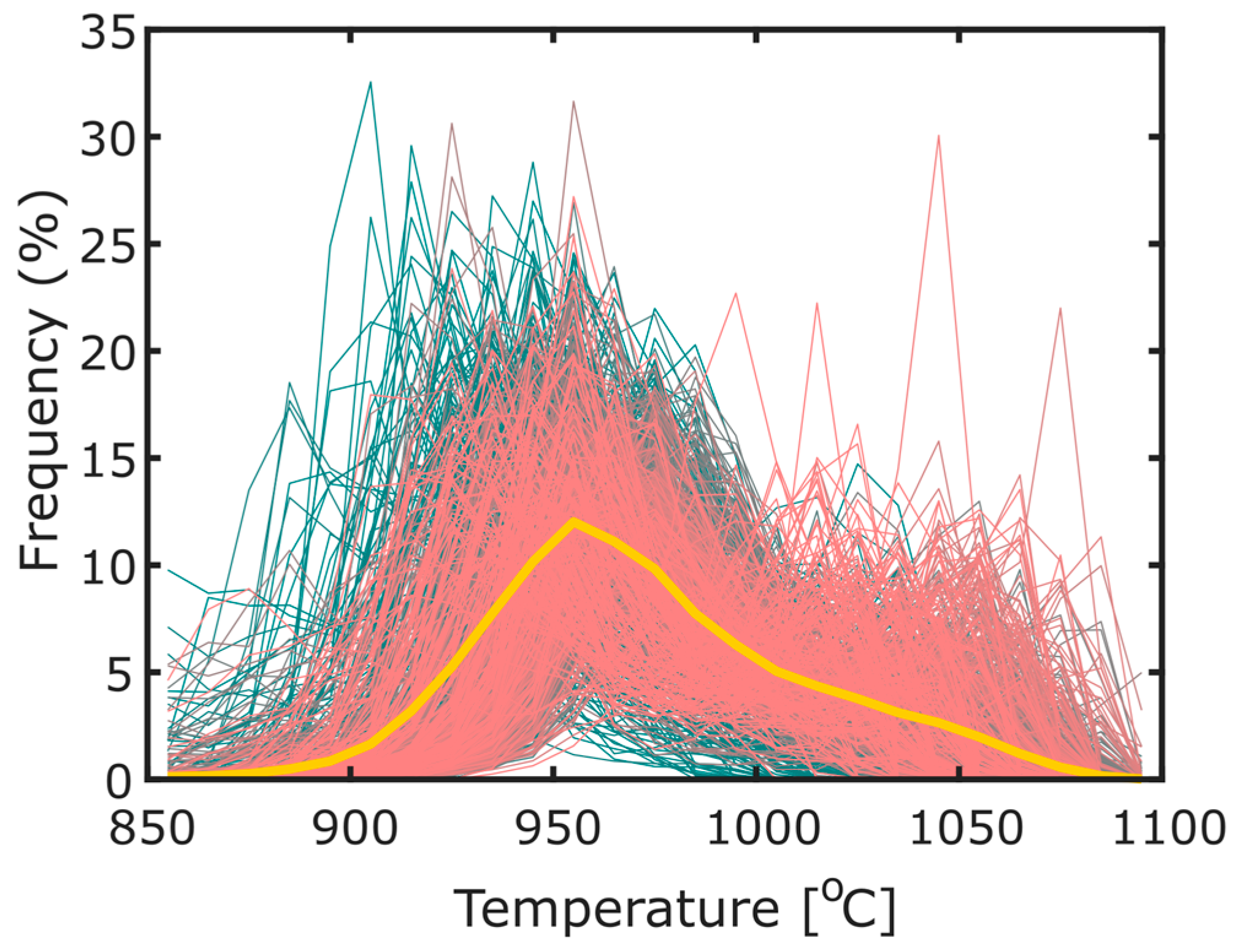 | Uncertainty | Symbol | Quantification |
| --- | --- | --- |
| Thermocouple uncertainty | | 0.4 °C |
| Blackbody cavity temperature uncertainty | | 1 °C |
| Blackbody emissivity uncertainty | | 0.04 * |
| Fit uncertainty | | Standard error of Sakuma-Hattori fit (see Table A1 for value at 1 ms shutter speed) |
* See Equation (3) for calculation of .

Table 2. Assimilation of lava lake radiant power data, associated lake areas and the instrument used for the retrieval. Only relatively high-resolution instruments are included here, such that studies which calculate radiant power from sub-pixel scale lava lakes are omitted.
| Volcano Year | Instrument | Area (m2) | Radiant Power (MW) | Reference |
| --- | --- | --- | --- | --- |
| Masaya | | | | |
| 2017 | GB NIR camera | 280 | 30–45 | This article |
| Erebus | | | | |
| 1985 | Landsat TM | 180 | 12–18 | [37] |
| 1989 | Landsat TM | 300 | 8–15 | [37] |
| 2004 (Ray Lake) | GB MWIR Camera | 1400 | 20–40 | [38] |
| 2004 (Werner Lake) | GB MWIR Camera | 1000–1200 | 20 | [38] |
| 2004 (Total) | GB MWIR Camera | 2400–2600 | 40–60 | [38] |
| Erta 'Ale | | | | |
| 1973 | Landsat TM | 3800 | 3546 | [39], [37] |
| 1986 | Landsat TM | 2960 | 11–22 | [37] |
| 2001 | GB MWIR Camera | 6200 | 70–150 | [3] |
| 2003 | GB MWIR Camera | 910 | 5–30 | [40] |
| 2006 | GB LWIR Camera | 2500 | 45–76 | [41] |
| Kilauea | | | | |
| 1991 (Pu'u 'O'o) | Landsat TM | 4000 | 322–327 | [37] |
| 2009 (Halema'uma'u) | ARTEMIS | Not quoted | 15–24 | [42] |
| Nyiragongo | | | | |
| 1959 | Landsat TM | Unclear | 540 | [43], [37] |
| 1972 | Landsat TM | 45,200 | 1220 | [43], [37] |
| 1987 | Landsat TM | 25 | 0.1–0.3 | [37] |
| 2012 | GB LWIR Camera | 31,400 | 600–1200 | [35] |

© 2018 by the authors. Licensee MDPI, Basel, Switzerland. This article is an open access article distributed under the terms and conditions of the Creative Commons Attribution (CC BY) license (http://creativecommons.org/licenses/by/4.0/).