Open Access This article is
freely available
re-usable
Letter
Model-Based Optimization of Spectral Sampling for the Retrieval of Crop Variables with the PROSAIL Model
1
Department of Geography, Ludwig-Maximilians-Universität München, Luisenstraße 37, D-80333 Munich, Germany
2
Institute of Surveying, Remote Sensing & Land Information (IVFL), University of Natural Resources and Life Sciences, Vienna (BOKU), Peter Jordan Str. 82, 1190 Vienna, Austria
*
Author to whom correspondence should be addressed.
Received: 19 September 2018 / Accepted: 17 December 2018 / Published: 19 December 2018
Abstract
:
Satellite hyperspectral Earth observation missions have strong potential to support sustainable agriculture by providing accurate spatial and temporal information of important vegetation biophysical and biochemical variables. To meet this goal, possible error sources in the modelling approaches should be minimized. Thus, first of all, the capability of a model to reproduce the measured spectral signals has to be tested before applying any retrieval algorithm. For an exemplary demonstration, the coupled PROSPECT-D and SAIL radiative transfer models (PROSAIL) were employed to emulate the setup of future hyperspectral sensors in the visible and near-infrared (VNIR) spectral regions with a 6.5 nm spectral sampling distance. Model uncertainties were determined to subsequently exclude those wavelengths with the highest mean absolute error (MAE) between model simulation and spectral measurement. The largest mismatch could be found in the green visible and red edge regions, which can be explained by complex interactions of several biochemical and structural variables in these spectral domains. For leaf area index (LAI, m2·m−2) retrieval, results indicated only a small improvement when using optimized spectral samplings. However, a significant increase in accuracy for leaf chlorophyll content (LCC, µg·cm−2) estimations could be obtained, with the relative root mean square error (RMSE) decreasing from 26% (full VNIR range) to 15% (optimized VNIR) for maize and from 77% to 29% for soybean, respectively. We therefore recommend applying a specific model-error threshold (MAE of ~0.01) to stabilize the retrieval of crop biochemical variables.
Keywords:
PROSAIL; LAI; leaf chlorophyll content; radiative transfer model; imaging spectroscopy; hyperspectral missions; feature selection; optimized spectral sampling
1. Introduction
In this context, the objective of the present study was to test the capability of the PROSAIL model to reproduce hyperspectral measurements in the visible to near infrared (VNIR) region and to analyze the impact of erroneous bands—and their subsequent removal—on the retrieval of LAI and LCC for agricultural crops. We thus aim to improve the usability of PROSAIL simulations for two important crop types (maize and soybean) as a prerequisite for the application of the model within a retrieval scheme for biophysical and biochemical variables from future hyperspectral sensor missions' data.
2. Materials and Methods
2.1. Data Collection and Preparation
Spectroscopic data were collected concurrently with biophysical and biochemical variables at the University of Nebraska–Lincoln Agricultural Research and Development Center (UNL-ARDC), which takes part in the Carbon Sequestration Program. Spectroscopic measurements in the 400–1000 nm domain were carried out during multiple years at three agricultural fields (irrigated maize and irrigated maize–soybean rotation at 41°09′54.2″N, 96°28′35.9″W, 361 m above sea level (a.s.l.); and rain-fed maize–soybean rotation at 41°10′46.8″N, 96°26′22.7″W, 362 m a.s.l.) using a dual-fiber optics system (i.e., two Ocean Optics USB2000 radiometers) mounted on an all-terrain sensor platform. Spectral reflectance sampling areas were associated to intensive measurement zones (IMZ). At each IMZ, green leaf area index (LAI, m
2
·m
−2
) and leaf chlorophyll content (LCC, µg·cm
−2
) measurements were carried out destructively from June 2001 to August 2008 [
26
,
27
]. Since a spectral sampling distance of 6.5 nm represents a good compromise between several upcoming hyperspectral sensors, ranging from 2.55 nm (DESIS) over 6.5 nm (EnMAP) to 12 nm (PRISMA), EnMAP band-specific spectral response functions with 6.5 nm spectral sampling distance were applied to the field spectrometer data in the VNIR domain (N
samples
= 73 bands in the spectral range 423–863 nm). Due to the presence of noise in the spectrometer data above 870 nm, we decided to exclude the central wavebands from 871 nm to 975 nm. In this way, the available spectral information is reduced while still providing a valid hyperspectral database for the exploitation of optimal LAI and LCC retrieval. Currently, there are no spaceborne sensors and only very few airborne sensors that are suitable to 'emulate' the future satellites with the appropriate spectral resolution, signal-to-noise ratio (SNR) and sampling (especially the temporal sampling to cover different phenological phases), with field sampling activities running in parallel. Although there may be some spectral information missing, a field spectroscopy database is still ideal to simulate VNIR bands from future hyperspectral spaceborne sensors.
Note that the converted measurements were assumed to be error-free. However, the inclusion of measurement uncertainties in the inversion process may lead to improved retrieval, for instance, when using Bayesian techniques [
28
]. Moreover, spatial resolution and atmospheric correction issues go beyond the scope of the current study.
For the present study, 169 measurements of LAI (m
2
·m
−2
) and LCC (µg·cm
−2
) were available for maize and 68 samples for soybean. A summary of the variable distribution is presented in
Table 1
.
2.2. Spectral Feature Selection
From each crop type, 20 sample spectra (corresponding to 20 IMZs) were selected to assess the agreement between the model-simulated and measured spectra and to identify/eliminate poorly simulated spectral bands. The 20-sample spectra were extracted from different dates to represent the range of phenological stages that occur during the course of a growth cycle. Following the procedure outlined in Atzberger et al. [
24
], for each IMZ, an individual look-up table (LUT
ind
) was established with the PROSAIL model. LAI was fixed at its measured value, while all other model parameters were allowed to vary freely within a uniform distribution. This decision is based on the dominant influence of canopy structure (i.e., LAI) on the overall spectral signal. Soil reflectance and measurement geometry were specified according to actual conditions.
Table 2
gives an overview of the specific individual LUT parameterization (LUT
ind
).
For each LUTind, spectral signals were simulated for 10,000 randomly selected parameter combinations. Simulated PROSAIL reflectance values were converted to VNIR bands (Nbands = 73) by applying the actual band-specific response functions of the future EnMAP hyperspectral imager. Due to the narrow spectral range of the field spectrometer used, the simulation was limited to the VNIR part of the spectrum. By means of the root mean square error (RMSE), calculated across the 73 selected bands, the best-fitting LUT spectrum was selected. The mean absolute error (MAE) was calculated for each of the 20 individual IMZs by subtracting the best-fitting LUT spectrum from the corresponding measured spectrum. After calculating the mean value of the resulting 20 MAEs, the least accurately modeled band was deleted and the procedure was repeated, running the LUTind from Nsamples = 73 bands to Nsamples = 1 band. The resulting band combinations were applied to retrieve LAI (in m2·m−2) and LCC (in µg·cm−2) from the validation dataset (i.e., N = 169 for maize and N = 68 for soybean).
To demonstrate the influence of the different parameters on the output reflectance in the analyzed wavelength range (400–865 nm), a global sensitivity analysis (GSA) was carried out. A GSA informs about the contribution of each input parameter to the total variability of the output signal. It further provides information about parameter interactions [
32
,
33
]. The GSA was performed for PROSAIL with input parameter ranges as presented in
Table 2
. A Matlab software tool (GSAT) [
34
] was applied for this purpose, including both Fourier amplitude sensitivity testing (FAST) analysis and Sobol's method to calculate first-order sensitivity coefficients. For more details, see also the work of Wang et al. [
33
].
2.3. Constrained LUT Inversion
For the LUT-based inversion of the PROSAIL model, we followed standard approaches, e.g., [
19
,
30
]. The input parameters of the coupled leaf (PROSPECT-D) and canopy reflectance model (SAIL) are displayed in
Table 2
. Sun zenith angle (SZA) was set to 30°. For the background soil reflectance (ρ
soil
), the means of different bare soil spectra were calculated and implemented in the model. For leaf chlorophyll content estimations, different constraints were tested to improve the estimates. This included the Gaussian sampling of LCC in the LUT according to current growth stages (maize: mean value (µ) of 50 µg·cm
−2
, standard deviation (σ) of 20 µg·cm
−2
; soybean: µ = 30 µg·cm
−2
and σ = 20 µg·cm
−2
). Such information is not commonly available, but in our case, weekly acquisitions could be used to delimit the variables in the LUT according to realistic actual values. Other parameter ranges were set according to
Table 2
, following uniform distributions. The total size of the LUT was set to 20,000 combinations of input parameters (members) and the corresponding bidirectional reflectance was calculated with the PROSAIL model applying the EnMAP spectral response functions. To select the solution for the inverse problem of a defined measured spectrum, the RMSE between the measured and modeled spectra was calculated, and the best-fitting 50 spectra were selected as the final solution. We chose the best-fitting 50 spectra following the results of Danner et al. [
35
], who found that the median of the 50 (and 100) best fits—using a RMSE cost function—led to the lowest relative RMSE (rRMSE) for LAI retrieval. According to a study of Darvishzadeh et al. [
19
], no significant difference was found between the uses of the two statistical parameters of the median and mean. Therefore, we decided to use the mean value, as applied in our previous studies, e.g., [
30
].
3. Results and Discussion
3.1. Model Suitability Test and Feature Selection
3.2. Biophysical and Biochemical Variable Estimations
4. Conclusions
Radiative transfer models, such as PROSAIL, have been applied for variable retrieval without testing the model in the forward direction. Researchers often relied on the apparently good experience of previous studies. However, observed spectral reflectance (from field/airborne/spaceborne sensors) can deviate from the forward model simulation in certain spectral regions, further leading to errors in the retrieval with whatever method used. Thus, before inverting these models, suitability tests are recommended [
13
,
24
,
48
]. This implies a need to analyze the model's capability of reproducing the measured (canopy bidirectional) spectral signals when parameterized using field measurements. Spectral bands with a systematic mismatch between measured and simulated spectra should be removed to avoid bias effects leading to suboptimal performances. So far, no publication exists analyzing the capability of PROSAIL to reproduce crop hyperspectral measurements from simulated data of future sensors, such as HyspIRI, DESIS, PRISMA, or EnMAP. We could show with our analyses that the PROSAIL model is not able to reproduce the measured spectral signals with adequate precision in certain wavelength regions (green VIS/red edge). We could further show that these model limitations depend on the crop type. Eliminating these spectral regions by applying a LUT-based feature-selection algorithm, i.e., deleting the wavebands with MAE
>
0.01 between the simulated and measured reflectance, improved variable retrieval (depending on the analyzed crop type and the considered variable). This process can be fully automated and thus could be integrated in standard retrieval schemes, which are based on the comparison of modeled and measured reflectance signatures. Note that these findings are not related to the sensitivity of the variable, but rather to the limited model performance in the green visible and red edge spectral regions for these two specific crop types. Depending on the current growth stage and specific canopy architecture, the simulations can represent the actual measurements with varying precision [
13
]. It must be taken into consideration, however, that also the collected field spectra may contain errors. To minimize impacts of erroneous field measurements, we analyzed data from 40 experiments with carefully measured spectra.
In summary, our study has two main outcomes:
There are two spectral regions in the VNIR region which are less well-modelled by PROSAIL independently of crop type: the green visible and the red edge. This can be explained by complex interactions of several biochemical and structural variables in these specific spectral regions. The green visible wavelength region is characterized by the influence of several pigments, in particular, carotenoids, chlorophylls, and anthocyanins. Moreover, there is an influence of leaf dry matter content, LAI, ALIA, and soil background. Regarding the red edge region, there is also a high variability with two strong peaks of chlorophyll content interacting with structural LAI and ALIA parameters.

Discarding those wavelengths with a spectral mismatch of MAE

>

0.01 leads to improvements of the leaf chlorophyll content retrieval. Such model-based analysis should therefore be carried out before applying any retrieval or data reduction algorithm.
The PROSPECT-D model used for this study has been improved using large validation datasets and outperforms previous model versions [
11
]. However, another prerequisite of a well-working model is proper parameterization. This may even more significantly concern the structural properties of the SAIL model, especially LAI and ALIA. An extensive study is currently in preparation analyzing the suitability of the ALIA parameter within the PROSAIL model environment ([
37
], intended for the same Special Issue). The practical implications of our results for users of the PROSAIL model would be to parameterize as solidly as possible, optimally through the acquisition of field measurements.
Since for each crop type, specific band combinations were identified, crop-type maps are crucial for the success of our proposed feature-selection method. Alternatively, trade-offs must be defined. For instance, the proposed model-error threshold of MAE ~0.01, at which the model (PROSAIL) matches the measured spectra in the VNIR region for all crops, should be applied before employing any retrieval algorithm in the case that the crop types are not known.
Upcoming spaceborne imaging spectrometers will lead to vast hyperspectral data streams. This calls for automated and optimized spectral uncertainty reduction techniques to ensure fast and efficient data processing, for instance, for the retrieval of vegetation properties. Conclusively, our proposed feature-selection method can provide an efficient measure to improve radiative transfer model simulations that are to be used within retrieval schemes for biophysical and biochemical variables from future hyperspectral sensor missions. To confirm our findings, we strongly recommend extending the study to other crop types as well as other (ground, airborne, and satellite-based) datasets.
Author Contributions
K.B. elaborated the concept, performed the analysis, and wrote most of the manuscript. C.A. helped with interpretation of the findings and writing of the manuscript. M.W. added issues regarding the field campaigns' data and modelling. M.D. supported in discussing results and adding literature. T.H. and W.M. contributed as supervisors. All authors supported the preparation of the manuscript.
Funding
The results shown in this paper were achieved as part of the research project "EnMAP Scientific Advisory Group Phase III Developing the EnMAP Managed Vegetation Scientific Processor", supported by the Space Agency of the German Aerospace Center (DLR) through funding by the German Federal Ministry for Economic Affairs and Energy under the grant code 50EE1623.
Acknowledgments
Our thanks go to the Center for Advanced Land Management Information Technologies (CALMIT) and the Carbon Sequestration Program from the University of Nebraska–Lincoln for providing the data. We are also very grateful to Prof. Anatoly Gitelson for his useful advice regarding the data and manuscript writing. The helpful contributions of the reviewers and scientific editors are gratefully acknowledged.
Conflicts of Interest
The authors declare no conflict of interest.
Figure 1. Mean absolute error between measured and simulated reflectance (R) average values for 20 intensive measurement zones (IMZs) of maize (a) and soybean (b) with known (field-measured) LAI.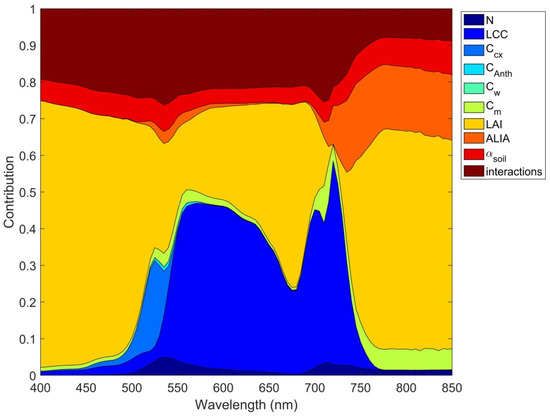 Figure 2.
Results of Fourier amplitude sensitivity testing (FAST) first-order sensitivity coefficients and interactions of canopy reflectance: global sensitivity analysis (GSA) of the PROSAIL model. N is the leaf structural parameter, LCC is the leaf chlorophyll content, C
cx
is the leaf carotenoid content, C
Anth
is the leaf anthocyanin content, C
w
is the equivalent water thickness (not present), C
m
is the leaf dry matter content, LAI is the leaf area index, ALIA is the average leaf inclination, and α
soil
is soil brightness. The brownish-red area corresponds to parameter interactions. Applied units and parameter ranges for the GSA can be found in
Table 2
.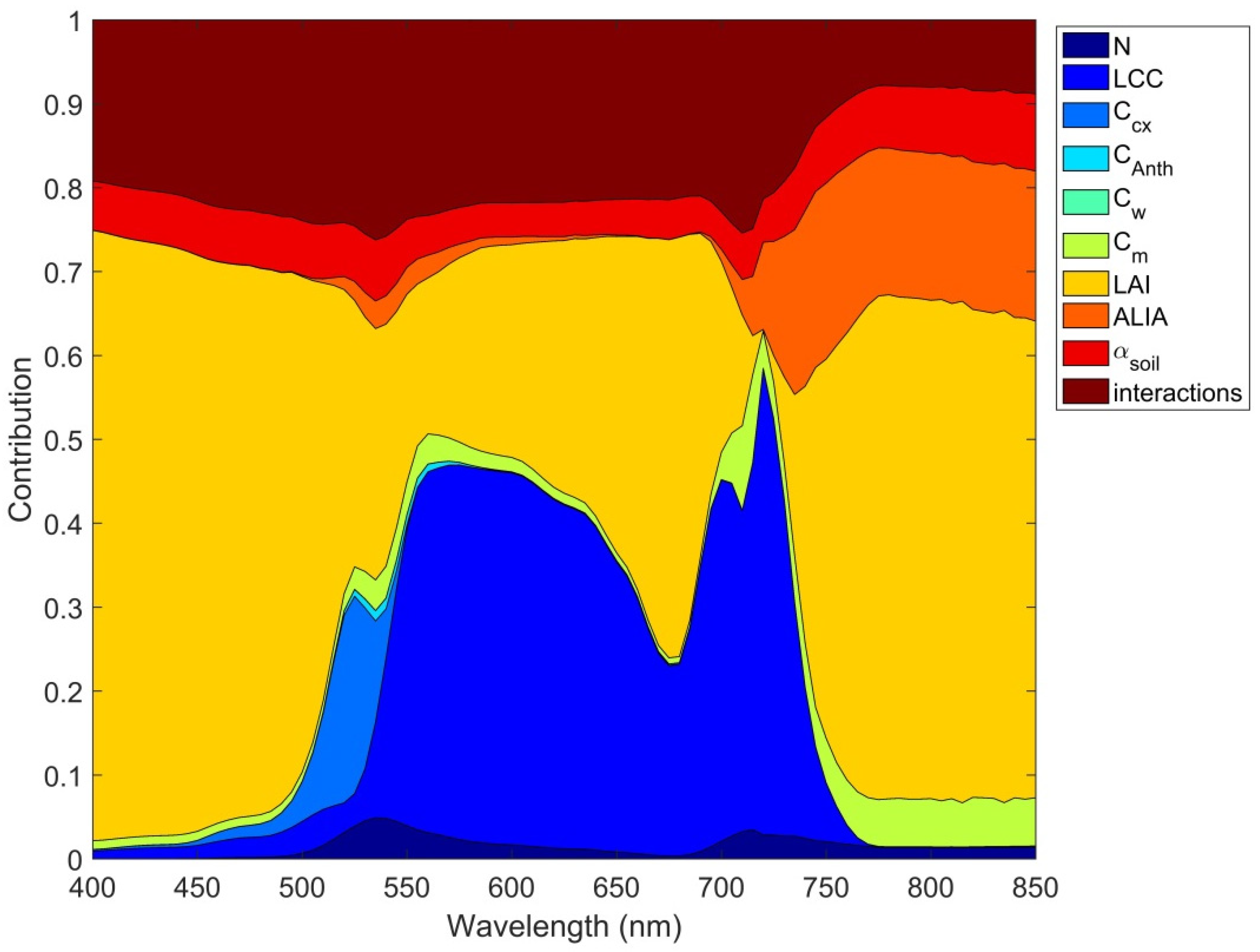 Figure 3. PROSAIL behavior when applying sequential band removal, i.e., gradually deleting the least-accurately simulated band during each LUTind run. Mean absolute error (MAE) between measured and simulated spectra (a). Usage of corresponding crop-specific band settings for LAI (m2 m−2) (b), and LCC (µg cm−2) (c) retrieval, respectively. For the analyses in (b,c), the whole dataset with N = 169 maize (brown) and N = 68 soybean (green) samples was used.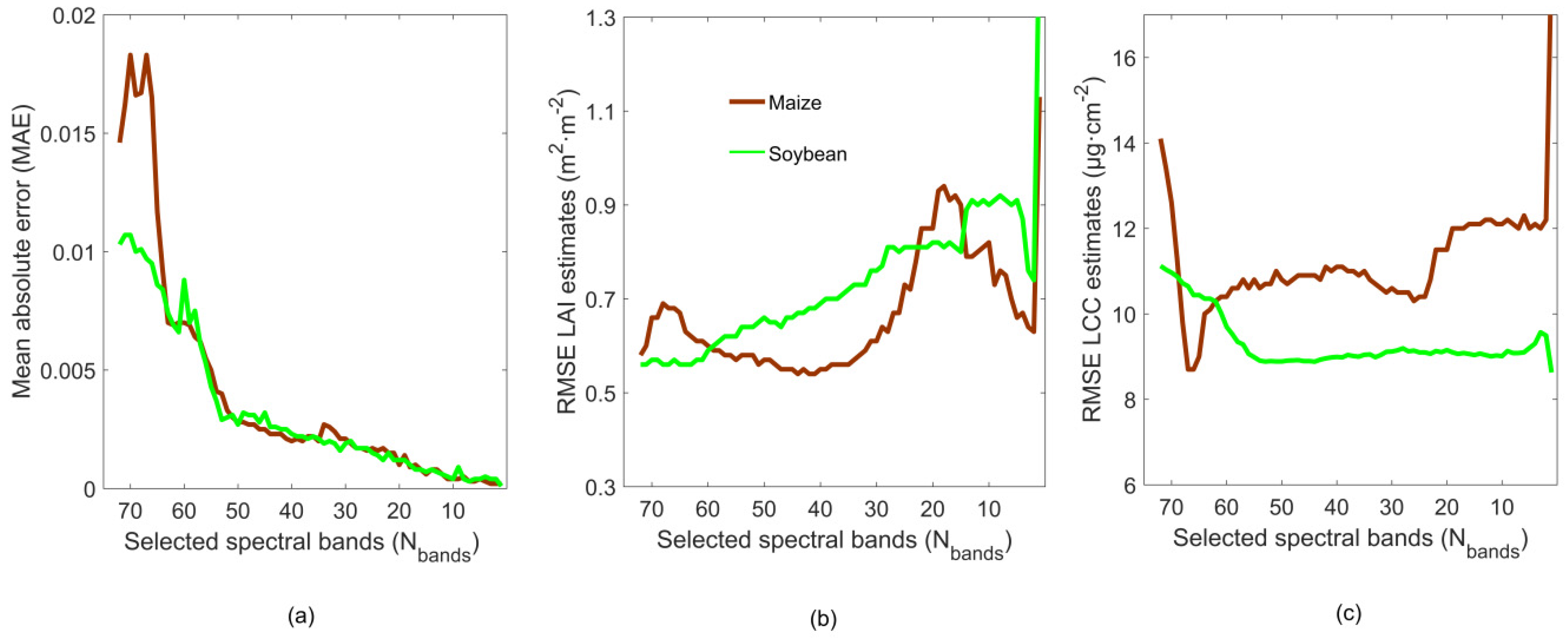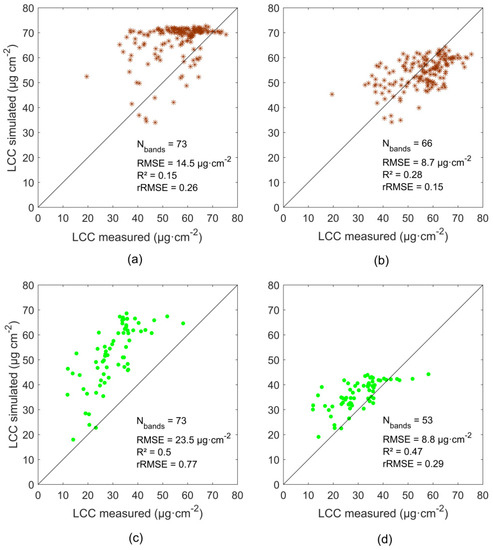 Figure 4. Retrieval accuracy of leaf chlorophyll content for maize (top row; N = 169, brown) and soybean (bottom row; N = 68, green) and different spectral settings: (a,c) using all available bands; (b,d) using optimized spectral samplings. Error statistics: root mean square error (RMSE), coefficient of determination (R2), and relative RMSE (rRMSE).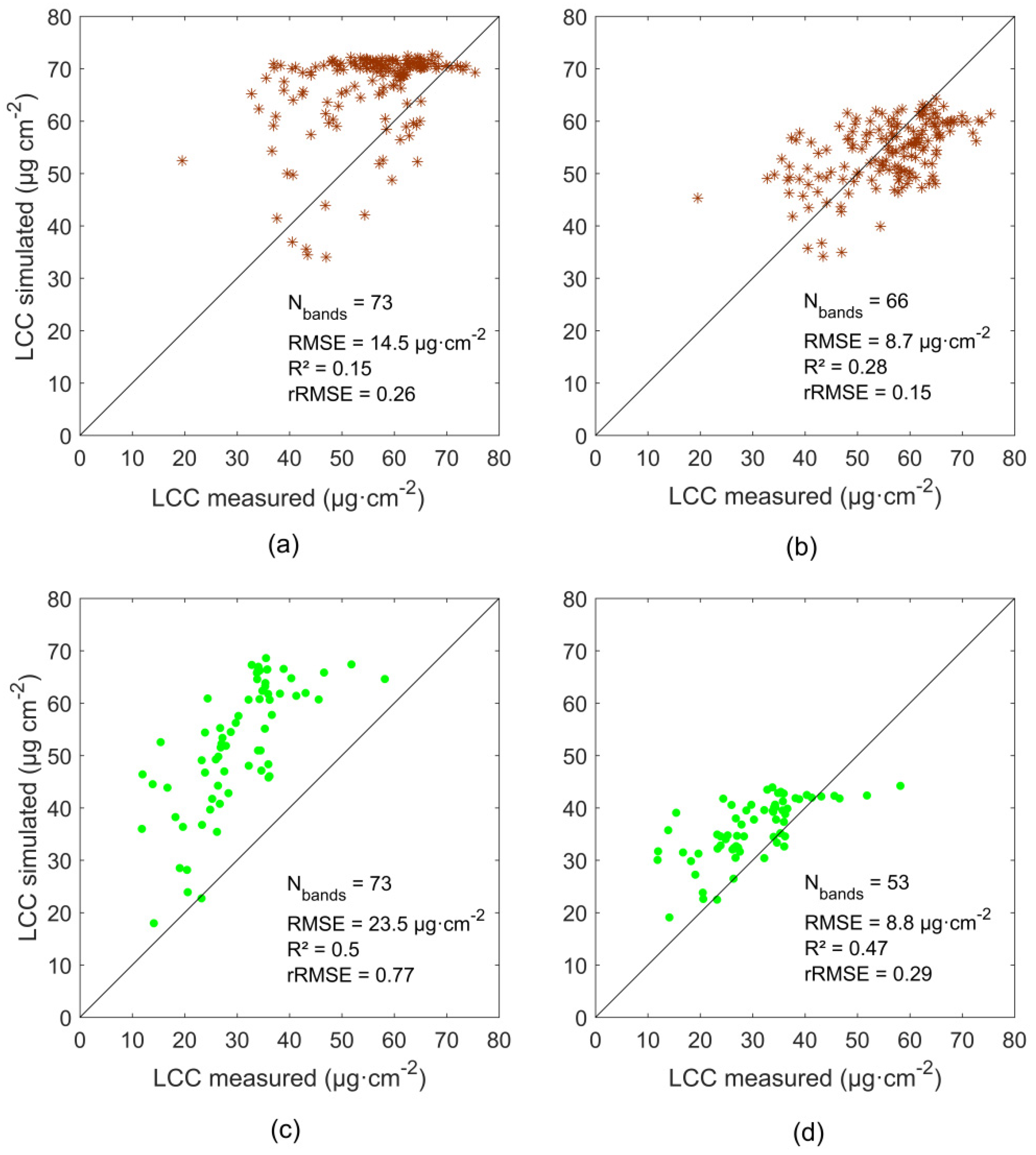 Table 1. Summarized statistics of leaf area index and leaf chlorophyll content measured at the intensive measurement zones (IMZ) of maize and soybean at the Nebraska–Lincoln study site: total number (N), range (Min–Max), mean, standard deviation (SD), and coefficient of variation (CV).
Measured variable
N
Min–Max
Mean
SD
CV

Maize

:
Leaf area index, LAI (m2·m−2)
169
0.07–6.08
3.9
1.7
0.44
Leaf chlorophyll content, LCC (µg·cm−2)
169
19.5–83
56.1
9.9
0.18

Soybean

:
Leaf area index, LAI (m2·m−2)
68
0.1–5.5
2.6
1.6
0.59
Leaf chlorophyll content, LCC (µg·cm−2)
68
11.8–58.2
30.3
8.9
0.3

Table 2. Parameterization of individual look-up tables (LUTind) with notations, units, range of parameters, and references for the model suitability test. LAI (m2·m−2) was fixed as measured during the field campaigns at the individual maize and soybean intensive measurement zones (IMZs).
Parameter
Notation (Unit)
Range
Source (also used by)

Leaf optical properties model (PROSPECT-D):

Leaf chlorophyll content
LCC (µg·cm−2)
0–85
as measured
Leaf structural parameter
N, no dimension
1.2–2.6
[29]
Leaf dry matter content
Cm (g·cm−2)
0.001–0.02
[29]
Leaf equivalent water thickness
Cw /EWT (cm)
0.001–0.05
[29]
Leaf carotenoid content
Ccx (µg·cm−2)
0–20
derived according to [11]
Leaf anthocyanin content
CAnth (µg·cm−2)
0–2
(pers. communication with J.-B. Féret)

Canopy reflectance model (SAIL):

Leaf area index
LAI (m2·m−2)
0–6.1
as measured
Average leaf inclination angle
ALIA (°)
40–70 (maize), 30–60 (soybean)
[29,30]
Hot spot parameter
hot (m·m−1)
0.01–0.03
[31]
Soil reflectance
ρsoil (%)
as measured in the field
Soil brightness
αsoil, no dim.
0.5–1.5
[24]
Measurement geometry
θv/θs/øSV
according to measurement conditions

© 2018 by the authors. Licensee MDPI, Basel, Switzerland. This article is an open access article distributed under the terms and conditions of the Creative Commons Attribution (CC BY) license (http://creativecommons.org/licenses/by/4.0/).