Potential and Limitations of Open Satellite Data for Flood Mapping
1
National Research Council of Italy, Research Institute for Geo-Hydrological Protection (CNR-IRPI), Strada delle Cacce 73, 10135 Torino, Italy
2
National Research Council (CNR) of Italy, Institute for the Electromagnetic Sensing of the Environment (IREA), via Diocleziano 328, 80124 Napoli, Italy
3
Department of Earth and Environmental Science, University of Pavia, Via Ferrata 1, 27100 Pavia, Italy
4
Departamento de Geodinámica, Universidad de Granada, 18071 Granada, Spain
*
Author to whom correspondence should be addressed.
Received: 31 July 2018 / Revised: 16 October 2018 / Accepted: 17 October 2018 / Published: 23 October 2018
Abstract
Satellite remote sensing is a powerful tool to map flooded areas. In recent years, the availability of free satellite data significantly increased in terms of type and frequency, allowing the production of flood maps at low cost around the world. In this work, we propose a semi-automatic method for flood mapping, based only on free satellite images and open-source software. The proposed methods are suitable to be applied by the community involved in flood hazard management, not necessarily experts in remote sensing processing. As case studies, we selected three flood events that recently occurred in Spain and Italy. Multispectral satellite data acquired by MODIS, Proba-V, Landsat, and Sentinel-2 and synthetic aperture radar (SAR) data collected by Sentinel-1 were used to detect flooded areas using different methodologies (e.g., Modified Normalized Difference Water Index, SAR backscattering variation, and supervised classification). Then, we improved and manually refined the automatic mapping using free ancillary data such as the digital elevation model-based water depth model and available ground truth data. We calculated flood detection performance (flood ratio) for the different datasets by comparing with flood maps made by official river authorities. The results show that it is necessary to consider different factors when selecting the best satellite data. Among these factors, the time of the satellite pass with respect to the flood peak is the most important. With co-flood multispectral images, more than 90% of the flooded area was detected in the 2015 Ebro flood (Spain) case study. With post-flood multispectral data, the flood ratio showed values under 50% a few weeks after the 2016 flood in Po and Tanaro plains (Italy), but it remained useful to map the inundated pattern. The SAR could detect flooding only at the co-flood stage, and the flood ratio showed values below 5% only a few days after the 2016 Po River inundation. Another result of the research was the creation of geomorphology-based inundation maps that matched up to 95% with official flood maps.
View Full-Text
►

▼

Figures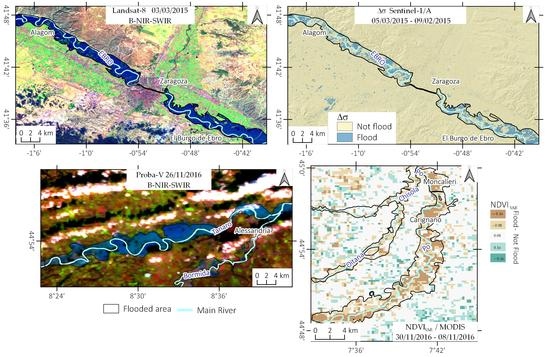 Graphical abstract
This is an open access article distributed under the
Creative Commons Attribution License
which permits unrestricted use, distribution, and reproduction in any medium, provided the original work is properly cited (CC BY 4.0).

Share & Cite This Article
MDPI and ACS Style
Notti, D.; Giordan, D.; Caló, F.; Pepe, A.; Zucca, F.; Galve, J.P. Potential and Limitations of Open Satellite Data for Flood Mapping. Remote Sens. 2018, 10, 1673.
Note that from the first issue of 2016, MDPI journals use article numbers instead of page numbers. See further details here.
Related Articles
Comments
[Return to top]