Open Access This article is
freely available
re-usable
Article
Long-Term Effects of Payments for Environmental Services: Combining Insights from Communication and Economics
1
Department of Community Sustainability, Michigan State University, East Lansing, MI 48824, USA
2
Department of Communication, Michigan State University, East Lansing, MI 48824, USA
3
School of Communication, Bellarmine University, Louisville, KY 40205, USA
4
Department of Economics, Michigan State University, East Lansing, MI 48824, USA
*
Author to whom correspondence should be addressed.
Received: 16 July 2017 / Accepted: 9 September 2017 / Published: 13 September 2017
Abstract
:
Interdisciplinary analytical perspectives can bring important insights to address complex sustainability problems. In this paper we present and apply a model that integrates perspectives from economics and communication sciences to address the question of what happens to pro-environmental behavior after the introduction and then the withdrawal of payment for environmental services (PES). In particular, we discuss the effects of financial incentives on social norms and the effects of norms on subsequent behavior after incentives have ended. This is important because the dominant literature on PES lacks a sophisticated understanding of social norms and fails to address what will happen to behavior once payments end. That literature addresses the potential problem that payments can crowd out or possibly crowd in intrinsic sources of motivation for pro-social behavior, but it lacks the sophisticated understanding of social norms that has the potential to help explain and address this phenomenon. We summarize experimental evidence based on our model showing that introducing a financial incentive for behavior change can change social norms around that behavior. These norms, in turn, can continue to influence behavior even after incentives have ended. PES programs can address this situation by actively evoking existing social norms in favor of conservation.
Keywords:
interdisciplinary; motivation crowding; payment for ecosystem services; social norms
2. The Limited Role of Social Norms in Conservation Programs
3. Social Norms and Behavior
These insights from the communication literature can help to improve the approaches common in the economics and institutions literatures, which dominate the literature on natural resource management policy and practice and PES in particular. They tend look only at the direct effects of norms, and do not consider which social group is the source of norms and the extent of an individual's identification with that group. On the other hand, the communication literature has not examined the relationship between financial incentives and social norms—either how incentives influence norms, or how norms influence how people perceive behavior that is supported by financial incentives.
4. A Model of Financial Incentives in Normative Systems (FINS)
Where a cooperative norm among group members already prevails, financial incentives may induce additional cooperative behavior, but it is not clear what will happen to cooperative behavior after those incentives are removed. For example, an incentive payment that induces prosocial behavior could contribute to a descriptive norm of undertaking that behavior, but if people know that the behavior is undertaken only for payment, an injunctive norm could develop that the behavior is not inherently worth doing. In this case, PES affects descriptive norms and injunctive norms in opposite ways, eroding the power of descriptive norms to influence behavior. Conversely, perhaps some people would react to a government payment for conservation behavior by thinking that conservation behavior must be extremely important. This could conceivably enhance the injunctive norm in favor of conservation, and thus, the payment would have consistent effects on both descriptive and injunctive norms. In short, both perceived descriptive norms and injunctive norms will change over time as will their influence on behavior. This effect will be dependent on the presence or absence of a financial incentive on behavior, but the direction of that effect is not known.
Tests of the FINS Model
Lapinski et al. [
26
] tested the FINS model by using a public goods experiment in a campus computer laboratory setting in the U.S. In a public goods experiment, subjects had to decide how much to contribute between a public account, which maximized the benefits to the group as a whole, and a private account, which maximizes their own personal gain. The experiment followed a 2 × 2 research design with two treatments: sorting participants by their initial inclination to cooperate, and offering a temporary incentive payment to contribute to the public good in the second of the three six-round phases. Data gathered over the course of the experiment about group identification and normative perceptions permitted the testing of hypotheses regarding the effects of incentives on descriptive norms and behavior after the incentives had ended. Data from the experiment showed a significant interaction between the presence of a financial incentive and perceived descriptive norms. In the short term, when the incentive was in place, any positive impact of perceived descriptive norms on contribution behavior disappeared. In addition, presence of an incentive reduced the positive impact of the initial level of cooperation on subsequent contributions to the public account. Over time, the financial incentive weakened the effect of descriptive norms on contribution levels and the weakening effect remained even after the financial incentive had ended. In short, the data provide evidence that introducing and then removing a financial incentive for a cooperative behavior can undermine a social norm for that behavior.
Two subsequent, more advanced tests of the model revealed quite different insights. In a framed field experiment conducted in Qinghai, China, a subject pool of Tibetan Buddhist nomadic herders participated in a modified public good experiment in which they were asked to volunteer to participate for up to seven days in a patrol against illegal trapping of wildlife [
68
]. Similar to the previous experiment, in one treatment a temporary financial incentive to promote contribution to the public good was offered in the second of three rounds. In a second treatment, the participants were repeatedly given a message reinforcing the strong injunctive norm among Tibetan Buddhists in favor of protecting wildlife. In addition, a series of survey questions over the course of the experiment served to measure subjects' perceived both descriptive norms and perceived injunctive norms around volunteering to patrol against illegal trapping in order to track their evolution over the course of the experiment. The payment treatment was framed in a way that represented recognition and validation by the Chinese government of traditional Tibetan practices of protecting sacred natural resources including wildlife, and giving them autonomy in order to pursue it in the manner they saw fit. Details of the approach are available in [
68
].
The results of the experiment showed that neither the temporary incentive nor the injunctive norm treatment had a significant direct impact on participation in voluntary patrols. On the other hand, the temporary incentive raised the perceived injunctive norm in favor of patrolling, and this increase persisted even after the incentive had been removed. The perceived injunctive norm in turn had a significant positive effect on participation in patrols, including after the temporary incentive had been withdrawn. In this experiment, a payment framed in a way that respected local traditions and local autonomy strengthened injunctive norms in favor of volunteering, crowding in this behavior even after the payment had been withdrawn. This suggests that just as social norms can play a part in motivation crowding out due to financial incentives, it may also be possible to put them to work to play a role in mitigating crowding out or even promote crowding in.
Another experiment followed exactly the same approach as the Qinghai experiment, but with a real incentive for a very different activity in a very different population. The context was patrolling against littering during tailgate parties prior to football games. Tailgating is a popular activity before college and professional football games in the United States (U.S.), with thousands of fans holding parties in the parking lots outside the stadium for a few hours before the game. They can generate a great deal of trash, and many universities have implemented measures intended to encourage orderly trash disposal. In our experiment, students were asked to volunteer their time to patrol against littering during tailgate parties prior to football games on campus. As in Qinghai, there was an injunctive norms message treatment and a financial incentive treatment.
Results of the experiment [
69
] showed that the anti-litter patrol was not popular among the student participants, with very low prevalence of participation (a very low collective norm) and a low perceived injunctive norm. In contrast to the Qinghai case, despite significant relationships between norms and incentives in this case, there does not appear to be a possibility of taking advantage of social norms to promote participation in antilitter patrols, mainly because norms regarding that behavior are so low to begin with. If people perceive that participation in a behavior is very low and that most people do not think it is important, then those perceptions will more than likely further contribute to reducing the prevalence of the behavior rather than raising it.
Financial incentives interacted with social norms in all three of the applications described above. In the initial, context-free campus public good experiment, payment reduced a perceived descriptive norm in favor of contributions to the public good, and removing payment demonstrated crowding out effects. In the Qinghai experiment, a carefully framed payment raised the perceived injunctive norm, which in turn raised contributions to the public good even after the payment had been withdrawn. In the campus anti-litter patrol experiment, low contributions to the public good and low perceived and injunctive norms regarding contribution to the public good meant that there was no possibility of putting norms to work to promote it.
By incorporating insights from communication sciences regarding the influence of social norms on decision-making, the FINS model becomes a potentially powerful tool for understanding and possibly avoiding the motivation crowding-out effects that financial incentives occasionally bring, as long as there are norms in favor of the behavior in question. Through identifying ways in which social norms interact with economic and other variables in affecting decisions, our model helps researchers to design lab and field experiments and to develop empirical strategies in searching for improved designs of PES programs with favorable long-term impacts.
5. Implications for PES Design
Although PES may have been conceived as an arrangement for private exchange, the extreme challenges in observing and verifying connections between a given land use and desired environmental outcomes, and of organizing potential buyers and sellers on a meaningful scale, mean that the vast majority of PES initiatives worldwide are funded by governments and donor agencies. As a result, given political processes and budget constraints, payments are likely to end at some point. The conventional theory of PES acknowledges that it is only intended to affect behavior for as long as payments keep flowing. Our research, however, shows that it is important to gain insights on what happens to behavior after payments end, beyond simply assuming that it returns to its previous status quo.
Our model can generate insights regarding what happens to behavior when financial incentives have ended, and perhaps provide insight on how to encourage longer-lasting positive effects of payments. In our model, PES influences behavior both through the payment for as long as the payment lasts, and beyond the time of the payment through its effects on social norms. The effect of payment is to increase the actual prevalence of protecting the ecosystem for as long as the payment is in place. What is more likely to affect behavior over time, however, is the perceived descriptive norm, i.e., what people perceive others to be doing as opposed to what they are actually doing. If the payment does not affect the perceived descriptive or injunctive norm, it is unlikely to affect behavior beyond the period when the payment is offered. In addition, payment may or may not influence injunctive norms of cooperation or protecting an ecosystem; it could contribute to a belief that it is important to protect the ecosystem, or it could contribute to a belief that it is only important to protect an ecosystem in exchange for money. Clearly, these two effects have alternative impacts on the ecosystem after payment has ended.
The implication for actual PES programs is that instilling a perceived descriptive norm and an injunctive norm in favor of protecting an ecosystem is important for promoting long-term positive effects. On the other hand, it is critically important to avoid instilling an injunctive norm that protecting the ecosystem is only worth doing in exchange for money. This would clearly constitute motivation crowding out by introducing new motivation not to protect the ecosystem that did not exist prior to the intervention.
A further feature of our model is that, as demonstrated in the communication science literature on social norms discussed above, normative effects on behavior may be indirect and interactive, with their strengths depending on the extent of group identity with those social groups from which the norms emanate, as well as the attitudes about the activity in question. Agencies initiating PES can take advantage of this in several ways. For example, to the extent that there are pro-conservation norms in place, identifying communities with a history of cooperative interactions and strong ties to each other can facilitate the success of PES implementation efforts. In addition, understanding and paying attention to which social groups hold greater sway with a given target population can help in promoting both the behavior in question and efforts to promote a belief that it is important. Another example is working through existing local, well-respected institutions with connections to local people as PES efforts are initiated and implemented.
Acknowledgments
This paper would not have been possible without a grant from the Sustainable Michigan Endowed Project at Michigan State University. Partial support for the write-up was provided by the USDA National Institute of Food and Agriculture, Hatch project numbers MICL02244, MICL02173, and MICL02362, and by National Science Foundation Award #SMA-1328503.
Author Contributions
This paper represents the product of teamwork among the authors, who have been working together for the past several years and contributed substantially to the ideas presented. John M. Kerr drafted most of the text, except for
Section 3
which Maria K. Lapinski drafted.
Conflicts of Interest
The authors declare no conflict of interest.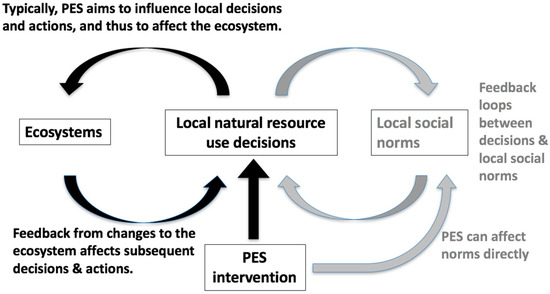 Figure 1. How a payment for environmental services (PES) intervention influences local natural resource management decisions both directly, and indirectly through social norms. Black arrows and text indicate standard assumptions of PES. Grey arrows and text indicate additional hypothesized relationships related to social norms.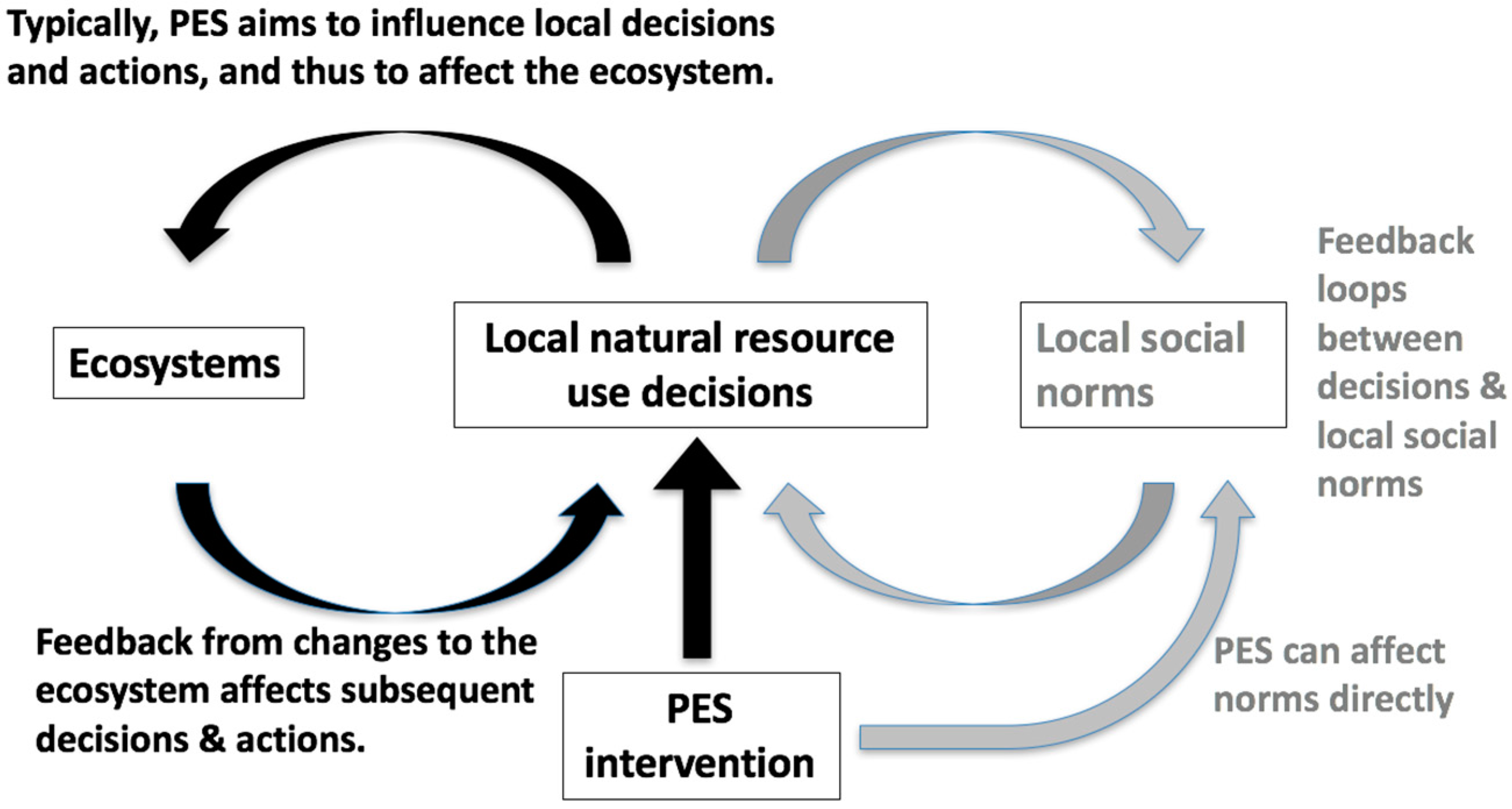 © 2017 by the authors. Licensee MDPI, Basel, Switzerland. This article is an open access article distributed under the terms and conditions of the Creative Commons Attribution (CC BY) license (http://creativecommons.org/licenses/by/4.0/).