Open Access This article is
freely available
re-usable
Case Report
Lifting the Information Barriers to Address Sustainability Challenges with Data from Physical Geography and Earth Observation
1
enviroSPACE, Department F.-A. Forel for Environmental and Aquatic Sciences, Institute for Environmental Sciences, University of Geneva, 66 Bd. Carl-Vogt, CH-1205 Geneva, Switzerland
2
Natural Capital Project, Woods Institute for the Environment, Stanford University, 371 Serra Mall, Stanford, CA 94305, USA
3
GRID-Geneva, Institute for Environmental Sciences, University of Geneva, 66 Bd. Carl-Vogt, CH-1205 Geneva, Switzerland
4
Google, Mountain View, CA 94043-1351, USA
5
Berkeley Institute for Data Science, University of California, Berkeley, 190 Doe Library, Berkeley, CA 94720, USA
6
Marine Science Institute, University California of Santa Barbara, Santa Barbara, CA 93106-6150, USA
*
Author to whom correspondence should be addressed.
Academic Editor: Mary J. Thornbush
Received: 30 March 2017 / Accepted: 5 May 2017 / Published: 19 May 2017
Abstract
:
Sustainability challenges demand solutions, and the pace of technological and scientific advances in physical geography and Earth observation have great potential to provide the information needed to address these challenges. This paper highlights five online tools and initiatives that are lifting barriers to address these challenges. The enviroGRIDS project in the Black Sea catchment demonstrates how the use of spatial data infrastructures can facilitate data sharing. Google Earth Engine is providing solutions to challenges of processing big data into usable information. Additionally, application programming interfaces allow outsiders to elaborate and iterate on programs to explore novel uses of data and models, as seen in the Berkeley Ecoinformatics Engine. Finally, collaborative mapping tools, such as Seasketch/MarineMap and the InVEST software suite, allow engagement within and between groups of experts and stakeholders for the development, deployment, and long-term impact of a project. Merging these different experiences can set a new standard for online information tools supporting sustainable development from evidence brought by physical geography combined with socioeconomic conditions.
Keywords:
sustainable development goals; ecosystem services; spatial data infrastructure; high performance computing; application programming interface; collaborative user interface
3. Results from Selected Case Studies and Discussion
Here is a selection of case studies based on our own work that exemplify the solutions that can be brought to lower the above described barriers. These case studies are then discussed by comparison with other existing solutions at various geographical scales.
4. General Discussion
Sustainable stewardship faces many challenges at the intersection of physical geography, Earth observation, and policy; and new technologies are needed to better manage information and the knowledge that it can produce. Limited information can come from too little or too much data, fragmented data repositories, and the lack of sharing due to cultural, legal, or technological limits. The use of spatial data infrastructures can facilitate data sharing in a manner that is efficient, scalable, and resilient. The ability to then process data into information and knowledge is critical, and a public platform for connecting developers is essential for innovation. The engagement among and between experts and stakeholders is critical for the development, deployment, and long-term impact of a project. Their success depends on the ability to gain funding from diverse sources, effectively manage projects, and convey the results and lessons learned.
The proposed approach of barriers and solutions for addressing sustainability challenges from physical geography and Earth observation represents a new and original framework based on the combined experience from the coauthors. However, similar challenges exist in many other fields of information systems, where different types of barriers and solutions have been identified, as for instance in the health domain [
66
,
70
] and also in the energy sector [
71
]. While the authors of this paper concentrated here on technical barriers, other domains are also addressing organizational, behavioral/human, and financial barriers. The adopted approach is also closely related to data-information-knowledge-wisdom (DIKW) pyramids [
72
], which could clearly be linked to different barriers and the transition from one level to another. Barrier A is about accessing data; Barrier B is essentially about transforming data into information; Barrier C is about generating knowledge; and Barrier D can be seen as a way to reach some kind of common wisdom.
Solutions exist that improve data sharing by exchanging data through web services using interoperability standards, but these solutions and standards are underused. Data sharing could greatly benefit from promoting multidimensional data standards with imbedded metadata, such as NetCDF. Web services should be discoverable by web browsers, as traditional Internet search tools are still mostly used when looking for data instead of dedicated geoportals, such as GEOSS or INSPIRE.
The need for improved data processing solutions will increase with the quantity of new datasets made available, their increased spatial and temporal resolution, and the arrival of data from distributed sensors and the Internet. In particular, choosing the right processing solution (single computer, clusters, grids, clouds) remains an issue when facing large data and/or processing challenges [
73
].
Many developments can be made available to other research groups if they carefully plan and implement APIs. However, a combination of physical and virtual networks is needed in order to improve the participation of various stakeholders in decision-making processes based on the best available scientific information. Finding solutions for measuring the progress towards SDGs, and especially for implementing solutions, depend on large interdisciplinary networks.
The sustainability of the online tools themselves remains a challenge, since there are usually very limited resources to develop and maintain complex information systems for end-users. Funding mechanisms common to academic and government entities are often not compatible with the needs of scoping, developing, and maintaining software and data infrastructure. A much greater priority should be given to environmental information systems that are capable of addressing the sustainability challenges at various geographical scales.
The solutions proposed in this paper represent important contributions toward transforming data into information and knowledge, feeding into the science-policy interface. Capacity-building is essential for this transformation [
38
], but the most difficult step remains bringing scientists and decision-makers to the same table to build their project together alongside an adaptive strategy. One way forward is building interdisciplinary projects, where several forms of knowledge (scientific, economic, social) are processed, compared, and integrated in order to provide a holistic context within which decisions may be informed and negotiated.
5. Conclusions
Interoperability (A) is the most important quality for improving accessibility to data, and this can be achieved through standardized protocols, data harmonization, and a sharing culture.

Scalability (B) is the most important quality for improving the ability to process data, and this can be achieved through grid computing.

Openness (C) is the most important quality for improving the ability to convey results, and this can be achieved through APIs.

Collaboration (D) is the most important quality for improving discussion among and between the public, scientists, and decision-makers.
Building information systems that lower all barriers by combining the proposed solutions will set a new standard for supporting sustainable development from evidence brought by physical geography and Earth observation, combined with socioeconomic conditions.
Acknowledgments
The authors would like to acknowledge the European Commission "Seventh Framework Program" that funded the enviroGRIDS (grant agreement No. 227640), IASON (No. 603534), and EOPOWER (No. 603500) projects, The Gordon and Betty Moore Foundation that supported the development of the InVEST, RIOS, and PyGeoprocessing tools at The Natural Capital Project. The authors wish to thank to Kai N. Lee for moderating the session "Information Accelerators: Using Online Tools to Address Sustainability Challenges" of the AAAS conference in San Jose, California, in February 2015 during which this paper was initiated.
Author Contributions
A.L., R.C.-K., and M.L. conceived and coordinated the writing of the manuscript. G.G. and A.L. wrote the enviroGRIDS case study. D.T. presented the Google Earth Engine case study. K.K. drafted the Berkeley Ecoinformatics Engine case study. G.G. described the marine case studies. R.C.-K. and R.S. wrote the NatCap case study.
Conflicts of Interest
The authors declare no conflict of interest. The founding sponsors had no role in the design of the study; in the collection, analyses, or interpretation of data; in the writing of the manuscript and in the decision to publish the results.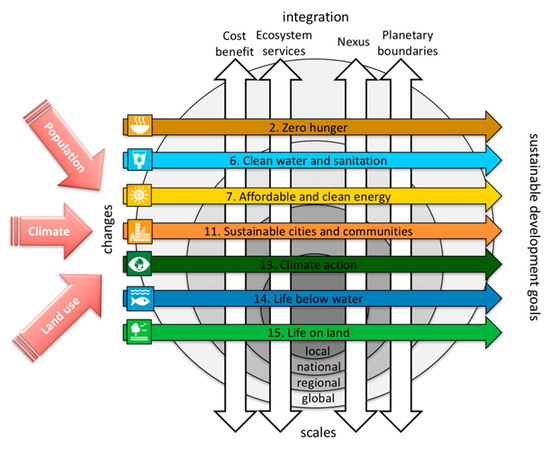 Figure 1. Selected SDGs (Annex 1) at various scales and under numerous global changes, with some existing integrative approaches to address them (Annex 2).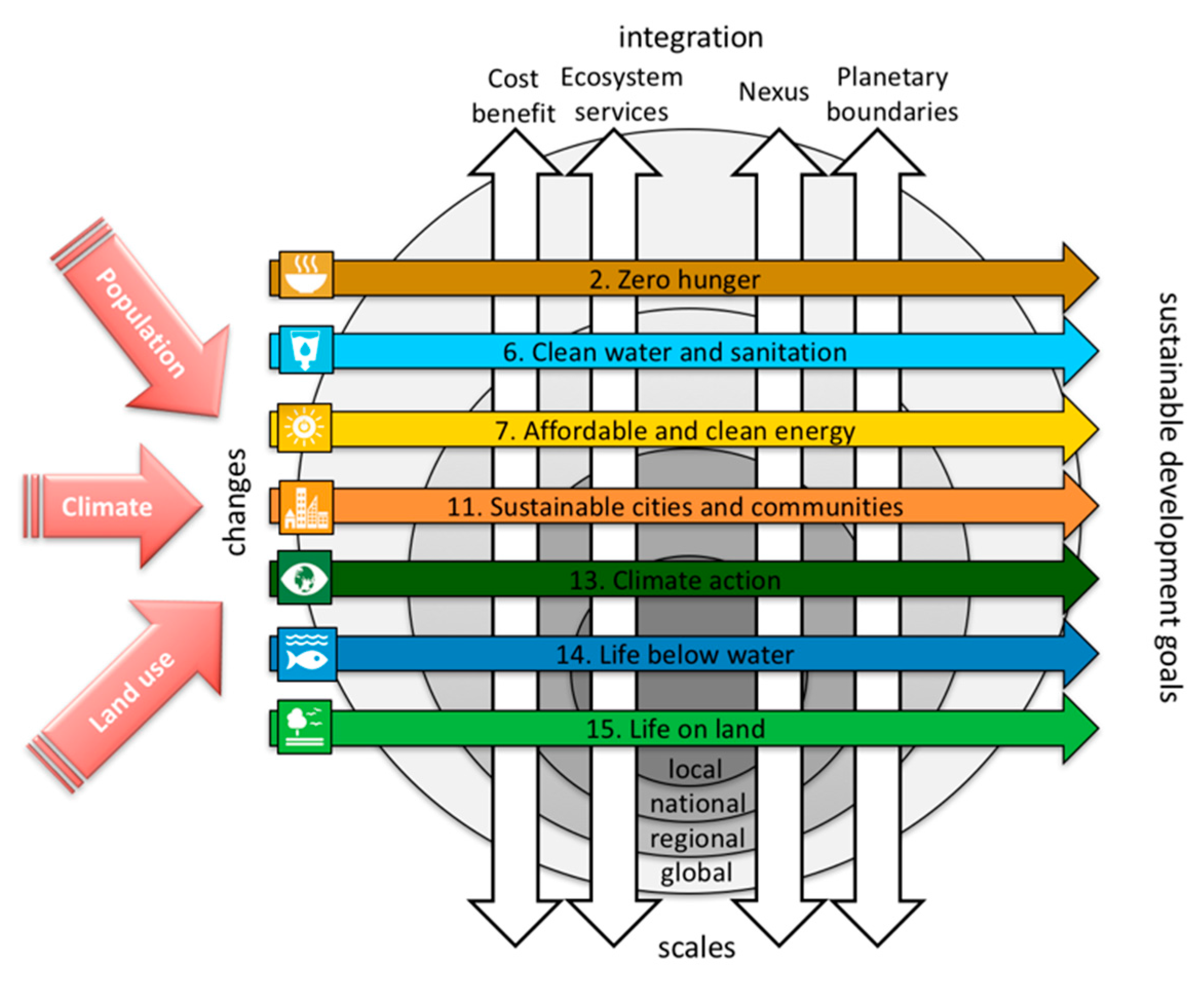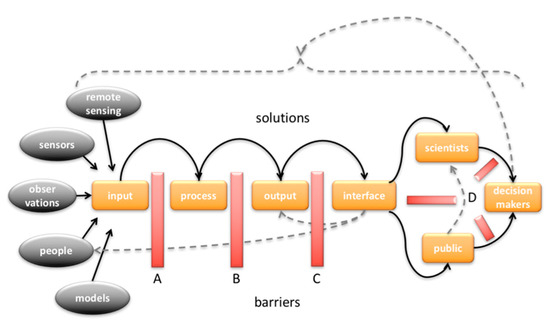 Figure 2. Barriers and solutions in the workflow from data to decision making for sustainability. (A) data access; (B) data size; (C) ability to elaborate and iterate existing software; and (D) knowledge transmission. Plain arrows represent solutions to lift barriers and dotted arrows represent active feedback in the workflow.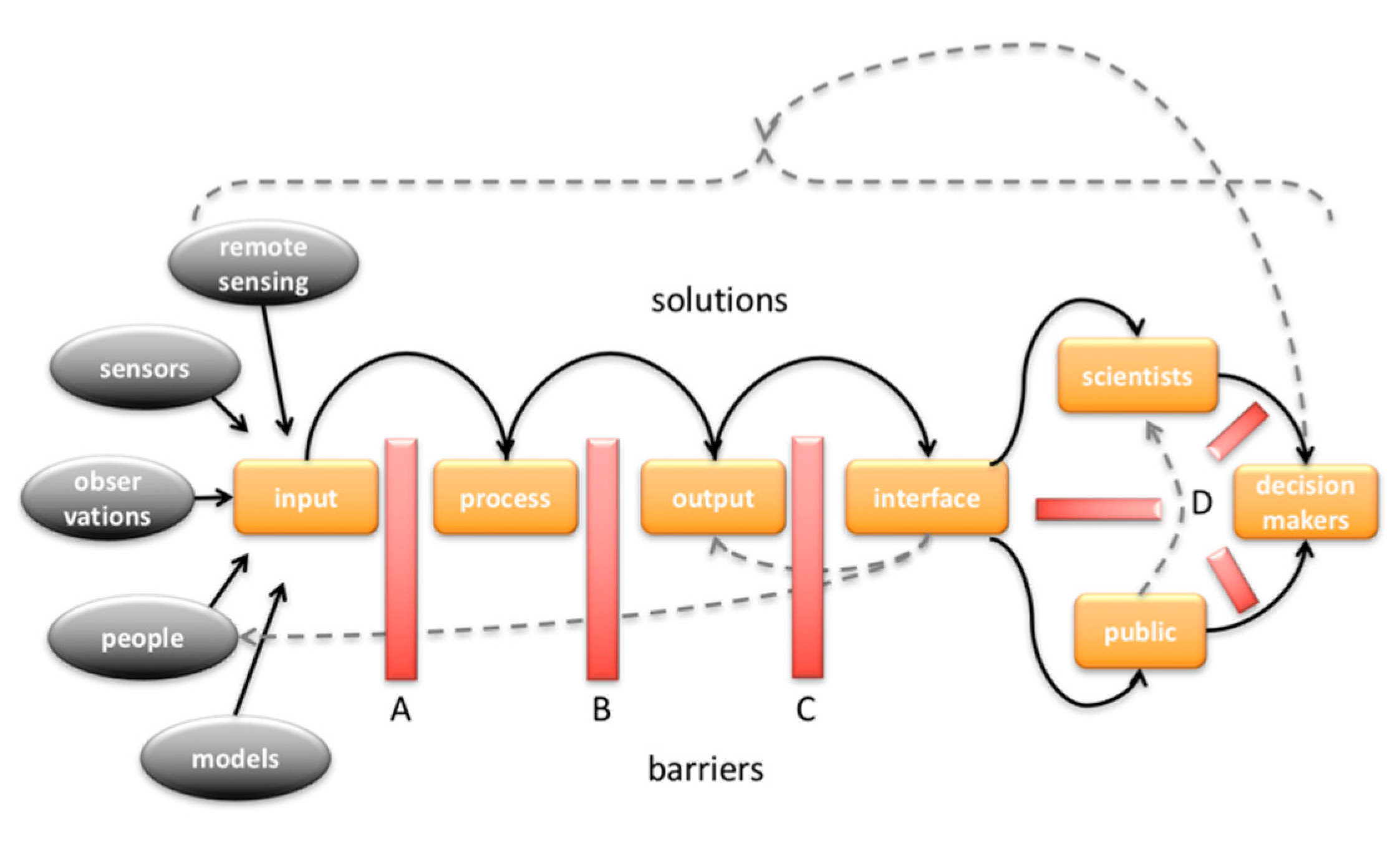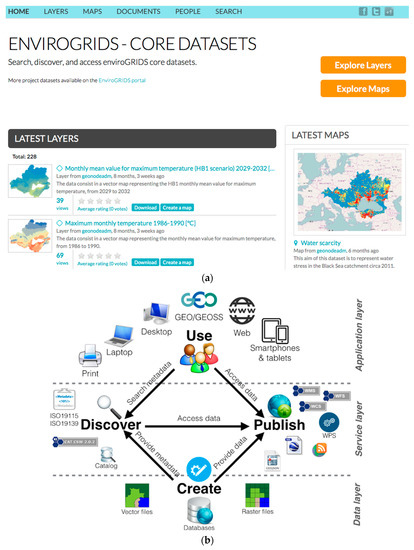 Figure 3. EnviroGRIDS (a) Geoportal to expose the data produced by enviroGRIDS as OGC web services or to download, including metadata (blacksea.grid.unep.ch); and (b) typical SDI architecture and web services.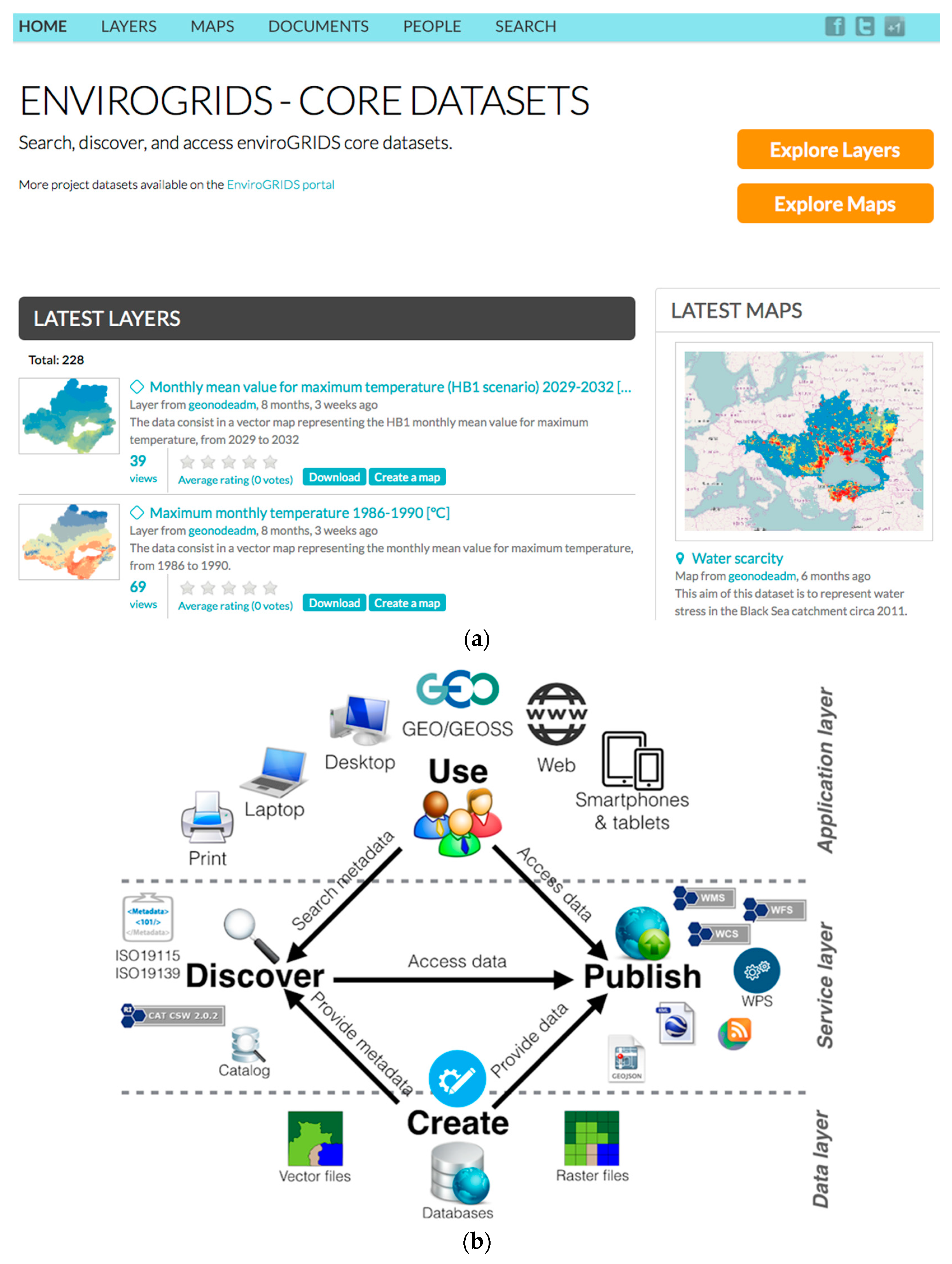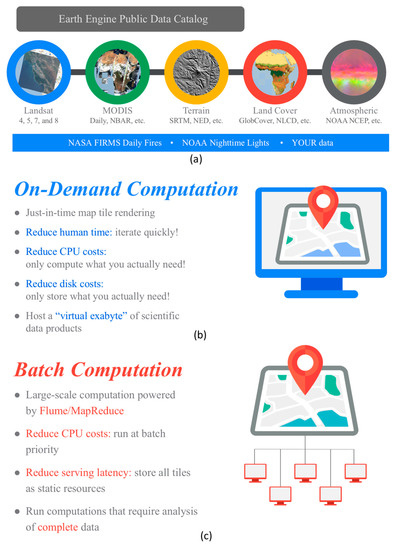 Figure 4. Google Earth Engine. (a) public data catalog, (b) on-demand, and (c) batch computation modes.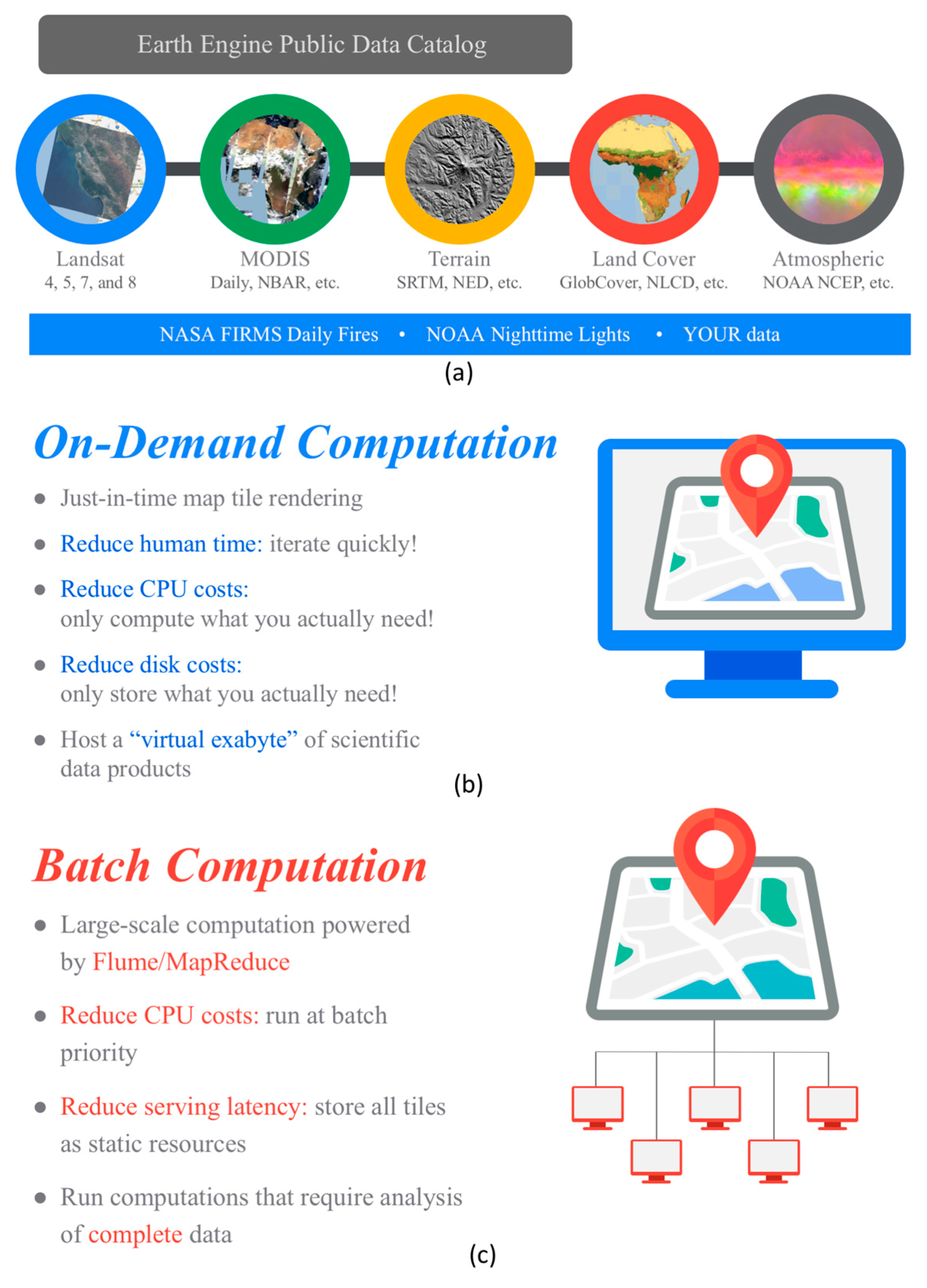 Figure 5.
Berkeley Ecoinformatics Engine (
a
) open API giving direct access to data in a third-party statistical package (
http://ropensci.org
); and (
b
) the Ecoengine conceptual model.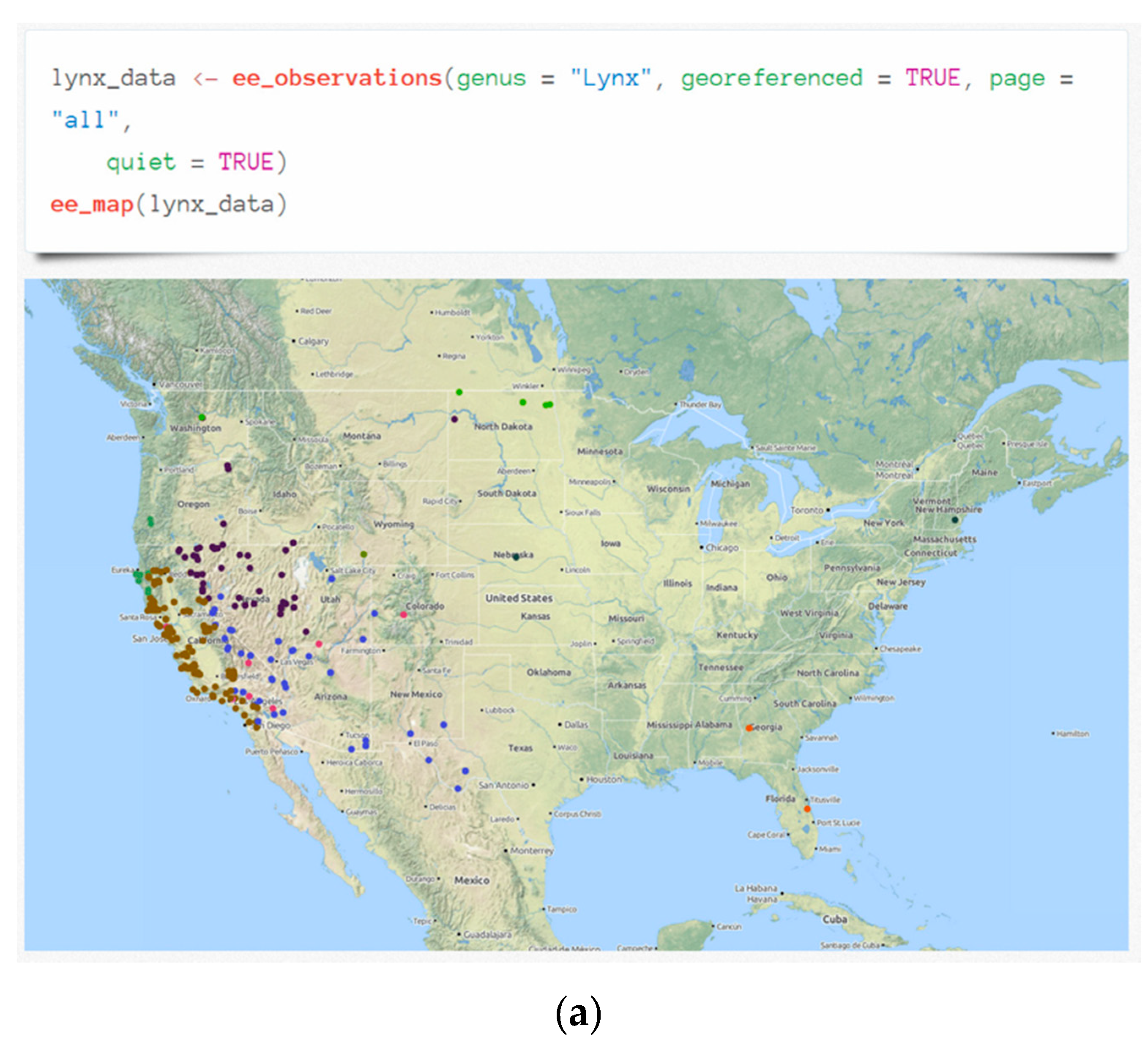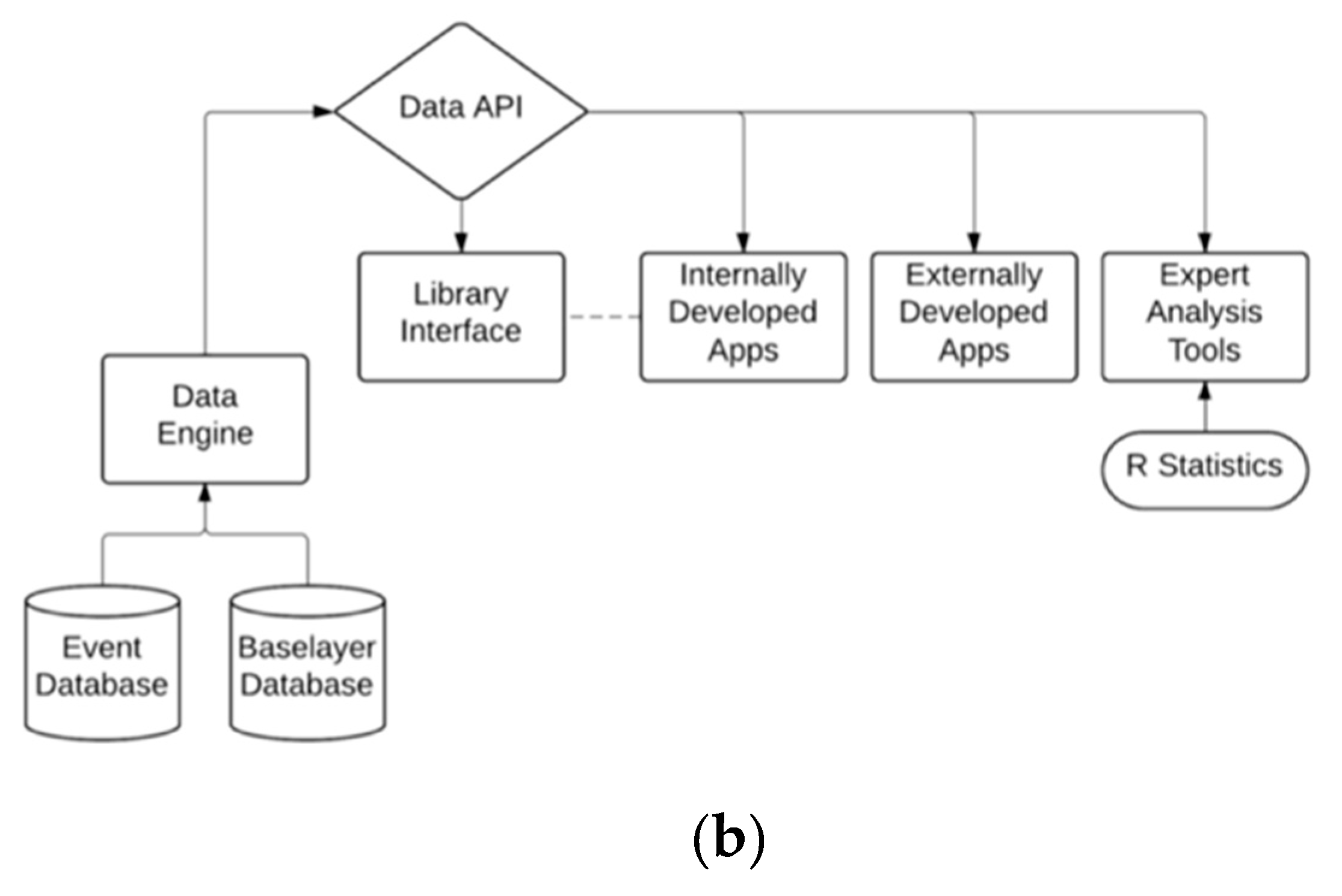 Figure 6. Participatory approaches and tools (a) Screenshot depicting the SeaSketch interface, with map viewer (left), and the collaborative discussion forums (right); and (b) workflow of the RIOS tool for targeting ecosystem services in watershed management.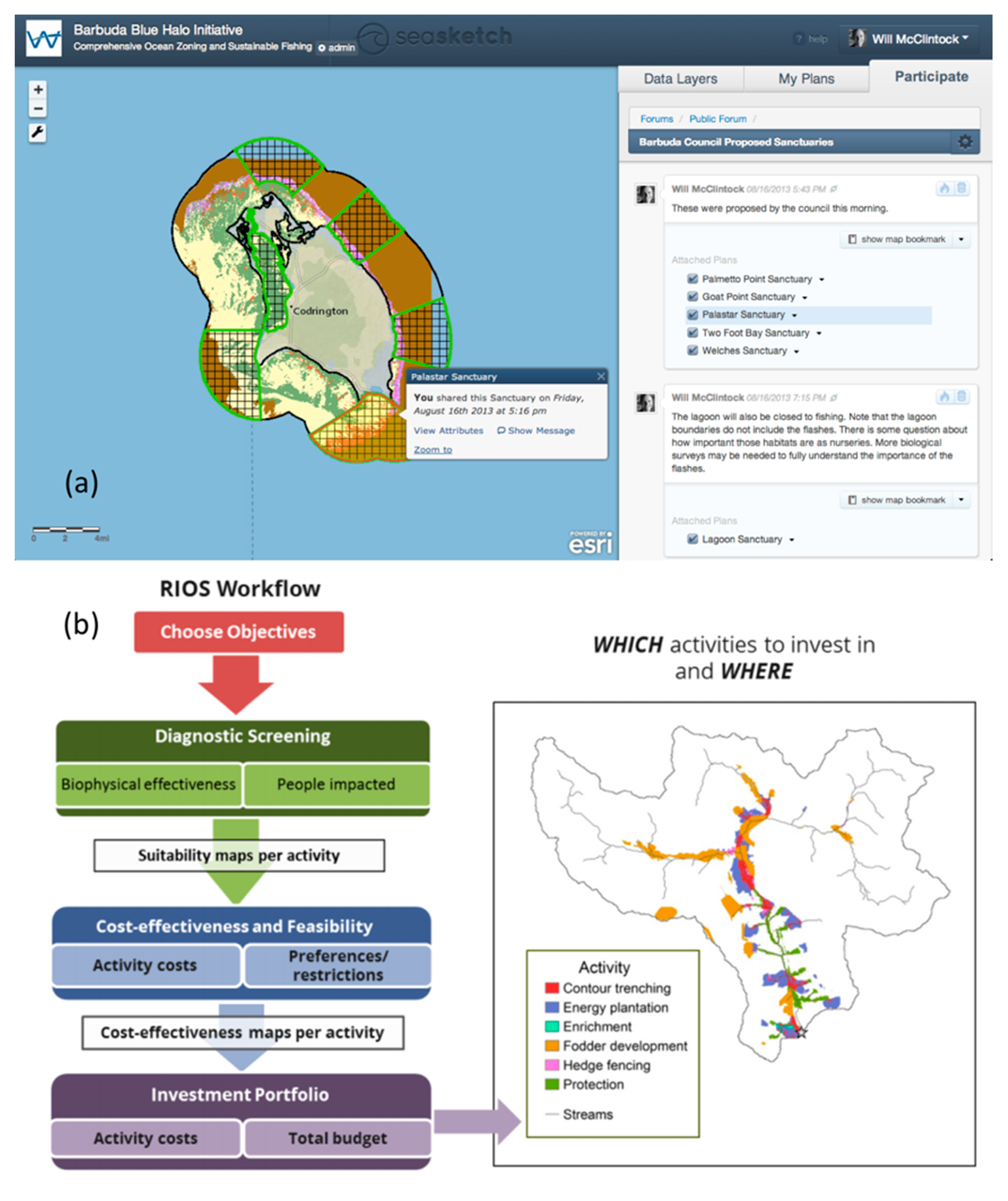 © 2017 by the author. Licensee MDPI, Basel, Switzerland. This article is an open access article distributed under the terms and conditions of the Creative Commons Attribution (CC BY) license (http://creativecommons.org/licenses/by/4.0/).