Open Access This article is
freely available
re-usable
Article
Adaptive Governance and Market Heterogeneity: An Institutional Analysis of an Urban Food System in Sub-Saharan Africa
1
Department of Geography, Indiana University, Bloomington, IN 47405, USA
2
Department of Geography, University of California, Santa Barbara, CA 93106, USA
*
Author to whom correspondence should be addressed.
Received: 2 October 2017 / Accepted: 18 November 2017 / Published: 27 November 2017
Abstract
:
African cities face immense challenges over the coming decades. As countries urbanize, African cities must maintain service provision for rapidly increasing populations, yet with limited resources. In particular, urban food systems must be able to cope with regional food shortages and catalyze (or at least enable) the distribution of food from diverse sources in order to ensure that the cost of food remains affordable for all of the segments of a city's population. Food systems in most African cities are composed of wholesale sellers, formal markets, street vendors, shops, and increasingly large-scale international stores, creating an evolving landscape of food sources. At the same time, urban population growth can result in rapid changes in urban structure with new peri-urban development and transitions in socioeconomic status within existing areas. Governance plays an important role in the creation and coordination of formal and informal actors across different types of food providers. At the municipal level, new markets must be approved to keep pace with urban expansion. Within residential areas, market management committees must work to maintain traditional markets in the context of increasing competition from large-scale grocers and small-scale street vendors. We use household and market-level data that was collected in Lusaka, Zambia, to conduct an institutional analysis of residential areas to examine the interplay between households, public markets, and street vendors. Analysis of the city's food system identifies a complex network of relationships featuring formal and informal governance arrangements, which may affect food system functionality.
Keywords:
food system governance; urban food security; urban food systems; institutions; Zambia
3. Materials and Methods
Nations throughout Sub-Saharan Africa tend to be dominated by a single city [
35
], where the city serves as the capital and largest urban center. South Africa is the only nation in the region where this rule of thumb does not hold true. Cities throughout the region face similar development issues: growing populations, lack of service provision, poor environmental conditions, and the degradation of critical infrastructure [
35
]. In order to understand urban food systems throughout the region, we use Lusaka, Zambia, as a means to contextualize Sub-Saharan Africa's large, dominant cities.
Lusaka is both Zambia's capital city and largest metropolitan area, and is home to more than 1.8 million residents, up from the 1.1 million counted during the 2000 census [
36
]. As Zambia's primary city, Lusaka is the hub of national food consumption and distribution. Zambia's Central Statistical Office (CSO) reports rural population rates will increase by 2.4% from 2011 to 2035, but urban population growth rates will exceed 3.5% during the same period [
36
]. Like other large cities in the region, Lusaka's residential areas and their populations are highly diverse, most often due to economic factors. Lusaka has more than 60 formally designated residential areas and numerous other informal, non-designated residential areas. Residential areas begin as either planned settlements or through an act of the city council become formalized later on. Residential areas are typically supplied with food through four sources: supermarkets, public markets, small grocers, and street vendors. Expansion of supermarkets throughout Sub-Saharan Africa is substantial, but the role of public markets for low-income residents remains vital for household food security. Low-income households in Lusaka may have multiple income-earners who are reliant on income ranging from formal to informal and full- to part-time employment.
Data collection occurred in 18 residential areas of Lusaka, Zambia, during March and April 2017. Established low-income residential areas were identified for sampling through consultation with experts at the Zambia Agriculture Research Institute. Households within these areas are more likely to struggle with food security due to a lower purchasing power and a greater share of household income allocated to food [
5
].
During data collection, 757 household surveys, 23 market surveys, and 306 street vendor surveys were completed (
Figure 1
). Sampled households were selected using a stratified area sampling approach within the 18 residential areas, with 35 households per residential area set as a target (
Table 1
). Every market within a residential area was sampled, with several areas containing more than one local market. The majority of street vendor surveys were completed through a census of street vendors in 6 of the 18 residential areas sampled.
Cooperative and council markets feature wide-ranging characteristics and governance arrangements. Descriptive statistics for both market types surveyed illustrate the heterogeneity of public markets across Lusaka (
Table 2
). Cooperative market vendors have been selling produce for about 17 years (with a standard deviation of 11.64), on average, while vendors in council markets exceed that rate with more than 18 years of produce resale experience (standard deviation of 10.01). Prices of tomatoes, a perishable product that is commonly used in the nation's staple meal, are highly variable across Lusaka, and within the two market types there exists varied prices with cooperative markets having lower average prices.
On average, street vendors sold seven different kinds of food from their
kantembas
, with tomatoes (277 out of 306 vendors) and onions (229 out of 306 vendors) being the most ubiquitous products for sale. Nearly 80% of all the vendors owned their streetside stands, with the remaining vendors stating they either rented or had another form of arrangement in place for where they operated. More than 20% of all the street vendors surveyed report having sold in a public market at some point previously, but have since taken up street vending instead.
4. An Institutional Analysis of Lusaka's Food System
The institutional analysis of Lusaka's food system focuses on the role of institutions and governance arrangements, both formal and informal, in the city's food system. Integral to the functionality of any institution is the ability of the institution to evaluate actions and outcomes, which may lead to change [
37
]. By examining the governance system types in place in Lusaka's food system we evaluate whether there exist feedback loops capable of evaluating and improving the system. We achieve this through implementing the Institutional Analysis and Development framework in order to parse out the prevalent actors, action situations, and outcomes, which may occur in regards to the institutions currently in place.
Figure 2
illustrates the Lusaka food system's governance arrangement, as viewed through the application of the Institutional Analysis and Development framework. In the following section, we add context to particular areas of the framework, most notably the market governance structures, actors participating in the system, and the action situations.
The role of the action situation is vital to this analysis, as the action situation is the social space where groups come together to interact with one another [
38
]. Understanding the types of interactions that the city's actors maintain with one another, and the context in which those actions are carried out, is paramount to understanding the institutional arrangement of the food system in Zambia's primary city.
5. Governance Systems
Lusaka's food system is comprised of multiple levels of governance: formal, informal, top-down, and bottom-up (
Table 3
). Formal top-down governance allows for the formation of Lusaka City Council-managed markets, but within council markets the actual management may feature a spectrum of outcomes from formal top-down to informal top-down based on the council's active presence. Formal bottom-up governances facilitate the creation of cooperative markets by local residents. In areas lacking formal governance of any kind, informal bottom-up arrangements allow street vendors to operate and fill needed roles within the food system.
City council markets are formally governed through the Markets and Bus Stations Act of 2007. The act delineates the power that is held by the Lusaka City Council to manage public markets throughout the city, which creates a formal top-down approach to the city's market system. All Lusaka City Council-administered markets are formalized through a permitting process. Once permitted, on-the-ground administration occurs through the market master, a city council employee. However, council market functionality and management issues are matters of the Market Advisory Committee (MAC). MACs are comprised of seven members: the chair (the local councilor), secretary (the market master), tax collector (a council employee), council police officer, and three elected vendors from the local market.
The governance arrangement of Lusaka's low-income food system does not always function through formal top-down processes, and in response to governance voids, alternative arrangements have arisen. Within some city council-governed markets, governance occurs through informal arrangements that are orchestrated by politically affiliated groups, known as 24-member committees. The use of 24-member committees occurs due to weak council presence and allows for informal top-down approaches to the governing of markets. These committees do not supplant the MAC, but rather exist parallel to the sanctioned market committees. The 24-member committee is comprised of local officials from the political party in power at the time, and the composition is made up of three sub-groups: an eight-person youth committee, a women's committee of eight females, and an executive committee of eight other individuals. Although the city council's MAC has formal power within these markets, the 24-member committee has informal jurisdiction. In markets featuring weak formal governance arrangements, the informal governance structure is achieved through the use of 24-member committees.
The role of the city's largest market, Soweto, is important to understanding the city council governance of Lusaka's food system. Soweto Market is the central node of Lusaka's food system, and the market supplies both cooperative and city council markets with fresh produce daily. Changes in policy, attitudes, or supply and demand dynamics within Soweto Market will likely have far-reaching effects across the city and its numerous markets. Soweto falls under the Lusaka City Council's administration. There is a dual arrangement of both the MAC and 24-member committee ensuring governance of the market.
The second market type that household consumers rely on for food purchases are cooperative markets. As the population of the city increases, residential areas of differing income classes formulate. When demand reaches a particular point, new cooperative markets are established in areas of the city that are yet to be formally sanctioned through the city council. About half of Lusaka's markets are cooperative-managed. Cooperative markets are governed through independent market committees, comprised of officials who are elected from the cooperative market's vendors. The structure of cooperative market committees is not homogeneous, but typical markets feature a market chair, vice chair, secretary, treasurer, and three committee members. The committee of elected administrators is charged with overseeing the functionality and management of their market. Cooperative markets can be formally registered with the Department of Cooperatives (although it is not necessary), but the interactions between the markets and department are typically limited, due to the department's limited financial resources.
Beyond both market types, another type of marketeer exists: the street vendors. Street vendors are prevalent in the narratives of both cooperative and council markets within Lusaka's residential areas. Street vending has been, and remains at varying levels of use, a common form of livelihood for many of Lusaka's lower-income residents due to low employment opportunities in the city [
39
]. Most recently, in 2012, then-President Michael Sata declared street vending throughout Lusaka as legal in the hopes of appeasing growing frustration from a broad group of vendors [
40
]. Since then, street vending has increased throughout Lusaka. The legitimization of street vendors across the city has increased the competition and tension between vendors in public markets and the street vendors on the periphery of the same markets. The growth of street vending highlights the limited feedback loops between market managers and the Lusaka City Council. With limited means to exclude street vendors, the city council is unable to ensure use of public markets through enforcement and exclusion. Similarly, cooperative markets, which have even less ability to exclude street vendors due to their disassociation with the city council, face challenges of competition with street vendors. A representative from the Lusaka City Council indicated a lack of formal means to exclude street vendors from areas near markets, and stated that the only method to remove them entirely would be through a formal decree from the president in power, like the decree made by then-President Sata (personal communication, 12 April 2017).
6. Actors and Action Situations
There exist multiple points of entry for producers to provide their produce to consumers within Lusaka, such as grocery store chains, public markets, street vendors, and direct sales to households. At public markets, producers, marketeers, and consumers interact by establishing prices and exchanging goods, which distributes commodities throughout the city. Many commodities touch multiple public markets and street vendors before being purchased by a household.
Lusaka exhibits a mixed food system where low-income residents rely on multiple sources for the provision of food. For low-income households, the use of street vendors and markets are necessary due to socioeconomic status, while middle- and high-income households look to supermarkets for meeting their food needs. As the trend toward urbanization within Lusaka continues, the need for suppliers of all sizes to meet the demand of urban consumers will increase. The importance of managing central markets like Soweto will also grow due to their placement within the food supply chain.
7. Feedback Loops
Actors evaluate actions and outcomes within the Institutional Analysis and Development framework through the use of feedback loops [
37
]. Feedback loops allow for formal and informal information flows between actors, which may be used to evaluate and improve an institution based on outcomes. Evaluation of Lusaka's food system is important to ensuring the system's functionality, sustainability, and longevity. Effective feedback loops ensure system functionality in the provision of food, while ineffective feedback loops hinder the system's performance.
Feedback loops exist between governing actors, public markets, and street vendors, yet each loop has varying degrees of formality and effectiveness in allowing for actors to evaluate the food system's performance. For instance, city council markets may be classified as either formal top-down or informal top-down based on the strength of the council's presence in market management. With the varied governance arrangements come differing feedback loops for evaluation of the food system's performance. Markets managed solely by the MAC are able to formally pass information between the market and the city council in order to effectively evaluate market performance. However, markets, like Soweto, managed through informal top-down 24-member committees may be less capable of providing substantive feedback to improve market functionality, as these committees are not associated with the city council. As such, there may be more informal information flow regarding the market, but it is unclear if this type of feedback is capable of ensuring evaluation. Additional investigation may provide invaluable insight into what extent informal information flows have on encouraging evaluation and improvement.
Slightly more than half of the city's markets are managed through cooperative market committees. In this type of market, limited feedback between the cooperative market and the city council hinders the process of evaluation. As such, feedback loops that affect the governance of Lusaka's cooperative markets do not occur by way of formal interaction with the city council. Clear channels of information flow between the department and its markets create an environment of evaluation with the potential to improve the efficacy of cooperative markets.
Feedback loops through which street vendors interact with the formal food system's governance are also less influential. Although the proclamation from then-President Sata allowed for the widespread legitimization of street vending by way of disregarding the law in place to manage the city's food system, street vendors still have little interaction with the city council's efforts to manage the food system. Instead, the feedback loop most prevalent for street vendors is the loop between street vendors and urban consumers. This feedback loop enables the creation of street vending spaces. If consumers do not trust the produce being sold by street vendors or are unwilling to purchase from them for other reasons, then the spatial placement and density of street vending in the city's residential areas will be affected. Low-income urban consumers have considerable input to contribute to feedback loops as their willingness to purchase from a street vendor over a market can impact market dynamics and the supply of food to households.
8. Discussion
Our institutional analysis illustrates Lusaka's food system as a heterogeneous network of interrelated actors (producers, marketeers, governing bodies, and consumers) and environments, in which food purchases occur. Similarly, the governance regimes in place to oversee the system's functionality are as equally varied as the participants. It is reasonable to expect formal top-down governance to be at play within the city's food system; however, this is not always the case.
However, the current system may not have the capability to pivot in light of stresses or shocks to the system, due to feedback loops that provide mixed levels of information to the system's actors. Ensuring system functionality happens through the maintaining of feedback loops that are capable of providing timely insights to the system's actors regarding institutional functionality.
The strongest example of the food system's ability to change through the use of feedback loops is evidenced through the rise and use of Lusaka's street vendors. Street vending provides an important service for those engaging with the informal economy. The activity has increased as a means to ensure livelihoods for vendors, as well as greater, widespread distribution of food for purchase by low-income urban consumers. In response to limited market accessibility or financial constraints imposed by high food prices, urban consumers turn to street vendors for the purchase of food. The activity of street vendors is governed through informal bottom-up approaches. With no governing body regulating their activities, street vendors respond to one another and the urban consumer via direct feedback loops.
Between council markets, cooperative markets, street vendors, and the city council, there exist differing levels of adeptness at providing feedback to ensure a system that is capable of mitigating shocks and stresses. A multi-level governance approach to the urban food system has brought forth the current system that is capable of providing food to the city's varied socioeconomic groups. But, does this mean the system is robust? The feedback loops and mixture of formal and informal information flows create a multi-level governance structure that may struggle to ensure communication between actors at varying levels within the food system during times of stress. It is not enough to simply ensure that functionality keeps pace with demand, but urban food systems must also ensure stability. The institutional analysis of the city's food system does not seem to provide evidence of clear feedback loops between all of the relevant actors of the food system's action situation. As such, it seems unlikely that the food system may be considered robust and capable of mitigating large-scale shocks to low-income urban residents, such as the shocks that occurred during the 2007/2008 global food crisis. In particular, the central role of Soweto Market highlights this issue.
As the rural-to-urban transition continues across Southern Africa, the informal economy and urban food systems will grow in importance. Both public markets and street vending provide critical sources of food for urban households in the region's low-income residential areas, and stand as important nodes of distribution in a city's food system. The use of public markets and the widespread growth of street vending are evidence of the flexibility of the informal economy to respond to voids that are created through governance measures and consumer choice within urban food systems. In the future, efforts to manage and govern the spaces that are maintained by public markets and street vendors must be undertaken carefully, as the urban poor rely disproportionately on vendors from the informal economy for the purchase of food. Any measures that hinder the informal economy's ability to provide food may have negative impacts on the attainment of food security at the household level.
Research regarding urban food security has increased; yet little on the evaluation of Sub-Saharan African markets and their capacity to change has been completed. Understanding how to assess public market functionality is an important next step. Sub-Saharan African cities and their food systems feature an economic array and spatial distribution of food suppliers. Because so many supermarkets, public markets, street vendors, and grocers exist across the region's cities, it is difficult to model price dynamics, and estimate how they affect market functionality. Functionality of public markets is likely a product of price dynamics and the governance arrangements that we have emphasized in this paper. Understanding which conditions are necessary to allow for the continued use of public markets, rather than a shift in purchasing patterns toward other food retailers, is an important avenue of research in the future. A natural extension of this work would be to create a framework that empirically evaluates the relationship between public markets, street vendors, and governance structures between the two vendor types. It is likely market functionality is directly affected through the proximity and quantity of street vendors in a nearby area.
9. Conclusions
Governance arrangements play a substantial roles in the attainment of nutritional and food security outcomes in urban settings. This institutional analysis of Lusaka's food system illustrates the heterogeneity of Lusaka's food system and governance arrangements. A holistic governance approach for the overall food system does not yet exist in Lusaka, but rather, the city's governance of food sellers is partitioned into differing categories that are based on market type and seller. This has led to an increased importance of the informal vendor class in the provision of food to low-income urban consumers.
As Africa's urban areas grow, food systems must continue to meet the needs of low-income residents through flexible governance arrangements that are capable of evolving over time and in response to consumer demand. Important in achieving this is the use of public markets and street vendors that supply affordably priced and adequately available food. If the overall food system and these two types of actors are unable to do so low-income residents will be particularly vulnerable to price shocks and shortages in product availability. System flexibility alone may not lead to more robust food systems that are capable of mitigating shocks and stresses to the system unless the system's action situation can lead to clear feedback mechanisms for actors to use in the evaluation and improvement of urban food systems.
Acknowledgments
We would like to thank the Zambia Agriculture Research Institute and its team of enumerators for aiding in the collection of data, as well as the Lusaka City Council's City Planning Department—GIS Unit for providing the spatial data used in this analysis.
Author Contributions
Jordan Blekking and Tom Evans designed research; Jordan Blekking, Cascade Tuholske and Tom Evans performed research; Jordan Blekking and Cascade Tuholske analyzed data. Jordan Blekking, Cascade Tuholske, and Tom Evans wrote the paper.
Conflicts of Interest
The authors declare no conflict of interest.
Funding
This work was supported by the Ostrom Workshop in Political Theory and Policy Analysis at Indiana University and the US National Science Foundation grants SES-1360463, BCS-1534544.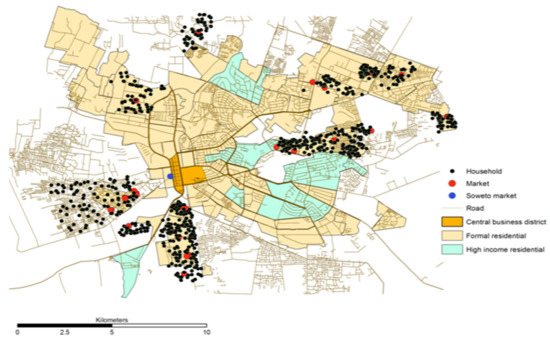 Figure 1. Households and markets surveyed during March and April 2017 data collection in Lusaka, Zambia.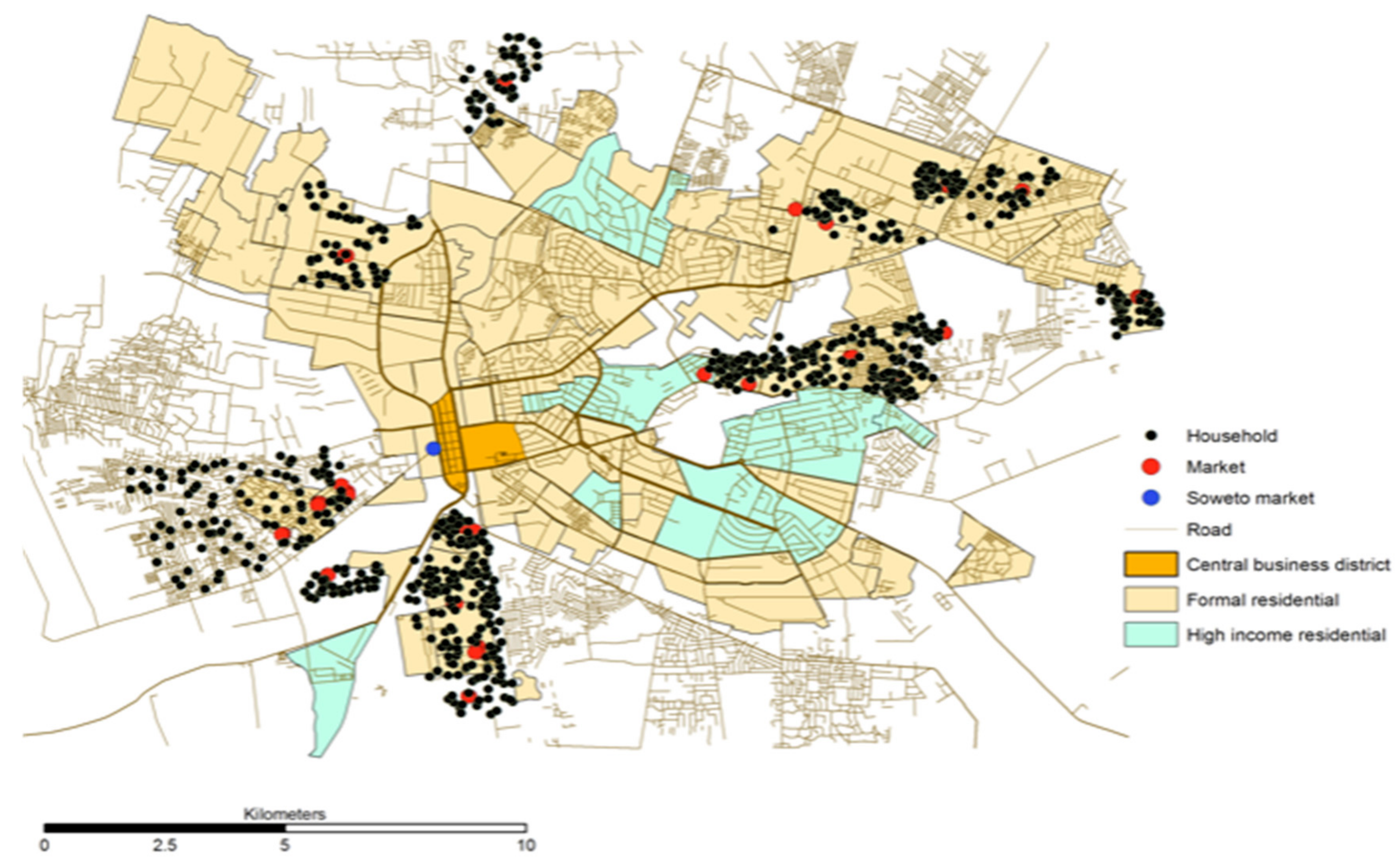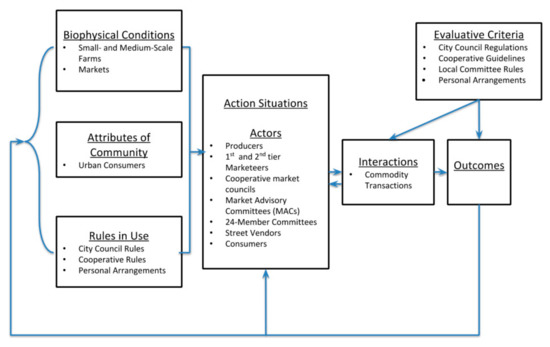 Figure 2. Lusaka's food system as viewed through the Institutional Analysis and Development framework.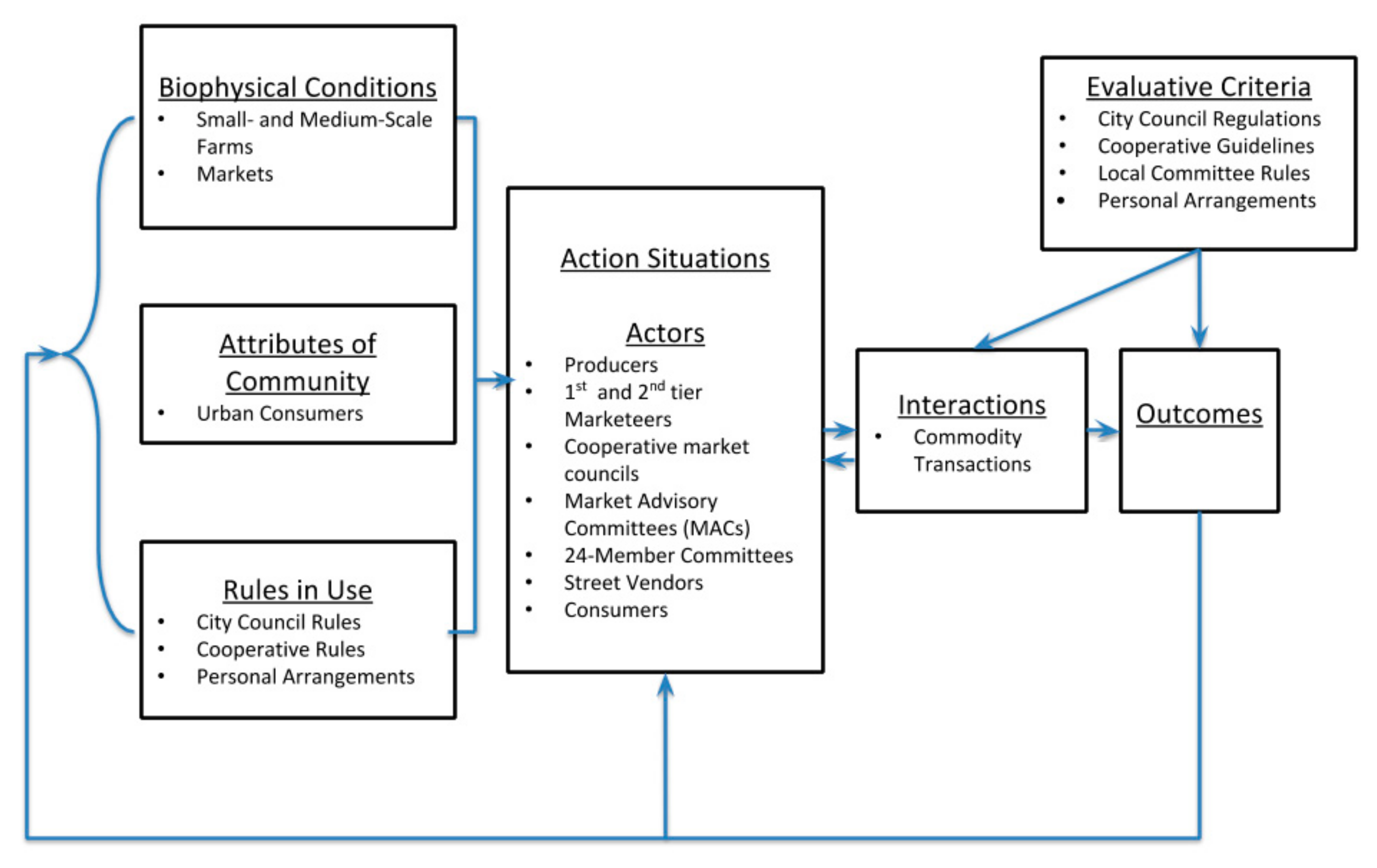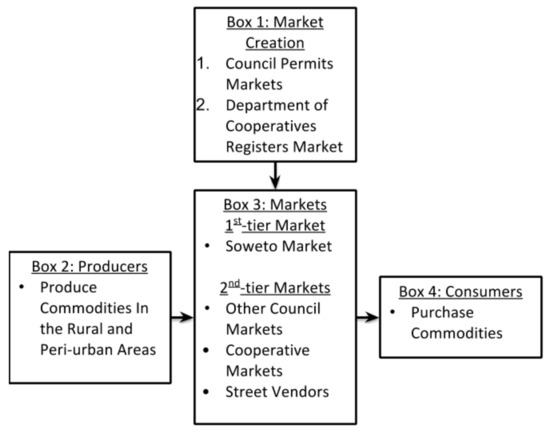 Figure 3. The action situation in Lusaka's markets begins with the creation of markets through the permitting process of the city council or the registration from the Department of Cooperatives.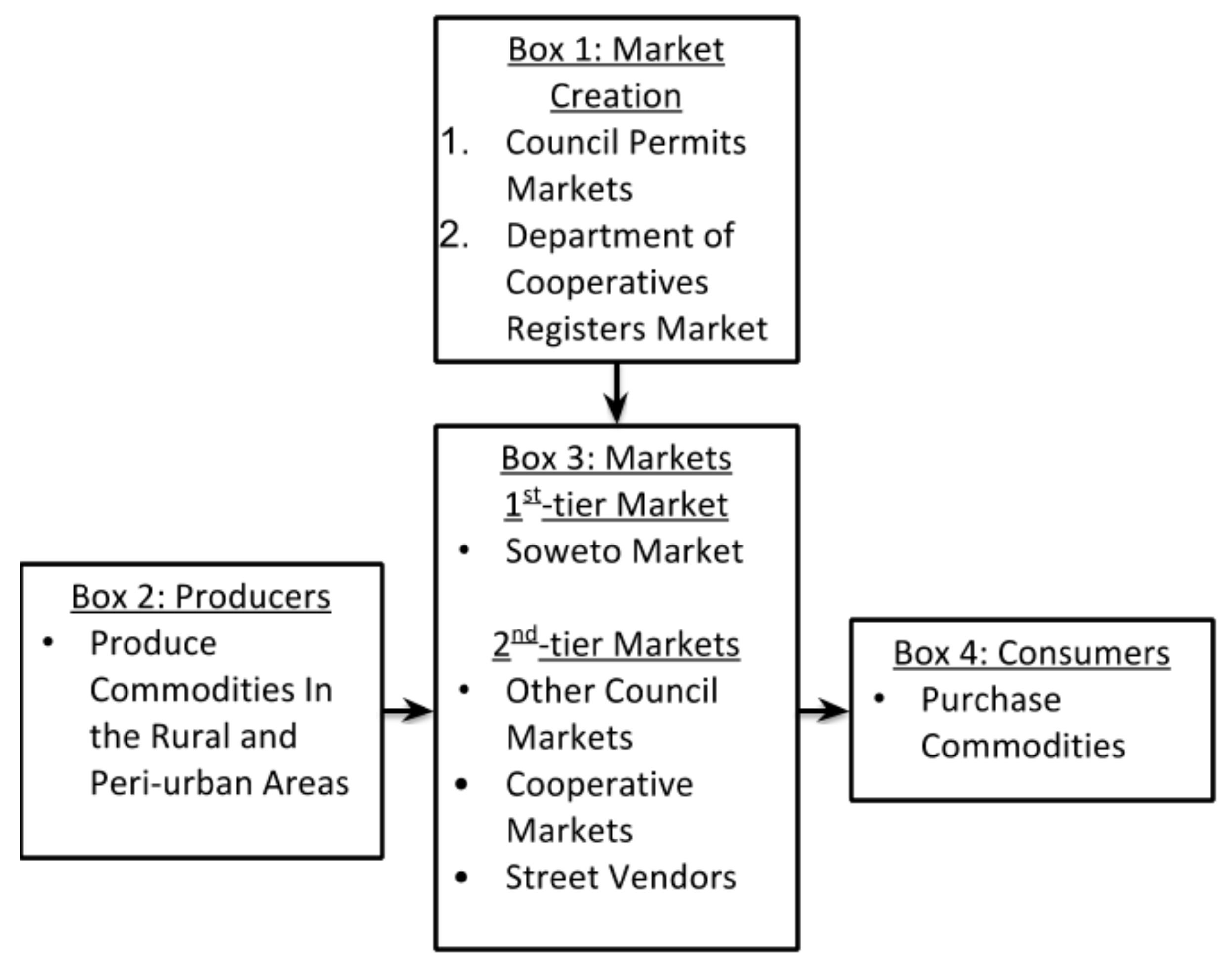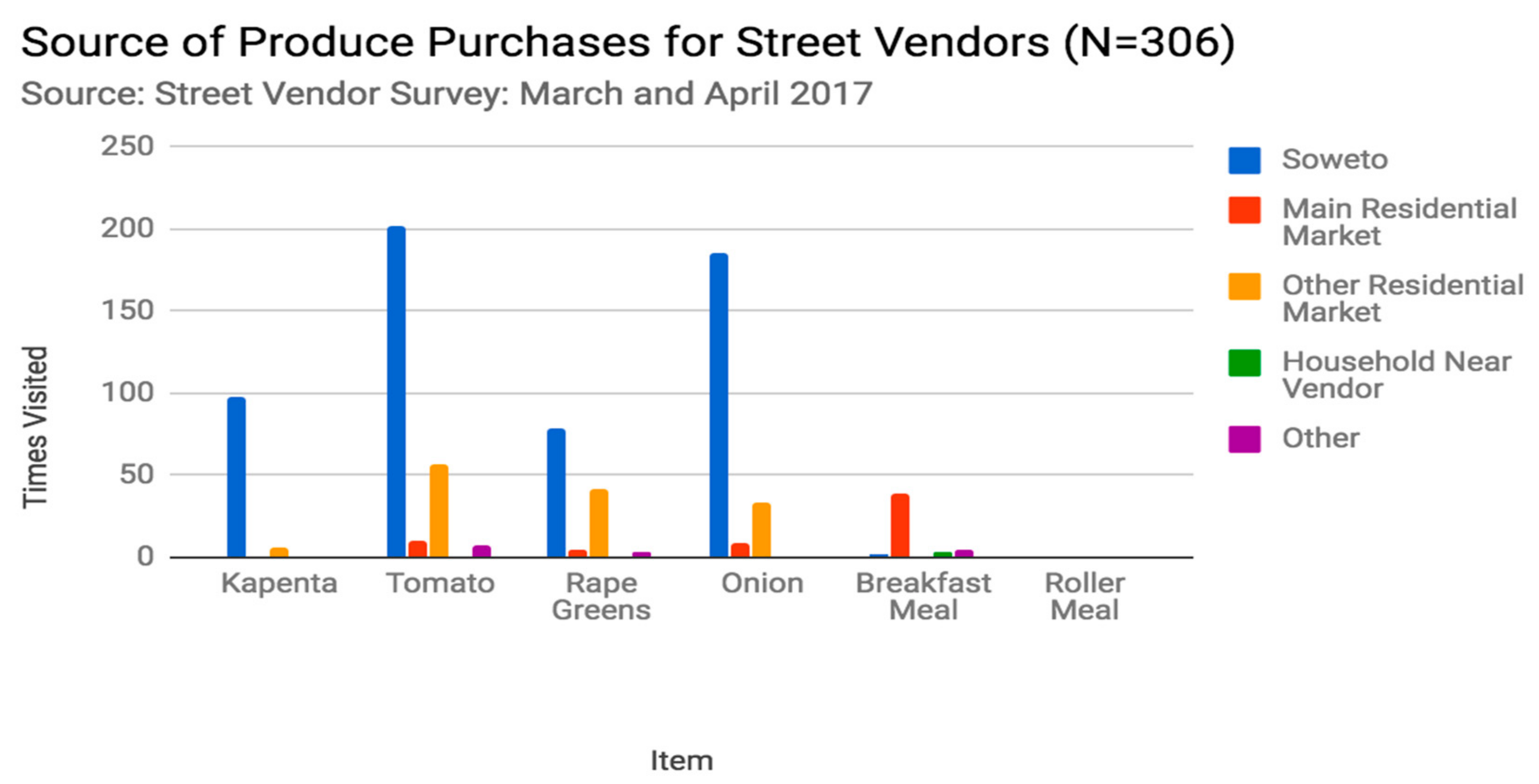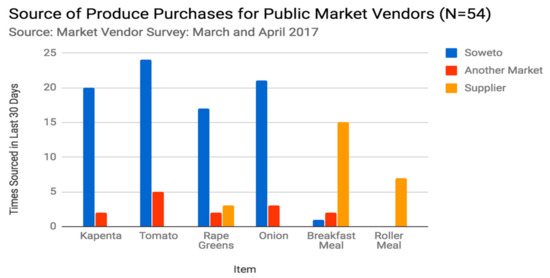 Figure 5. Public market vendors report purchasing most of their fresh produce for resale from Soweto Market.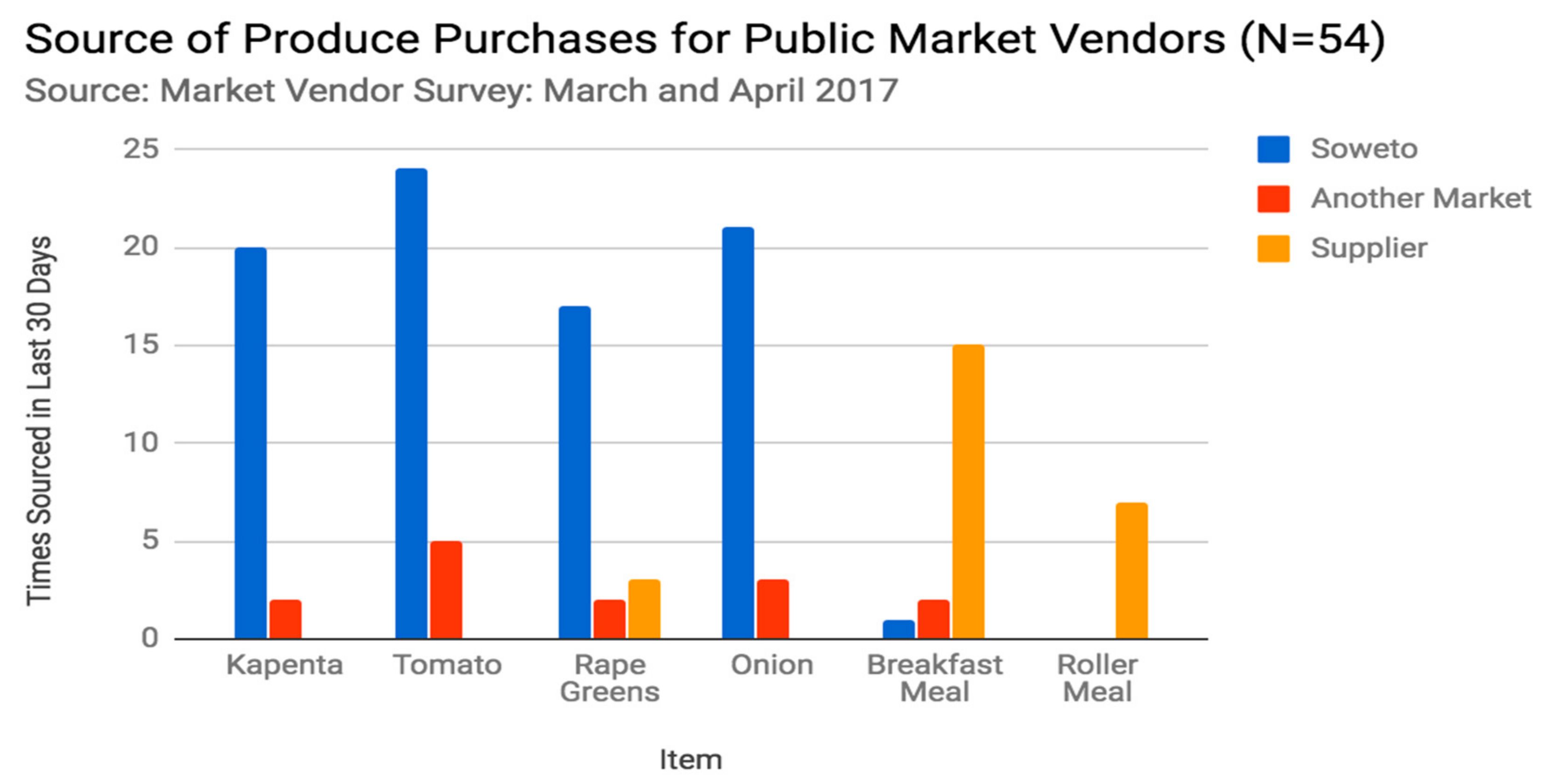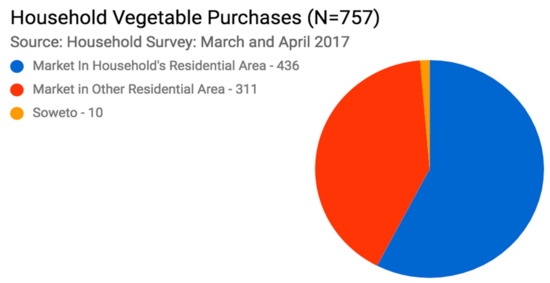 Figure 6. Households report purchasing vegetables most often from a market within their residential area.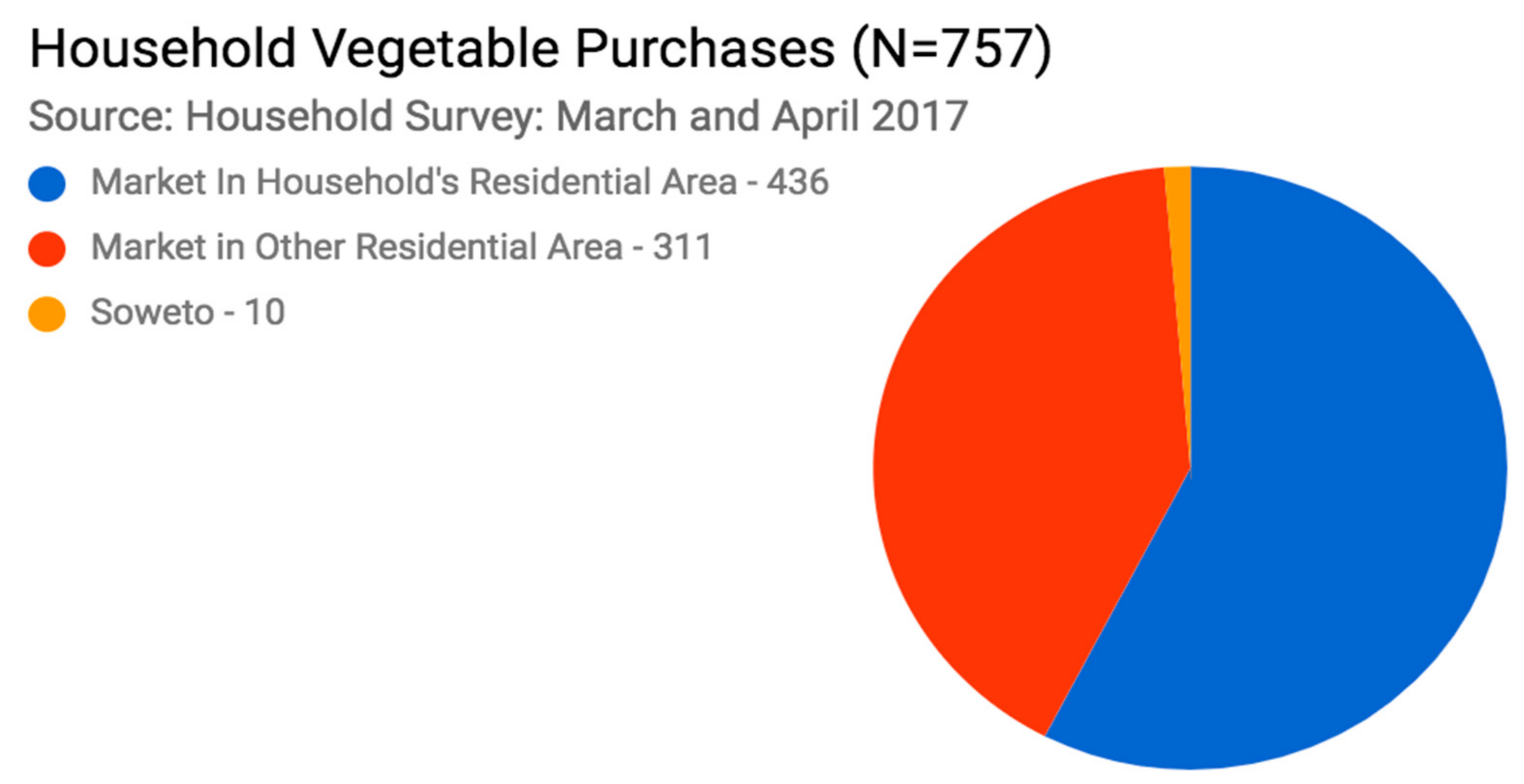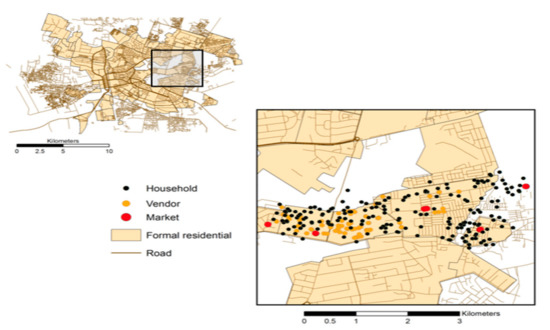 Figure 7.
The Helen Kaunda and Kalikiliki residential areas of Lusaka are displayed with
kantembas
(street vendors) in orange and public markets in red.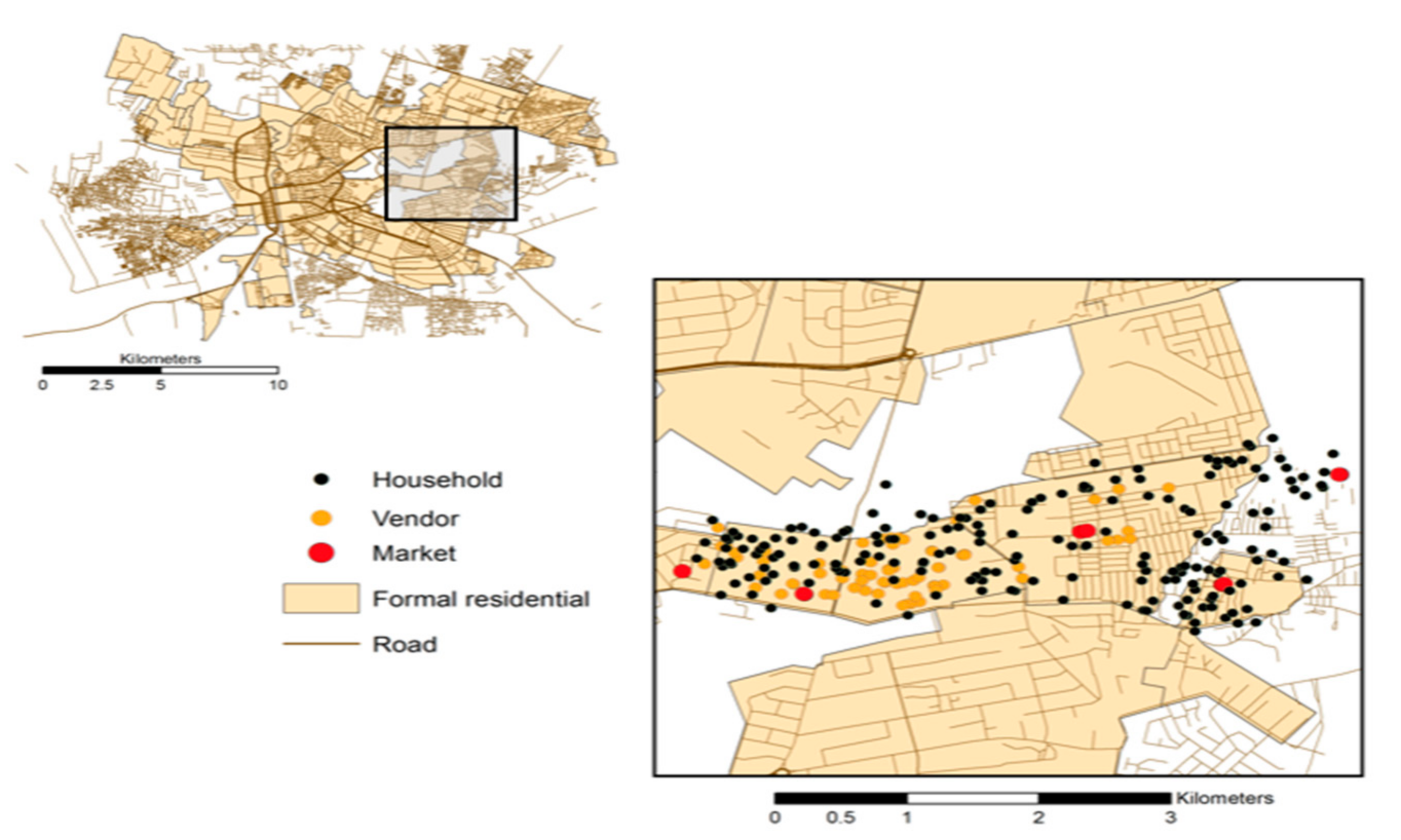 | Variable | Value (Standard Deviation) |
| --- | --- |
| Average Household Size | 5.53 members (2.66) |
| Members 0–14 years old | 2.32 members (1.65) |
| Members 15–64 years old | 3.11 members (1.65) |
| Members 64+ years old | 0.09 members (0.34) |
| Household Head Average Age | 42.59 years (12.70) |
| Household Head Average Education | Some Secondary Education |
| Household Head Average Median Income | K1000–K1499 per month |
| Household's Average Food Cost | K150–K199 per week |
Note: At the time of the surveys (March–April 2017), the exchange rate of Zambian Kwacha (K) to United States Dollar (USD) was approximately K9.2 to USD1.
| Market Type | Cooperative | Council |
| --- | --- | --- |
| Number of Markets in LSK | 32 | 27 |
| Number of Markets Surveyed | 14 | 9 |
| Average Levy Fee for Vegetable Seller | K0.93 | K1.78 |
| Average Years Selling at Market | 17.14 | 18.24 |
| Average Price for 1 Medium Tomato | K0.56 | K0.62 |

Table 3. Governance arrangements in Lusaka's food system may be a combination of formal/informal and top-down/bottom-up, which exist on a spectrum of possible outcomes.
| | Formal | Informal |
| --- | --- | --- |
| Top-Down | Council Market (strong council presence) | Council Market (weak council presence) |
| Bottom-Up | Cooperative Markets | Street Vendors |

© 2017 by the authors. Licensee MDPI, Basel, Switzerland. This article is an open access article distributed under the terms and conditions of the Creative Commons Attribution (CC BY) license (http://creativecommons.org/licenses/by/4.0/).