Open Access This article is
freely available
re-usable
Article
Levels of Governance in Policy Innovation Cycles in Community Education: The Cases of Education for Sustainable Development and Climate Change Education
1
Department of Educational Research and Social Systems, Freie Universität Berlin, Habelschwerdter Allee 45, 14195 Berlin, Germany
2
ISCTE-Instituto Universitário de Lisboa and CIES—Centro de Investigação e Estudos de Sociologia, Avenida das Forças Armadas, 1649-026 Lisboa, Portugal
*
Author to whom correspondence should be addressed.
Received: 26 August 2017 / Accepted: 24 October 2017 / Published: 27 October 2017
Abstract
:
While there is little doubt that social networks are essential for processes of implementing social innovations in community education such as Climate Change Education (CCE) or Education for Sustainable Development (ESD), scholars have neglected to analyze these processes in the multilevel governance system using Social Network Analysis. In this article, we contribute to closing this research gap by exploring the implementation of CCE and ESD in education at the regional and global levels. We compare the way CCE is negotiated and implemented within and through the global conferences of the UN Framework Convention on Climate Change (UNFCCC) with the way the UN Decade of ESD is put into practice through networks in five different German municipalities. We argue that the role of social networks is particularly strong in policy areas like CCE and ESD, which are best characterized as multi-level and multi-actor governance. Based on data derived from standardized surveys and from Twitter we analyze the complex interactions of public and private actors at different levels of governance in the two selected policy areas. We find, amongst others, that the implementation of CCE and ESD in community education depends in part on actors that had not been assumed to be influential at the outset. Furthermore, our analyses suggest the different levels of governance are not well integrated throughout the phases of the policy innovation cycle.
Keywords:
Education for Sustainable Development (ESD); Climate Change Education (CCE); Social Network Analysis (SNA); multi-level governance
Acknowledgments
We would like to thank the four anonymous reviewers as well as Severin Sperzel, Barbara Saerbeck, Outi Ruuska, Christoph Knill, Arthur Benz, Michael Bauer, Ronny Patz, Klaus Goetz, Andrea Liese, Per-Olof Busch, and the members of the DFG Research Unit "International Public Administration" for valuable comments.
Author Contributions
The article is based on two studies. Nina Kolleck, Mareike Well and Helge Jörgens conducted the CCE case study and contributed to developing the research question as well as writing the state of the art and the discussion. Nina Kolleck conducted the ESD study.
Conflicts of Interest
The authors declare no conflicts of interest.
Funding
This work was supported by the German Research Foundation under Grant KO 4997/1-1, Grant JO 1142/1-1, Grant KO 4997/4-1 and Grant JO 1142/1-2, FOR # 1745 and by the German Ministry of Education and Research under [grant number NB108A].

Figure 1. Development of the education-specific Twitter networks over time; (left) COP15–COP16; (center) COP15–COP18; and (right) COP18–COP20.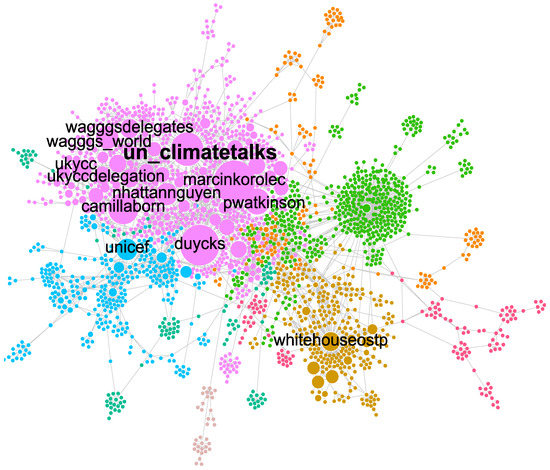 Figure 2.
Education-specific twitter network of all selected COPs (colors in the figure represent modularity classes [
49
]).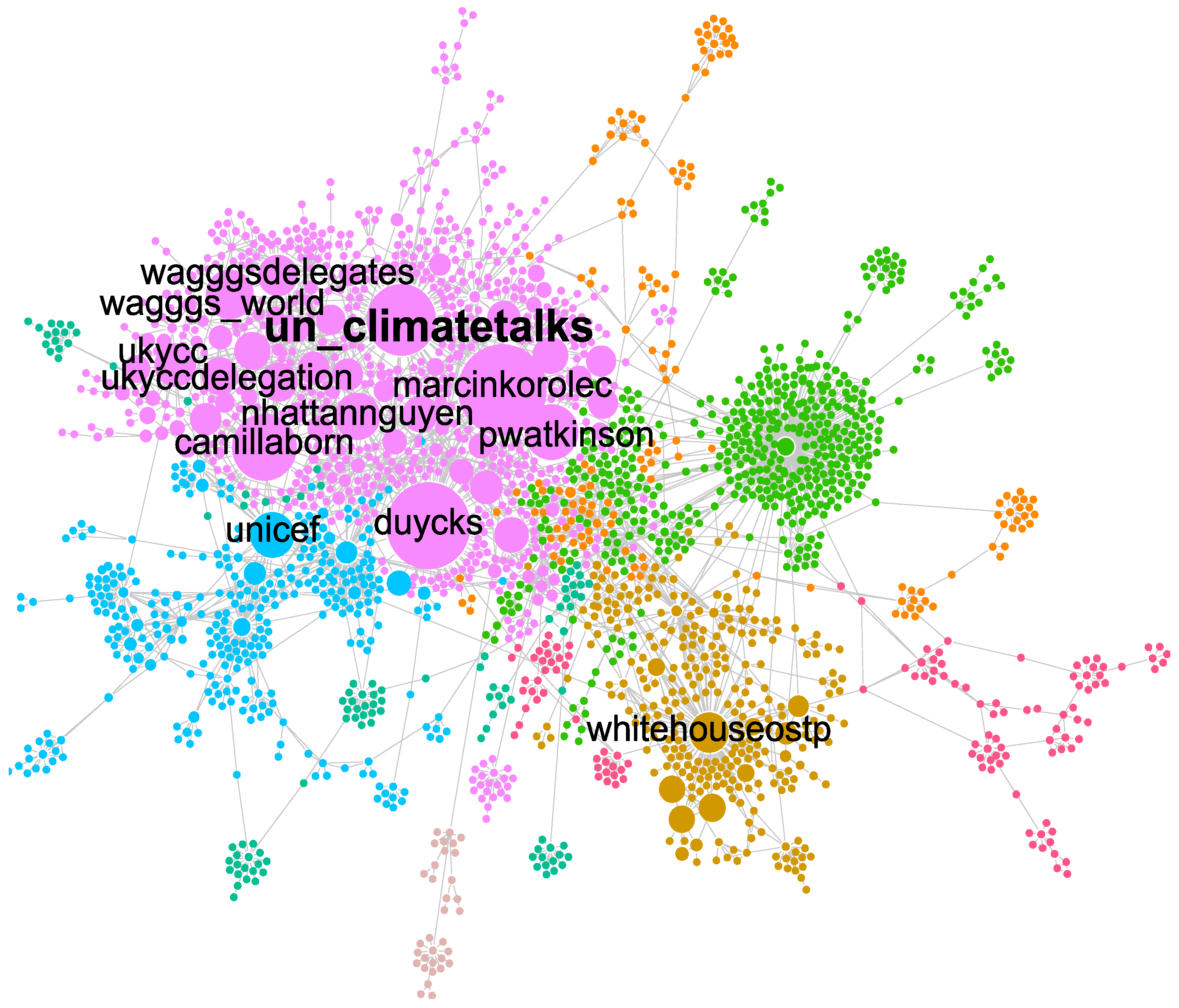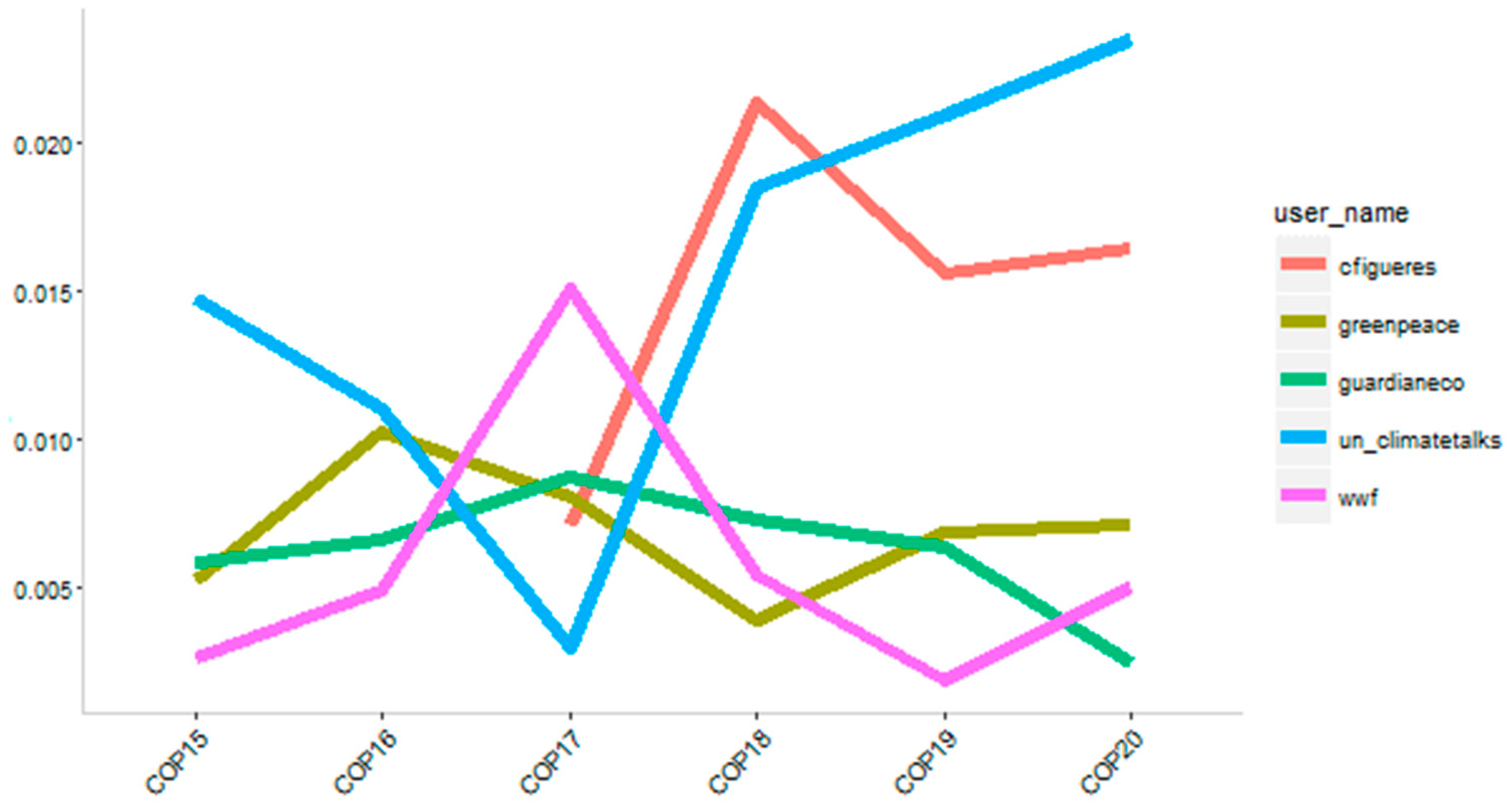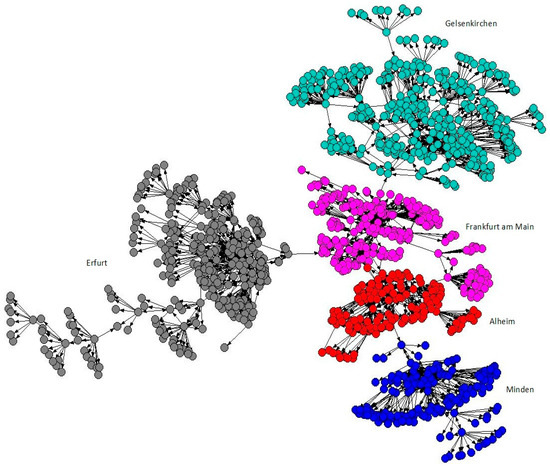 Figure 4. ESD network of five German municipalities, implementing ESD according to the UNDESD, generated with the program UCINET and the graph theoretical layout spring embedding. Source: own data.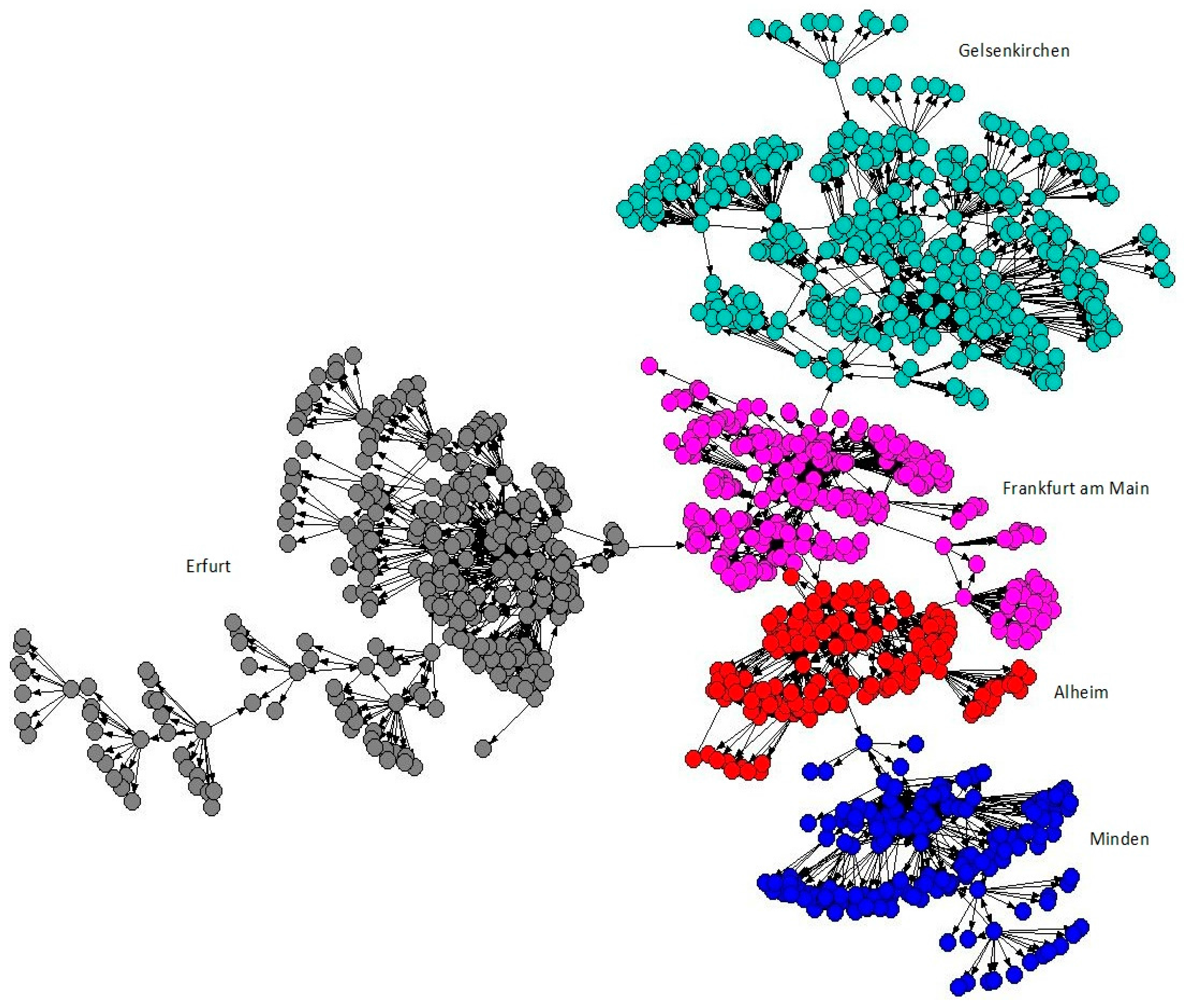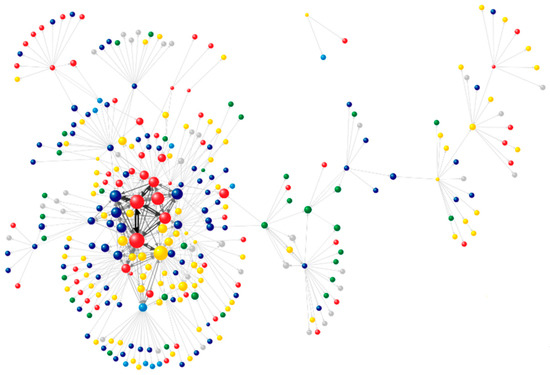 Figure 5. ESD network in Erfurt, node thickness according to eigenvector centrality, nodes are colored according to their area of activity (red: politics; yellow: NGOs; dark blue: non-formal education; light blue: formal education; orange: church; grey: other).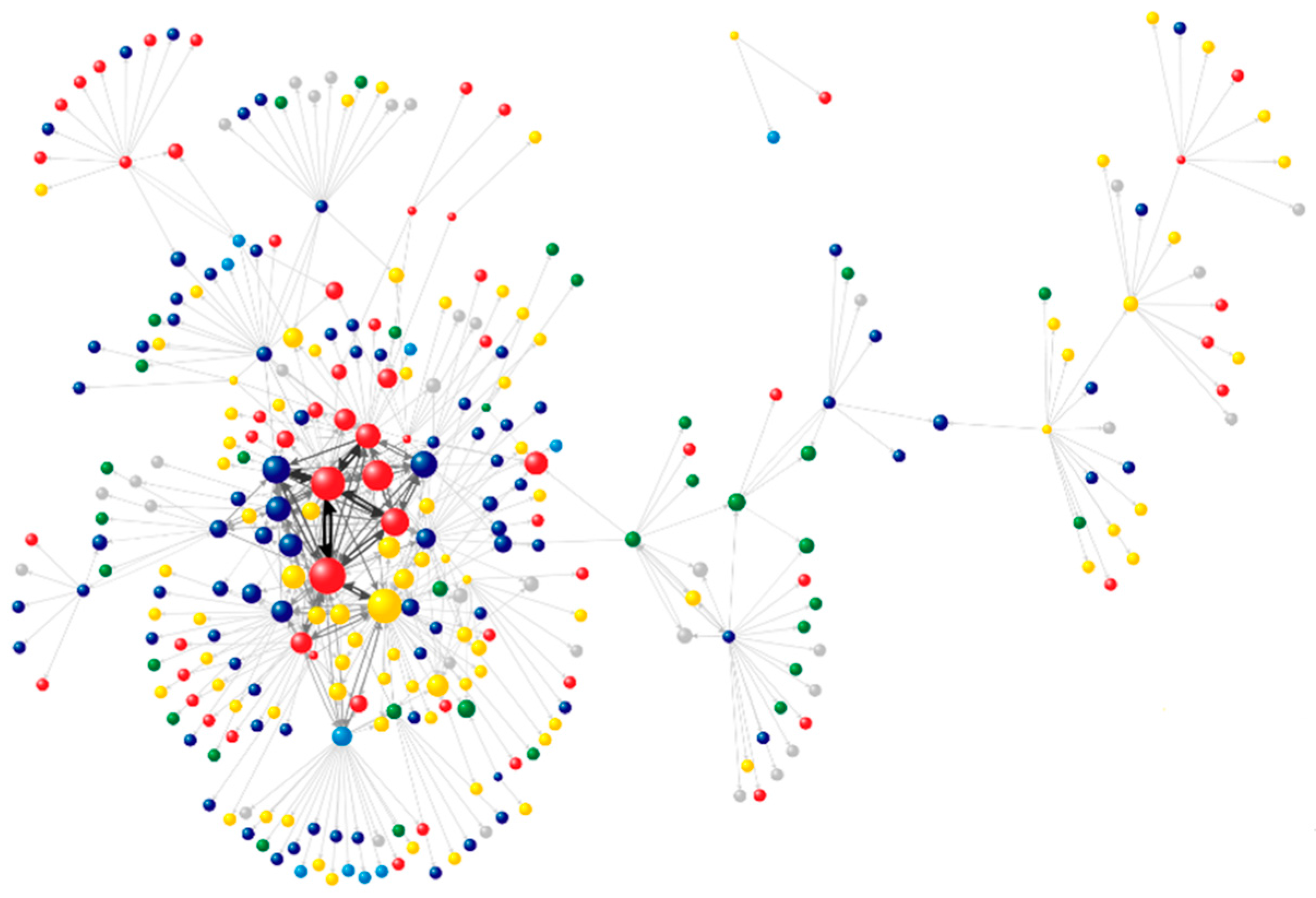 Figure 6. Quotient of observed and expected values (based on the assumption of independence from the field of activity).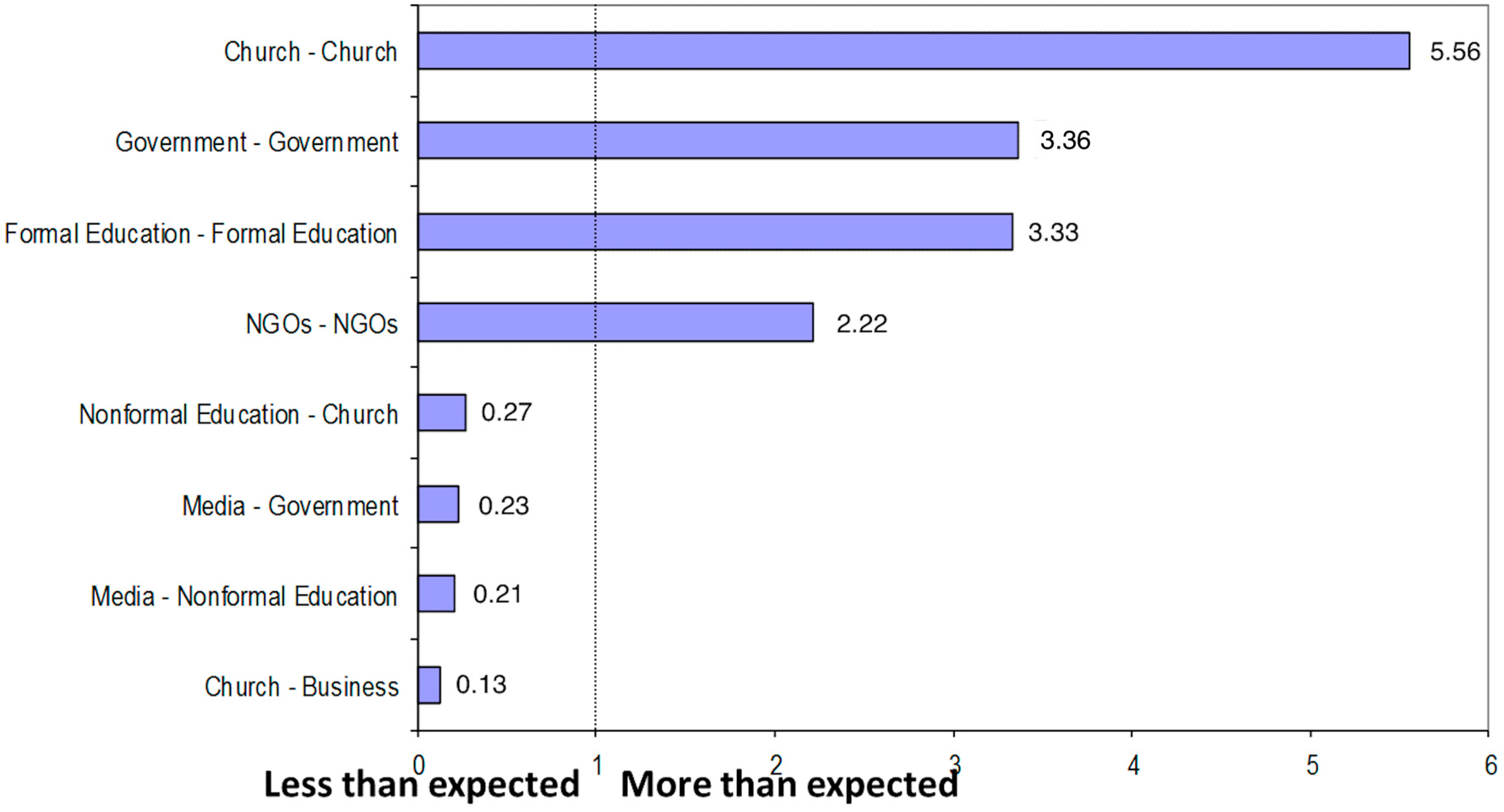 © 2017 by the authors. Licensee MDPI, Basel, Switzerland. This article is an open access article distributed under the terms and conditions of the Creative Commons Attribution (CC BY) license (http://creativecommons.org/licenses/by/4.0/).