Open Access This article is
freely available
re-usable
Article
The Influence of Structural Conditions and Cultural Inertia on Water Usage and Landscape Decision-Making in a California Metropolitan Area
1
Department of Forestry and Environmental Resources, North Carolina State University, 5223 Jordan Hall Addition, P.O. Box 8008, Raleigh, NC 27695, USA
2
Department of Sociology, California State University, Fresno 5340 N, Campus Dr. M/S SS97, Fresno, CA 93740, USA
3
Ostim Teknopark Inc., 100. Yıl Bulvarı OFİM İş Merkezi Kat: 10 No: 99/12, OSTİM Ankara 06370, Turkey
4
Department of Anthropology, California State University, Fresno 5245 N, Backer Ave. M/S PB20, Fresno, CA 93740, USA
5
Biodiversity Lab, North Carolina Museum of Natural Sciences, 11 West Jones Street, Raleigh, NC 27601, USA
*
Author to whom correspondence should be addressed.
Received: 29 July 2017 / Accepted: 25 September 2017 / Published: 27 September 2017
Abstract
:
Urban development and planning are increasingly centered on matters of sustainability, balancing economic development with ecosystem services and biological diversity within urban environments. In addition to these institutional and structural factors, the decision-making process within individual households must be understood to address rising concerns about water use. Therefore, individual characteristics and preferences that influence the use of water also warrant examination. In response to a survey of occupants of single-family residences in the Fresno Clovis Metropolitan Area of California, contextual interviews and focus group interviews with a homeowner sub-sample, we find evidence of an interplay of social—structural, institutional, and cultural factors involved in influencing individual water use behaviors and landscape decision-making. The complexity of residential behaviors and decision-making poses some potential issues with regards to the interactions between individual households and institutional actors in matters of water usage and landscaping, as residents surveyed indicate relatively little confidence in institutions and groups to make wise water policy decisions. We conclude that the promotion and implementation of sustainable water use practices will require not only environmental education for the citizenry, but also a tailoring of information for environmental educational initiatives that address the particularities of individual neighborhoods and communities.
Keywords:
urban sustainability; California; landscape decision-making; urban environment; water use behaviors; social—ecological systems
Supplementary Materials
The following are available online at
www.mdpi.com/2071-1050/9/10/1746/s1
, Table S1: Survey instrument: list of questions included in the mail questionnaire. Table S2: Focus group interview protocol: list of questions posed to each group to structure the conversation.
Acknowledgments
This paper is based on research funded by the National Science Foundation (ULTRA-Ex Award # 0949036), a Toyota TogetherGreen Fellowship (awarded to Kaberi Kar Gupta) from the National Audubon Society, and the College of Science & Mathematics, California State University, Fresno. We thank collaborators of the ULTRA-FACES project for discussions that helped develop the conceptual framework and overall context of this study, in particular Mary Cadenasso, John Bushoven, and Lara Triona. We thank Xioaming Yang for managing the ULTRA-FACES GIS database. We thank the following students who participated in the research: Seth T. Reid, Bradley Schleder, Jesse Mendiola, Melissa Sarno, Amer Naik, Jennifer Phillips, Kelsey Francone, Megan Bailey, and Brian Cortes. We also thank Christopher Trisos for feedback and critique of earlier versions of this manuscript.
Author Contributions
Madhusudan Katti, Andrew Rhys Jones, and Derya Özgöç Çağlar conceived and designed the study. Jones conducted the social surveys, Henry D. Delcore conducted the site visits, and Kaberi Kar Gupta conducted the focus group interviews. Katti, Jones, and Çağlar analyzed the data. All five co-authors wrote the paper collaboratively.
Conflicts of Interest
The authors declare no conflict of interest. The funding sponsors had no role in the design of the study; in the collection, analyses, or interpretation of data; in the writing of the manuscript, and in the decision to publish the results.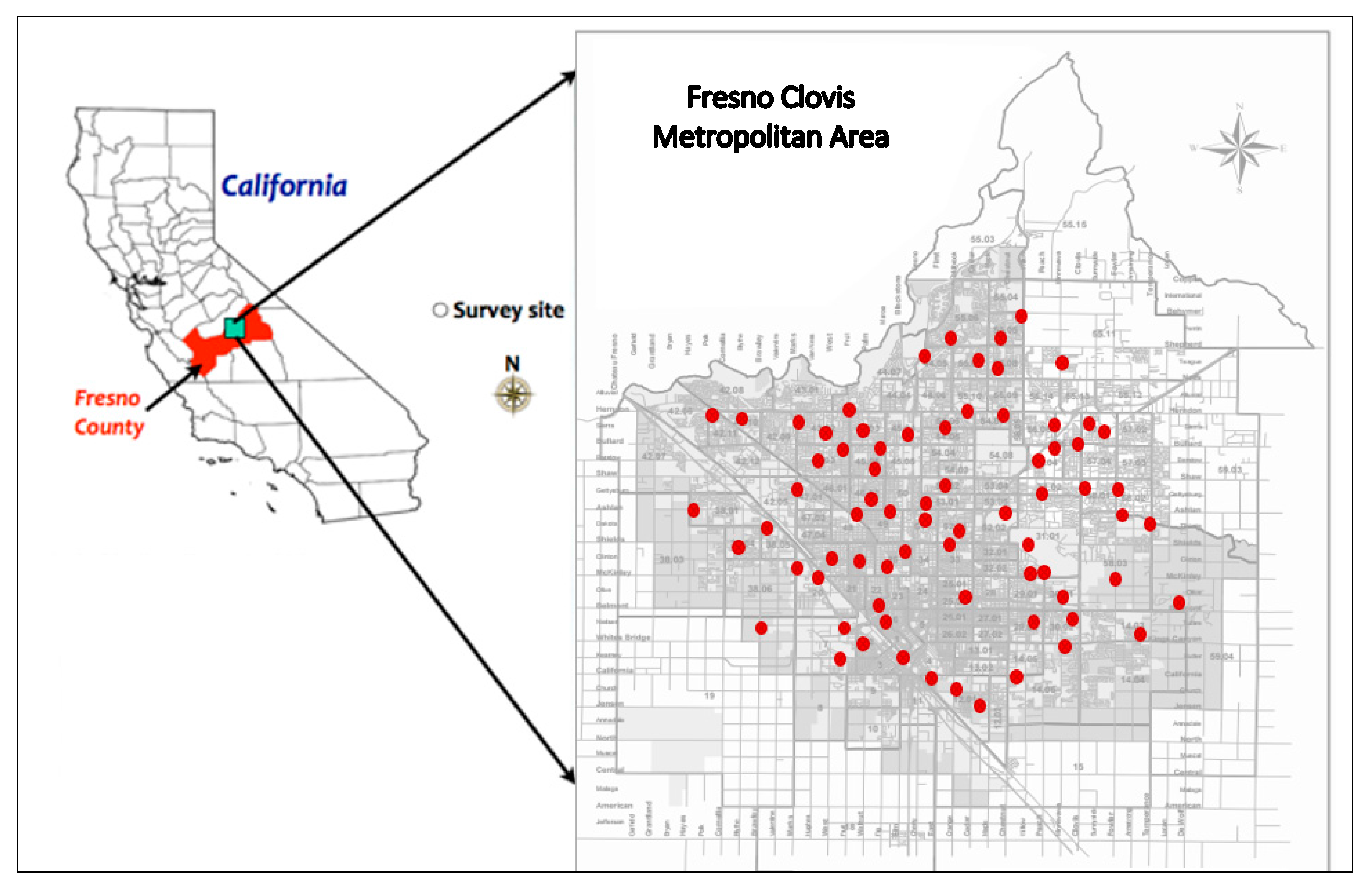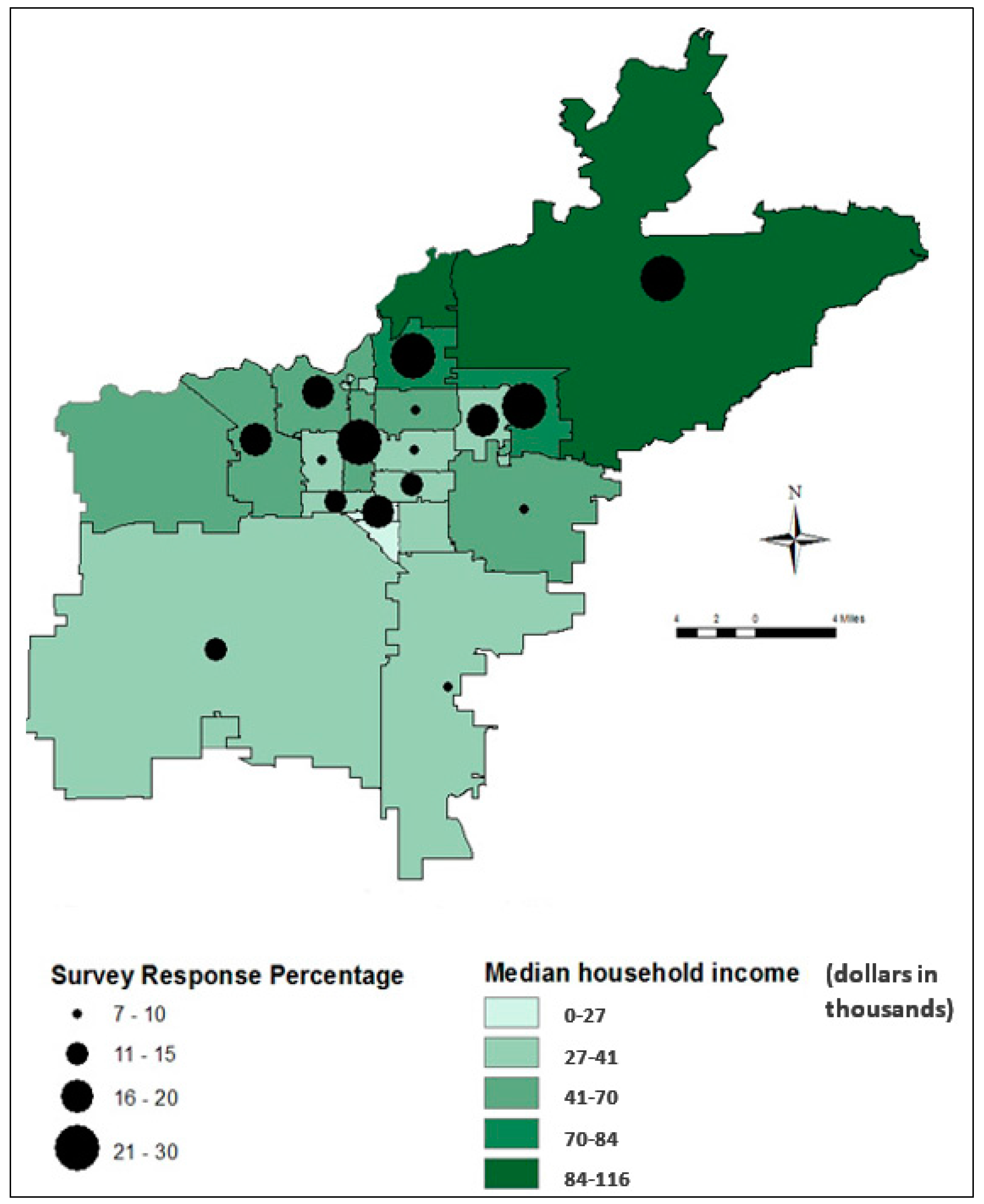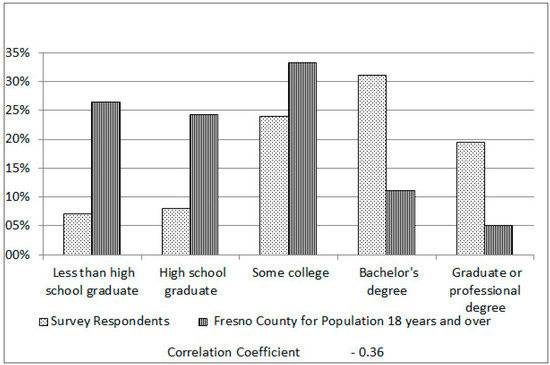 Figure 3. Educational attainment of survey respondents and Fresno County for population 18 years and over.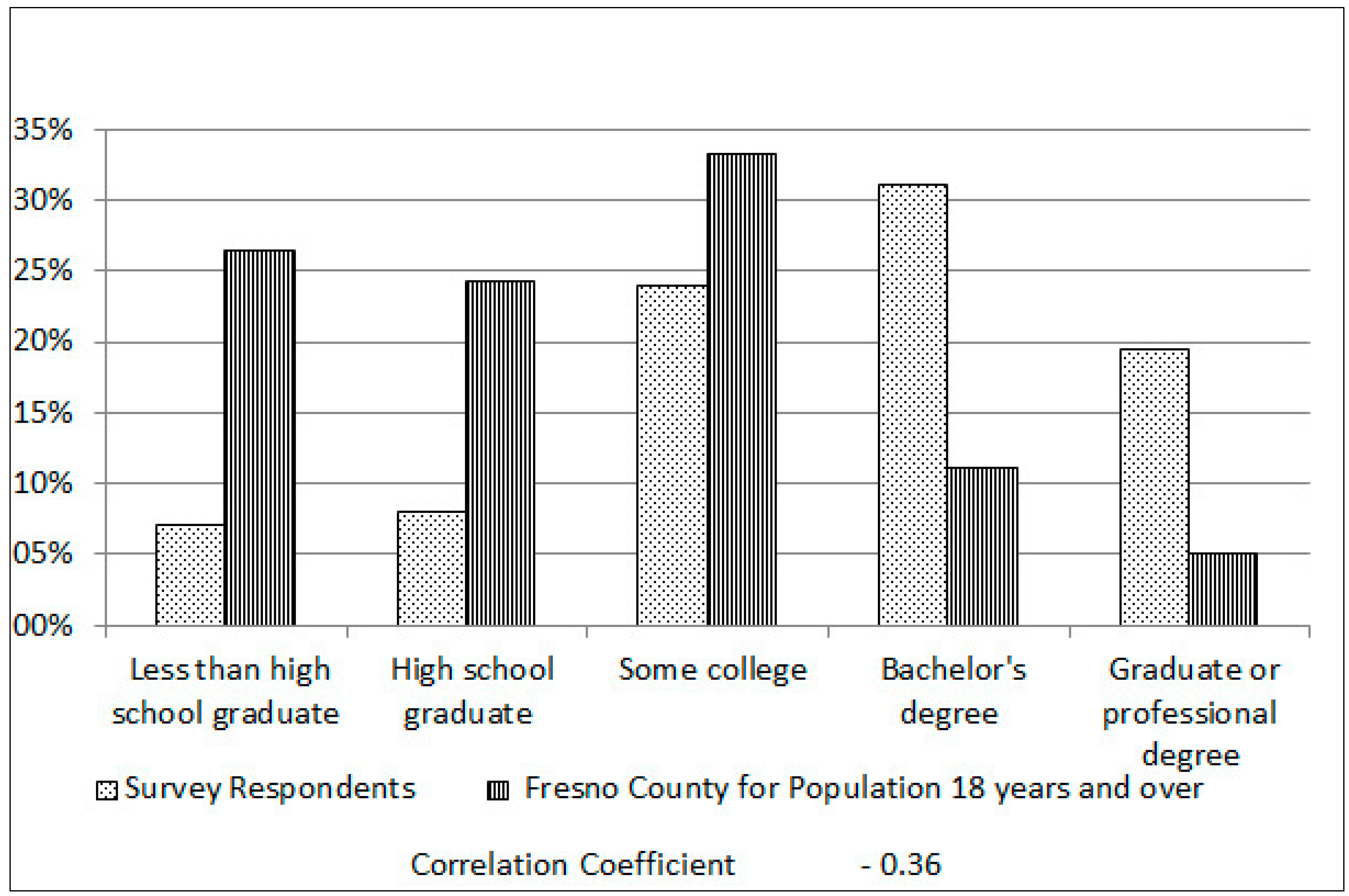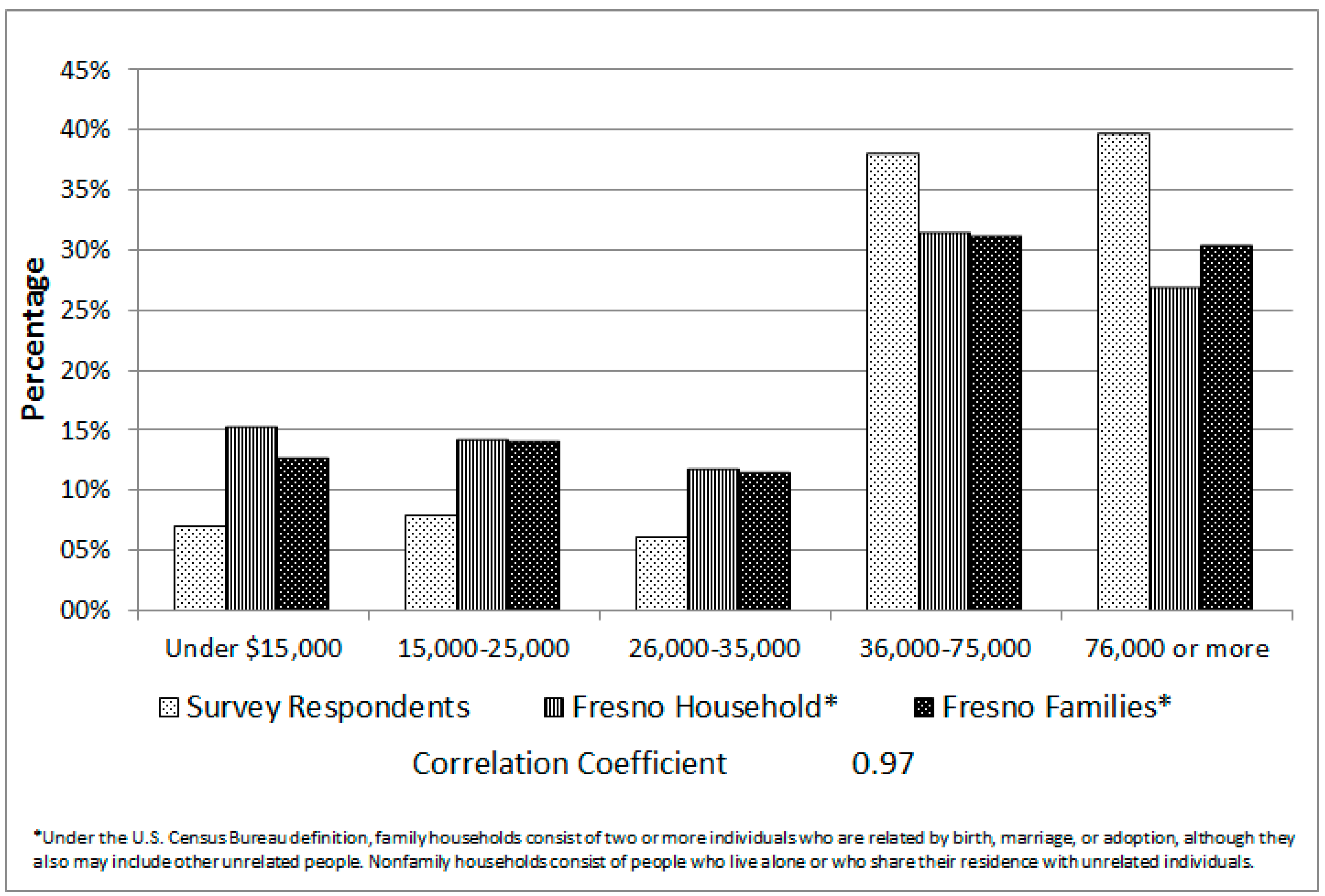 Without looking up the answer, how much rainfall do you estimate the Fresno/Clovis area gets every year on average?
0–10 inches/year
38.9%
11–20 inches/year
37.2%
Within the last 12 months, have you tried to reduce water consumption for economic reasons?
Questionnaire:
Yes = 54.5%
Site visit sample:
Yes = 50%
Within the last 12 months, have you tried to reduce water consumption for environmental reasons?
Questionnaire:
Yes= 62.7%
Site visit sample:
Yes = 57.1%
Within the last 12 months, have you planted trees and other plants native to the San Joaquin Valley in your yard?
Questionnaire:
No = 75.5%
Site visit sample:
No = 78.6%
Within the last 12 months, have you removed trees and other plants from your yard that were water intensive?
Questionnaire:
No = 80.0%
Site visit sample:
No = 75%
How much confidence do you have in each of the following groups to make the best decisions for you and your area regarding water use?
Confidence Level %
Confidence in:
Great Deal
Some
Not Very Much
Very Little
Neighborhood associations or civic groups
6.8
28.0
10.2
17.8
Municipal government
17.8
29.7
16.9
16.1
State government
6.8
28.8
14.4
28.0
Federal government
6.8
22.0
10.2
36.4
You and your family
52.5
26.3
6.8
3.4
Your neighbor(s)
14.4
34.7
16.9
19.5
How much do each of these groups influence your use of water for landscaping or other outdoor uses?
Influence level %
Influence from:
Great Deal
Some
Not Very Much
Very Little
Family members
17.8
26.3
9.3
16.9
Neighborhood association rules
7.6
9.3
4.2
7.6
City plantings and watering on public lands (e.g., parks)
8.5
14.4
11.9
14.4
Apartment complex managers
8.5
4.2
4.2
3.4
Homeowner's association
3.4
8.5
5.1
3.4
Landlord
6.8
7.6
4.2
5.1
Neighbors
7.6
20.3
10.2
28.8
Most influential group on resident's use of water for landscaping and other outdoor uses:
Family members
39.8%
Neighbors
14.4%
Second most influential group on resident's use of water for landscaping and other outdoor uses:
Neighbors
34.7%
Family members
11.0%
City plantings
11.0%

© 2017 by the authors. Licensee MDPI, Basel, Switzerland. This article is an open access article distributed under the terms and conditions of the Creative Commons Attribution (CC BY) license (http://creativecommons.org/licenses/by/4.0/).