Drought Dynamics and Vegetation Productivity in Different Land Management Systems of Eastern Cape, South Africa—A Remote Sensing Perspective
1
Center for Remote Sensing of Land Surfaces, University of Bonn, Walter-Flex-Straße 3, 53113 Bonn, Germany
2
Remote Sensing Research Group, University of Bonn. Meckenheimer Allee 166, 53115 Bonn, Germany
3
Institute for Environment and Human Security, United Nations University, Platz der Vereinten Nationen 1, 53113 Bonn, Germany
4
Disaster Management Training and Education Centre for Africa, University of the Free State, PO Box 339, Bloemfontein 9300, South Africa
5
United Nations Office for Outer Space Affairs (UNOOSA), United Nations Platform for Space-based Information for Disaster Management and Emergency Response (UN-SPIDER), Platz der Vereinten Nationen 1, 53113 Bonn, Germany
*
Author to whom correspondence should be addressed.
Received: 30 July 2017 / Revised: 14 September 2017 / Accepted: 18 September 2017 / Published: 26 September 2017
Abstract
Eastern Cape Province in South Africa has experienced extreme drought events during the last decade. In South Africa, different land management systems exist belonging to two different land tenure classes: commercial large scale farming and communal small-scale subsistence farming. Communal lands are often reported to be affected by land degradation and drought events among others considered as trigger for this process. Against this background, we analyzed vegetation response to drought in different land management and land tenure systems through assessing vegetation productivity trends and monitoring the intensity, frequency and distribution of the drought hazard in grasslands and communal and commercial croplands during drought and non-drought conditions. For the observation period 2000–2016, we used time series of 250 m Vegetation Condition Index (VCI) based on the Moderate Resolution Imaging Spectroradiometer (MODIS) Enhanced Vegetation Index (EVI) and Climate Hazard Group InfraRed Precipitation with Station data (CHIRPS) precipitation data with 5 km resolution. For the assessment of vegetation dynamics, we: (1) analyzed vegetation productivity in Eastern Cape over the last 16 years with EVI; (2) analyzed the impact of drought events on vegetation productivity in grasslands as well as commercial and communal croplands; and (3) compared precipitation-vegetation dynamics between the drought season 2015/2016 and the non-drought season 2011/2012. Change in total annual vegetation productivity could detect drought years while drought dynamics during the season could be rather monitored by the VCI. Correlation of vegetation condition and precipitation indicated areas experiencing significant vegetation productivity trends showing low and even negative correlation coefficients indicating other drivers for productivity change and drought impact besides rainfall.
View Full-Text
►

▼

Figures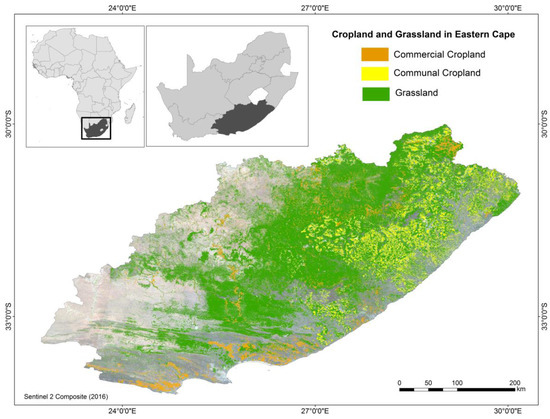 Figure 1
This is an open access article distributed under the
Creative Commons Attribution License
which permits unrestricted use, distribution, and reproduction in any medium, provided the original work is properly cited (CC BY 4.0).

Share & Cite This Article
MDPI and ACS Style
Graw, V.; Ghazaryan, G.; Dall, K.; Delgado Gómez, A.; Abdel-Hamid, A.; Jordaan, A.; Piroska, R.; Post, J.; Szarzynski, J.; Walz, Y.; Dubovyk, O. Drought Dynamics and Vegetation Productivity in Different Land Management Systems of Eastern Cape, South Africa—A Remote Sensing Perspective. Sustainability 2017, 9, 1728.
Note that from the first issue of 2016, MDPI journals use article numbers instead of page numbers. See further details here.
Related Articles
Comments
[Return to top]