Open Access This article is
freely available
re-usable
Article
Comparing Conceptualizations of Urban Climate Resilience in Theory and Practice
1
School of Natural Resources and Environment, University of Michigan, Ann Arbor, MI 48109, USA
2
Urban and Regional Planning, Unviersity of Michigan, Ann Arbor, MI 48109, USA
3
The Climate Resilience Fund, Ann Arbor, MI 48109, USA
*
Author to whom correspondence should be addressed.
Academic Editors: Patricia Romero-Lankao, Olga Wilhelmi and Mary Hayden
Received: 27 May 2016 / Accepted: 18 July 2016 / Published: 21 July 2016
Abstract
:
In the face of climate change, scholars and policymakers are increasingly concerned with fostering "urban resilience". This paper seeks to contribute towards a better understanding of synergies and differences in how academics and local decision-makers think about resilience in the context of climate change. We compare definitions and characteristics of urban climate resilience in the academic literature with a survey of 134 local government representatives from across the U.S. Our analysis shows discrepancies in how academics and practitioners define and characterize urban climate resilience, most notably in their focus on either "bouncing back" or "bouncing forward" after a disturbance. Practitioners have diverse understandings of the concept, but tend to favor potentially problematic "bouncing back" or engineering-based definitions of resilience. While local government respondents confirm the importance of all 16 resilience characteristics we identified in the academic literature, coding practitioners' free response definitions reveals that they rarely mention qualities commonly associated with resilience in the scholarly literature such as diversity, flexibility, and redundancy. These inconsistencies need to be resolved to ensure both the usability of climate resilience research and the effectiveness of resilience policy.
Keywords:
climate change; resilience; urban resilience; resilient city; climate resilience; adaptation
Acknowledgments
This research was supported with funding from the Kresge Foundation.
Author Contributions
Sara Meerow and Melissa Stults contributed substantially to the research design, analysis and writing of this paper. The authors also collaborated on both the survey of local government representatives and the academic literature review.
Conflicts of Interest
The authors declare no conflict of interest.

Figure 1. The rise of resilience in climate change research: graph shows the number of citations in Web of Science for each year with the terms "urban resilience" and "climate change" in the title, keywords, or abstract.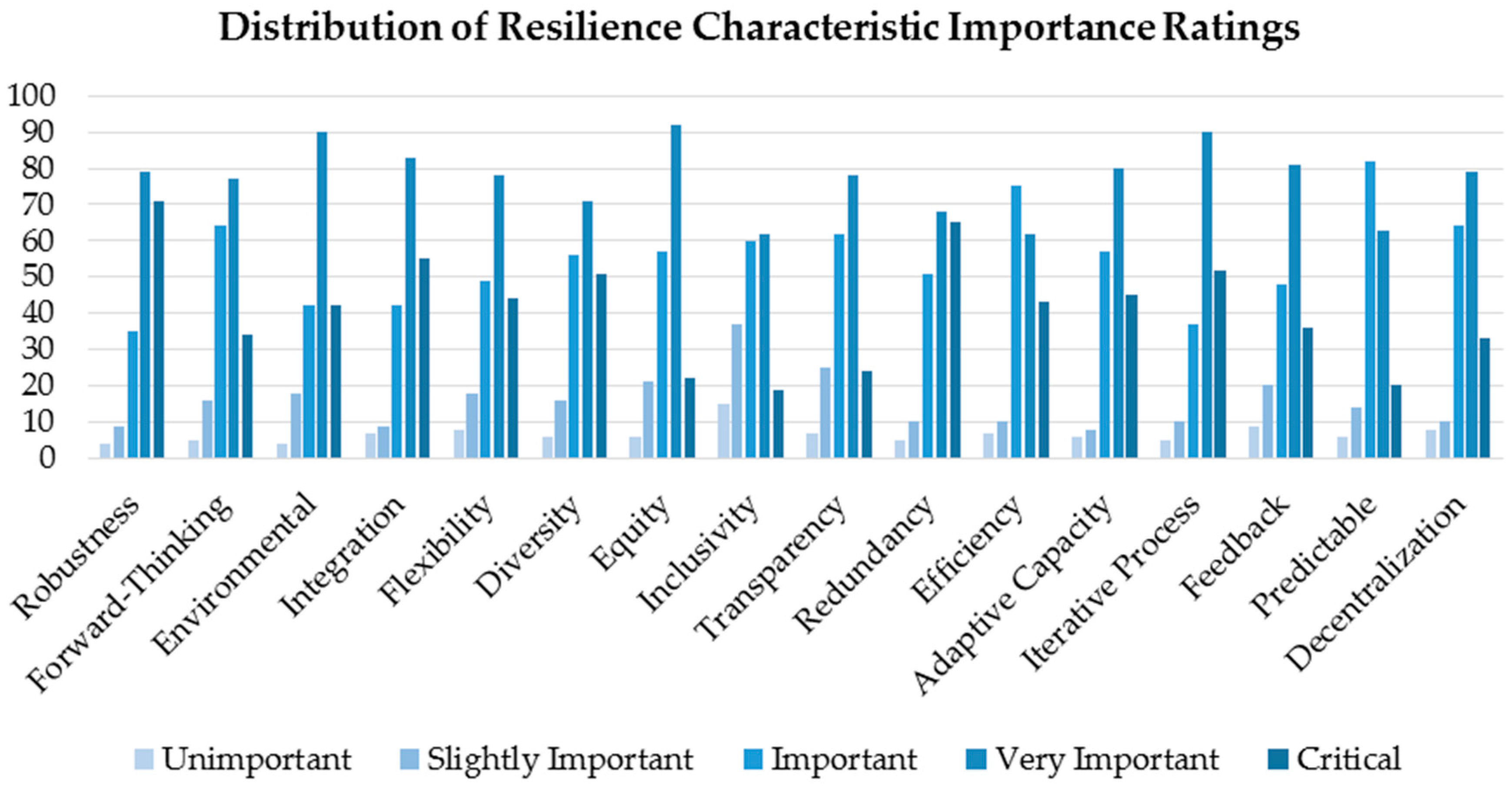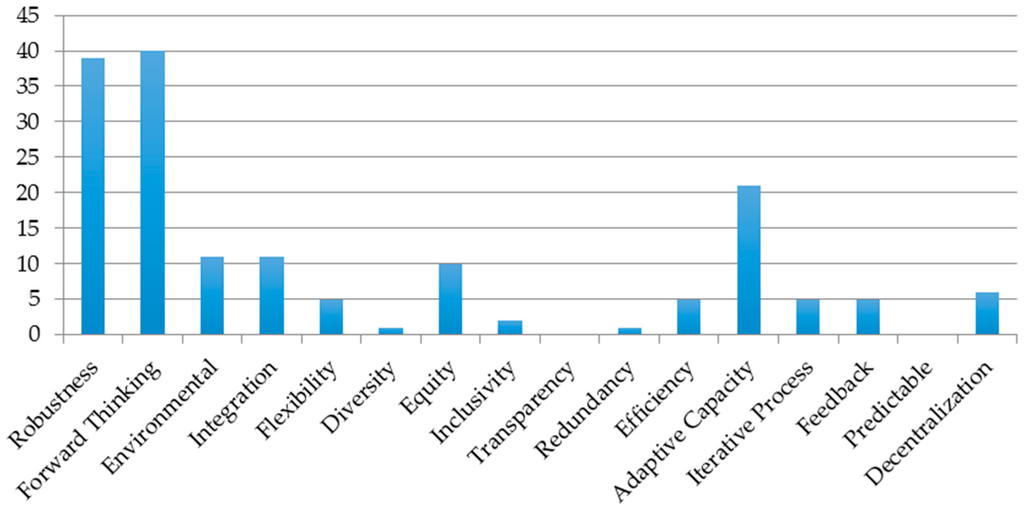 Figure 4. Number of practitioner definitions referencing resilience characteristics based on coding.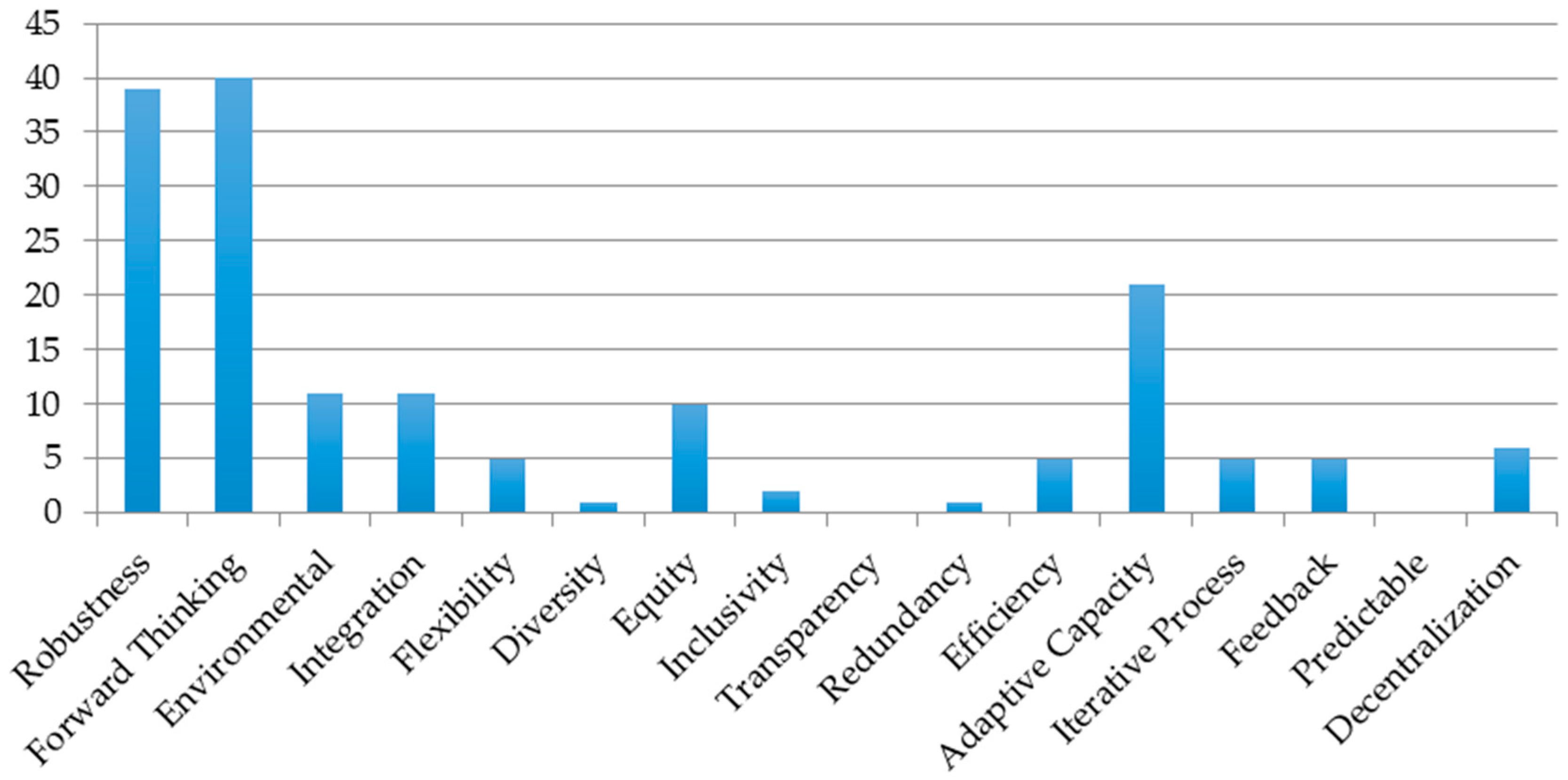 Table 1.
Definitions of urban climate resilience from the academic literature (Definitions taken from review conducted by Meerow et al. (2016) [
18
]).
Table 1. Definitions of urban climate resilience from the academic literature (Definitions taken from review conducted by Meerow et al. (2016) [18]).

| Authors | Definition |
| --- | --- |
| Brown et al. (2012) [20] | "The capacity of an individual, community or institution to dynamically and effectively respond to shifting climate circumstances while continuing to function at an acceptable level. This definition includes the ability to resist or withstand impacts, as well as the ability to recover and re-organize in order to establish the necessary functionality to prevent catastrophic failure at a minimum and the ability to thrive at best. Resilience is thus a spectrum, ranging from avoidance of breakdown to a state where transformational change is possible." (p. 534) |
| Henstra (2012) [21] | "A climate-resilient city … has the capacity to withstand climate change stresses, to respond effectively to climate-related hazards, and to recover quickly from residual negative impacts" (p. 178). |
| Leichenko (2011) [9] | "The ability of a city or urban system to withstand a wide array of shocks and stresses" (p. 164) |
| Lu and Stead (2013) [22] | "the ability of a city to absorb disturbance while maintaining its functions and structures" (p. 200). |
| Thornbush et al. (2013) [23] | "a general quality of the city's social, economic, and natural systems to be sufficiently future-proof" (p. 2). |
| Tyler and Moench (2012) [6] | "In the case of urban climate adaptation, an approach based on resilience encourages practitioners to consider innovation and change to aid recovery from stresses and shocks that may or may not be predictable...three generalizable elements of urban resilience: systems, agents and institutions." (p. 312) |
| Wamsler et al. (2013) [8] | "A disaster resilient city can be understood as a city that has managed … to: (a) reduce or avoid current and future hazards; (b) reduce current and future susceptibility to hazards; (c) establish functioning mechanisms and structures for disaster response; and (d) establish functioning mechanisms and structures for disaster recovery" (p. 71). |
| Wardekker et al., (2010) [24] | "A resilience approach makes the system less prone to disturbances, enables quick and flexible responses, and is better capable of dealing with surprises than traditional predictive approaches … a 'bottom-up' way of thinking about adaptation that aims to promote a system's capability of coping with disturbances and surprises" (p. 988) |
Table 2. Illustrative a definitions of urban climate resilience from local practitioner survey.
"To be able to bounce back—with seemingly little or no negative effect—from heavy rains and flooding. To have our city infrastructure built and ready to take on heavy rains and drastically fluctuating temperatures, with little or no impact."
"Achieving the goal of climate change resilience will mean the city can reduce the sensitivity of vulnerable communities to extreme weather events while increasing their capacity to bounce back from such an event. In the long term, this is made possible when city departments will work together to develop a City Climate Resiliency Plan with specific goals and actions. This will have to include the coordination and communication with regional partners."
"Have the ability to bounce forward from climate change impacts to create a more sustainable community."
"Our community could become one that reflects a quality of life that includes the well-being of human and other species. It means a commitment to collaboration, learning new skills and recognition that we are far better together."
"To not suffer economic damage every time a severe weather event hits our city. That we are able to lessen the costs of repairs and shrink the time needed to make those repairs. And to help our residents recover more quickly or suffer less impact from storms."
"It would mean that we are better prepared to respond to the extreme weather events and their consequences that will occur as a result of climate change in all areas of municipal infrastructure and operations, including but not limited to water/wastewater/stormwater, emergency management, public health, public works, urban forestry, parks and recreation, and facility management. It would also mean we are incorporating reasonably foreseeable weather scenarios into our planning and budgeting processes. It would also mean we are better prepared to help our citizens respond to the impacts of climate change, especially those least able to take action on their own, e.g., low-income households, the elderly, the young, those with respiratory and other health problems."
"Be more attractive to certain kinds of businesses. Hopefully prevent poor decisions on location of development for the future."
"We don't even know what you mean by resiliency—sounds like meaningless jargon to us. We have real issues to pursue like public safety and economic development—things that matter now to our residents. Even given unlikely worse case scenarios, our need to react is limited, and not cost effective at this time."
a These eight definitions were chosen from the 134 different responses provided by survey respondents to highlight their variation, and do not represent all conceptualizations.
Table 3. Sixteen Resilience Characteristics from the literature.

| Characteristic | Definition | Illustrative a Sources |
| --- | --- | --- |
| Robustness | Ensuring municipal-wide infrastructure and organizations can withstand external shocks and quickly return to the previous operational state | [49,50] |
| Redundancy | Having back-up systems, infrastructure, institutions, and agents | [20,49,51,52,53,54] |
| Diversity | Ensuring a diverse economy, infrastructure, and resource base (e.g., not relying on single mode of operation, solution, or agent/institution) | [6,22,49,51,52,53,55] |
| Integration | Making sure that plans and actions are integrated across multiple departments and external organizations | [6,56,57] |
| Inclusivity | Ensuring that all residents have access to municipal infrastructure and services, including providing an opportunity for all people to participate in decision-making processes | [6,57,58] |
| Equity | Ensuring that the benefits and impacts associated with actions are felt equitably throughout the municipality | [49,59] |
| Iterative Process | Creating a process whereby feedback and lessons learned are continually used to inform future actions | [6,20] |
| Decentralization | Decentralizing services, resources, and governance (e.g., solar or wind energy; stronger local governance) | [51,58,60] |
| Feedback | Building mechanisms so that information is rapidly fed back to decision-makers or system operators | [51,53] |
| Environmental | Protecting natural systems and assets | [20,49] |
| Transparency | Ensuring that all municipal processes and operations are open and transparent | [6,58] |
| Flexibility | Making municipal operations and plans flexible and open to change when needed | [51,58,59] |
| Forward- Thinking | Integrating information about future conditions (i.e., population, economy, weather) into community planning and decision-making | [6,24] |
| Adaptive Capacity | Ensuring that all residents have the capacity to adapt to climate change | [24,61] |
| Predictable | Ensuring that systems are designed to fail in predictable, safe ways | [6,51] |
| Efficiency | Enhancing the efficiency of government and external operations | [49,50] |
a References are meant to be illustrative, and do not represent an exhaustive list of studies that mention these characteristics.
Table 4. Some key differences in how academics and practitioners conceptualize urban resilience.

| | Academic Literature | Local Government Practitioners |
| --- | --- | --- |
| Resilience as "bouncing forward" vs. "bouncing back" | Majority "bouncing forward" | Majority "bouncing back" |
| Definition consistency | Some differences, but share a broad focus on coping with climate and disturbances | Huge variation in meaning, perceived importance, scope, and specificity |
| Commonly cited characteristics | Diversity, flexibility, redundancy, adaptive capacity, integration, inclusivity, equity, iterative process, decentralization, feedback, environmental, transparency, forward-thinking, predictable | Robustness, forward-thinking, environmental, integration, equity |
| Less frequently cited or contested characteristics | Robustness, efficiency | Decentralization, predictable, redundancy, feedback, iterative process, transparency |
© 2016 by the authors; licensee MDPI, Basel, Switzerland. This article is an open access article distributed under the terms and conditions of the Creative Commons Attribution (CC-BY) license (http://creativecommons.org/licenses/by/4.0/).