Boosting Blue Growth in a Mild Sea: Analysis of the Synergies Produced by a Multi-Purpose Offshore Installation in the Northern Adriatic, Italy
1
Department of Civil, Chemicals, Environmental and Material Engineering—University of Bologna, Viale Risorgimento 2, 40136 Bologna, Italy
2
Department of Engineering Università degli Studi Roma TRE, Via Vito Volterra 62, 00146 Rome, Italy
3
Kefalonia Fisheries S.A.—Livadi, Lixouri, 28200 Kefalonia, Greece
4
ENEL Ingegneria e Ricerca—Via A. Pisano 120, Pisa 56122, Italy
5
Department of Biological, Geological and Environmental Science, BIGEA, University of Bologna, Via S. Alberto 163, 48123 Ravenna, Italy
6
Department of Economics, University of Bologna, via Angherà 22, 47921 Rimini, Italy
7
Institute for the Protection Environmental Research, Via Vitaliano Brancati 48, 00144 Rome, Italy
8
Energy, Environment and Water Research Center, The Cyprus Institute, 20 Konstantinou Kavafi Street, 2121 Aglantzia, CY-1645 Nicosia, Cyprus
9
Plymouth Marine Laboratory, The Hoe, Prospect Place, PL1 3DH Plymouth, UK
*
Author to whom correspondence should be addressed.
Academic Editor: Phoebe Koundouri
Received: 28 January 2015 / Revised: 11 May 2015 / Accepted: 11 May 2015 / Published: 28 May 2015
Abstract
In the near future, the oceans will be subjected to a massive development of marine infrastructures, including offshore wind, tidal and wave energy farms and constructions for marine aquaculture. The development of these facilities will unavoidably exert environmental pressures on marine ecosystems. It is therefore crucial that the economic costs, the use of marine space and the environmental impacts of these activities remain within acceptable limits. Moreover, the installation of arrays of wave energy devices is still far from being economically feasible due to many combined aspects, such as immature technologies for energy conversion, local energy storage and moorings. Therefore, multi-purpose solutions combining renewable energy from the sea (wind, wave, tide), aquaculture and transportation facilities can be considered as a challenging, yet advantageous, way to boost blue growth. This would be due to the sharing of the costs of installation and using the produced energy locally to feed the different functionalities and optimizing marine spatial planning. This paper focuses on the synergies that may be produced by a multi-purpose offshore installation in a relatively calm sea,
i.e.
, the Northern Adriatic Sea, Italy, and specifically offshore Venice. It analyzes the combination of aquaculture, energy production from wind and waves, and energy storage or transfer. Alternative solutions are evaluated based on specific criteria, including the maturity of the technology, the environmental impact, the induced risks and the costs. Based on expert judgment, the alternatives are ranked and a preliminary layout of the selected multi-purpose installation for the case study is proposed, to further allow the exploitation of the synergies among different functionalities.
View Full-Text
►

▼

Figures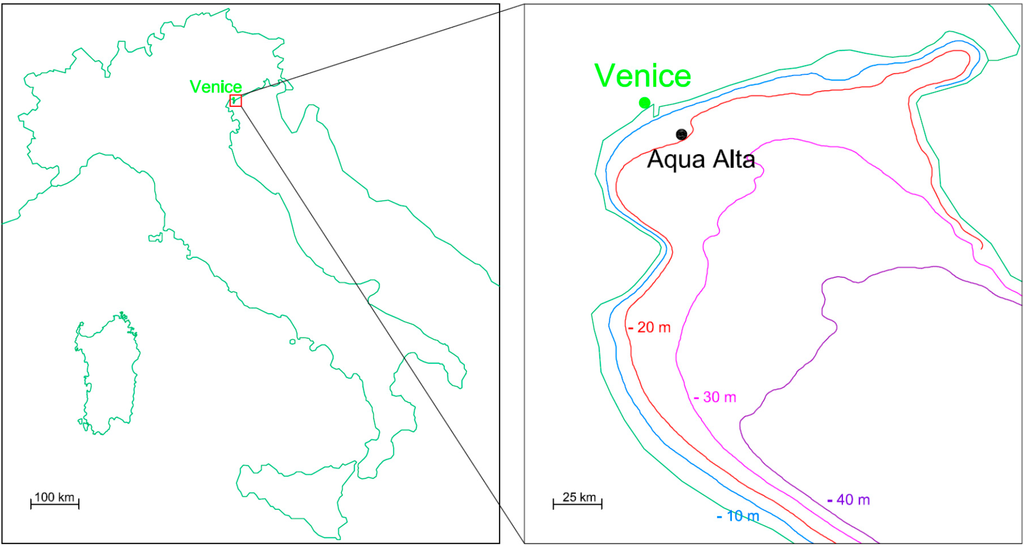 Figure 1
This is an open access article distributed under the
Creative Commons Attribution License
which permits unrestricted use, distribution, and reproduction in any medium, provided the original work is properly cited (CC BY 4.0).

Share & Cite This Article
MDPI and ACS Style
Zanuttigh, B.; Angelelli, E.; Bellotti, G.; Romano, A.; Krontira, Y.; Troianos, D.; Suffredini, R.; Franceschi, G.; Cantù, M.; Airoldi, L.; Zagonari, F.; Taramelli, A.; Filipponi, F.; Jimenez, C.; Evriviadou, M.; Broszeit, S. Boosting Blue Growth in a Mild Sea: Analysis of the Synergies Produced by a Multi-Purpose Offshore Installation in the Northern Adriatic, Italy. Sustainability 2015, 7, 6804-6853.
Related Articles
Comments
[Return to top]