Revealing the Value of "Green" and the Small Group with a Big Heart in Transportation Mode Choice
1
University of California Berkeley, 116 McLaughlin Hall, Berkeley, CA 94720, USA
2
University of California Berkeley, 111 McLaughlin Hall, Berkeley, CA 94720, USA
*
Author to whom correspondence should be addressed.
Received: 5 February 2013 / Revised: 3 June 2013 / Accepted: 14 June 2013 / Published: 3 July 2013
Abstract
To address issues of climate change, people are more and more being presented with the greenhouse gas emissions associated with their alternatives. Statements of pounds or kilograms of CO
2
are showing up in trip planners, car advertisements, and even restaurant menus under the assumption that this information influences behavior. This research contributes to the literature that investigates how travelers respond to such information. Our objective is to better understand the "value of green" or how much travelers are willing to pay in money in order to reduce the CO
2
associated with their travel. As with previous work, we designed and conducted a mode choice experiment using methods that have long been used to study value of time. The contributions of this paper are twofold. First, we employ revealed preference data, whereas previous studies have been based on stated preferences. Second, we provide new insight on how the value of green is distributed in the population. Whereas previous work has specified heterogeneity either systematically or with a continuous distribution, we find that a latent class choice model specification better fits the data and also is attractive behaviorally. The best fitting latent class model has two classes: one large class (76% of the sample) who are not willing to spend any time or money to reduce their CO
2
and a second class (24% of the sample) who value reducing their CO
2
at a very high rate of $2.68 per pound of reduction—our so-called small group with a big heart. We reanalyzed three datasets that we had previously collected and found considerable robustness of this two class result.
View Full-Text
►

▼

Figures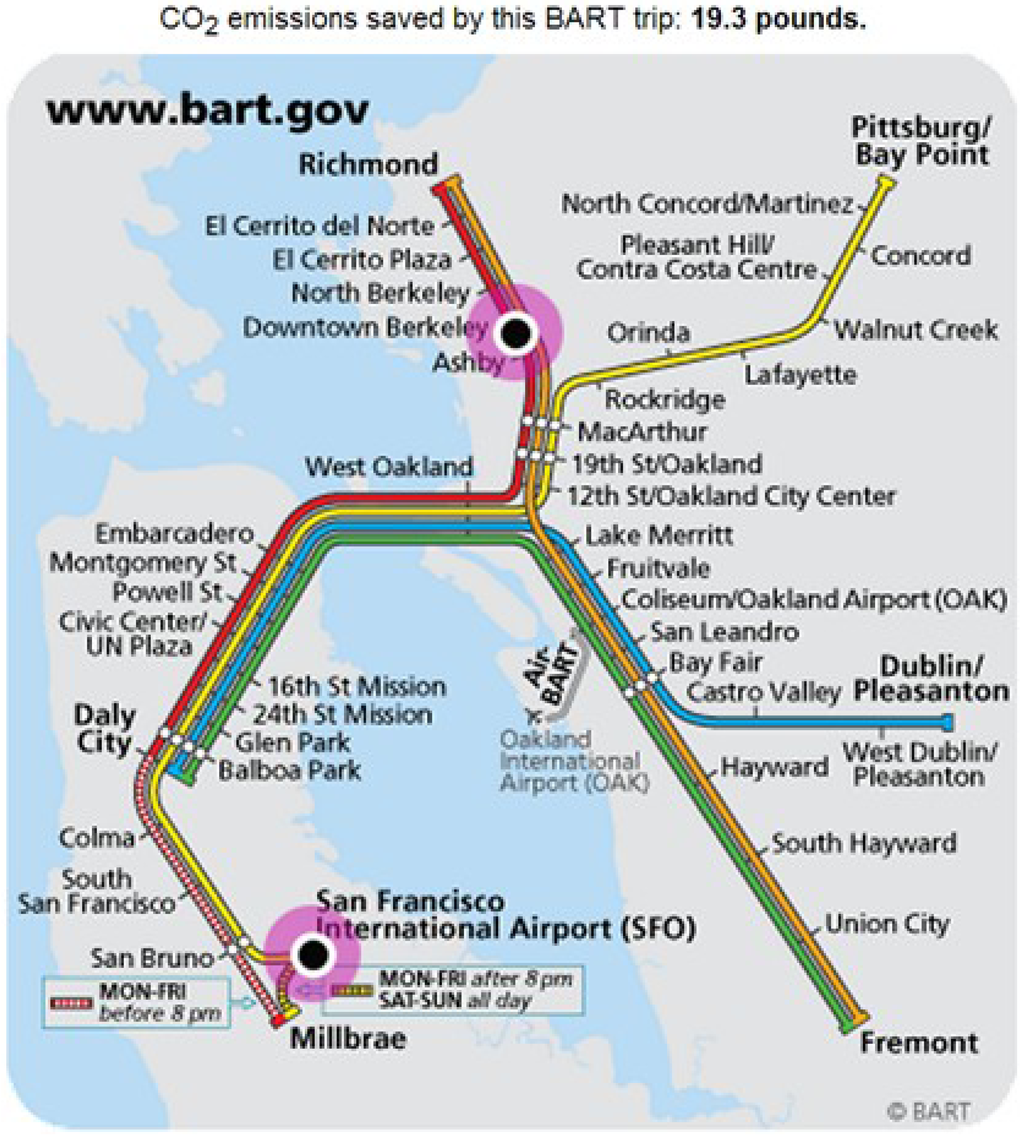 Figure 1

Share & Cite This Article
MDPI and ACS Style
Gaker, D.; Walker, J.L. Revealing the Value of "Green" and the Small Group with a Big Heart in Transportation Mode Choice. Sustainability 2013, 5, 2913-2927.
Related Articles
Comments
[Return to top]