Sustainable Urban Regeneration Based on Energy Balance
1
TU Delft, Faculty of Architecture, Julianalaan 134, 2628 BL Delft, The Netherlands
2
TU Delft, Faculty of Industrial Design, Landbergstraat 15, 2628 CE Delft, The Netherlands
*
Author to whom correspondence should be addressed.
Received: 21 May 2012 / Revised: 26 June 2012 / Accepted: 27 June 2012 / Published: 10 July 2012
Abstract
In this paper, results are reported of a technology assessment of the use and integration of decentralized energy systems and storage devices in an urban renewal area. First the general context of a different approach based on 'rethinking' and the incorporation of ongoing integration of coming economical and environmental interests on infrastructure, in relation to the sustainable urban development and regeneration from the perspective of the tripod people, technology and design is elaborated. However, this is at different scales, starting mainly from the perspective of the urban dynamics. This approach includes a renewed look at the 'urban metabolism' and the role of environmental technology, urban ecology and environment behavior focus. Second, the potential benefits of strategic and balanced introduction and use of decentralized devices and electric vehicles (EVs), and attached generation based on renewables are investigated in more detail in the case study of the 'Merwe-Vierhaven' area (MW4) in the Rotterdam city port in the Netherlands. In order to optimize the energy balance of this urban renewal area, it is found to be impossible to do this by tuning the energy consumption. It is more effective to change the energy mix and related infrastructures. However, the problem in existing urban areas is that often these areas are restricted to a few energy sources due to lack of available space for integration. Besides this, energy consumption in most cases is relatively concentrated in (existing) urban areas. This limits the potential of sustainable urban regeneration based on decentralized systems, because there is no balanced choice regarding the energy mix based on renewables and system optimization. Possible solutions to obtain a balanced energy profile can come from either the choice to not provide all energy locally, or by adding different types of storage devices to the systems. The use of energy balance based on renewables as a guiding principle, as elaborated in the MW4 case study, is a new approach in the field. It may enhance existing communities, and in some cases result in both the saving and demolition of parts of neighborhoods, which were not foreseen, while at the same time direct introduction of flexible appliances within the energy system for (temporary) storage. It is concluded that the best achievable energy balance in the MW4 area consists of an elaboration in which a smart grid is able to shift the load of flexible devices and charge EVs via smart charging while energy generation is based upon the renewables biomass, wind, tides and the sun. The introduction of new sustainable technologies makes a protected environment for development evident. As for system configuration, the choices arise mainly from technical and social optimisation. In fact, the social, or user-related criteria will be decisive for enduring sustainability.
View Full-Text
►

▼

Figures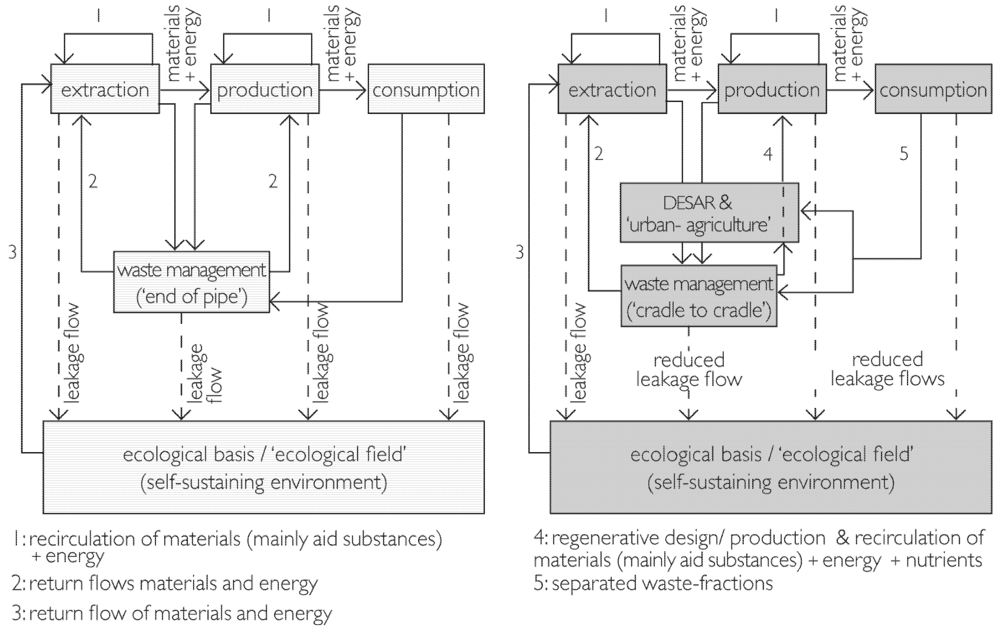 Figure 1

Share & Cite This Article
MDPI and ACS Style
Van Timmeren, A.; Zwetsloot, J.; Brezet, H.; Silvester, S. Sustainable Urban Regeneration Based on Energy Balance. Sustainability 2012, 4, 1488-1509.
Related Articles
Comments
[Return to top]