Open Access This article is
freely available
re-usable
Review
Measurement of Social Networks for Innovation within Community Disaster Resilience
1
WorldPop, Geography and Environmental Science, University of Southampton, Southampton SO17 1BJ, UK
2
Geography and Planning, UWA School of Agriculture and Environment, University of Western Australia, Crawley 6009, Australia
*
Author to whom correspondence should be addressed.
Received: 25 February 2019 / Accepted: 29 March 2019 / Published: 2 April 2019
Abstract
:
Disaster risk reduction (DRR) research has long recognised that social networks are a vital source of support during and after a shock. However, the quantification of this social support, primarily through its recognition as social capital, has proven problematic as there is no singular method for its measurement, invalidating the credibility of studies that try to correlate its effects with community disaster resilience. Within the wider resilience field, research that specifically utilises social networks as the focus of analysis is evolving. This paper provides a critical synthesis of how this developing discourse is filtering into community disaster resilience, reviewing empirical case studies from the Global South within DRR that use social network analysis and connectivity measurement. Our analysis of these studies indicates that a robust methodology utilising social network analysis is emerging, which offers opportunity for research cross-comparability. Our review also finds that without this bottom-up mapping, the implementation of top-down preparedness policy and procedures are likely to fail, resulting in the advocation of social network analysis as a critical methodology in future resilience research and policy planning.
Keywords:
community disaster resilience; social networks; connectivity; disaster risk reduction; social network analysis; social network mapping; data; innovation
1. Introduction
Community resilience is broadly understood as the capacity for a community to be able to recover from a shock (such as a disaster), as well as its capability to undergo transformative changes using self-organisation and collective action to deal with impact [
1
], and adapt as needed in order to move on from the shock. Building and strengthening resilience within vulnerable communities is a key priority for those working with disaster risk reduction, including the International Federation of the Red Cross (IFRC) [
2
], the World Health Organisation (WHO) [
3
], and the United Nations Office for Disaster Risk Reduction (UNISDR) [
4
]. Traditionally, these resilience building efforts have focused on the physical and financial aspects of a community, such as improving infrastructure or diversifying livelihood strategies [
5
]. However, a renewed focus on disaster response and recovery by the Sendai Framework for Disaster Risk Reduction (2015–2030) [
6
] and recent disasters worldwide where social support has been at the forefront of recovery strategies, has put the attention on alternative aspects of community resilience.
Disaster risk reduction (DRR) research fully acknowledges that communities regularly work together to survive and recover from catastrophic impacts [
5
]. Recent disaster events have highlighted the important role of social support, in which civilians, i.e., persons who are not trained responders or workers from relief agencies, through the provision of aid and supplies, are involved in the immediate response as well as help with longer term recovery (e.g., the 'Cajun Navy' during the 2017 floods in Houston, Texas). This community-based help and support is underpinned by the following tenets of social capital: Cooperation and collective action is facilitated by the participation of individuals and communities within different types of social networks, as well as by the trust and belief within and between these networks that this help would be reciprocated if and when needed, creating a sense of goodwill towards one another [
7
]. This support can come from relationships within the affected communities or through linkages to other communities. However, the quantification of this social support for community DRR, primarily through its recognition as social capital, remains problematic. Despite the first discussions of the concept arising more than thirty years ago (beginning with Bourdieu's 1986 'the forms of capital' [
8
]), social capital has not found solid singular ground in its definition or its measurement [
9
]. Inconsistencies also lie within community resilience studies, where resilience itself is, similarly, yet to be operationalised under one common method or measure [
10
].
A growing discourse of research that specifically investigates people's social networks as a core component of community resilience has filtered into DRR research, with the driving interest for DRR researchers working in the Global South being that "the social networks of the poor are one of the primary resources they have for managing risk and vulnerability" [
11
] (p. 242). Unlike previous approaches to measuring social capital, either as a standalone concept or within community resilience, these studies have followed a similar approach to measurement. Such research has attempted to capture the level of help and support within a community by assessing the structure of their social networks, considering different characteristics (e.g., the number and types of relationships) and their overall connectivity. The premise is that the presence, strength, and effectiveness of social networks will directly influence the ability of communities to cope with disaster events [
12
] and this can be quantified through a structural network-based approach.
To encourage engagement with this relatively new discourse, we provide a much-needed synthesis of empirical research to evidence the relationship between social networks and community resilience within DRR and advocate for its use within community disaster resilience measurement. The paper builds this evidence through the critical appraisal of eleven case studies from the Global South, assessing their methodologies and their findings, to demonstrate the utility and importance of emerging social network approaches. Our review identifies that a singular methodology is developing around social networks and connectivity within community disaster resilience. Furthermore, the paper's consolidation of the main findings of the case studies indicate that the use of social network-based methodologies is invaluable for practitioners to understand how community resilience is built from the bottom-up. The paper provides substantive evidence that without an understanding of local social structures within a community in the Global South, any top-down implementation of preparedness policy and procedures, such as introducing a community disaster committee, are likely to fail. As a result, this paper proposes that the use of social network mapping and analysis should be promoted and utilised more widely within resilience research and potential policy-influenced programming. To encourage the uptake of these social network approaches as a common resilience measure, this paper provides suggestions on how future studies should develop in order to better understand the role of social networks in disaster response, which can further enhance this bottom-up understanding of community resilience.
2. Current Limitations of Operationalising Social Capital Within Community Disaster Resilience
3. Social Networks and the Evolution of a Cohesive and Robust Methodology
4. Mapping Social Networks for Community Disaster Resilience
5. Innovation Within Social Network Mapping for Community Disaster Resilience
Despite the initial positive start of connecting research to practice and even policy, many researchers, agencies, and disaster practitioners are yet to fully embrace social networks as a priority for preparedness. One potential reason for this lack of engagement is that much of the literature supporting these theories is nascent and relatively disparate and does not end up in the hands of those who need it most. Here, our review provides a first attempt to consolidate this emerging field of research and address it within the challenges of current community resilience and social capital research, with case studies drawn from the Global South. The studies we reviewed show that the creation of these social network maps is possible and these maps provide invaluable information that can be utilised by practitioners to make tangible improvements to a community. However, there are still limitations to using social network mapping for this type of DRR policy.
The major challenge of moving current SNA research forward is that social networks need to be viewed through what Rockenbauch and Sakdapolrak (2017) call a 'translocal' lens, one that not only assesses networks with regards to how they change over time but also over space as they become coupled with mobility [
44
]. Unlike the strands of research studied by Rockenbauch and Sakdapolrak (2017), DRR has the ability to explicitly account for the temporal dynamics of social networks by pinpointing a time when a disaster or event has occurred and comparing the changes in pre- and post-disaster networks. By having an event (real or hypothetical) to account for, it is proposed here that DRR research can lead the study of how social networks evolve and how this impacts a community's resilience [
12
,
51
,
52
,
53
]. The issue of spatiotemporality in the current literature [
12
] is pertinent when considering the importance in community disaster resilience of asking not only the question of resilience of whom, but also the resilience to what [
59
]. The mapping of social networks pre-, during and, post-disaster may provide insight about how a community's disaster resilience changes in response to a shock, underlining resilience not just as a property but also as a process. For example, Misra et al (2017) used the case study of a cyclone-affected community in coastal West Bengal (India) to identify how network structure and different key actors changed within the different phases of response, resulting in "a changing pattern of evolving networks during and after the disaster" [
12
] (p. 281). However, the scale of their study was limited; a sample size of 33 actors in a specific area, covering a timespan of thirteen months and one week post-event, was "not large enough for reaching a generalized inference in the area of disaster management" [
12
] (p. 295). Extending network analysis beyond the immediate community and over longer timespans is essential to capture the temporal and spatial change, not only of the community's networks but also their disaster resilience.
The ability to extend analyses across communities and timespans is currently a significant obstacle that SNA in community resilience measurement will need to overcome and, primarily, data collection is the cause of this obstacle facing most studies. Firstly, social network mapping is limited in geographical scope due to the traditional collection of the data using individual or household interviews and questionnaires. Whether it is the cost or logistics, extending SNA studies over greater geographical scales is likely to be difficult with traditional data collection, i.e., surveys and questionnaires. This method of data collection also limits the temporal analysis, where logistical and ethical reasons challenge the collection of data directly after a disaster hits (such as travelling to areas immediately after a disaster and potentially diverting resources away from the communities that need them more, e.g., shelter, food). Capturing the changes in the social networks during the different phases of the disaster management cycle, however, constitutes an important scope for future studies [
12
] and, as a result, innovation within social network measurement needs to occur to facilitate Rockenbauch and Sakdapolrak's (2017) translocal lens.
A potential answer to this problem is through the use of dynamic datasets, currently underutilised, within community resilience research. Here we propose that the growing intersection between big data and development, as promoted by the UN's data revolution [
60
], could be used within community resilience research. Dynamic network datasets, such as mobile phone metadata (known as call detail records) and social network datasets, could be used to map community connectivity through the reconstruction of community social networks. Already, research has shown that these datasets are able to reconstruct key human behaviours, including mobility, social contact, and expenditure, at fine spatial and temporal resolutions, at national spatial coverages, and over extensive time periods [
61
]. These outputs have been used to provide estimates on the total population of an area (useful for when a census is unavailable) [
62
], explore daily and seasonal travel patterns (national and internationally) [
63
,
64
], and characterise these behaviours, along with different expenditure-top up routines, to predict socio-economic characteristics [
65
]. These insights have found multiple uses within sustainable development applications, including poverty estimation [
66
,
67
], epidemiology [
68
], and disaster response [
69
]. The need for investigating such an approach is timely considering the call within the Sendai Framework to promote and enhance the use of big data to support national measures for successful disaster risk communication [
6
]. Here we suggest that understanding the feasibility of using these types of data is a key step towards viewing community disaster resilience through the proposed 'translocal' lens and should be of significant interest and focus to those working to bring innovative insight into research within DRR and community resilience.
6. Conclusions
Social networks are seen as crucial to helping individuals and communities recover from and rebuild after a disaster. Whilst social networks have been traditionally evaluated in the wider concept of social capital, difficulties in the definition and operationalisation of social capital has led to the development of a subsection of literature specifically on mapping and measuring social networks for community resilience. Moving beyond social capital to focus on the structure, content, and geography of social networks is argued to hold great promise for the theorising and analysis of community resilience [
58
]. As a result, social networks, and their measurement, have become "one of the most promising developments for disaster risk reduction" [
15
] (p. 2713). This paper provides a review of recent case studies in the Global South to provide evidence to further substantiate this argument, showing that not only is a cohesive and robust methodology is developing around SNA and NBMs within community disaster resilience research, but that social network mapping is an imperative and essential step to truly understand how a community's resilience is built from the bottom-up. Without a thorough understanding of local structures and relationships, policies are likely to fail in the countries that need them most. Current studies are, however, limited by space (extending analysis beyond the community), time (showing dynamic changes in networks), and, when considered together, 'translocality' (understanding how changes occur over space). To move research forward, using Rockenbauch and Sakdalporak's (2017) translocal lens, we suggest here that dynamic datasets could provide proxies of people's social networks communities. Whilst these data have provided some new insights into social response during a disaster, their capacity has yet to be truly intersected with DRR policy and practice. Here it is proposed that mapping community social networks provides the ideal opportunity to explore the use of innovative data for community disaster resilience estimation. Overall, this paper advocates that the use of social network mapping and analysis should be utilised more widely, within resilience research and potential policy-influenced programming, to contribute towards fulfilling the current priorities outlined by international DRR frameworks.
Author Contributions
J.W., E.B. and A.J.T. contributed to the design and implementation of the review; J.W. wrote the manuscript with input and critical revisions from all authors.
Funding
This work was supported by the UK Economic and Social Research Council's Doctoral Training Programme which funds JW.
Conflicts of Interest
The authors declare no conflict of interest. The funders had no role in the design of the study; in the collection, analyses, or interpretation of data; in the writing of the manuscript, or in the decision to publish the results.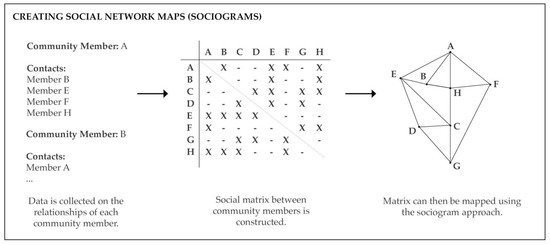 Figure 1. Creating social network maps from data collected on hypothetical community member relationships.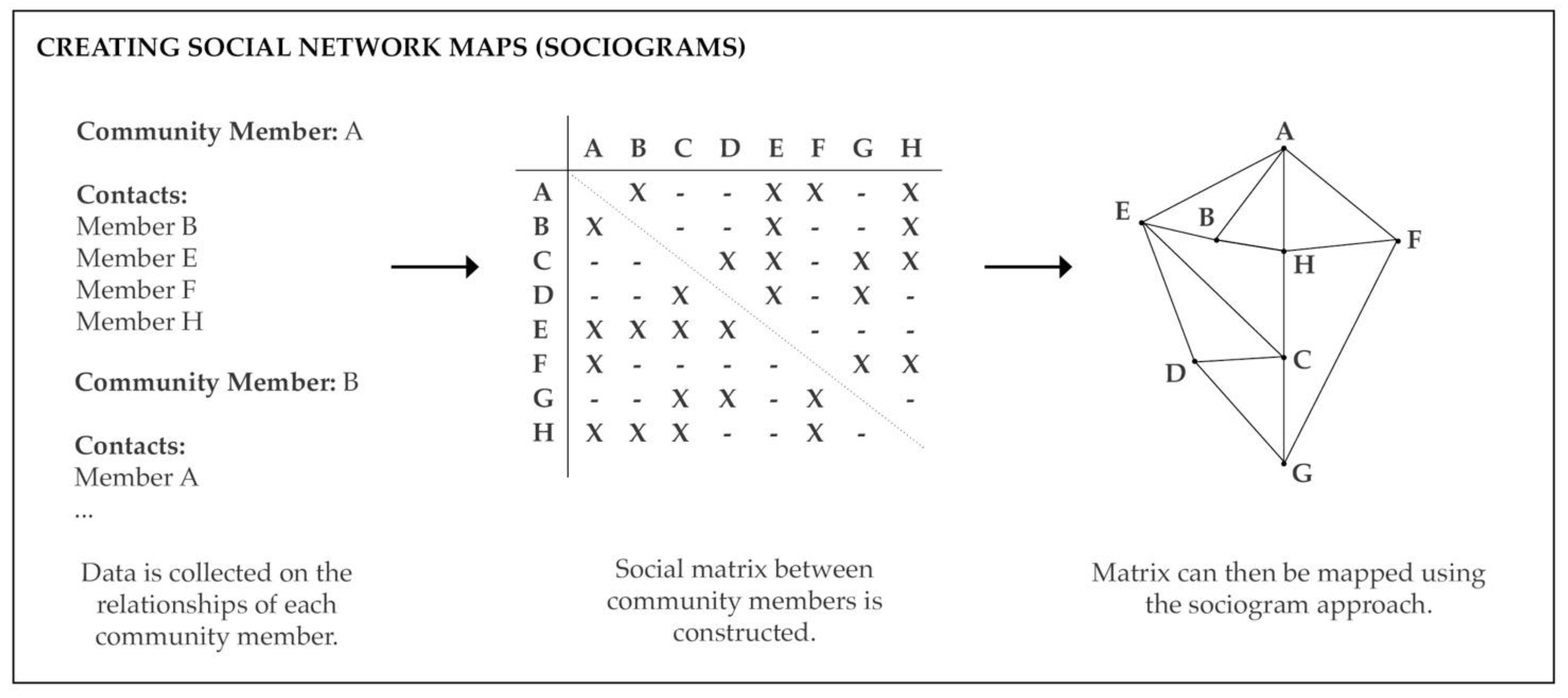 Network Property
Description
Relation to Wider Social Capital Concept
Number of ties
Total number of ties in a network.
Individual: The more ties you have, the greater chance that one of them will help or have the resource you need.
Community: The number of ties among the community members indicates level of cohesiveness and their ability to work together through collective action.
Network Density
Number of ties, expressed as proportion of the number of ordered/unordered pairs.
When density is close to 1.0, the network is said to be dense, otherwise it is sparse.
Individual: If all your ties are connected, they become redundant—the 'need to put eggs in more than one basket' mantra.
Community: Cohesiveness in the community and their ability to undertake collective action.
Overall Centrality
An overall measure of the number of ties that a node has relative to the total number of ties existing in the network as a whole, considering distance. Centrality incorporates degree, closeness, and betweenness measures.
Individual: High centrality reveals an individual(s) as a key leader or connector within their community. The presence of leaders is indicative of collective action and agency within a community.
Community: High centrality reveals a community as highly connected within the overall network; the community is likely to be a key coordinator for dissemination of information and resources in local region.
Degree
Total number of ties a node has to other nodes. A node is central when it has a higher number of ties adjacent to it.
Individual/Community: A high degree means a well-connected individual or community; a low degree could lead to exclusion and marginalization from the wider network.
Closeness
Reciprocal measure of the geodesic distance (the shortest path connecting two nodes) of a node to all other nodes in the network. A node is "close" if it is located a short distance away from many other nodes (i.e., physically proximate).
Individual/Community: The greater the distance to other nodes, the less chance of receiving information and/or resources in a timely way.
Betweenness
Number of times a node occurs along the shortest path between two other nodes. A node is central the more times it occurs.
Individual: A node can play the part of a liaison, broker or gatekeeper with a potential for control over others.
Community: Communities with high betweenness levels have few redundant ties with outsiders, resulting in a greater diversity of resources and information.
Bridge
An edge is identified as a bridge if its deletion would cause the full separation of two subgroups.
Important link between subgroups, such as communities separated by constraints; helps maintain information flow.
Clique
Every individual is directly tied to every other individual in a subgroup.
Creates strong internal ties which result in exclusion to those outside. Prevents efficient spread of information and resources with those outside unless connected via multiple bridges.
Structural hole
A structural hole occurs whenever a person (i) has a relationship with someone who is connected to a separate subgroup of people and (ii) has no other direct or indirect connection with the people in that subgroup.
More structural holes in a network is likely to result in exposure to more diverse information and opportunities than a network having relatively few structural holes.

Table 2.
Categories used to assess recent research which has analysed social networks; based on Rockenbauch and Sakdapolrak's methodology [
44
].
| | Category Applied | Questions Addressed |
| --- | --- | --- |
| Conceptualisation | Conceptual Framing | Is resilience addressed implicitly or explicitly? |
| | | How are social networks and resilience framed? |
| | Network variable | Are social networks treated as dependent or independent variables? |
| | Network narrative | What is the underlying conception of social networks? |
| Operationalisation | Network approach | What operational approach does the study follow? |
| | Network definition | What are the social relations of interest? |
| | | Who are the actors and what are the relevant scales of interaction? |
| | Network analysis | On what network level does the analysis focus? |
| | | What network characteristics are addressed? |
| Key findings | | What key findings can be summarized regarding the question of how social networks relate to aspects relevant to the resilience of rural communities? |
| Type of Social Network | Bonding Social Networks | Bridging Social Networks | Linking Social Networks |
| --- | --- | --- | --- |
| Structural form | Strong ties, usually between family, close friends and local community. | Weak ties, usually between members of different communities and groups. | Weak ties but across different types of 'formal' agents, i.e., government agencies or organisations. |
| Network structure and power relations | Horizontal and collaborative—relationships are across the community with individuals at the same power level. | Horizontal and collaborative—relationships are across communities with individuals at the same power level. | Vertical and hierarchical—relationships are between the community and official governmental actors who have access to different levels of power. |
| Network composition | Homogenous—background, experience and motivation to help one another are similar. | Heterogeneous—background, experience and motivation to help one another are different. | Heterogeneous—background, experience and motivation to help one another are different. |
| Resources (e.g., initial medical aid, shelter and sustenance, or long-term financial assistance and mental support) | Similar (access to initial response supplies likely determined by geography). | Diverse. | Diverse and potentially unlimited. |

© 2019 by the authors. Licensee MDPI, Basel, Switzerland. This article is an open access article distributed under the terms and conditions of the Creative Commons Attribution (CC BY) license (http://creativecommons.org/licenses/by/4.0/).